NFL Free Agency: Why Nnamdi Asomugha and Other Big Name Stars Aren't Necessary
July 7, 2011
Mike Ehrmann/Getty Images
The end of the Lockout seems to be in sight. Inevitably this brings with it a lot of talk of free agency and potential landing spots for those out of contract. For most fans, the hype and excitement of free agency centers around the more reputable players who are set to be up for grabs.
For good reason, I have very little interest in whether Nnamdi Asomugha ends up with the Philadelphia Eagles or Santonio Holmes flies the nest in New York. Those guys may be the best available at their positions and will potentially have huge impacts wherever they land.
However, more often than not these players end up being overpaid for and go to teams that cannot compete for the Super Bowl immediately. Don't believe me? How many big moves did the Packers or Steelers make ahead of last season?
Neither of the biggest free agents added to each team—Charlie Peprah of the Packers and Antwaan Randle El of the Steelers—contributed in a starring role. Both played roles in their respective teams successes however.
Of course there are exceptions, the most recent case being Julius Peppers and his major impact on the Chicago Bears trip to the NFC Championship game last year. Nonetheless, even that doesn't spark much excitement in me.
Maybe it's just that the glamor of so-called star power has worn off over the years as I dwindle towards old age...well not so much being that I'm at the ripe old age of 20. In reality, I just put more emphasis on the team aspect of team sports.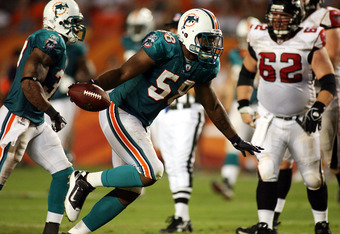 Marc Serota/Getty Images
For me, a guy like Jonathan Scott signing for the Steelers or Sam Shields signing for the Packers is just as important as a Peppers signing in Chicago or Karlos Dansby signing in Miami. Scott and Shields certainly aren't stars but both made major contributions to their team's success from last year.
A sports team is like a train. Just one weak link can derail the whole journey towards a Championship destination.
There was no better example of this than last season in Dallas. Whether they were right or wrong, there were plenty of people that had the Dallas Cowboys as the favorites for the Super Bowl ahead of last year.
The addition of a stud like Dez Bryant to the offense had onlookers dreaming of what lay ahead with established stars such as Miles Austin, Jason Witten and Tony Romo already involved. However, the Cowboys' undoing was swift and ruthless. The team was quickly out of the playoff race and had a new head coach by season's end.
The reason the Cowboys were so ineffective wasn't the fault of their much maligned star quarterback. The reason the Cowboys season was over before November was because of the early ineffectiveness of the role players on their offensive line.
Before landing on IR after six weeks of last season's schedule, Romo was constantly under duress when attempting to find his star receivers. Guys like Doug Free—who improved as the season went on—and Marc Colombo were definitely role players for the Cowboys that hampered their offense to a fatal degree early in the season.
Ezra Shaw/Getty Images
It is said that the things you miss in life are the little things, the exact same thing can be said about sports. You often won't notice the efforts of the role players on your team, whether it be a third down back or a nickel corner, it is just our nature as fans to be drawn to guys like Asomugha.
Because of the NFL's draft system and salary cap, there are very few teams without a talented superstar or two—even the Redskins have Brian Orakpo—however what separates teams is the overall quality of the players that are on the team allowing those stars to shine.
Lets take a look at Asomugha and what I consider as he hits free agency.
The thing about Asomugha is that he is going to highlight the other defensive flaws that you are trying to hide by signing him. Yes he will free up a safety to aid the other side of the field but if the level of talent of those defenders isn't respectable then that is a worthless benefit.
Role players are great when they are paired with a player that will make game-changing plays. That's not really the case with Asomugha, at least we don't know if it is because nobody gives him the chance to make those plays.
Look at how a guy like Ryan Clark cleans up for all of Troy Polamalu's gambling in Pittsburgh or how Jim Leonhard's reliable tackling and leadership gets the best out of the more talented Jets in New York.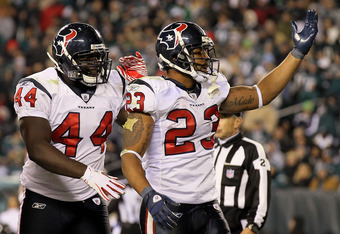 Jim McIsaac/Getty Images
With a guy like Asomugha, you will get that incredible ability to shut down the opposition's best receiver and completely take him out of the game. That is very valuable to defensive coordinators because it frees them up as far as play calling goes. However it also highlights any of the inconsistencies of the players around him.
According to Elliot Harrison of nfl.com, Asomugha has been targeted 98 times in the past three seasons combined, giving up only 49 catches. Those are astounding numbers, there is no debate about that. However what that does do is mean that his teammates are targeted extensively more. Stanford Routt was reportedly targeted on 18.1 percent of the snaps when he played in coverage last season.
Routt looks to be a brilliant corner who has been overshadowed by Asomugha. The Raiders—while not being the most reliable as far as contracts and value go—rewarded him with a huge contract after last season. The statistics back up Routt however as he ranked higher than Asomugha in giving up receptions to when thrown at.
While playing across from Asomugha has allowed Routt to excel, that would not be the case for all players in his position. Being targeted as often as you would be playing across from Asomugha would quickly highlight any flaws in your coverage, except of course on his part of the field.
This stresses the value of quality role players. Not every team is going to have an Antonio Cromartie level second choice cornerback. In fact, cornerback is a very difficult position to fill for most teams. However it is the same right through football.
An all-pro offense without a quarterback is blunt. A franchise left tackle without a reliable group to his right is worthless. A star pass rusher without a bookend blitzer is unbalanced. Even a first rate offense and defense without a productive punting game is pointless—just ask the San Diego Chargers.
Role players may not excite everyone. You may not even know most of them but they are there, and they are just as important as the guys who dominate the headlines week in and week out.
When I first started to follow football I was a Pittsburgh Steeler fan. I used to complain and give out about how worthless Dan Kreider was. He couldn't run—144 total yards in 10 seasons—couldn't catch—491 career yards—and didn't seem to do anything worthwhile.
Of course what I would later learn is that Dan Kreider was one of the most important players on the Steelers' offense. Kreider wasn't a star, he was a role player. He was a role player that has never been replaced since leaving Pittsburgh.
As a fullback you don't get much praise in the media unless you are LeRon McClain or Leonard Weaver. It is the nature of the position. However, that does not take away from the value of the role to the team. Kreider led the way for star backs like Jerome Bettis and Willie Parker in Pittsburgh the same way that Vonta Leach led the way for Arian Foster last season.
Leach is a free agent this year. The Texans are sending mixed signals as to whether they will re-sign him. If Leach leaves the Texans, I will be avoiding Arian Foster like the plague in all of my fantasy drafts. What most people don't notice about Foster's breakout season, is the 255-pound fullback that was blowing open all the holes that Foster ran right through.
James Casey, a backup tight end in Houston, is reportedly looking to fill Leach's role should he leave. I'm not buying it. Foster's probability of becoming a one-hit wonder will jump closer to that triple digit percentage if that happens.
This isn't just a football thing. This is a sports issue.
Take the NBA for example. The demise of the Boston Celtics was in no small part to the departures of Tony Allen and Kendrick Perkins last year. Allen and Perkins were role guys who fans didn't realize how good they were until they were gone.
The Miami Heat had probably three of the four best players in the Finals last year. However that was irrelevant when J.J. Barea, DeShawn Stevenson and Jason Terry hit the court.
The best team in soccer right now can't be touched because of it's quality around the field. Not many readers of this article will have a huge soccer knowledge but right now Barcelona is the best team in the world.
They have unquestionably the greatest player in the world—Lionel Messi—however without him they would still be the best team in the world because of the quality of the role players around him. Guys like Daniel Alves, Pedro and Sergio Busquets all have their flaws but are all valuable pieces of a great puzzle.
I'm going to be really excited when free agency hits us. The months of Lockout talk has somewhat sucked the life and fun out of writing about the NFL. Free agency should bring a lot of that enjoyment back.
However while most people will watch on to see where Asomugha, DeAngelo Williams or Cullen Jenkins lands, I will be watching the more intriguing—but less celebrated—names of Cliff Avril, Mewelde Moore, Vonta Leach, Steve Smith and Kirk Morrison.
Among many many more.
Serial tweeting about NFL, NBA, NHL, NCAA, Soccer and Rugby    @Cianaf
Are you a big sports fan? Then make sure to check out Chicago Sports Authority, which is the website that hosts The Magazine that I write for.
I also write for Irish Central and Fantasy Football Life.