Arian Foster: Why the Houston Texans RB Won't Repeat His 2010 Success
June 14, 2011
Doug Pensinger/Getty Images
The Houston Texans have somewhat of a logjam of players looking to line up in their backfield with Matt Schaub heading into 2011. That crowded backfield is headlined by an All-Pro running back who made a legitimate run at being the Offensive Player of the Year in 2010.
In his second NFL season, Arian Foster broke out and led the league in rushing.
Still, Foster had an inconsistent college career on the field as well as off of it, as he was arrested after being involved in a fight in 2006. This eventually led the former Tennessee back to go undrafted in 2009 before landing with the Texans.
Foster did very little during his rookie season, as he only became active after the team's bye week in Week 9 and did not have his first carry until Week 14. Foster managed to drag himself from the team's practice squad after getting in better shape.
That all amounted to the 24-year-old becoming the team's starter last season, in which he racked up 1,616 yards rushing and 604 receiving yards with 18 total touchdowns in competing for the Offensive Player of the Year Award. Instead, in this quarterback-driven league, the award fell in the hands of the Patriots' Tom Brady.
This season, however, isn't shaping up to bring the same success to the New Mexico native.
The short offseason that preceded the infamous lockout only brought bad news for Foster. The team has all but confirmed that they won't be looking to re-sign fullback Vonta Leach for next season. However, much like the relation between a left tackle and a quarterback, the fullback position is vital and could severely aid or hamper the more celebrated running back position it blocks for. The fullback position is too often overlooked by fans.
Rather than re-sign Leach, the team focused on locking up star tight end Owen Daniels, who is coming off an injury. Daniels' four-year contract for $22 million was a big commitment, considering he is coming off a serious knee injury, but what is more significant for Leach, and in turn Foster, is that the team also re-signed Derrick Ward to a one-year deal.
Ward excelled in limited opportunities for the team last season, averaging 6.3 yards per carry on 50 rushes. Re-signing Ward was important for depth in the Texans' eyes. However, in reality, they wouldn't have re-signed him if they didn't have a bigger role for him. Ward had 21 of his rushes in the final six weeks of last season, including 63 yards coming from only four carries in the final game of the season.
The Texans do not need Ward for depth. The team may look to trade former starter Steve Slaton, but he won't bring in much in return, so that likely won't happen. Nonetheless, Slaton can still play a role with this team. He only carried the ball 19 times last season after having major struggles with fumbling the ball the two previous seasons. However, Adrian Peterson's career statistics indicate that certain players are capable of overcoming this problem.
Ben Tate arrived in Houston embroiled in a storm of excitement after being selected in the second round of the 2010 draft. Tate then broke his ankle and landed himself on IR before the regular season even started. Nonetheless, he holds the highest draft position the franchise has ever used on a running back, and thus is a big investment for the team.
The team traded up to take Tate, as he is considered a perfect fit in their offense. Despite being only 22 years of age (23 when the season begins), the Texans will want to get Tate on the field because of the abilities that originally attracted them to the former Auburn talent. Steve Slaton and Derrick Ward combined for 69 carries last season while Foster totaled 327 rushes. Expect Tate, if healthy, to have more than 69 rushes this coming year.
A large reason for this is going to be the fact that Foster will likely struggle following last season's work load. Foster had 393 recorded touches last season, meaning that he may have been hit 400 times if you add the number of hits he took while blocking or without the ball and subtract the number of times he ran out of bounds.
That is a huge amount of punishment for a player listed at 6'1" and 227 pounds. Even listed as such, this is unlikely to be anywhere near Foster's actual weight. NFL measurements are only officially taken when the player enters the league. As alluded to in this article, Foster looks to be in better shape since then and appears thinner now than he did in college. Thus, Foster's weight has likely dropped since the aforementioned measurements were taken.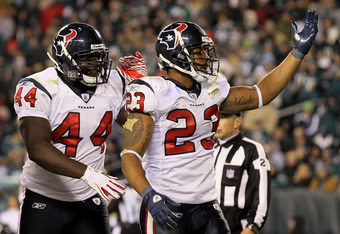 Jim McIsaac/Getty Images
There are exceptions to this rule, such as Frank Gore and Stephen Jackson, but in general running backs that are used to such an extent in one season struggle the next.
To put Foster's carries into perspective, only Steven Jackson and Michael Turner had the same number of carries as he did last season. Both Turner and Jackson could be considered physical phenoms—at one point Jackson was reported to have five percent body fat—while both have struggled with niggling injuries due to their usage.
The Texans may already have recognized that they don't want to take the Mike Tomlin route with running backs and run Foster "until the wheels came off," which would also explain why the team is going to let Leach leave and has stockpiled other backs in preparation for his departure.
Arian Foster's 2010 season came out of nowhere, and while he definitely won't return to anonymity next season, it may be a little early to start looking at Emmitt Smith's career rushing touchdown record.
Fortunately for the Texans, they still have the best receiver in the league to rely on. He's definitely not slowing down any time soon.
Serial tweeting about NFL, NBA, NHL, NCAA, Soccer and Rugby      @Cianaf
Are you a big sports fan? Then make sure to check out Chicago Sports Authority which is the website that hosts The Magazine that I write for.