Denver Broncos Need a Defensive Tackle: Here Are Some Names to Consider
May 23, 2011
Donald Miralle/Getty Images
For some, the Denver Broncos did the right thing by focusing on the best available player in each round of the 2011 NFL draft; for others, the Broncos' draft was blemished because the team was not able to draft one of top defensive tackles available.
We can argue the merits of drafting "best available" over "need"—and of not taking a chance on at least one defensive tackle prospect when that's your team's greatest need—some other time.
More importantly for the Broncos and their fans, who should the team target now, and should we be excited about any of these players?
Let's take a closer look at some of the guys that could be added once a new CBA is reached.
First, it's important to identify what the team is looking for.
Well, we know that head coach John Fox and defensive coordinator Dennis Allen want speed, size and athleticism. Unfortunately, there are very few guys in the league that have great size, speed and athleticism. Two such players are now employed on the Detroit Lions defensive line, and we now know that the Broncos were interested in Nick Fairley since they actually considered trading back into the first round of the draft to get him.
The Broncos drafted linebacker Von Miller over Alabama's Marcell Dareus, so does that mean that Dareus is not a fit in this defense? Not necessarily. It does show that the team loved the speed and athleticism of Von Miller, and chose to make him the anchor of the defense. It also shows that Fox loves his linebackers, perhaps at the expense of defensive line.
Justin Bannan and Jamal Williams – Free Agents
The Broncos of course released these two players before the lockout, but then their names resurfaced in an article that suggested that the Broncos might be interested in bringing them back at a more bargain rate.
Dennis Allen was quoted in the Denver Post as noting: "I don't think there's any question that those are guys that we have on our radar as potential guys to fill those roles," and also, "We're looking for quick, athletic, explosive type of players...obviously, the bigger, faster, more explosive they are, the better, but if we're going to err on one side or the other, we're going to err more on the side of athletic and explosive rather than big and doesn't move real well."
What's the chance of them being Broncos again in 2011? Slim. It sounds like these guys are better fits in other systems, and Bannan seems more likely to be brought back than Williams. Williams was at one time considered a top player at his position, but injury and age have erased some of his burst and ability.
Age is another factor. The Broncos focused heavily on defense in the last draft, and it's possible that many of those defenders will either be starters or will be relied on heavily in special teams and as rotation players, in their rookie season. The Broncos are experiencing a youth movement, and it appears that the team will target younger guys in free agency.
Amobe Okoye, Houston Texans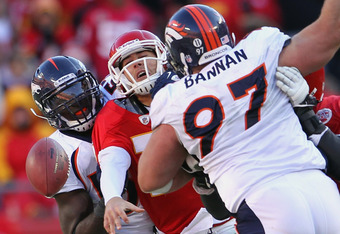 Jamie Squire/Getty Images
Okoye has good size (6'2", 292 pounds) and speed, was drafted in 2007 (10th overall pick), has started all four years and is viewed as exceptional versus the run. He has not been as productive as a pass rusher, but he is a reliable tackler, has very good burst and is still a player that has the potential to grow into a more complete player.
The problem is that the Broncos would have to trade for him, and a trade would have to include a draft pick and a veteran player the Texans would be interested in. The Broncos would not likely be interested in Kyle Orton, for instance. The Texans are switching over to a 3-4 defense, and there have been trade rumors surrounding Okoye. New defensive coordinator Wade Phillips has endorsed Okoye, but there are still serious questions as to whether or not he will remain with the team.
Brandon Mebane, Seattle Seahawks, Free Agent
Brandon Mebane is another athletic guy that could fit very well in the Broncos new defense. However, the Seahawks gave him a third-round tender before the lockout, and depending on what happens with the new CBA, his free-agent status could change from restricted to unrestricted.
Mebane recently told Eric Williams of the Tacoma News Tribune that he believes that he is on his way out of Seattle. Mebane is 6'1", 311 pounds, and is another guy who could be a very good run-stuffer for Denver, though is young enough to develop into a more complete defensive lineman. As a Seahawk, Mebane was a disruptive force in the middle and had already begun to show signs that he could be a consistent pass rusher in the NFL.
Barry Cofield, Giants, Restricted Free Agent
Cofield is another guy who is restricted, but could have his status changed based on the results of the CBA. He's the guy who is often cited as someone the Broncos would like to target, though it's mostly speculation at this point.
Cofield has recently stated that he would like a long-term deal with the Giants, but his time may be up with the team now that they drafted Marvin Austin. Cofield has played five seasons, and has seen his production go up. Last season he had 54 tackles, four sacks and a forced fumble.
Like Mebane, Cofield looks like a guy whose growth is headed in the right direction. He's another big interior lineman (6'4", 306 pounds) with reasonably good speed and athleticism. The Giants might like Marvin Austin a bit more, but the Broncos might like Cofield as a free agent, certainly more than Austin as a draft pick since they had an opportunity to get him.
A defensive tackle via a trade with a team that needs a quarterback, and more specifically, a quarterback with a neckbeard. (Okay, sorry Orton fans, I mean no harm, but that's a joke that deserves dusting off. Plus I am not anti-neckbeards in any way.)
There are still a host of teams that could use Kyle Orton's services. Even those teams that drafted a quarterback in this year's draft would likely prefer a veteran quarterback, and one who could really make a balanced roster that much better to start for them in 2011. It makes sense to let the rookie sit at least one year. Plus, there are teams that did not address their quarterback situation in the draft, such as the Redskins.
So it's possible that the Broncos will look for this kind of trade once the lockout ends. If not, then they will likely get something like a second-round pick in next year's draft, but all things point to Team Elway, Fox and Xanders wanting immediate improvements.
It's an option, and there are too many names to consider at this point.
One name that shouldn't be an option is Albert Haynesworth, and we all know why.
What does everyone else think? Who should the Broncos target in free agency?