New York Jets-Indianapolis Colts: AFC Championship Preview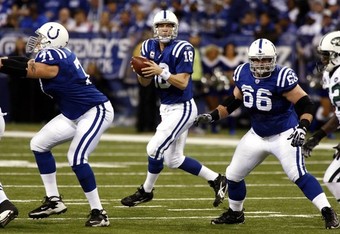 The Jets (11-7) come into Sunday's AFC Championship Game as the surprise team of the playoffs. Rex Ryan's crew went on the road in consecutive weeks to knock off two division champions (Cincinnati and San Diego). The Colts (15-2), on the other hand, were expected to be in this game as the No. 1 seed, and solidified those expectations by dispatching of Baltimore in the divisional round.
They say "styles make fights" and you would be hard-pressed to find two more contrasting styles than those of the Jets and Colts. Gang Green possesses the top rushing attack in the league, while the Colts boast the No. 2 passing attack, led by QB Peyton Manning.
Indianapolis is making its first appearance in this game since 2006 when they hosted (and beat) New England and went on to beat Chicago in Super Bowl XLI. The Jets haven't been here since the 1998 season, when they were guided by Bill Parcells and lost to John Elway and the Denver Broncos at the old Mile High. And although those games have little bearing on Sunday's matchup, here are three storylines that do:
The Chess Match
The inevitable "game within the game" that will happen between Peyton Manning and the Jets' defense is probably the most intriguing matchup in this contest. New York has the No. 1 pass defense and the No. 1 defense overall, while Indianapolis has that second-ranked passing attack and the No. 9 ranked offense overall.
Rex Ryan is a master at disguising defensive fronts and pressure packages in an attempt to confuse opposing quarterbacks. Peyton Manning is a master at reading and exposing a defense's weaknesses. See what I'm getting at?
The Jets did a fairly good job of keeping the Colts offense in check during their Week 16 matchup in Indy. Granted, the numbers are a bit skewed due to the Colts starters' early departure, but it was a 15-10 game when Peyton and Co. were pulled. It will be interesting to see what each unit learns from watching film from that game, and what tricks they have up their sleeve.
Keep in mind that Ryan is a surprising 0-4 against Manning as a defensive coordinator and that includes the heartbreaking playoff loss in 2006. However, Ryan himself has said he's never had a cornerback as good as Darrelle Revis and that allows him to do things he wouldn't normally have the luxury of doing defensively.
FYI—Revis held WR Reggie Wayne to three catches for 33 yards in the regular season matchup.
Mark's Magic Ride
Perhaps the most shocking aspect of the Jets' improbable playoff run has been the play of QB Mark Sanchez. Let's face it, most experts dismissed the Jets as a Super Bowl threat due to Sanchez's uneven play during the regular season.
However, after a Week 15 loss to Atlanta, things started to click for the rookie quarterback. Now he seems to know what he can't do in order for his team to have a chance to win. In the four games since then, he has thrown just one interception.
Sanchez has settled into this offense nicely as Brian Schottenheimer has come up with ways to simplify the scheme while continuing to take advantage of Sanchez's strengths. He will have to continue to find new ways of doing that this week as the Jets will face a defense that is a lot more stout against the run than some of the teams they have faced recently.
It may force Gang Green to throw more than they are used to and it may make Sanchez a bigger factor in the game than he's been by forcing him to read the entire field, rather than just one side. As I have said the past few weeks, how Sanchez performs on third down will ultimately determine the Jets' success.
X-Factors
For the Jets, it's undoubtedly WR/KR Brad Smith. Remember, Smith returned a kickoff 106 yards in the Week 16 game at Indianapolis and ran for 92 yards and a touchdown in the playoff-clinching win vs. Cincinnati the following week.
Yes, Smith has been relatively quiet in the two playoff games, but look for Schottenheimer to continue running the "Tigercat" formation with Smith, perhaps with a new wrinkle or two the Colts have yet to see on film. Hey, it's the AFC Championship—anything goes!
New York is going to need a big special-teams play and/or turnover to set up a short field for their offense. Brad Smith is certainly a guy capable of delivering the former.
The Colts X-Factor is WR Pierre Garcon. I know you're thinking, why Garcon? For a few reasons. Remember he didn't play in the Week 16 game. Garcon leads the team with a 16.3 YPC average and has arguably the fastest wheels on the team.
Darrelle Revis is saying he will move around on Sunday and match up with different receivers throughout the game. In my opinion, Garcon is the guy he should keep his eye on the most.
The last time the Jets and Colts met with so much on the line? You guessed it—Super Bowl III. Remember how that one turned out?
Obviously history and statistics can go only so far, as the game will ultimately be determined between the white lines on Sunday. The Jets came out fast and physical against the Chargers last week and San Diego failed to match the intensity while letting Gang Green hang around until it was too late.
The Colts are a seasoned team led by a future Hall of Fame quarterback. Like any great quarterback, however, they are beatable, especially if you can continually get them on the ground (i.e., the Giants against Tom Brady in Super Bowl XLII) and disrupt their timing.
In the end, this game will hinge on how effective the Jets' defense can be in getting pressure on Peyton Manning.
Indianapolis created a monster by resting their starters in that December game and allowing the Jets to go on to win and eventually clinch a playoff spot. The only question left to be answered now is: Will the scientist destroy his creation, or will Frankenstein ultimately destroy his creator?
This article is
What is the duplicate article?
Why is this article offensive?
Where is this article plagiarized from?
Why is this article poorly edited?

New York Jets: Like this team?