Why Philadelphia Eagles' Biggest Week of the Season Is Week 15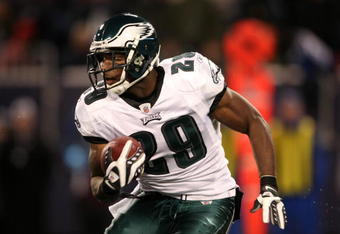 Nick Laham/Getty Images
They've swept two division rivals, made a pair of impressive fourth-quarter comebacks, and won with three different quarterbacks at the helm.
After 14 weeks, they're in first place by a half-game, the virtual best team in the NFC East.
And at 4:15 today, the Philadelphia Eagles line up for the most important game of their 2009 season.
For one thing, a win over the 49ers today gives the Birds 10 victories and clinches a playoff spot. It also means that the finale in Dallas will be for the division title at worst and meaningless at best.
In that at-worst scenario, they could finish in a three-way tie with Dallas and New York at 10-6. For that to be the case, you'd need New York to win out, Dallas to lose to Washington, and Philly to lose out (against Denver and Dallas)
If that all happens, the Eagles would still win the division. Since all three teams went 2-2 against each other, second tiebreaker (division record) comes into play. At 3-3, Dallas is eliminated first, and then the Birds' two wins over the Giants gives them the division.
All that is great, and no matter what they know they're in the postseason if they win today.
But more importantly, this will be the best chance their two biggest issues sorted out.
Thanks to the blizzard that dropped two feet of snow on the City of Brotherly Love this weekend, the field conditions will be snowy and frozen. Add in a pushed back 4:15 start time—meaning darkness for most of the game—and it's only going to get worse.
But what the snowstorm also left in its wake is a major wind shear.
The winds swirl at Lincoln Financial Field as it is, but with winds still gusting to 25 or 30 miles per hour by game time, it will mean the aerial attack the Eagles have relied on so much will be slightly grounded.
If they've watched any of the Jets/Falcons game going on just 90 or so miles up the New Jersey Turnpike, then the Birds have a great idea of what they're in for. Outside of one bomb from Mark Sanchez to Braylon Edwards, which wobbled like a duck, it's been all running and short passes.
Jay Feely also missed a short field goal just before the half, as the wind spun it around like a boomerang.
So bombs and David Akers may not be able to bail the Birds out tonight. Instead, they'll need to work screens and make the rushing game currently ranked No. 30 in the league carry the load.
The return of Kevin Curtis will help the former, but can they rely on the latter?
With a playoff berth on the line, I say yes.
If they can stop Frank Gore, the Birds have a good chance. Yes, the 4:15 start time helps the 49ers' body clocks, but they've still had to come cross-country and are going to be dealing with bitterly cold temperatures, even worse wind chills, and blowing snow on the field.
For the record, it has been in the mid-to-high 50s all week in the Bay Area, while Philadelphia has barely been above freezing since Wednesday.
Even their two "cold-weather" games weren't this bad. It was in the high-30s and cloudy with very light winds in Seattle last week, and their pre-Thanksgiving game against the Packers came on an abnormally warm 53-degree day in Wisconsin.
This is the Eagles' domain. Knowing that they can secure a spot in the postseason with one more win, they will be ready.
It's just going to take a little "gold rush" of their own to do so.
This article is
What is the duplicate article?
Why is this article offensive?
Where is this article plagiarized from?
Why is this article poorly edited?

Philadelphia Eagles: Like this team?