Connecting the Dots: Giants Stand to Gain from Potential Notre Dame Loss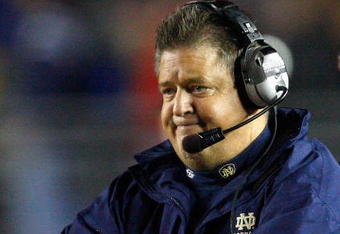 Jim Rogash/Getty Images
The New York Giants' loss Thursday night to the floundering Denver Broncos has finally put perspective on the roller coaster ride that is the Giants season—they're not good.
Whether the bottom has fallen out of a team with unlimited potential, or they just never had it to start, is insignificant at this point because one thing has become apparent: The Giants offense is not the villain but the victim of head-scratching play calling.
It is easy to recognize the talent the Giants possess on the offensive side of the ball. Brandon Jacobs was one of the league's top running backs last season, Eli Manning is a Pro Bowl-caliber quarterback, and Steve Smith is one of the league's leading wide receivers, so the finger of blame does not point to the field, but rather to the sideline at the one and only Kevin Gilbride.
The offensive coordinator, who has donned the nickname Kevin Killdrive from disgruntled fans, put his weaknesses on national display this Thanksgiving when he was easily outmatched, out-thought, and charictaristically continued to play for the field goal in the red zone.
But this article is not to point out Gilbride's play-calling or question his packages, but rather to recognize that his era has reigned past its welcome in New York and the changing of the guard gears need to be put in motion.
While a midseason move would be a drastic measure and highly unlikely, the blueprint for the future needs an architect, and that architect's name is Charlie Weis. 
The man who once served under Bill Belichick as an offensive coordinator for the New England Patriots tried to branch out and become his own boss; we all know how well that's going for him down at Notre Dame. With his struggles a national story on a day to day basis, and four straight losses to Navy, Connecticut, Pittsburgh, and now Stanford, Weis may very well be looking at his last season with the Fighting Irish.
If there is any doubt this marriage could work, it would have to lie with his unavailability at the current moment and not with his qualifications. The former Bill Parcells assistant has been a successful offensive coordinator with the New York Jets and New England Patriots, helping the Jets to a fourth-ranked offense in 1997 and the Patriots to three championships from 2000-2004.
It is obvious he can perform at the highest level, and unlike at Notre Dame, he would not be asked to run the ship, but rather steer it in the right direction.
But the Giants don't really have a track record of letting coordinators go. In years past New York's assistants have gone on to bigger job opportunities such as John Fox and Steve Spagnuolo, and while Kevin Gilbride was a "finalist" for the Oakland Raiders position this season, it doesn't seem as though he will be leaving New York on his own accord.
If the Giants are serious about putting points on the board on a consistent basis they will have to consider letting go of a Super Bowl-winning coordinator. 
This article is
What is the duplicate article?
Why is this article offensive?
Where is this article plagiarized from?
Why is this article poorly edited?

New York Giants: Like this team?