Not that it's a shock to anyone, but the Golden State Warriors learned that life without Stephen Curry is pretty rough.
The Dubs fell to 29-2 on the season after a 114-91 loss to the Dallas Mavericks that was over just a few minutes into the second quarter. Well, actually, it was over the moment Curry was ruled out with a lower left leg injury—one confirmed as a bruise by an MRI he underwent earlier Wednesday, per GSW Stats.
Without the reigning MVP (and, it should be noted, starting small forward Harrison Barnes, backup center Festus Ezeli and rotation guard Leandro Barbosa), the Warriors were a congested, disjointed mess on offense. Sans Curry, the spacing that has factored so heavily in producing the league's top offense this season disappeared.
Golden State shot just 40.7 percent from the field while allowing the Mavs to convert 51.2 percent of their attempts. Trounced on the glass, destroyed in the lane and totally overmatched, the Warriors looked frighteningly vulnerable.
And alarmingly lost.
Players forced shots, sets stalled out and it didn't take long for shoulders to slump as a cold realization set in: The Warriors are historically great with Curry, but they're not even good without him.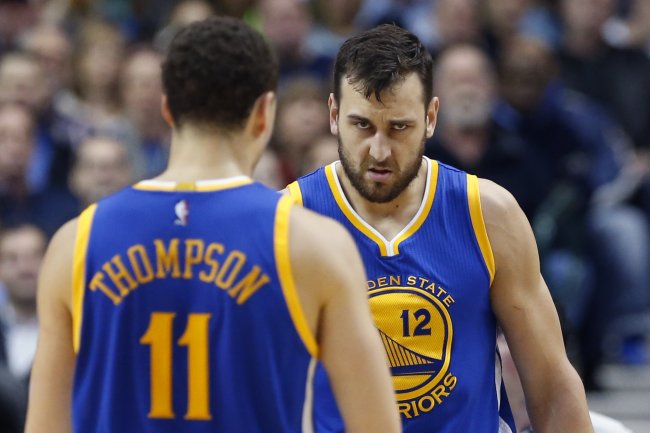 Kevin Jairaj-USA TODAY Sports
We knew this, though—or at least anyone paying more than cursory attention should have.
Coming into the game, the Warriors had outscored opponents by a ridiculous 22.7 points per 100 possessions with Curry on the floor, per NBA.com. Without him, Golden State had been outscored by 5.3 points per 100 possessions. Following Wednesday's 23-point loss, that figure dropped to minus-7.4.
So basically, the Dubs are an unstoppable, historically dominant force with Curry. Without him, they post the equivalent of the league's third-worst net rating.
If the Warriors weren't aware of the specific numbers, they sure played like a team that sensed it couldn't compete. Because as profoundly as Curry's absence affected the offense, it was difficult to pin defensive lapses like this one on his sitting out:
That's Dirk Nowitzki dunking on a blow-by drive against the Warriors' starting small forward. Digest that for a second.
"It's always interesting to see how guys will rise to that challenge and still get after it and compete," head coach Luke Walton said before the game. "I think we have guys who will try to do that."
Yeah...no. Not quite.
Whenever we argue about the value of individual players (like in MVP debates, for example), it's easy to get tripped up on the important and difficult questions of context. Last year, one of the more oft-repeated cases against Curry's MVP bid was the quality of his teammates. He's got stars all around him. They'd be great even if he wasn't there.
Sure, this was just one game. But we're done with that ridiculous idea, aren't we?
We should have been crystal clear on that point already, as this striking stat from Diamond Leung of Bay Area News Group highlights:
The last time the Warriors won a game without Stephen Curry was the last regular-season game of the Mark Jackson era.

— Diamond Leung (@diamond83) December 31, 2015
Curry makes everyone better by drawing unprecedented attention, inspiring pure panic in opponents and empowering his teammates, who've learned from years of playing with him that he's the league's best safety net. They can take the court with a unique sense of freedom. They can play with confidence, loose and assured all they have to do is fill roles as Curry dictates the game's terms.
The bruised left leg that caused Curry's absence and set his unparalleled value in stark relief isn't believed to be serious. But the fallout from just one game without the league's best player sure was.
With a blowout win, the San Antonio Spurs surpassed the Warriors in net rating for the first time all year, per NBA.com.
Curry misses one game, his team falls apart and, suddenly, the Warriors' NBA primacy comes into legitimate question.
If anything, we've been underselling the MVP's value.
Kobe's Farewell Tour Is Getting Good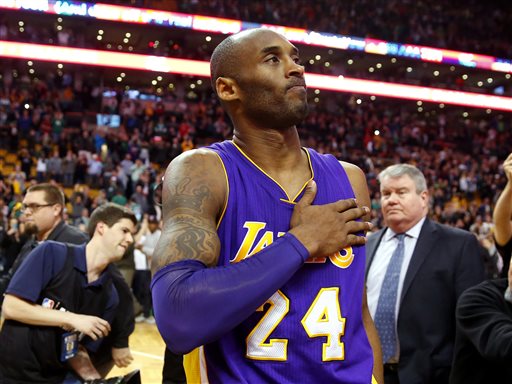 Winslow Townson/Associated Press
Serenaded by cheers early and late but doused with boos in between—Kobe Bryant's final game at the TD Garden could hardly have gone better.
Bryant's Los Angeles Lakers downed the Boston Celtics by a final score of 112-104 in a contest that underscored the retiring superstar's overwhelming popularity. Greeted warmly in introductions, Bryant proceeded to miss his first eight shots, much to the delight of Celtics fans who had dispensed with the pleasantries and jumped back into Purple-and-Gold-hating character.
But then Bryant won them over again, heating up down the stretch and punctuating the contest with an impossibly deep three to put the Lakers up five:
And then the chants started. Chants for Bryant. In Boston. IN BOSTON!
The outpouring of affection in the deepest reaches of enemy territory clearly moved Bryant, who was emotional during his postgame media session.
Adam Himmelsbach of the Boston Globe relayed this tidbit from Kobe:
Kobe: "Not the start I wanted. But the finish was fun. To be able to say thank you to the fans was a beautiful moment."

— Adam Himmelsbach (@AdamHimmelsbach) December 31, 2015
It's been easy to criticize Bryant for the way he's played this year and even easier to look askance at anyone's celebrating him for going out in such a team-damaging, seemingly selfish manner. But what happened Wednesday was the best reminder yet that those of us who aren't enamored of Bryant don't get to decide how everyone else feels about him.
The farewell tour will continue, and Bryant will see more appreciative showings like this one. It's probably time to acknowledge whatever you think about him personally, there's no fighting the overwhelming truth: He's beloved in a way that transcends rivalries, allegiances and personal agendas.
We're seeing the end of something special.
Kyle Lowry Is Creative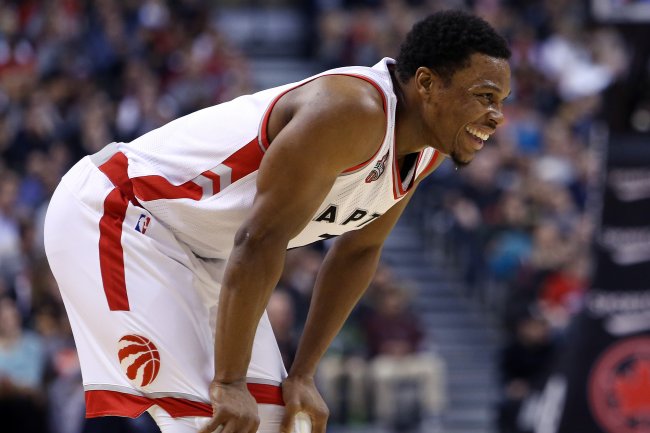 Vaughn Ridley/Getty Images
Kyle Lowry is an any-means-necessary kind of guy—tricky in the lane, skilled at drawing contact and adept at slicing through spaces that shouldn't be there. But that resourcefulness takes strange turns every once in a while.
It sure did in Toronto's 94-91 win over the Washington Wizards on Wednesday, when Lowry decided the best way to extricate himself from a double-team was to bulldoze Marcin Gortat's nether regions.
ESPN's Amin Elhassan shared video so we could all be sure it happened:
Like I said, head between his legs https://t.co/Lby76CbnDj pic.twitter.com/wYlYJ5teEp

— Amin Elhassan (@AminESPN) December 31, 2015
Bizarre escape attempts aside, Lowry didn't have his most noteworthy game. He scored 11 points on 2-of-12 shooting as DeMar DeRozan took on the scoring load. His 34 points continued a strong stretch that has the Raptors sitting pretty at 20-13 on the year.
This was also the first time Toronto was healthy enough to trot out its original opening-night starting lineup in months.
Between Lowry's do-what-it-takes leadership, DeRozan's continued improvement and (finally!) Toronto's good health, the Raptors look very much like the team best equipped to challenge the Cleveland Cavaliers for East supremacy.
Good news: They'll meet Cleveland on Monday.
Wear your cups, Cavs.
The Spurs Can Beat You Lying Down
That's not an exaggeration. Manu Ginobili proved it in a 112-79 thumping of the disintegrating Phoenix Suns.
Drink this stuff in, because as remarkably dominant as the Spurs are this season (we already mentioned they've taken over the net rating crown), and as ageless as their core players seem, this can't last forever. Eventually, the joyful, creative flair that has defined guys like Ginobili will fade, and he'll be gone.
Probably.
We think.
Actually, who knows? If San Antonio can crush teams and have this kind of fun with 38-year-olds leading the way, why can't it just keep going?
Everything about the Spurs says they're smack in the middle of their prime right now, which is great news for fans of fun basketball and the complete opposite for the league's other title contenders.
The Magic Are Good Enough to Criticize Now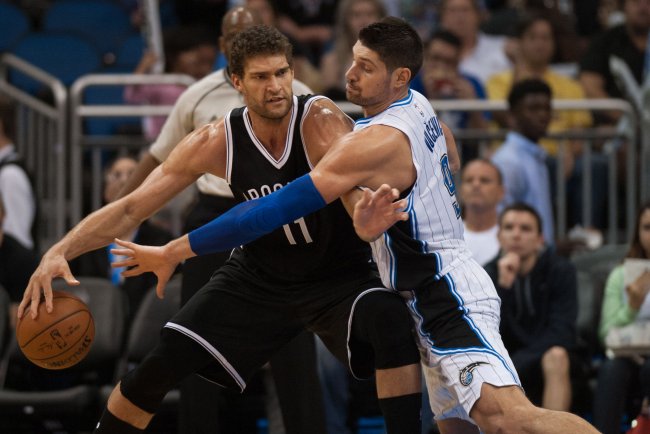 Jeff Griffith-USA TODAY Sports
Over the past three seasons or so, you really couldn't dig into the Orlando Magic without seeming mean. The post-Dwight Howard era was rough.
Not anymore.
Now, the Magic are a no-questions-asked playoff team, built around young talent that should only get better. And one of those young talents, Nikola Vucevic, overcame an ugly first half to take control down the stretch of a 100-93 win over the Brooklyn Nets.
To put it frankly, Brook Lopez had his way with Vucevic early on, scoring at will and dominating the glass. He ended up with 24 points, 15 rebounds (six on the offensive end), five blocks and three steals. Vucevic couldn't handle him inside, and that's not surprising for anyone familiar with the Magic big man's defensive numbers.
Orlando's stopping power is far more potent when Vucevic sits, as it allows 94 points per 100 possessions without him against 105 with him, per NBA.com. Opponents came into the game hitting 54 percent of their attempts at the rim when Vucevic was the primary defender—the highest conversion rate among high-volume rim-defenders.
For reference, Dirk Nowitzki, Ryan Anderson and Kevin Love have all held opposing shooters to lower field-goal percentages at point-blank range.
To be fair to Vucevic, the Magic wouldn't have won this game without him. He scored key buckets late and overcame that rough beginning to battle Lopez to a draw. He finished with 20 points and nine rebounds.
But because the Magic are good enough to take criticism now, it's only fair to point out Vucevic simply has to be better. Orlando can pile up regular-season wins with a suspect defender logging huge minutes in the middle, but that'll change against teams with time to scheme in the playoffs.
You Didn't Miss Much...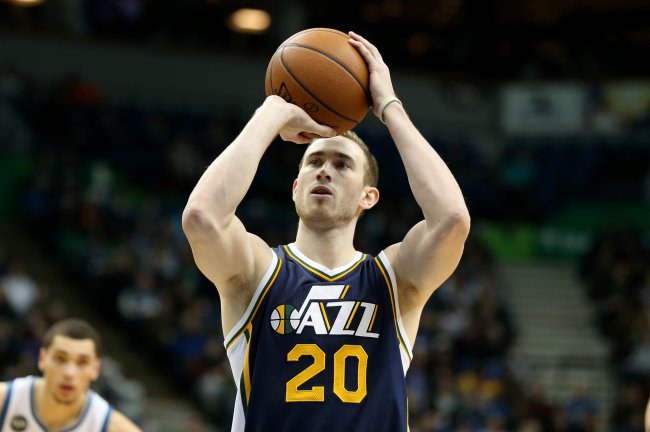 Jordan Johnson/Getty Images
...but the Utah Jazz sure did!
Heyo!
Utah belched out 80 points on 35 percent shooting in a 94-80 loss to the Minnesota Timberwolves on Wednesday, and it had to hustle to reach that measly mark. With both the first and second quarters featuring point totals in the teens, the Jazz continued their rim-busting slide downward on offense.
Not having Derrick Favors (back spasms) and Rudy Gobert (still out with that sprained MCL) sure didn't help, but the Jazz were playing the Timberwolves, easily one of the most defensively charitable teams in the league.
It's getting harder and harder to envision the 13-17 Jazz will sort this mess out in time to deliver on the playoff expectations we all had for them before the season. And that's a bummer.
So let's pivot to something cool: Andrew Wiggins dunking.
That's better.
Moving on.
Jimmy Butler Gets to Act However He Wants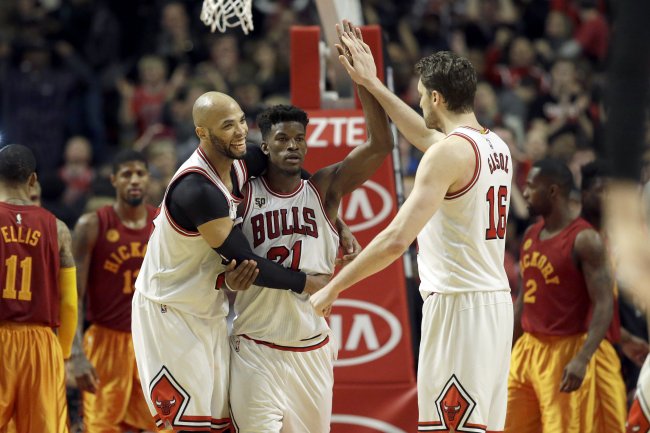 Nam Y. Huh/Associated Press
After the way he carried the Chicago Bulls to a 102-100 overtime win against the Indiana Pacers, Jimmy Butler officially has superstar carte blanche.
According to ESPN.com's Zach Lowe: "There is a sense that Butler relishes the trappings of stardom a bit too much, and that he doesn't do enough to support his teammates, as a playmaker or cheerleader."
Butler drilled a three to tie the game with 34 seconds left in regulation, then crossed up Paul George and delivered this incredible finish to send things to overtime:
And then he tipped in the game-winner in OT:
Butler can roll up to practice Thursday in a mink coat with an entourage of 50 jugglers and exotic reptiles in tow. He's a star. He's earned it.
Enjoy those trappings, Jimmy.
If he gets more support from the likes of Aaron Brooks (29 points in place of the injured Derrick Rose) and rookie Bobby Portis (who removed any lingering doubt he deserves a regular rotation role with 16 points and seven boards), Butler might get to enjoy something else: a steady rise up the standings and out of the congested mess in the East's middle tier.
Presented Without Comment
Follow @gt_hughes on Twitter.