Is Kirk Cousins Really a Threat to Robert Griffin III in Washington?
August 26, 2014

Patrick Smith/Getty Images
It's inevitable now. Regardless of what happens in Washington's fourth and final preseason game, Redskins quarterback Robert Griffin III will enter the 2014 NFL regular season embroiled in what many fans and media consider to be a quarterback controversy. 
It doesn't matter how adamant head coach Jay Gruden is that RG3 is the undisputed starting quarterback. Because when your backup outplays you as blatantly as Kirk Cousins has outplayed Griffin three weeks into the preseason, the buzz is unavoidable and the potential distractions are bound to linger. 
Thing is, when Griffin struggled with some of his decisions and throws in the team's second preseason game, which was against Cleveland, it could have been an anomaly. He threw only four passes in the opener and—aside from a report from ESPN.com's Mike Reiss that Cousins looked better than Griffin in joint practice with the Patriots—we didn't have a major reason to declare controversy. 
But in the team's unofficial regular-season dress rehearsal Saturday against Baltimore, with all of his weapons—including newbies DeSean Jackson and Andre Roberts—in the lineup, the former No. 2 overall pick was once again the second-best quarterback in burgundy. 
In just over one half of work, Griffin completed only five of his eight passes for 20 yards, which works out to 2.5 yards per attempt. He also threw his second interception of the preseason and was sacked three times while being grounded as a runner. 
On 10 full series this preseason, Griffin and the Redskins' first-team offense have a grand total of six points (two field goals), with Griffin averaging only 7.0 yards per attempt. He obviously hasn't scored and has tossed two picks. 
Cousins tossed two second-half touchdown passes in relief of Griffin Saturday night, upping his preseason total to four. The 2012 fourth-round pick has completed 65 percent of his passes and has a passer rating of 101.6. 
Griffin vs. Cousins, 2014 preseason
Metric
Griffin
Cousins
Comp. %
65.0
64.8
YPA
7.0
6.9
TD
0
4
INT
2
1
Rating
46.0
101.6
Pro Football Reference
That Griffin has faced stronger defenders is absolutely a valid factor here, but that doesn't explain the gap between these two. Keep in mind that first-team offensive players also benefit from being surrounded by first-teamers. Cousins has faced more second- and third-teamers, but he's also been throwing and handing off to more of them. 
Plus, it's not as though the Ravens were at full strength to begin with. They didn't have their top three cornerbacks Saturday night, and we aren't talking about a top-10 defense anymore anyway, at least based on what happened to them last year. 
The point is it's impossible to ignore the edge Cousins has had this summer, which is something former Redskins quarterback and current analyst Joe Theismann noted during Saturday's game, according to CSN Washington's Keely Diven: 
Let's stop beating around the bush. Kirk Cousins has played much better at the quarterback position than Robert Griffin III has. Now Robert is, basically like we talked about, learning to work out of a pocket. He doesn't look as smooth and as comfortable throwing the football, I mean, your eyes will tell you everything you need to know. It's going to be a decision that Jay Gruden is going to have to make, who … Right now, Robert Griffin III is his quarterback. Now, if there was a quarterback competition, it wouldn't be a competition. Kirk Cousins would be the man I believe he would have to go to because of the efficiency with which he has run [the offense].
Again, regardless of opponents and support, Theismann is right that "your eyes will tell you everything you need to know." Here's what the tape reveals...
On one hand, Cousins is significantly more comfortable in Gruden's offense
There's still something off in terms of Griffin's timing and rhythm within the new-look offense. That became extremely obvious Saturday, as it seemed he was never releasing at the conclusion of his drop. 
Saw this a few times. Griffin would hit the final step in his drop and then hitch or hesitate. It led to missed opportunities. I go back to what Ryan Clark told me this summer: He knows when a quarterback gets it in an offense when he's hitting that last step and getting rid of the ball. That didn't happen Saturday for a few reasons. 
One such example on a throw that simply came too late to DeSean Jackson: 
NFL Game Pass
Cousins has more often appeared to be in complete command, as was the case on this tight third-down completion against Baltimore:
NFL Game Pass
And with him, most of those throws are getting out as he reaches the base of his drop. He's hitting his second and third reads faster, which really indicates he gets it.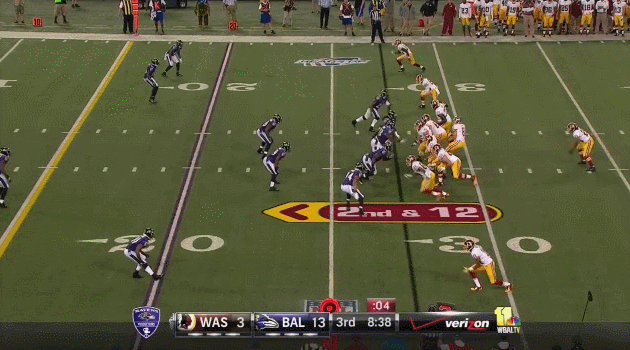 NFL Game Pass
NFL Game Pass
Of course, this doesn't mean Cousins will possess a permanent edge within this system. He is older and more experienced in pro-style offenses than Griffin, so their learning curves aren't the same. In this area, RG3 can make up ground quickly. 
Griffin's footwork is a bit of a mess
No secret there. That's been the case since he came into the league, and it hasn't been any better this preseason. 
NFL Game Pass
He's been working to refine that part of his game, but he's still far too jittery back there. Until he can consistently plant at the base of his drop and fire with his upper and lower body pointed correctly and in unison, this'll be one of Griffin's largest flaws. 
But Cousins isn't technically sound, either
The funny thing about this debate is that it's not about Cousins shining as much as it's about Griffin struggling. Cousins still has plenty of work to do. While he gets plenty of points here for recognizing the blitz and calling a nice audible, he also overreacted to the blitzer and overthrew a Favre-esque pass off of his back foot:
NFL Game Pass
Same thing here, even though he was lucky enough to complete the pass.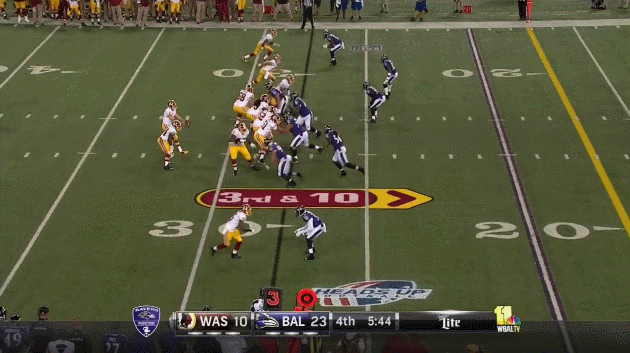 NFL Game Pass
You won't get away with that consistently as an NFL starter. 
Plus, Cousins isn't really taking any chances
His yards-per-attempt total is actually lower than Griffin's despite the fact he has a higher completion percentage. Only 9.3 percent of his passes this preseason have cleared 20 yards, per Pro Football Focus (subscription required), which ranks 59th among 68 qualifying quarterbacks. 
At 20.0 percent, Griffin ranks 10th. 
It has worked out well, but it did feel as though most of Cousins' throws Saturday were within a few yards of the line of scrimmage, and his stats were padded by some nice YAC efforts from guys like Evan Royster:
NFL Game Pass
And that's great if you're a backup quarterback. This is, in fact, another clear indication that Cousins can be one of the best backups in the league. But you can't be a successful starter as a Captain Checkdown in 2014. 
And he hasn't been accurate 
Despite what the numbers say, Cousins hasn't been as accurate as Griffin this summer. His completion percentage has received a huge boost from screens and dump-offs, but he's also been missing open receivers time and again. 
You can't miss a receiver like this when he's gained separation toward the sideline, especially when there's little or no pressure:
NFL Game Pass
Once again here, plenty of time and space. Just a miss:
NFL Game Pass
He also had a dreadful overthrow on an interception against Cleveland:
NFL Game Pass
And this toss to Aldrick Robinson sailed in similar fashion: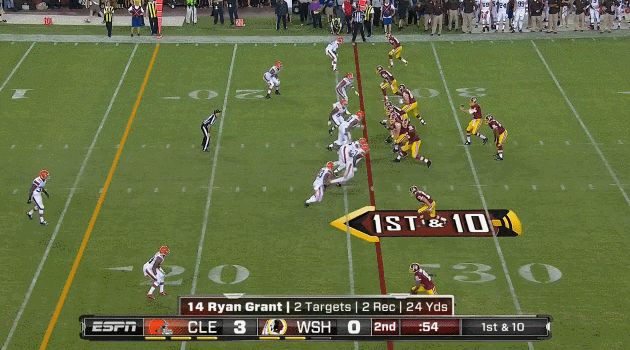 NFL Game Pass
Point being, Cousins has been far from perfect despite working against weaker defenders. 
Griffin has been making more questionable decisions
He should have thrown it away on that interception in which his feet weren't planted properly. In fact, Griffin continues to refuse to throw it away far too often. But those aren't the only questionable decisions he makes. 
This summer, Griffin has continued to expose himself to too many hits, either by taking off despite the fact doing so hasn't been necessary or by simply not sliding. 
An example from the Cleveland game: 
NFL Game Pass
He has to do a better job recognizing checkdown opportunities rather than exposing himself to unnecessary contact. We saw that Saturday when he ignored Roy Helu on a 3rd-and-long. 
NFL Game Pass
The Griffin we remember from 2012 might have beat the defenders to the corner there, making a big play. But he wasn't able to do that and took on some contact. It's not a good decision in a preseason game, which doesn't bode well for regular-season moments like those. 
And then, on his sole pick Saturday, Griffin does this...
NFL Game Pass
Huh?
But he's still a gamer 
Look, he's been under a lot of pressure. That line is struggling, and there's not much any quarterback can do in situations like these:
NFL Game Pass
But he's still made some big plays the last two weeks, reminding us that you get the good with athletic marvels like him. That connection with Jordan Reed is intriguing, and Griffin can still make big plays in tight spots, as was the case on this third-down hookup with the second-year tight end: 
NFL Game Pass
He really is the anti-Cousins. You have your safe option, and you have your unpredictable one. That might never change. 
As you can see, this is a complex debate, something that is certainly exacerbated by the fact the franchise has invested so heavily in RG3 and his brand. It would be risky and embarrassing to make a switch now or in the short-term future. 
And again, you have to consider the sample size. Do a few passes in two quarters of the preseason really deserve to count for so much? I mean, the guy has basically played one full game this month. It hasn't been a good one, but it's just one game we're talking about. That's why Gruden continues to defend his franchise quarterback. 
He is further along than it appears he is. Based on his production [Saturday], a lot of people would say he's not further along. He's a lot further along than he gets credit for. All you have to look at is practice and game tape, and it wasn't very good from anybody. But I've seen him practice, and I've seen him come a long way. [Saturday] didn't show how much he's come forward.
The preseason is simply overrated, and in their grand assessment of their quarterback situation, the 'Skins definitely have to consider how much better Griffin has been in games that have mattered the last two years. 
Cousins posted a dismal 58.4 passer rating in relief of Griffin this past December, which—if he qualified—would have ranked dead last in the NFL by a huge margin. He also tossed seven interceptions on only 155 pass attempts.
From Bleacher Report's Tyler Conway: 
According to Football Outsiders' DVOA metric, Cousins was the worst quarterback in football to attempt 100 or more passes. Pro Football Focus measured Cousins as being better than only one signal-caller who had at least 100 dropbacks: Blaine Gabbert.
That was a small sample size, and it counterbalanced some very solid performances during his rookie campaign, but with that in mind, there's no way the 'Skins can even consider making any changes for the short-term future.
Griffin vs. Cousins, career stats
Metric
Comp. %
TD-INT
YPA
Rating
Griffin
62.7
36-17
7.5
91.5
Cousins
56.2
8-10
6.5
68.6
Pro Football Reference
But then you read items like this from smart people like Neil Paine at FiveThirtyEight and you begin to wonder...
If the Redskins are counting on Griffin to duplicate (or exceed) his performance of two years ago, they might need a reality check. It's very possible that Griffin will never again reach that level of play—and it has little to do with his injury.

[...]

If history is any guide, the odds of Griffin ever surpassing his 2012 season weren't high (only about 1 in 3) even before his knee injury. The problem with such rare performances is that they're the product of both skill and luck, which means they aren't likely to be repeated—no matter how good the player is.
Griffin might never recapture all of the magic from his rookie season, but that doesn't mean the 24-year-old isn't still good enough to start ahead of Cousins. The reality is that we're simply dealing with too small a sample size right now and that August just isn't often enough indicative of what's to come. 
For proof of that, the Redskins need not look further than Philadelphia, where the division-rival Eagles concluded, based partly on preseason results, that Michael Vick was the better option under center than Nick Foles last summer. 
Foles vs. Vick, 2013
Metric
Foles
Vick
Comp. %
64.3
73.7
YPA
6.5
10.1
TD
0
2
INT
1
2
Rating
72.6
101.1
Pro Football Reference
That move didn't crush the Eagles because they made an early-season change after Vick got hurt. The Redskins might not be so lucky. Griffin has to remain the No. 1 guy, but some real or perceived thin ice could be exactly what he needs. 
Brad Gagnon has covered the NFC East for Bleacher Report since 2012.