Why Barkevious Mingo Will Become a Household Name in 2014
July 5, 2014

AP Images
When the Cleveland Browns selected linebacker Barkevious Mingo with the sixth overall pick of the 2013 NFL draft, they were expecting him to develop into a dominant pass-rusher.
Like most of the players from the first round of the 2013 draft class, Mingo hasn't established himself as a star in the NFL just yet. The former LSU prospect notched just five sacks during his rookie season, while featuring prominently in Ray Horton's rotation up front.
Five sacks in 15 games seems like very poor production for any player whose primary job is to get to the quarterback, but that is not really the case.
Mingo left LSU as a raw athlete who needed to be developed into a consistent football player. Getting just five sacks as a rookie isn't anything to be overly concerned about because it doesn't foreshadow what he will be able to do in the future.
Since the 2000 season, 53 players have had more than five sacks during their rookie seasons.
Notable players who had similar numbers to Mingo as a rookie are Robert Quinn, who had five in 2011, J.J. Watt, who had 5.5 in 2011, Cameron Wake, who had 5.5 in 2009, Mario Williams, who had 4.5 in 2006, Jason Pierre-Paul, who had 4.5 in 2010 and John Abraham, who had 4.5 in 2000.
Early career success can be indicative of sustained excellence over many years, but it doesn't guarantee it any more than those who need time to adjust as rookies.
Each of Mark Anderson, Brian Orakpo, Kamerion Wimbley, Carlos Dunlap, Corey Simon, Kendrell Bell and Jabaal Sheard all rank in the top 20 for sacks as a rookie, but none of those players ever (or have yet) reached those heights of production again.
When you look across the landscape of NFL pass-rushers, you find some of the most athletic players in the league.
Players such as Watt, Aldon Smith, Von Miller, Quinn, Greg Hardy and Mario Williams all have either one exceptional physical trait they can build their pass-rushing pursuits on or an overall size and athleticism combination that makes it very difficult for blockers deal with.
Mingo doesn't have one exceptional physical trait like Quinn or Miller's explosiveness off the edge, but he does have the all-around size and athleticism to compare to Smith and Williams.
He is a long, heavy athlete who can move in space or explode through contact. His frame is listed at 6'4" and 240 pounds, and he appears to be in peak physical condition. Mingo gives good effort, but he doesn't have a relentless approach to rushing the passer. Instead, he plays with more awareness of his surroundings.
That awareness allowed him to play more snaps for the Browns last season, but it also made him a less effective pass-rusher. In comparison to a player like Smith, who was a situational rusher for the 49ers as a rookie, Mingo was being asked to do more for his defense.
While that slowed him down during the initial part of his professional career, it should help him adjust entering his second season. When he can play quicker, his consistency should reveal how effective his physical traits can be.
Mingo's most impressive game last season was likely his Week 5 showing against the Buffalo Bills.
NFL.com
Cordy Glenn got the better of Mingo for most of the game, but the flashes of his potential against one of the better starting left tackles in the NFL were also evident. On this play, Mingo uses his hands to focus his strength and knock Glenn backwards.
The quick pressure from the other side is all that prevents him from getting to the quarterback.
NFL.com
One thing Mingo definitely needs to rectify entering his second season is his initial burst at the snap. It was too inconsistent for a player with his fluidity. While Mingo has to be aware of any potential run threats, there are also times when he needs to explode off the snap and trust his ability to recover if he needs to.
On this play, Mingo did burst off the line at the snap and he immediately made Glenn concerned. Glenn did brilliantly to recover and guide Mingo away from his quarterback, but the play from Mingo shouldn't be overlooked simply because Glenn made an outstanding move as well.
NFL.com
An under-appreciated aspect of a pass-rusher's skill set is his balance in the open field and his ability to bounce off of blocks from smaller running backs and tight ends. This is something Mingo also proved himself capable of doing when running at top speed.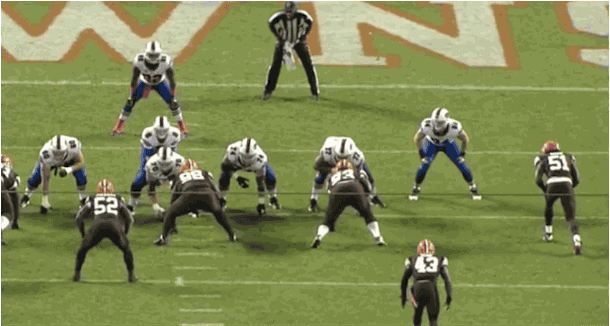 NFL.com
With some pass-rushers, effort is a major concern. With Mingo, there are no such concerns. He consistently plays through to the end of each play and fights through contact even when he is in a position that should easily see him taken out of the play.
Giving good effort is one thing, but good effort is worthless without the strength to reap the potential rewards.
NFL.com
On this play, Mingo's inside step is picked up by Glenn, but the left tackle isn't able to push him away from the quarterback or knock him to the ground. Mingo keeps working on his inside shoulder and fights his way back around the left tackle to get to the quarterback.
Even though Mingo didn't get the sack, his initial interior pressure caused it because he forced the quarterback to reset his feet.
In the fourth quarter, Mingo put all of his separate pass-rusher traits together into one play. Again, he failed to get the sack, but he never really had a chance to bring the quarterback down so that shouldn't affect how we evaluate what he did on the play.

NFL.com
Before the snap, Mingo lines up wide of Glenn. The Bills are in the shotgun, and even though they are backed up against their own goal line, this is a passing situation where Mingo can be aggressive in attacking the quarterback.

NFL.com
At the snap, Mingo shuffles his feet to threaten an inside rush before attacking Glenn's outside shoulder. This hesitation creates pause in Glenn and an outside lane for him to attack the quarterback.

NFL.com
Mingo doesn't immediately attack the outside, instead he smartly extends his arms towards Glenn to prevent the left tackle from recovering his position to guide Mingo away from the pocket. With excellent body control and quickness, Mingo has executed this pass-rush move perfectly to set up a lane to the quarterback.

NFL.com
Jeff Tuel, who replaced EJ Manuel because of injury, is able to get rid of the football before Mingo arrives, but he affects the throw by extending his arms through contact into the quarterback's face. Meanwhile, Glenn is on his knees desperately trying to cling to Mingo. 
Although we tend to focus on sacks and pass-rushing ability when it comes to outside linebackers and defensive ends, Mingo's ability to stop the run must also be appreciated. As with his pass-rushing escapades in 2013, Mingo was an inconsistent run defender who flashed different ability.
Staying focused on the Week 5 matchup with the Bills, we can see how Mingo will be an effective and versatile run defender.
NFL.com
On this play, Mingo dips underneath the incoming block from the tight end and uses his strength to repel his attempts to push him out of the play. Mingo crashes down the inside of the line of scrimmage so he is able to crash into the running back when he is forced towards the left tackle.
Mingo will never be a space eater or even a linebacker who consistently runs through blocks to get to the running back. Instead he will rely on his quickness to beat blockers to spots and then use his strength to hold those positions.
When he is moved into more space, he figures to be even more effective.
NFL.com
On this play, Mingo is dropped into coverage before the snap, so he must react from an inside position when the Bills run to his side of the field. He shows excellent body control as he accelerates past Glenn in space and sustains his balance against his extended arms.
Mingo is able to push Fred Jackson out of bounds for a short gain in a situation where many linebackers wouldn't have been fast enough to get past Glenn.
In today's NFL, every edge defender needs to show awareness against opposing running games. Because read-option plays are so prevalent, cutback lanes can lead to huge plays and there are so many diverse play action designs, outside linebackers need to be able to read what is happening in front of them quicker than ever before.
When a prospect is pegged as raw coming out, it's generally presumed they can do very little outside of just being a pass-rusher. Mingo was primarily labelled raw because he was an exceptional athlete, not because he was only an exceptional athlete.

NFL.com
Even at LSU, Mingo showed good discipline and awareness against the run. On this play, the Bills are trying to create a cutback lane on his side of the field by running a play that looks like an option for the quarterback but appears to actually just be a run to the other side of the field.

NFL.com
Mingo does what the offense wants him to do. He accounts for the quarterback on any potential keeper. However, he also has done what the defense wanted him to do. What makes this play impressive is what Mingo does after this point.

NFL.com
He doesn't linger on where the ball is and slow down his decision-making process. As soon as he had an opportunity to see the quarterback didn't have the ball, he began strafing towards the other side of the field before turning his shoulders and chasing down the play from the backside.
Mingo never makes a tackle on this play, but he is in position to tackle the running back if he looks for the cutback lane on the backside. In other words, he sustained the defense's gap integrity.
That was just one game of Mingo's rookie season. You don't need to look too far to find the inconsistencies that marred his season and ultimately made it underwhelming, but that's not vital for rookies. New Browns head coach Mike Pettine only needs to know if the talent is there for Mingo to be developed into a star.
Even from just one game, that talent was clearly evident last year.
Pettine comes from the Rex Ryan coaching tree. He was Ryan's outside linebackers coach with the Baltimore Ravens, before he became the defensive coordinator of the New York Jets under Ryan. Pettine spent one season as the defensive coordinator of the Bills before being appointed the head coach of the Browns.
During his one season as the Bills defensive coordinator, Pettine got phenomenal results.

Mark Duncan/Associated Press
According to Football Outsiders DVOA (Defense-adjusted Value Over Average), a metric that measures efficiency, the Bills had the fourth-best defense in the NFL last season and the second-best pass defense despite playing without their two best secondary players for long stretches: safety Jairus Byrd and cornerback Stephon Gilmore.
Furthermore, the Bills ranked 27th in overall DVOA the previous season and 22nd in pass DVOA despite Gilmore and Byrd being healthier.
A large reason for the improvement on the defensive side of the ball was Pettine's ability to get the most out of the team's pass-rushers up front. Former first-overall pick Mario Williams had 13 sacks, one off his career high. Defensive tackles Kyle Williams and Marcell Dareus accounted for 18 total sacks.
Each of Dareus, Kyle and Mario were all expected to be very productive players in 2013, but the major difference was Jerry Hughes—who had 10 sacks in 2013 after tallying just five total through his first three NFL seasons.
The sum total of those four rushers allowed the Bills to set a franchise record for sacks and finish second only to the Carolina Panthers for the 2013 season. During the previous season, the unit had 36 sacks and ranked 18th in the NFL.
Pettine brings an impressive pedigree to his new role in Cleveland. He proved last year he could make quick changes to the overall effectiveness of a defense, while he has a proven track record of developing talent in Baltimore, New York and for one season in Buffalo.
With all of that in mind, it's safe to suggest 2014 could be the season Mingo establishes himself as the best player from a somewhat muted 2013 draft class.