A 13-game losing streak to end last season and questions about LaMarcus Aldridge's future with the Portland Trail Blazers seem so long ago, don't they? The Trail Blazers have left those issues in the dust with their hot start, and now we ponder a new question.
Can they keep it up?
Entering this season, Portland's goal was to make the playoffs after missing the postseason the last two years. Getting past the first round for the first time since the turn of the century would be icing on the cake.
Being mentioned as one of the best teams in the NBA? Now I suspect that surpasses even internal expectations.
The team's directions for making the playoffs were simple: sport a top offense and an average defense. Even in a deep Western Conference, that would put them in contention for a playoff seed.
The Blazers have hit their spot. With wins against some of the best teams in the NBA—the Oklahoma City Thunder, Golden State Warriors, San Antonio Spurs and Indiana Pacers—it isn't as if Portland has been ballooning its record by beating bad teams.
Looking at the most basic stats, Portland is a top-five offense in points per game and in the top 15 for points allowed. Damian Lillard is controlling the offense, while Aldridge is playing some of the best basketball of his career. The team is shooting at an insane rate from three, and the defense, though not great, seems comfortable with its execution.
Offense
With Lillard and Aldridge on the roster, Portland making the leap to a top-five offense was not out of the question. Add Wesley Matthews playing out of his mind, Nicolas Batum running circles around defenses and an improved bench, and Portland's offense has taken off.
The lead story when looking at the offense is the ridiculous rate that they are hitting three-point shots. The Blazers are converting on more than 42.5 percent of long-range attempts, but I'm not sure it can last. Only the 1996-97 Chicago Bulls shot at this rate for the length of an entire season, according to Basketball-Reference.com.
But this Portland team always has at least two guys on the court who can drain a three. Lillard, Matthews and Batum are all reliable three-point shooters, and the Blazers have Mo Williams and Dorell Wright hopping off the bench.
"Lilldridge" is the foundation of the offense: an excellent pick-and-roll combination with one man a savant in the post and the other a deadly wing that defenses can't leave alone. The emergence of Matthews as a legitimate third scorer, however, has been the gasoline to the fire.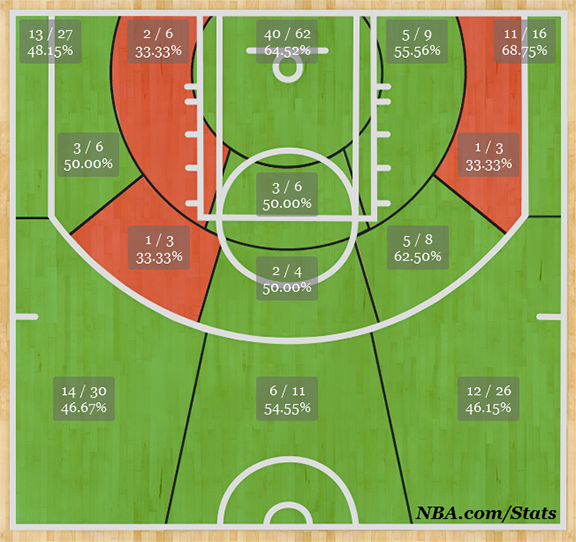 NBA.com/Stats
I love Matthews' shot chart. He's causing a ruckus as a three-point shooter but is also making 61 percent of his shots on the drive, according to
NBA.com
. Matthews won't finish the season hitting 50 percent from three, but his game is well-rounded enough that he will continue to be a factor on offense.
Lillard makes the offense hum. Only three players have touched the ball more this season than him (Kemba Walker, John Wall and Chris Paul), and he is averaging more points per touch, 0.24, than any of them, according to NBA.com. He is an improved passer and decision maker on the pick-and-roll as well as a deadly shooter.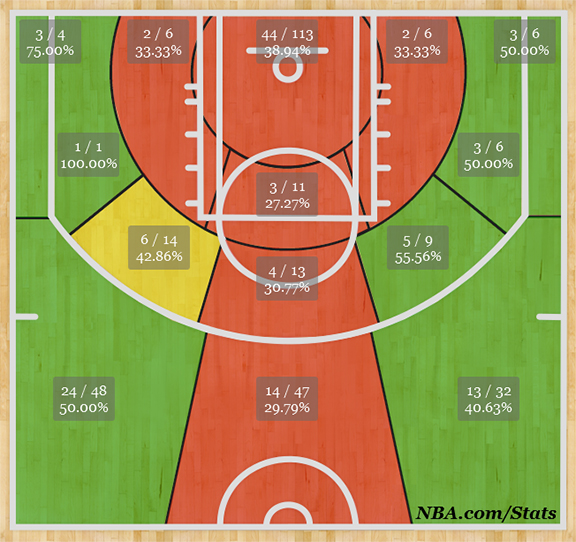 NBA.com/Stats
But Lillard's shot chart scares me. What happens when teams commit to chasing him off the line and force him to drive? He has to improve in this area. Luckily for him, however, he has plenty of options to kick out to.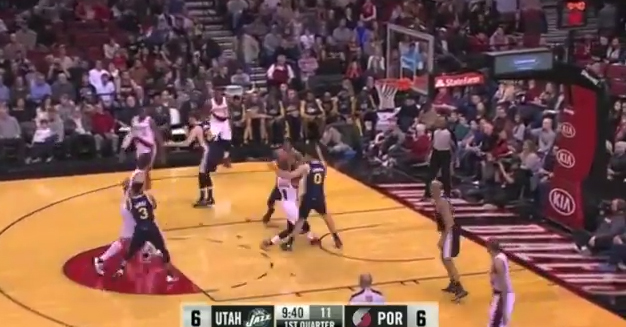 (YouTube)
Lillard actually finished with a layup on this drive. The
Utah Jazz
defense crashed on him as they averted their eyes from the shooters, which left Matthews and Batum open in the corners. Lillard could have easily kicked it out to them, and he often does.
Portland's scoring leader is Aldridge, who is arguably the best post player in the NBA and is playing some of the best all-around basketball of his career. He is averaging double-digit rebounds per game for the first time in his career and playing better defense.
| | | | | |
| --- | --- | --- | --- | --- |
| Name | Drives FG% | Close Shots FG% | Catch and Shoot FG% | PPG |
| LeBron James | 62.5% | 73.3% | 55.8% | 25.5 |
| LaMarcus Aldridge | 50.0% | 51.8% | 50.0% | 23.1 |
His bread and butter is his shooting. Of players averaging at least 23 points per game, only Aldridge and LeBron James are shooting better than 50 percent on drives, close shots and catch-and-shoot buckets, according to NBA.com.
For the Trail Blazers, whose offense relies on the pick-and-roll probably more than any other team, that is money in the bank. On a typical pick-and-play, Aldridge has the option to catch and shoot on the pop or dribble on the roll, and he is doing both efficiently.
Defense
The Blazers defense is going uphill with Aldridge and Lillard as the best players. Rather than try to be something they aren't, the Trail Blazers have embraced average defense. The idea behind the premise is similar to the idea behind the Cover 2 defense in football—concede the little things and not the big things.
Zach Lowe of Grantland.com talked to Blazers coach Terry Stotts about it:
"We want to take away the 3-pointer," Stotts said. "We won't double the post. And there's so little post play left in the league, it's really not a big number to me, going forward."
Stotts won't double in the post. That sounds preposterous, doesn't it? Why wouldn't you try to prevent more efficient shots in the paint over the less efficient ones from three? Well, Stotts makes the point that fewer teams are relying on the two-point buckets in the post and rely more on ball movement for open three-pointers. A double-team leaves someone open.
Stotts would rather give up a physical advantage to guys like Marc Gasol and Roy Hibbert because there aren't as many Gasols and Hibberts as there are players who can hit open shots.
Portland is conservative on pick-and-roll coverage too. The team almost always has its guards chase the ball-handler and its bigs fall back. This conservative approach will typically allow a mid-range shot but will provide back-side pressure on three-point shots as well as a man between the ball and the basket.
This scheme—and replacing J.J. Hickson with Robin Lopez at center—are big reasons why Portland's defense has improved from allowing 1.061 points per possession to 1.032. That isn't great, but it's good enough to get them out of the league gutters.
This play shows how the Blazers handle both off-ball and on-ball pick-and-rolls. Utah runs a series of pick-and-rolls with the initial goal of getting Gordon Hayward an open shot.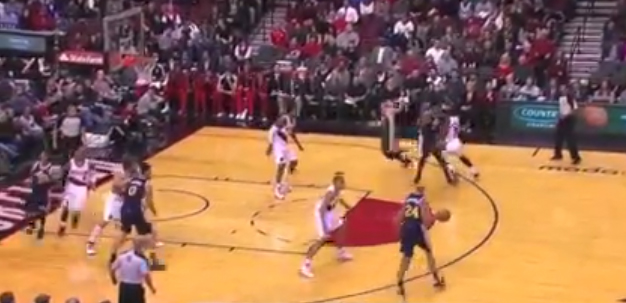 (YouTube)
First, he comes off a screen set by Derrick Favors. Matthews pursues Hayward as Aldridge falls back and allows the pass to Favors.
(YouTube)
Now Favors has the ball. Hayward comes back around, and Matthews sticks to him. Rather than take a mid-range jumper, he hands the ball off to Trey Burke.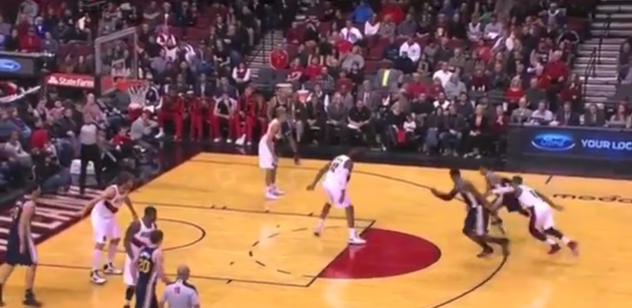 (YouTube)
Lillard sticks with Burke, and Aldridge is still protecting the paint. Notice how every shooter is accounted for, as opposed to how Utah defended Lillard's drive. Lopez even stays with Enes Kanter rather than come in for early help on Favors. Burke made the mid-range runner, but Stotts will give up that inefficient shot before an open three or uncontested layup.
I would like to take this moment to vote for Stotts as Early Coach of the Year. Lopez is slow, and Aldridge is unimpressive on defense. Mo Williams is bad at defense, and Lillard, although improved, is still a liability. This system, as conservative as it is, puts the players in a position not to fail. The floor and ceiling are the same.
What's Next?
The Trail Blazers are on their way to a playoff spot. Before the season started, Portland was thought to be in a tier with Minnesota, Denver, Memphis and New Orleans. It helps that those teams are down (although Denver has bounced back as of late).
If you believe in regression to the mean, the Timberwolves and Grizzlies won't finish under .500 and Portland probably won't finish with the more than 65 wins that it is on pace for.
More than 50? That's more like it—a 20-game improvement in wins is nothing to sneeze at. After all, the West is deep and will cannibalize wins and losses all season.
If general manager Neil Olshey wants to pounce, he could make a move before the trade deadline. There are many moving pieces as teams try to tank for the upcoming NBA draft. Olshey, seeing that his team may be ahead of schedule, could elect to make a roster move with a playoff run in mind. It's important to remember that the team has another scorer in rookie guard C.J. McCollum eventually coming back.
Regardless of how things play out, expectations are not the same as they were when the season started.
Stats are accurate as of Dec. 8, 2013.