For once, the Los Angeles Clippers did not need Chris Paul to close out a game.
The star point guard left the Clippers' 93-80 victory over the New York Knicks on Wednesday night with a strained hamstring, according to ESPN's J.A. Adande.
Chris Paul has a right hamstring strain. Return is questionable

— J.A. Adande (@jadande) November 28, 2013
Clippers say Chris Paul could play if needed, but with LA up by 12 and 2 minutes left, doesn't look like he will be

— J.A. Adande (@jadande) November 28, 2013
It's always nice when a team's best player, confident in victory, can rest a pulled muscle. Had this happened in most other Clipper games this season, the team might have had no choice but to put Paul into the game to finish off the opposition.
It's no secret that the Clippers have leaned on Paul quite heavily this season. Their bench—a strength of last year's team—has struggled, often leaving Paul to clean up the mess. The Clippers are plus-6.7 points per 48 minutes with Paul on the court, but only plus-0.9 points per 48 minutes with him on the bench.
On Wednesday night, however, it was the bench's turn to pick up Paul and the starters. The Clippers' first unit was outplayed for most of the game, but the bench rose to the occasion, crushing the Knicks' second unit by a 34-13 scoring margin.
So has the L.A. bench truly turned a corner? Or did it just run into a group much worse than it is. Probably the latter.
Just When You Think Amar'e Stoudemire Can't Sink Any Lower...
The New York Knicks are bad. They're bad on offense, they're bad on defense. They're bad at rebounding, they're bad at shooting threes. They're bad in a box, they're bad with a fox.
But the Knicks have been surprisingly good in one key area: Their starting unit has played well over the past few weeks, despite the loss of Tyson Chandler. Andrea Bargnani has played better than anyone had a right to expect. Carmelo Anthony has put in an incredible amount of time and energy into keeping this team afloat, particularly on the glass.
Yet, it has all been for naught, as the Knicks have been done in by a bench unit that cripples their chances to win each game.
Anyone who has seen the Knicks play over the past few weeks should already be familiar with tonight's formula for failure. The starters play well, holding a slight lead near the end of the first quarter (on Wednesday the Knicks led 21-17 at the 4:28 mark).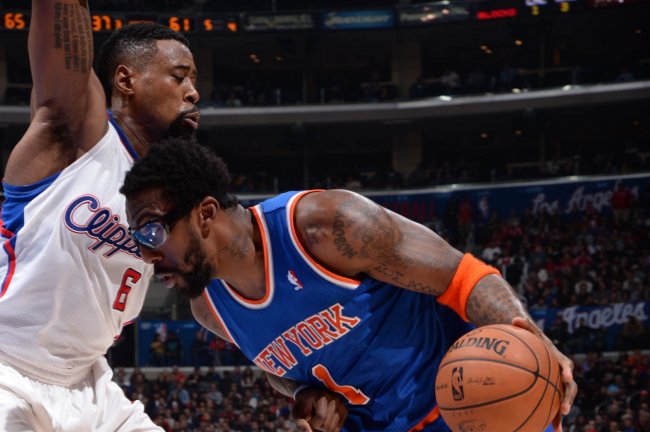 Andrew D. Bernstein/Getty Images
Then Amar'e Stoudemire comes in...and the Knicks lead is quickly flushed down the toilet.
The Clippers put together a 23-8 run in just the first few minutes of the Amar'e experience. Stoudemire was replaced, the Knicks storm back take a one-point lead. Stoudmire returned before halftime, and the Knicks go into the locker room with a four-point deficit.
The result was one of the most mind-boggling plus/minus numbers in basketball history: Amar'e Stoudemire went into the half with minus-21 rating in a four-point game. In other words, the Knicks outscored the Clippers by 17 points with Stoudemire out of the game yet ended the half trailing.
The veteran big man ended the game with a minus-29 rating in 20 minutes. His four points on 2-of-5 shooting and two rebounds couldn't make up for his two turnovers and pathetic defense. But he did manage to neutralize Melo's 27 points and nine rebounds, not to mention Bargnani's 20-point, 10-rebound effort.

After the game, a despondent Melo spoke to the media about the need to play four quarters of cohesive, team-oriented basketball.
Per the Associated Press:
We have to pinpoint what the problems are and go from there...We've got to play four quarters together, and we've got to do it for one another. Right now the game is not fun for nobody. We're just not making it happen. But we're going to keep trying.
The problem for Melo and the Knicks is that the bench is making it impossible to play four quarters of solid basketball. The second unit is hemorrhaging points, and the starters are wearing themselves out in the second half in vain attempts to dig out of massive deficits they themselves had no part in creating.
Count Your Blessings, Clippers Fans
No, the Clipper's bench has not been good. But compared to the mess of players piled over on the Knicks' bench, the Clippers went into this game with a distinct advantage.
Just check out the difference in the rating of the bench players available to each team in this game, both in Player Efficiency Rating (15.0 is average) and in Basketball-Reference.com's Win Shares Per 48 Minutes (.100 is average)
Clippers Bench vs. Knicks Bench

| | | | | | | |
| --- | --- | --- | --- | --- | --- | --- |
| Clippers | PER | WS/48 | | Knicks | PER | WS/48 |
| Jamal Crawford | 16.2 | .080 | | Pablo Prigioni | 12.0 | .108 |
| Ryan Hollins | 9.1 | .040 | | Tim Hardaway | 12.5 | .057 |
| Darren Collison | 13.6 | .067 | | Metta World Peace | 11.4 | .015 |
| Byron Mullins | 9.8 | .043 | | Beno Udrih | 8.9 | -0.014 |
| Reggie Bullock | 4.2 | -0.041 | | J.R. Smith | 8.8 | -0.045 |
| | | | | Amar'e Stoudemire | 10.9 | -0.033 |
basketball-reference.com
Truly, this was a clash of the titans. Fortunately for the Clippers, Antawn Jamison has returned from injury to take those minutes away from Byron Mullins. If Jamison can provide quality minutes, then the Clippers' reserves might see some real progress on the defensive end once Matt Barnes returns.
As for the Knicks, their solution is simply, yet probably, unattainable. To improve their bench, they need to take minutes away from Stoudemire, Smith and Udrih. There are players on the team who can take some of those minutes, like Tim Hardaway Jr., Toure' Murry and Cole Aldrich. But whether from coach Mike Woodson's stubbornness or some front-office mandate, the Knicks show no signs of taking minutes away, particularly from Stoudemire and Smith.
Until the Knicks rein in their big-name, underachieving bench players, they won't win a game, no matter how well their starters play.