It has been a roller-coaster season for Cincinnati Bengals quarterback Andy Dalton. After a few impressive midseason performances, Dalton began to falter, posting passer ratings of just 55.4, 52.3 and 62.7 over his last three games, respectively.
Bengals QB Andy Dalton's Total QBR has taken a nosedive the last few weeks pic.twitter.com/75H55IirZw

— ESPN Stats & Info (@ESPNStatsInfo) November 18, 2013
Luckily for the Bengals and their quarterback, the team's Week 12 bye came at a perfect time—right before Cincinnati heads out west to take on the dangerous San Diego Chargers.
Now that the Bengals have been given extra time between games, a plan must come together to get Dalton and the offense back on track.
Despite owning a 5-6 record, the Chargers were able to knock off the Kansas City Chiefs last week—a feat that has only been accomplished twice this season. However, during the Chiefs' loss, they provided a blueprint for the Bengals' aerial attack for their upcoming contest.
The Chiefs were able to take advantage of the Chargers' 27th-ranked pass defense by picking them apart on short routes and providing space for wide receivers to run after the catch. This West Coast style is very similar to the offensive scheme in Cincinnati.
Dalton is in dire need of a confidence boost. After all, he has thrown eight interceptions compared to just five touchdowns over his last three games.
Most turnovers this season: Geno Smith 23 Eli Manning 19 Andy Dalton 18 Ryan Tannehill 17 Carson Palmer 17

— NFL on ESPN (@ESPNNFL) November 26, 2013
The best way for offensive coordinator Jay Gruden to boost Dalton's confidence is to allow him to complete high-percentage passes and get a rhythm going. Utilizing the blueprint that the Chiefs left behind after their Week 12 bout with the Chargers will allow Dalton to do just that.
One play from this Week 12 contest epitomized exactly how the Chiefs passing attack was able to pick apart the Chargers secondary.
Before the snap, wide receiver A.J. Jenkins goes in motion to the far side of the field. He is shadowed by cornerback Shareece Wright, signifying man coverage. San Diego is playing two deep safeties and blitzing the strong side of the field. Kansas City counters the blitz by running a bunch formation from the same side in an attempt to confuse the defense: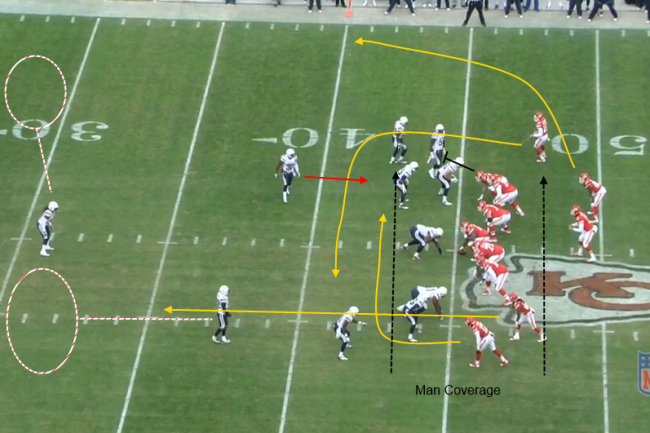 NFL Game Rewind
The bunch works and the Chargers defenders become bottled up on the far side of the field. Meanwhile, Dwayne Bowe and Jamaal Charles run clearing routes as decoys. Also, Donnie Avery runs an underneath crossing route to clear out the middle of the field: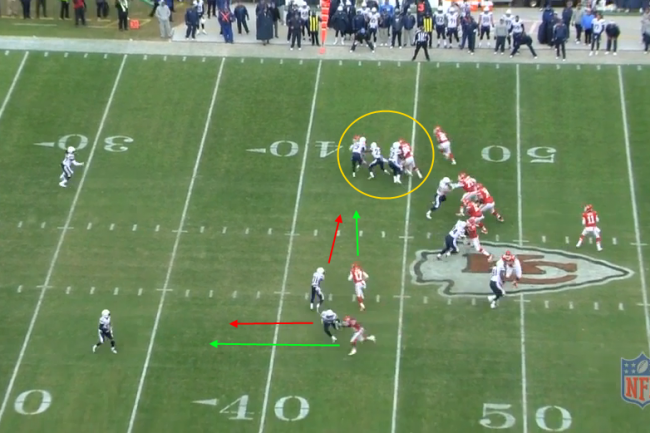 NFL Game Rewind
Jenkins was lost in the confusion of the far side of the field. He springs open across the middle due to the deep clearing patterns and Avery's crossing route. At this point, Jenkins has plenty of real estate to work with after the catch: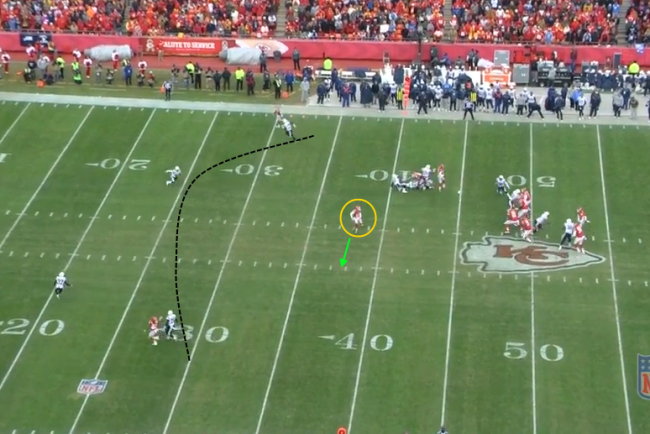 NFL Game Rewind
After a 22-yard gain, Jenkins is finally taken down: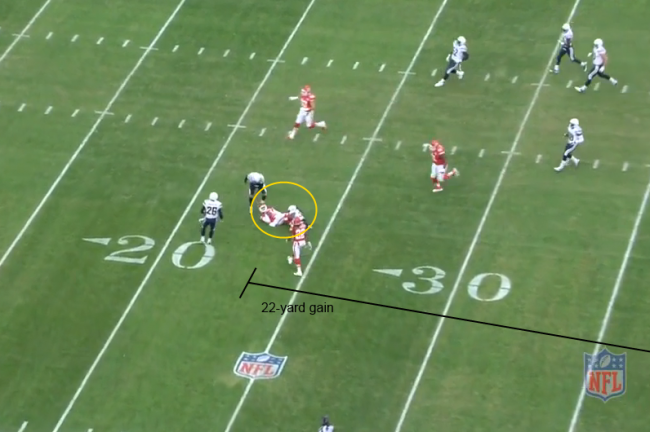 NFL Game Rewind
Now, watch the play in its entirety:
This is a perfect example of a high-percentage passing play that yields a great deal of yards after the catch. It is this kind of play that can easily get Dalton into a rhythm if used early and often in the upcoming matchup against the Chargers.
Running these quick-hitting strikes will not only allow the Bengals to control the clock and move the ball downfield, but it will force San Diego's safeties to pull up after some time. Once that defensive adjustment is made, the Bengals would be able to take the top off of the Chargers defense.
Alex Smith has 3 completions on throws of 15 or more yds in 1st half. He averages 2 such completions per GAME

— ESPN Stats & Info (@ESPNStatsInfo) November 24, 2013
Alex Smith was able to flourish in this scheme in Week 12. Smith finished the game completing 26 of 38 passing attempts for 294 yards, three touchdowns and one interception, for a passer rating of 106.7. His performance allowed the Chiefs to put up a total of 38 points on San Diego's defense.
It only takes one solid game to get a quarterback back on track. If Cincinnati can get Dalton going against the Chargers, it will surely bode well for what appears to be an upcoming third consecutive trip to the playoffs for the Bengals.
All screen shots courtesy of NFL Game Rewind.