There can be little doubt that Arsenal earned their superb victory over Borussia Dortmund. However, the overall performance was far from vintage.
Arsene Wenger's team were second best for long periods but ultimately came away with those hallowed three points.
To be fair, Borussia Dortmund were the better team for at least 60 minutes. The changing point in the game came in the 63rd minute when Aaron Ramsey scored on Arsenal's first attack. Following the goal, the Gunners proved the far better side.
The goal changed the entire complexion of the game and turned the tactics employed by each team on their heads.
The Gunners seemed to grow in confidence and energy while Dortmund got more and more frustrated and started to give away needless free-kicks. In the end, Arsenal proved the far more disciplined side and won, but they had to thank Dortmund for some wayward finishing and the referee for missing an obvious tug on Robert Lewandowski in injury time.
That being said, Dortmund rarely threatened and Arsenal cannot be held responsible for their opponents abject finishing. They can, however, be held responsible for their own game in which they worked tirelessly and superbly for each other.
Here, Bleacher Report breaks down Arsenal's win over Borussia Dortmund.
By the time halftime came around, the Gunners had yet to have a single shot on goal. Dortmund had had six attempts and Arsenal had not even threatened Roman Weidenfeller's goal.
HT #BVB 0-0 #AFC http://t.co/zxDnM1lrun Wayward shooting from the hosts... and nothing at all from Wenger's men pic.twitter.com/KbNvY1mTyH

— FourFourTwo (@FourFourTwo) November 6, 2013
However, despite Dortmund's dominance of the first half, they could hardly be said to have cut the Gunners to pieces. Time and time again, they would build an attack and get to within 30 meters of the Arsenal goal only for the move to break down.
The exact same could be said of Arsenal. Without real pace in the wide areas, they were lackluster in attack and never threatened the goal once. Ironically, this lack of pace would ultimately prove key as the wide players, Santi Cazorla and Tomas Rosicky, dropped deep to help stem Dortmund's midfield.
In what can only be described as a disappointing first half, both sides were at the best when counter-attacking. They continually gave the ball away cheaply in the final third and lacked the pace (on Arsenal's side) and the creativity (on Dortmund's side) to initiate attacks from build-up play.
The key to all of Dortmund's dominance began in midfield.
However, it was Lewandowski's positional play that upset the Arsenal triumvirate of Aaron Ramsey, Mikel Arteta and Mesut Ozil.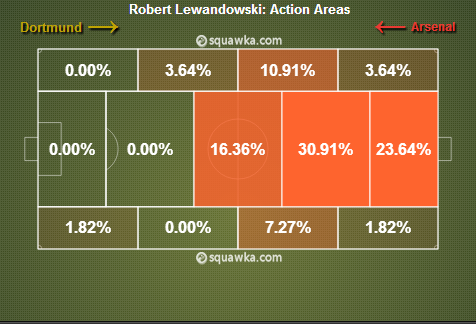 Lewandowski constantly dropped deep and pulled off Laurent Koscielny and Per Mertesacker. One must presume that the two Arsenal central defenders were given strict instructions to allow the striker to go as they held what turned out to be an extremely disciplined defensive-minded back line.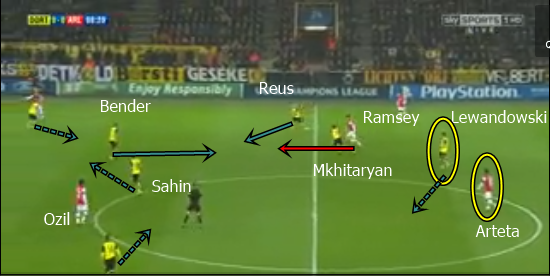 The Polish striker dropped into Arteta's position which in turn allowed Henrikh Mkhitaryan to roam unmarked as Sven Bender and Nuri Sahin matched up against Ozil and Ramsey. The end effect was Dortmund swamping the midfield and dictating the tempo of the match.
The photo above shows how Lewandowski's movement overloaded midfield and forced Arsenal into cul-de-sacs. Ramsey, in this instance, is forced to run past Henrikh Mkhitaryan if he wants to penetrate into Dortmund territory.
Facing Marco Reus and Sven Bender ahead, Ramsey turns back to look for Arteta's assistance. However, the Spaniard is closed down quickly by Mkhitaryan and Lewandowski in tandem and ends up giving away a needless free-kick.
This type of situation occurred time and time again in the first half and, by the 40th minute, Dortmund were bossing the game. According to FourFourTwo's StatsZone, Dortmund had made 221 passes to Arsenal's 144 by the 40th minute.
However, the problem with Dortmund is that they have no real midfield schemer. While they were bossing the game in the shape of possession and shots on goal, they were not creating any real clear-cut chances.
This was down to the disciplined way that Laurent Koscielny and Per Mertesacker controlled the back four.
Time and time again, Dortmund won the ball in midfield after careless Arsenal play. However, they never once were able to get behind the back four.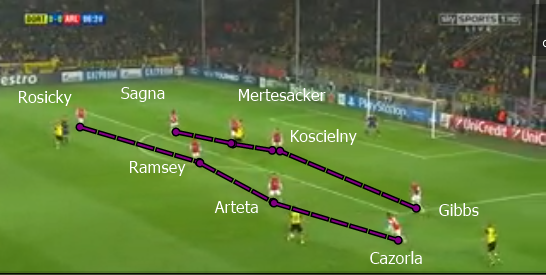 In the example above, play initiated on Arsenal's right after Per Mertesacker gave the ball away cheaply. However, as Dortmund broke through Jakub Blaszczykowski, they were forced to go all the way across the box to Kevin Grosskreutz.
As Arsenal adjusted to the play unfolding, all the gaps were filled and Grosskreutz was forced to go back to Nuri Sahin, who eventually played the ball back to Neven Subotic on the halfway line.
This was because Arsenal had two strict lines of four that were basically impenetrable. The only minor note in the above example is Bacary Sagna's position. The French international is in a good position, but he really should be at least one yard behind Mertesacker so as to cover the eventuality of the German being beaten instead of two yards in front of him.
As Dortmund did not cross the ball in this instant, it did not matter, but good positioning is a habit and it will eventually cost goals or even points if not rectified.
It this respect it is important to note how close Koscielny and Mertesacker are to each other. They can cover each other and Lewandowski at the same time.
Koscielny's excellent positioning also allows for the eventuality of Cazorla and Gibbs being beaten, as he can sweep in behind the left-sided pair to cover.
The only time Dortmund did manage to break through Arsenal's rearguard was through counter-attacking.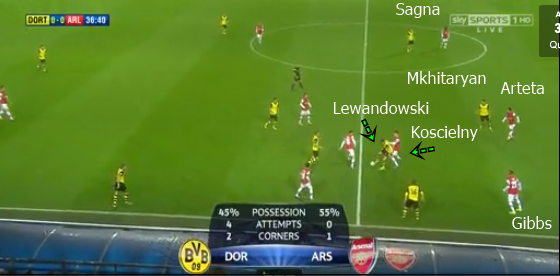 In the example, Lewandowski has sucked Koscielny in too close as he receives the ball. The French international should have passed the Pole on to Arteta in this position and maintained his defensive role.
However, because he is now past the midfield defensive break, it only takes one swift one-two by Lewandowski to open up the entire Arsenal defense.
Koscielny eventually fouls Lewandowski, but the referee allows the play to continue. Mertesacker now has to leave the center and go to Blaszczykowski, who is tearing down on goal. Sagna is struggling to get back into a covering position because Koscielny is so far out of position and Arteta has allowed Mkhitaryan to run free and has not tracked back.
In the end, Mkhitaryan fires wide, but it was a gilt-edged chance and easily the best of the match.
The second half began in the best of fashions for Dortmund and they managed to create a number of chances. Most of these were through crossing situations emanating from their right flank.
#BVB 0-0 #AFC http://t.co/zxDnM1lrun Dortmund peppering Arsenal's left with attacks as they attempt to target Gibbs pic.twitter.com/QslzoetxVj

— FourFourTwo (@FourFourTwo) November 6, 2013
They did not, however, manage to break through that disciplined back line. As the midfield and Olivier Giroud gave the ball away constantly and cheaply, the onus was on the defense to keep the Gunners in the game. And do that they did.
The Gunners were under fierce pressure for the first 15 minutes of the second period and barely got out of their own half.
However, Dortmund once again—as they did in the first half—found Arsenal impossible to break down.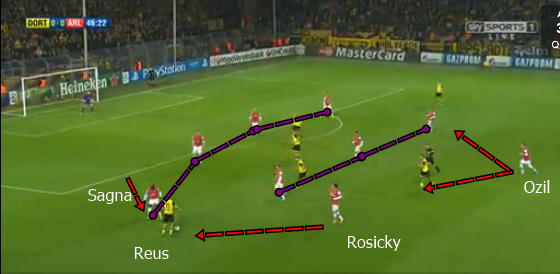 The defensive positioning in this example is almost perfect with Sagna closing Reus down as the entire defense shifts to cover each other. Rosicky, who worked incredibly hard all night, is also tracking back in this situation to pressure Reus as Ozil takes up a position where he can see the play unfold and offer defensive coverage where needed.
Reus came inside and as each Arsenal man stayed with their own man, it was Ozil who eventually tackled his countryman to break the attack.
The same pattern of play persisted until Ramsey scored completely against the run of play.
Once Ramsey found the back of the net, the entire complexion of the game changed. Arsenal became more compact in midfield as Rosicky and Cazorla dropped a deeper 10 meters than previously. This basically shuts the wings down as Dortmund's avenue of attack.
Once the wide areas were closed off, Dortmund were forced to go through the middle and straight into an Arsenal quagmire.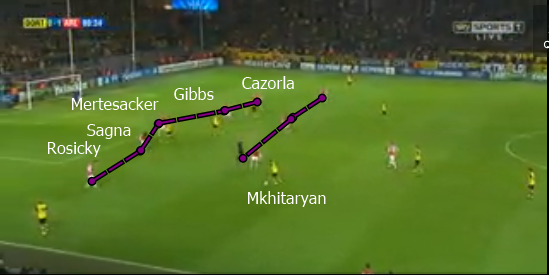 The most amazing thing about the above example of good Arsenal defensive play is that Koscielny isn't even on the pitch. The center-half was off receiving treatment after being clattered by Weidenfeller on a corner.
Yet Arsenal's shape is exemplary. Sagna has slotted into the center as Rosicky slots into right-back. With Cazorla tracking back, then Monreal when he came on helping Gibbs on the left, they formed a solid defensive line.
By this stage of the game, Dortmund were committing so many players forward in the pure hope of something happening that Arsenal started to counter-attack with real conviction and purpose.
Ramsey, having been given the run around all night in midfield, even if he was defensively excellent, found a new set of lungs from somewhere and simply ghosted past Dortmund's midfield like they were not there.
In truth the Gunners could have finished the game with more than one goal.
That, however, would not have reflected the truth of the game.
Credit must be given to Arsenal for the disciplined nature of their defensive display. They were hardly ever broken down and proved more than belligerent. However, their forward play was poor to say the least and they needlessly gave the ball away cheaply more than once.
This aspect of their play must be improved upon if they are to fulfill the promise they are showing.
Dortmund, for all their supposed class, proved little more than a team with massive amounts of power and pace and very little creative nous. They failed to open up a team who had lost the midfield battle and paid the ultimate price.
This game was a perfect example of how goals change games completely. It might be a strange and obvious thing to say, but Arsenal were, by far, the inferior side until they scored.
After that, however, they were excellent and the final 30 minutes they played as well as they have all season. They defended and attacked with ambition, conviction and discipline, which really contrasts with their previous 60-odd minutes.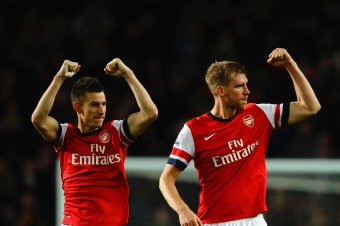 Laurence Griffiths/Getty Images
In the end, the team that wins deserves the accolades that go with it. Dortmund lacked the strength of will to see them through and while they might not have deserved to lose, they most definitely did not do enough to win.
Arsene Wenger's team did and that is why they are almost through to the knockout stages.