EPL: Analysing Why Arsenal Will Finish Above Tottenham in the Premier League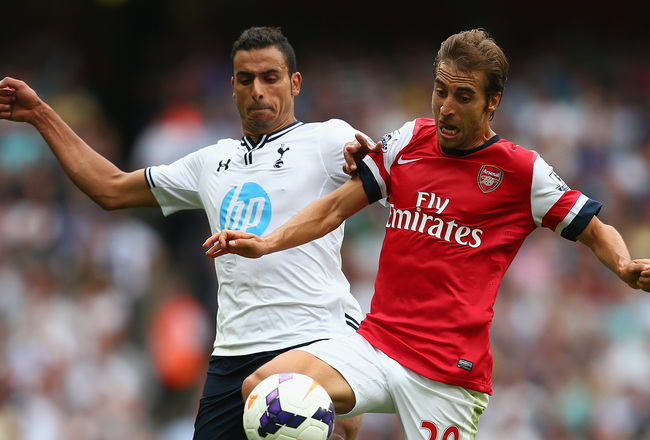 Arsenal and Tottenham will battle in the Premier League
Clive Mason/Getty Images
Arsenal and Tottenham continue to battle it out for position in the Premier League. We analyse the reasons why Arsenal will finish above Tottenham again.
Often mooted by Arsenal fans is the fact that since 1995 Tottenham have not finished above the Gunners in the Premier League. This is true, of course, but that alone is not what makes the difference. I'm sick of hearing Arsenal fans just saying "we're better"; it's time someone explained why.
Finishing above Arsenal is a big deal for Tottenham, and although Andre Villas-Boas is bridging the gap, there are still a few reasons why Arsenal will finish higher in the Premier League.
Let's take a look.
Backroom Experience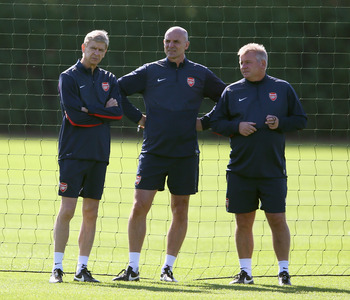 Arsenal's backroom staff have a lot of experience
Matthew Lewis/Getty Images
Arsene Wenger has been at Arsenal since 1996, as has assistant manager Steve Bould (with the exception of a short spell playing for Sunderland before retirement). In addition, both first-team coaches, Boro Primorac and Neil Banfield, have been at the club since 1997.
You cannot buy that type of experience, knowledge and loyalty.
Look at the entire staff at Tottenham: Villas-Boas, Steffen Freund, Luis Martins, Les Ferdinand and Tim Sherwood. Their combined experience at Spurs is less than that of any individual at Arsenal.
In fact, those four members of the Arsenal coaching staff were coaching at Arsenal before any of the Tottenham staff had even been employed as a coach.
The backroom staff at Arsenal know how to win games in the Premier League. They know how to finish in the top four, they know how to win titles and more importantly, they know how to finish above Tottenham.
Tottenham are very much the young pretenders. If they keep their coaches and promote staff from within, as Arsenal have since Wenger took over, then one day they will have success. But for now, they will need to be happy with being the second-best club in North London.
Too Many New Boys at Tottenham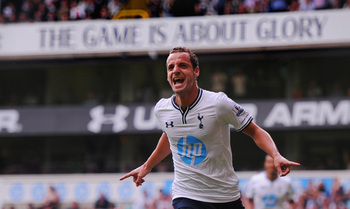 Michael Regan/Getty Images
That backroom experience also extends onto the pitch. Tottenham may well have brought in a lot more experience during the summer transfer window, but that won't help them this season.
Arsenal have brought in very little over the summer. The only player with no Premier League experience likely to play is Mesut Ozil. Everyone else has at least a year of experience.
Many of the team have had four years at Arsenal, or at least in the Premier League. So whereas Arsenal have experience and knowledge of the league, Tottenham are likely to have four or five players on the field with no Premier League experience at all.
Over the season, that will show.
Christian Eriksen, Erik Lamela, Etienne Capoue, Roberto Soldado and Paulinho are just a few of those likely to be in the team trying to find their feet.
That's too many players and too big of a change to allow Tottenham to break into the top four ahead of Arsenal. Tottenham need three more years before they will be ready to get into the top four in the Premier League.
Olivier Giroud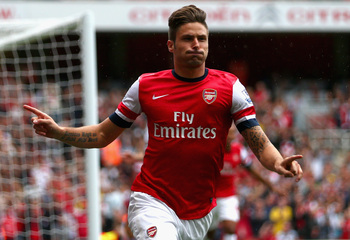 Giroud will come good this year.
Clive Mason/Getty Images
Olivier Giroud has already shown this season that he means business. He finished well last season and has come back even stronger this term.
After a year settling into the Premier League, Giroud will show that Wenger still knows how to pick up top-class players for relatively low fees.
Giroud scored seven more goals in his debut season for Arsenal than Robin van Persie did in his. With growing confidence, excellent strength and Brazil 2014 as motivation, Giroud will comfortably pass 20 goals in the Premier League. The big Frenchman has the attributes needed to be a success in the Premier League and as a result has adapted quickly.
Roberto Soldado is smaller and more technical as a striker and will need time to adapt. Soldado is no doubt a great signing for Tottenham, and will score goals, but in a physical Premier League played at a fast pace, he will need a year or two before he catches (and maybe overtakes) Giroud as the top striker in north London.
With a powerful striker supported by Theo Walcott, Mesut Ozil, Santi Cazorla and Lukas Podolski, it is Arsenal's front line that looks the strongest.
Europa League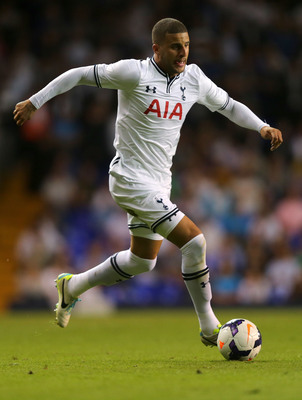 Spurs have different shirts for the Europa League.
Clive Rose/Getty Images
Tottenham finished below Arsenal last season. Again. That means they have to play in the Europa League this season.
There's a real chance that Tottenham can win or at least go very far in a European competition. The size of squad Villas-Boas has built, especially in midfield, suggests Tottenham will go it.
That will have repercussions on their Premier League performances. It has become almost a cliché that teams in the Europa League will suffer, but there is theory behind it.
Tiredness is not the real problem with the Europa League. It's the disruption and psychological effects: travelling, missed training and players changing roles.
Prozone conducted a study that proved teams playing Thursday fixtures in Europe dropped points in the Premier League the next weekend. Tottenham look strong enough to make sure it won't have a negative effect, but they won't be able to improve on last year whilst in the Europa League.
Mesut Ozil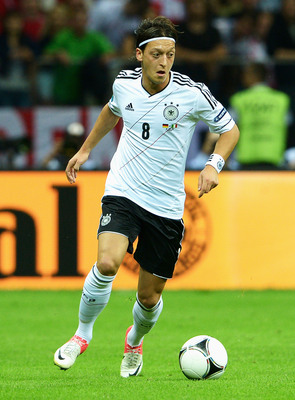 Claudio Villa/Getty Images
I don't think this one takes too much explaining. When Arsenal announced the signing of Mesut Ozil just after Gareth Bale left Tottenham, most fans in the Premier League had a change of heart.
Where people had been looking at Tottenham's new signings and started to feel they might just get the better of Arsenal, Ozil's signing changed their minds.
If you think that is just a desperate fan looking for consolation in one signing, look at what others had to say about him leaving, according to The Daily Mail.
Cristiano Ronaldo was "angry" Ozil was aloud to leave, while Isco, Cesc Fabregas and Alvaro Arbeloa were surprised he was allowed to leave, heaping praise on the German midfielder.
Even Joachim Low called the transfer "incomprehensible." The German manager knows him well and is not the only person surprised Madrid let him go.
Ozil will take up a central role behind the striker at Arsenal. His ability to create chances will be a huge advantage; add to that the speed of Theo Walcott, the strength of Olivier Giroud and Lukas Podolski and the technical ability of Santi Cazorla.
Arsenal's attacking quartet managed 48 goals in the league last year. With Ozil in there as a fifth man, that number will be closer to 70.
Tottenham may have signed more players, but Arsenal pulled off the transfer of the year when they shocked the football world and brought in Ozil.
Arsene Wenger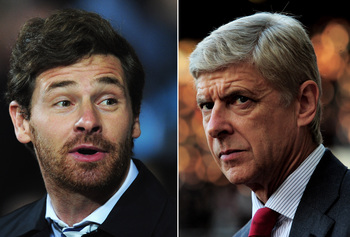 Getty Images/Getty Images
Arsene Wenger has been the reason for Arsenal's success for so long. The manager has transformed the club into a team that not only hopes but expects to be in the Champions League.
His work has been doubted in recent years, but it's difficult to see why. Without the spending power of certain other big teams and without accruing huge debts, Wenger has built an empire at Arsenal.
Breaking an empire is never easy. It takes preparation, experience and, most importantly, time. Andre Villas-Boas could well be the man to do that with Tottenham. He could be the next Wenger for the Premier League. But right now, he is just a young man still learning.
Both men are students of football and love the game, but Wenger is wise and experienced. He can use that experience to pull his team and squad through tough times, as he has proven the last two years.
This includes the experience of playing in Europe. Villas-Boas is still learning about playing midweek in Europe and then again in the Premier League a few days later.
Rotating players, giving chances to youngsters and picking the right team at the right time requires that experience and wisdom.
Wenger alone will not ensure Arsenal finish above Tottenham, but he helps. A lot.
Keep Reading

Arsenal: Like this team?