Why It's Now or Never for Peyton Manning and the Denver Broncos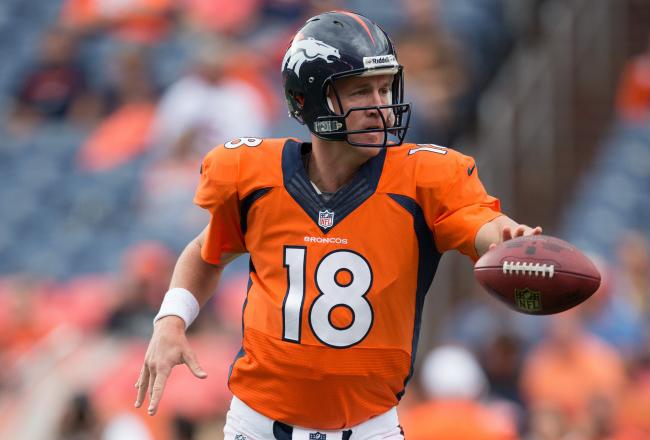 Peyton Manning and the Denver Broncos need to "Hurry! Hurry! Hurry!"
Justin Edmonds/Getty Images
It's now or never for quarterback Peyton Manning and the Denver Broncos. The deck is stacked, the pump is primed, the stars are aligned, the bags are packed and the door is open. If the Manning-led Broncos can't get the job done now, they might not get another opportunity.
When the Broncos take the field Thursday night to kick off the NFL season against the Baltimore Ravens, they are not just seeking revenge for last season's playoff loss—they are seeking redemption. A win will not erase what happened on that frigid night last January, but it is one of the 19 steps needed to make the Broncos forget.
The Broncos have a two-year window to win Manning his second ring, but the window will never be more open than it will be in 2013. That's why it is imperative that the Broncos win now before the window slams shut.
The two-year window was guaranteed when Manning passed his 2013 physical. That formality guaranteed Manning $40 million over the next two years, which means he eats up over 16 percent of the team's salary cap. While Manning is key to any deep postseason run, his salary is also the reason why 2013 is such a vital year for the Broncos.
Free Agents and the Salary Cap
In 2014, the Broncos have several key free agents. Defensive captain linebacker Wesley Woodyard, left guard Zane Beadles, wide receiver Eric Decker, center J.D. Walton, cornerback Dominique Rodgers-Cromartie and defensive end Robert Ayers will be hitting the open market. Realistically, the Broncos may not have the cap room to keep them all.
Key Broncos Free Agents 2014/2015

| | | |
| --- | --- | --- |
| Priority | 2014 | 2015 |
| 1 | Eric Decker | Von Miller |
| 2 | Wesley Woodyard | Demaryius Thomas |
| 3 | Zane Beadles | Champ Bailey |
| 4 | Dominique Rodgers-Cromartie* | Orlando Franklin |
| 5 | J.D. Walton | Rahim Moore |
| 6 | Robert Ayers | Julius Thomas |
| 7 | Knowshon Moreno* | Wes Welker |
| 8 | | Kevin Vickerson |
| 9 | | Joel Dreessen |
| 10 | | Terrance Knighton |
Spotrac.com (*Option or Voidable Year)
Woodyard, Beadles and Decker are particularly important to the Broncos, but keeping them all could be a significant challenge. According to OvertheCap.com, the Broncos have just under $120 million committed to the cap in 2014. Unless there is a significant jump in the salary cap, Denver will not have a lot of flexibility.
The Broncos can gain flexibility next year by releasing guard Chris Kuper and not picking up the option on Knowshon Moreno's contract, but it might only be enough to keep one of the three aforementioned players. Star cornerback Champ Bailey could be the sacrificial lamb because the Broncos could save a hefty $10 million by releasing him with no cap ramifications.
Not to mention the fact that the Broncos will be powerless to prevent these players from testing the open market, with the exception of the team's franchise player. The cost to keep some of these key players could exceed what the Broncos are willing to spend. Furthermore, the rival Oakland Raiders could have $70 million-plus in cap space in 2014 and will be in desperate need of upgrades.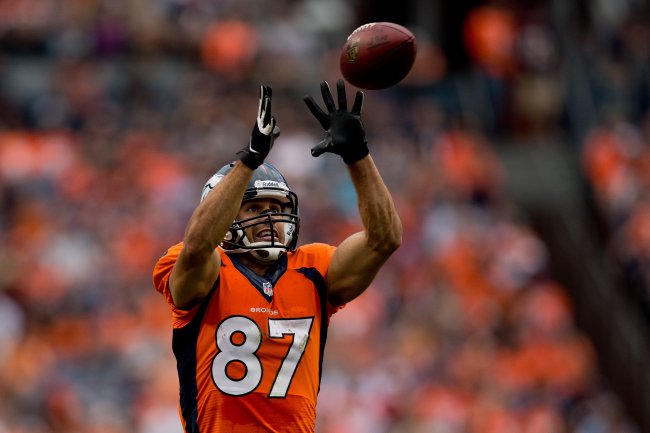 Justin Edmonds/Getty Images
Also, the Broncos have to start planning to extend the contracts of pass-rusher Von Miller, wide receiver Demaryius Thomas and right tackle Orlando Franklin after the 2014 season. If the team waits, two of the three could test the open market.
It's worth noting that Bailey, wide receiver Wes Welker and tight end Julius Thomas are also projected to be free agents in 2014. Having a lot of good players is a good problem to have, but there is a good chance the 2013 team will be the most talented, because the roster will likely be broken up in the coming years.
The Broncos need to win now while many of the talented young players on the roster are still cheap and the veteran players still have something left in the tank.
The Age Effect
Pro football is a brutal sport that takes a toll on the bodies of men that play the game. I overheard an unnamed veteran player at training camp this summer telling a veteran teammate's kids after practice not to play football. The conversation could hardly be considered unique.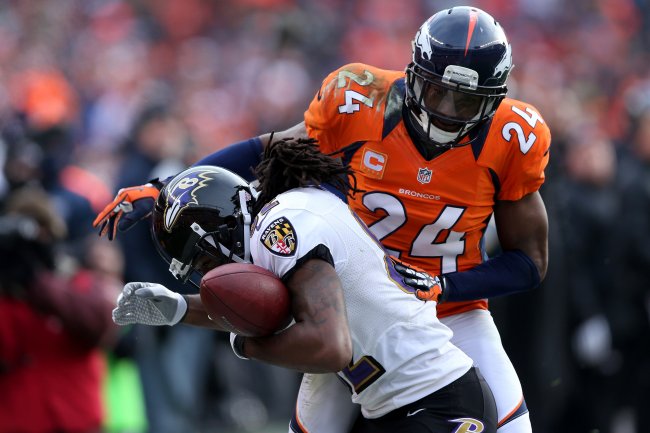 Jeff Gross/Getty Images
Age is a major factor in the NFL—that's just the way it works. It's a young man's game, and the Broncos' key players aren't getting any younger, most notably Manning (37) and Bailey (35). Realistically, the two players only have a couple of highly productive years left at most.
Manning might be able to go longer because he plays quarterback, but there is no way to guarantee his body holds up. Only 12 quarterbacks in history have played a full 16-game slate at age 37 or older, and that number drops to just six quarterbacks at age 38, four quarterbacks at age 39 and just one quarterback at age 40.
No. of Players to Play 16-Game Seasons by Age & Position

| | | | | | | |
| --- | --- | --- | --- | --- | --- | --- |
| Position | 35 | 36 | 37 | 38 | 39 | 40 |
| Quarterbacks | 30 | 22 | 12* | 6 | 4 | 1 |
| Cornerbacks | 16* | 7 | 4 | 3 | 1 | 1 |
Pro-Football-Reference.com (*Age of Manning and Bailey)
History does not bode well for Bailey, either, as just 16 cornerbacks have played a full 16-game schedule at age 35. Bailey has already been ruled out for Week 1, which means he isn't about to join that club. Only 19 cornerbacks have ever played at least 15 games at age 35 or older, should Bailey be able to return in Week 2.
Looking ahead, only seven cornerbacks have ever played 16 games at age 36, so the sun is quickly setting on Bailey's career. Age even catches up with the best players, and problems staying healthy are usually the first signs of the decline.
Bailey and Manning certainly have the capacity to buck trends, but age does not discriminate. Bailey and Manning might already be playing on borrowed time, so it could be now or never for two of the most important players on the team.
The Improving AFC West
Of course, a prerequisite for winning the Super Bowl is a successful regular season. Record determines which teams go to the playoffs in addition to the tournament seeding. The most important games are actually within the division because each team plays a division foe six times, which accounts for 37.5 percent of the regular-season schedule.
Last season, the Broncos walked all over their AFC West opponents and went 6-0. They averaged 31 points and only allowed 13 points per game in division matchups last year.
Is it now or never for Peyton Manning and the Broncos?
Denver will already face a stiffer test against the Kansas City Chiefs in 2013. But of the three opponents in the division, the San Diego Chargers were the most competitive with the Broncos last year, and they are in the early stages of a rebuild.
The Oakland Raiders were far inferior to the Broncos last season and won't fare much better in 2013. However, with around $70 million in cap space to burn through and a top draft pick on the horizon in 2014, the Raiders could be more difficult to beat in the near future.
If the Chiefs, Chargers and Raiders improve, the Broncos' road to the playoffs gets more difficult. Maybe that's nothing to worry about right now, but it could be a cause for concern as soon as next season.
On their own, none of these reasons would be major roadblocks, but collectively, they are factors the team must consider. After this season, it's only going to get more difficult to retain core players, for the veterans to stay healthy and for Denver to win division games.
The entire Broncos organization knows it has a golden opportunity to do something really special in 2013, but there are enough doubts going forward to wonder if it's now or never.
This article is
What is the duplicate article?
Why is this article offensive?
Where is this article plagiarized from?
Why is this article poorly edited?

Denver Broncos: Like this team?