The Best Way for Arsenal to Spend £40 Million Without Signing Luis Suarez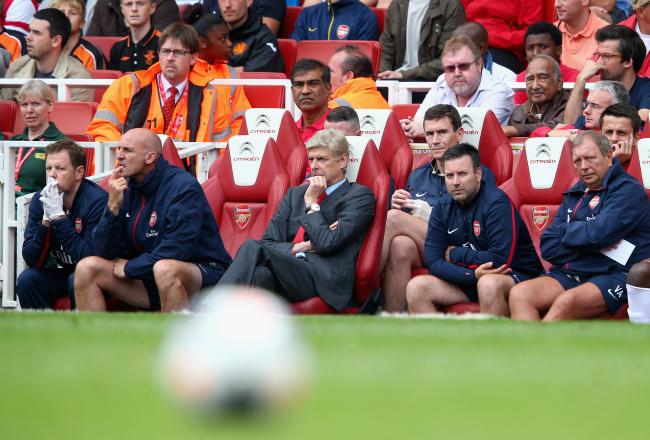 Clive Mason/Getty Images
Following Arsenal's catastrophic opening day defeat to Aston Villa, one could almost remove the Luis Suarez part of this title. Because at this point, with an injury-depleted squad, along with fixture congestion, any part of £40 million spent by Arsene Wenger would be useful.
Determining the best way for Wenger to spend Arsenal's transfer kitty now has to begin by acknowledging a few harsh truths. The first is that adding star names like Luis Suarez is no longer an option.
The rash of injuries mean Wenger has not got the time to embroil himself in any more protracted negotiations. Secondly, it is tough to identify the so-called star who would join a club that is experiencing widespread mutiny from its fanbase and lacks a clear power structure at the top.
Finally, it is time to admit that numbers are as important, if not more, than quality at this stage. Wenger can talk a good speech about prioritizing quality and in many ways he has a point.
But when a club has only two fit centre-backs and a brittle midfield, the manager does not have the luxury of valuing quality and ignoring quantity.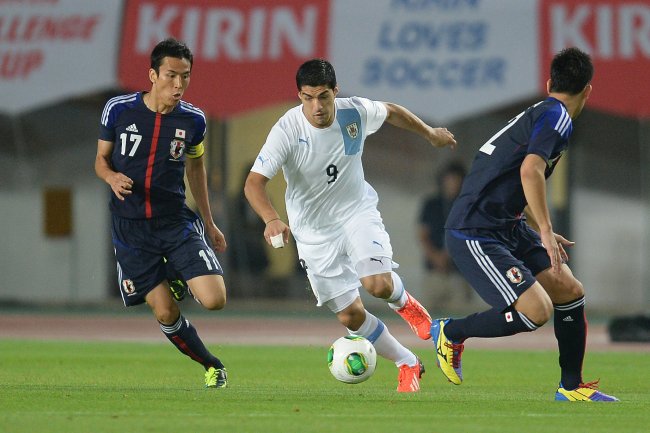 Atsushi Tomura/Getty Images
With that in mind, Wenger ought to target four to five new recruits in the final days of this transfer window. That level of recruitment will take a herculean effort from a usually cautious manager, but the Frenchman has little choice.
He should spend money to secure two defenders and two midfielders. Then Wenger has a choice between targeting a more composed goalkeeper or opting for a striker.
The goalkeeper is the smarter choice at this stage. Given how late it is in the market and with many holes to fill, Wenger cannot commit a large portion of his resources to signing a marquee forward.
So any striker he adds now may not be enough of an upgrade on Olivier Giroud and Lukas Podolski to make a sufficient impact. What Wenger needs most is greater depth and competition for his back four and more stability in front and behind them.
The first position that should be filled is defensive midfielder. Yes, it is a familiar trope and one many Gunners fans are no doubt sick of reading.
But this particular squad's need for a defensive midfielder is great. Watching Jack Wilshere during the shambles against Villa proved it.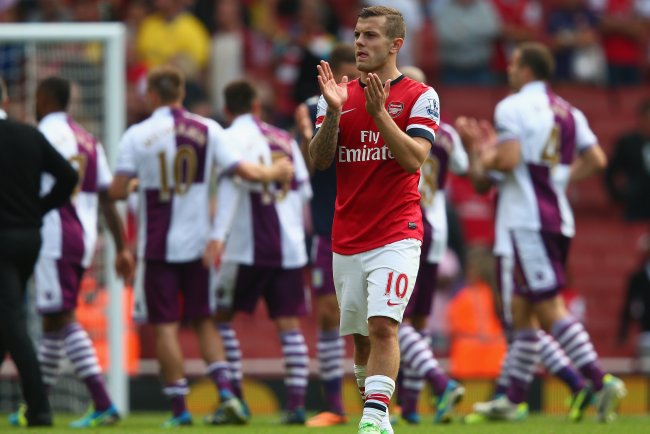 Clive Mason/Getty Images
The plucky young England international gave plenty of effort, at least until he tired considerably in the second half. But it was the manner of his game that proved fascinating.
Being at the match, it was easy to question exactly Wilshere brings to the team. It has become a familiar query for this author.
But after a sobering train journey home and with the benefit of revisiting the game via extended television highlights, Wilshere's value became more clear.
On second viewing, one thing struck this scribe about the way Wilshere performed against Villa. He was willing to sacrifice himself and play the less glamorous but essential water carrier-like role in the middle.
At the same time, Wilshere let somebody take care of the flair. That somebody else was Tomas Rosicky, who was truly outstanding in a losing cause.
Wilshere's more reserved showing might have stemmed from being positioned deeper to cover for Mikel Arteta's cruelly timed injury. But nonetheless, it revealed how this Arsenal midfield can work best.
The debate over whether to develop Wilshere as an attacking force or as a halfway line playmaker is a complex one. But watching the way his steady, quick-witted efficiency let Rosicky roam free, it was easier to believe that conducting things from the centre circle is where Wilshere's future lies.
Left to probe for openings, Rosicky easily could have and probably should have netted a couple of goals. For all the things that went wrong against Villa, this part of Arsenal's midfield dynamic was not one of them.
For those readers anxiously awaiting a point to this lengthy aside, here it is. Arsenal must let Wilshere dictate their possession play from the halfway line area and partner the diminutive passer with a rugged enforcer.
It is true that Wilshere needs a minder on the field. That is the first position Wenger should target and the options, in numbers at least, are rich.
Chelsea outcast John Obi Mikel should appeal to Wenger. He has plenty of experience in a defensive role at the base of midfield and combines physicality with recent English Premier League experience.
Casting the net further, Wenger might be tempted by St. Etienne's Josuha Guilavogui. He has already drawn the attention of the Gunners, according to L'Equipe.
If Wenger decides the position merits greater investment, then Sevilla's Geoffrey Kondogbia would be a dream signing. The France U-20 stalwart has the power, aggression, drive and technique that is reminiscent of Arsenal's best midfielders under Wenger.
Geoffrey Kondogbia would be an ideal signing.
Back in July, Simon Jones of the Daily Mail, reported Arsenal remain interested in Kondogbia. However, any transfer might be complicated by an elaborate ownership structure laying claim to the player. Sevilla have also stated that fees of €20 million are needed to purchase one of their best talents, according to Sky Sports.
Still, that might not put Wenger off, especially given how much he is reportedly prepared to pay for Germany international Lars Bender. Bill Mills of the Daily Mirror, expects Wenger to make another offer, after his first bid of £19 million was rejected by Bayer Leverkusen earlier this summer.
In fairness, a defensive midfielder may be worth in excess of £20 million for Arsenal. A more rugged, positionally sound midfielder would not only allow Wilshere to flourish in a more suitable role.
He would also provide better cover for the back four. The lack of such cover was brutally exposed against Villa.
Anyone wanting to know Arteta's true worth to this team need only watch a replay of Villa forward Gabriel Agbonlahor's run to win his side's first penalty.
That kind of unimpeded surge through the middle does not happen when Arteta is around. The Spaniard's positional discipline, intelligence and awareness usually prevents any such sudden breach.
Moving further forward in midfield, Wenger needs a fresh face to boost his options, although the man himself might disagree.
Laurie Whitwell of the Daily Mail recently reported Wenger was arguing that many other teams had strengthened in the creative areas of midfield, where he feels Arsenal do not need to spend money:
They have bought players in areas that we do not need. For example in the creative front of midfield we have Wilshere, we have Chamberlain, we have Cazorla, we have Rosicky, so if some of these clubs bought a player in this area, when you have no need you don't buy.


We have many players who can do that.

Well, Arsenal's greatest-ever manager is wrong. More accurately, he is only right in an ideal scenario. But such a scenario has already been savaged by cruel reality.

Of the options Wenger listed who can play the attacking midfield role, he has already lost Alex Oxlade-Chamberlain. The youngster could be out for up to six months, according to John Cross of the Daily Mirror.
To compound matters, Rosicky is listed as a doubt for the Fenerbahce game, according to Cross. That highlights a familiar problem for the Czech Republic star.
As good as he can be, Rosicky can never be relied upon as a regular starter. He is simply not durable enough for the rigours of a campaign fought on four fronts.
Unless he is ready to risk Gedion Zelalem, which given the current mood of many fans would be a gamble so brazen it would have to be admired, Wenger needs reinforcements at the top of his midfield.
He has two choices, either a new central attacking midfielder or a winger who would allow Santi Cazorla to move back to the middle. For Wenger's intricate style of football, the first option might be the best.
Again, a cursory look at the market reveals some useful options. Newcastle United's Yohan Cabaye seems to be permanently linked with a transfer exit.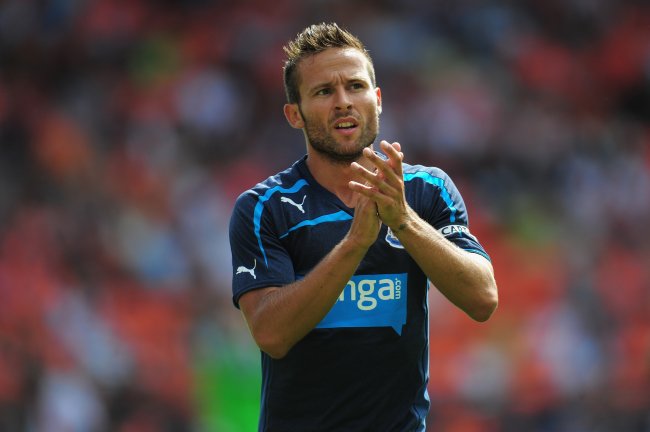 Stu Forster/Getty Images
The Guardian has already suggested Arsenal have submitted a bid, but notes the £10 million offer was quickly rebuffed. Cabaye may not be as fluid as David Silva or as dynamic as Juan Mata, but the 27-year-old is a crafty midfield schemer with good technical skill and an eye for goal.
Wenger may also be tempted by French youngster Florian Thauvin. He was reportedly interest in the youthful playmaker back in January, according to ESPN.co.uk. Now, Thauvin is said to be available for £13 million, according to Ben Jefferson of the Daily Express, citing a report from French newspaper La Provence.
If he opts for more experience Wenger might revisit the idea of trying to get the best from mercurial ace Yoann Gourcuff. The Lyon man is said to favor a move to Arsenal, according to ESPN.co.uk.
If he chooses to move Cazorla back into a central role, Wenger will need a winger to offer what former misfit Gervinho could not. The Arsenal chief is a big admirer of Manchester United's Nani and the Portuguese star could be available for €10 million, according to Sky Sports.
Alternatively, Wenger could opt to secure another young gem in the form of Levante's Ruben Garcia. Back in May, Ed Malyon of the Daily Mirror suggested the 20-year-old was on Arsenal's radar.
Ruben Garcia is a youngster who has already drawn interest from Arsenal.
The point is that for anything from £15-30 million Wenger can upgrade the depth and balance of his midfield. Given Arsenal's current injury woes it is an opportunity he can scarcely afford to miss.
Of course, in between drawing up a wish list of midfield players, Wenger must add bodies to his defence. Atletico Madrid full-back Juanfran has already been linked by Matt Law of the Daily Mirror.
Malaga's £5 million-rated right-back Jesus Gamez has also been touted as an Arsenal target by Ben Jefferson of the Daily Express, citing a report from Spanish outlet AS. But central defence is as pressing a concern as full-back.
Swansea City's Ashley Williams seems to have spent a lifetime linked with Arsenal. Despite recently being outwitted by Manchester United forwards Robin van Persie and Danny Welbeck, Williams would still be an astute signing.
The savvy and combative stopper would push Laurent Koscielny and Per Mertesacker for their places and be a more than able deputy. Williams is said to appreciate Arsenal's interest, according to Sky Sports.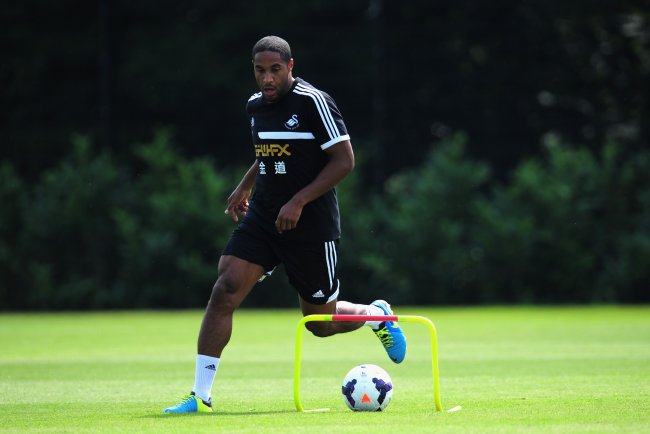 Stu Forster/Getty Images
Wenger should also try and bring Brazil international Julio Cesar back to the EPL. Wojciech Szczesny's nervous, calamity-ridden performance against Villa has become all too familiar.
The Gunners need the dependability that comes with having a veteran tending goal. Cesar is still keen on a move away from QPR, according to The London Evening Standard, citing an interview the player gave to Brazilian outlet Globo Esporte.
The time for recruiting star power has gone. Arsenal need to spread their resources more shrewdly and target quantity along with quality.
Ironically enough, given the tug of war between the fans and the club's hierarchy over spending, bargain buying is what Wenger does best. If he ever needs to work his magic in the middle tiers of the market, now is certainly the time.
This article is
What is the duplicate article?
Why is this article offensive?
Where is this article plagiarized from?
Why is this article poorly edited?

Arsenal: Like this team?