NBA Owners Reportedly Suspicious of Andrei Kirilenko's Contract with Nets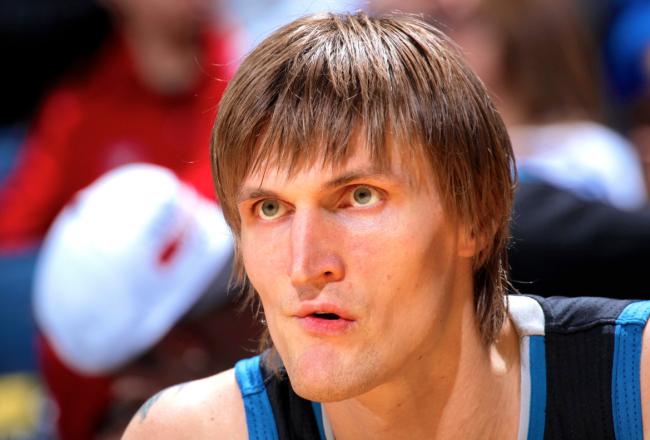 The Brooklyn Nets added another piece to what they hope becomes a championship puzzle by agreeing to a deal with Andrei Kirilenko. The fact they were able to complete the deal for the mini mid-level exception is causing other teams to cry foul, however.
Adrian Wojnarowski of Yahoo! Sports reports owners and front office personnel around the NBA aren't happy the Nets were able to ink an impact player at what appears to be a very reduced price. The reaction has been swift:
[T]he rest of the NBA believes the Nets have gone too far, delivering the league into an unfiltered rage. The signing of Russian free agent Andrei Kirilenko – a $10 million-a-year player last season – for Brooklyn's $3.1 mini-midlevel exception has transformed rival owners and front office executives into an angry mob of disbelievers.

The insinuations are unmistakable: Around the NBA, there are calls for the commissioner's office to investigate the possibilities of side deals and Russian rubles ruling the day – for now, unfounded charges based on circumstance and appearances.
According to Wojnarowski, the veteran forward had asked teams for a three-year deal worth at least $24 million. The San Antonio Spurs were one team that attempted to reach a sign-and-trade agreement but eventually fell short.
So perhaps it shouldn't come as a surprise that front offices around the league weren't pleased to hear a deal was struck with the Nets for well below that asking price.
Now, a wide range of sources have provided Wojnarowski with their thoughts on the situation:
"Brazen," one Western Conference GM told Yahoo! Sports.

"Let's see if the league has any credibility," one NBA owner told Yahoo! Sports. "It's not about stopping it. It's about punishing them if they're doing it."

Another Eastern Conference GM: "There should be a probe. How obvious is it?"
Nets owner Mikhail Prokhorov, a Russian billionaire, is at the center of the discontent. The fact his franchise was able to convince Kirilenko, a fellow Russian, to sign for what the report suggests is below market value doesn't jibe with some executives.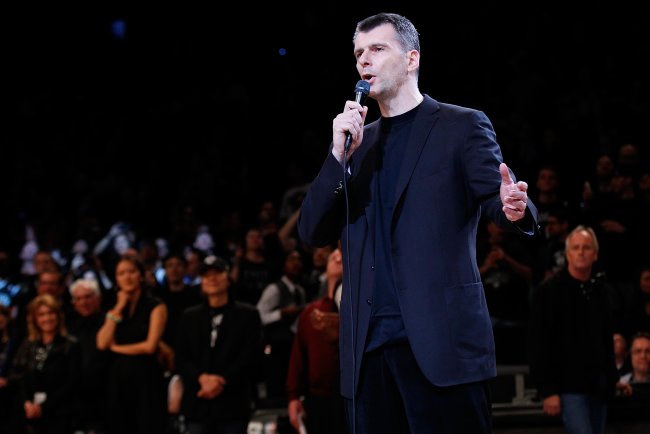 Mike Stobe/Getty Images
Adding a versatile swingman to a roster that already features Deron Williams, Joe Johnson, Paul Pierce, Kevin Garnett and Brook Lopez makes the Nets a formidable force.
Kirilenko averaged 12.4 points, 5.7 rebounds and 2.8 assists per game while shooting over 50 percent from the field for the Minnesota Timberwolves last season. Adding that type of option gives the Nets more flexibility and a major weapon off the bench.
As the Yahoo! report points out, though, it's not the first time team executives have been unhappy with deals being made by certain teams as they built toward title runs:
When the Boston Celtics made the Kevin Garnett deal to make themselves championship contenders, everyone accused Minnesota Timberwolves general manager Kevin McHale of preferential treatment of the Celtics and their general manager, Danny Ainge, in the deal. When Pat Riley brought LeBron James and Chris Bosh together for discounts on max contracts, there were cries of collusion.
Should the NBA investigate the Kirilenko deal?
In the end, the accusations mean nothing unless facts are brought forward to show the Nets went outside of the rules to land Kirilenko. Anything short of that makes the comments come off as sour grapes by anonymous executives around the league.
That said, asking for an investigation into the matter is completely within reason. Whether the NBA would grant one of that nature is unclear. If it did and nothing was found, the other teams would be forced to live with the Nets' rise as a potential powerhouse.
As things stand right now, Kirilenko is heading to the loaded Nets, while disgruntled owners and front office personnel are left in disbelief.
This article is
What is the duplicate article?
Why is this article offensive?
Where is this article plagiarized from?
Why is this article poorly edited?