Jeremy Lin Trade Rumors: Latest on Pistons, Lakers and More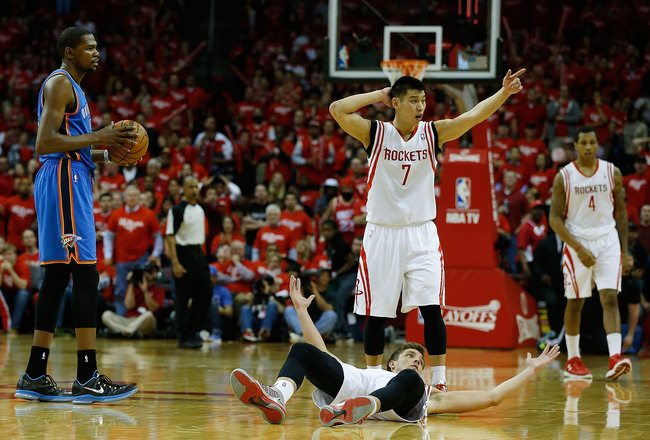 Scott Halleran/Getty Images
With the Houston Rockets closing in on potentially signing Dwight Howard, the door has become wide open for a trade that would send Jeremy Lin to a third team in three seasons.
CBSSports.com's Ken Berger reported just before the start of this summer's free agency period that the Rockets would make Lin and teammate Omer Asik available if they were to sign Howard.
Whlie this would break up the bromance between Lin and Chandler Parsons, it would also likely be the correct move for the Rockets, allowing them to make a move for a player who can run the offense, rather than keep Lin, who is more apt to create for himself rather than his teammates.
A point guard capable of running the game through both James Harden and Howard, or even one just more apt to be a spot-up shooter, would fit in well with the team.
Beyond that, Asik becomes borderline redundant with the Rockets should Howard join, especially since he's being paid a bit too much to be little more than a backup center.
Trading the two would make a team surrounding Harden and Howard fit nicely together, and do a ton to fill out their bench.
Here we can take a look at what rumors are being put out surrounding Lin, and what he could bring back for the Rockets.
Jeremy Lin Not on the Chopping Block?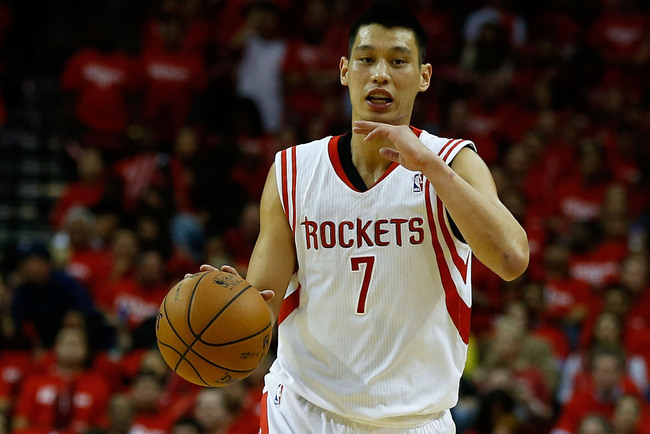 Scott Halleran/Getty Images
The Buzz
Daryl Morey pointedly denied that Jeremy Lin (and Omer Asik) were being shopped by the Rockets, according to Jonathan Feigen of Ultimate Rockets.
Ken Berger of CBS Sports had reported previously that Houston was looking to deal Lin, a move that would open up some extra cap space and perhaps aid in the team's pursuit of Josh Smith in addition to Dwight Howard.
Buying or Selling?
Absolutely, positively selling.
The offseason is a crazy time of year, one that sees general managers lie their behinds off.
Lin is only going to be moved if Howard signs on to make room for others on the roster (like Smith). Morey cannot come right out say it, because in the event that Howard doesn't sign and/or Lin doesn't get traded, he needs to be able to say he denied it all along.
There are two years and nearly $17 million remaining on Lin's current contract, a manageable number for any team in need of a starting point guard. It won't be the easiest of pacts to move, but Morey will be able to find at least one suitor.
That is, if Howard agrees to join Rockets. Otherwise, expect Lin to be back in Houston next season.
Jeremy Lin-to-Detroit Comes out of the Gate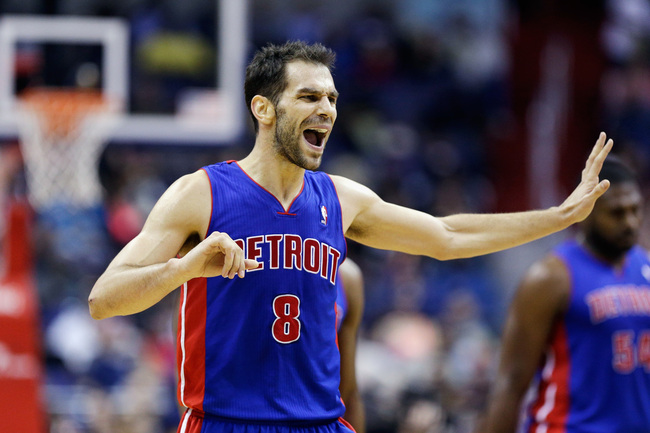 Rob Carr/Getty Images
The Buzz
UPDATE: Thursday, July 4, at 10:19 p.m. ET by Grant Hughes
Alex Kennedy of Hoopsworld.com reports that the Rockets' willingness to shop Jeremy Lin might have something to do with the fact that Howard likes Jose Calderon's game.
---End of update---
Initial reports upon the news that Lin had been made available by the Rockets was that there was some probing interest from the Detroit Pistons.
Ken Berger of CBSSports.com reported that a sign-and-trade for point guard rental Jose Calderon, whom the Pistons are likely to lose via free agency.
Of course, soon thereafter Kennedy of Hoopsworld.com reported that there was more interest on Houston's end than Detroit's.
Buying or Selling?
This one was dead before the rumor boat even sank.
Vincent Goodwill of Detroit News reported that even Detroit's faint interest in Lin from the initial report was untrue.
Don't look for Lin to go to Detroit unless something compelling is coming along with him.
Lakers Not Interested in Jeremy Lin, Omer Asik, Rockets Want to Keep Both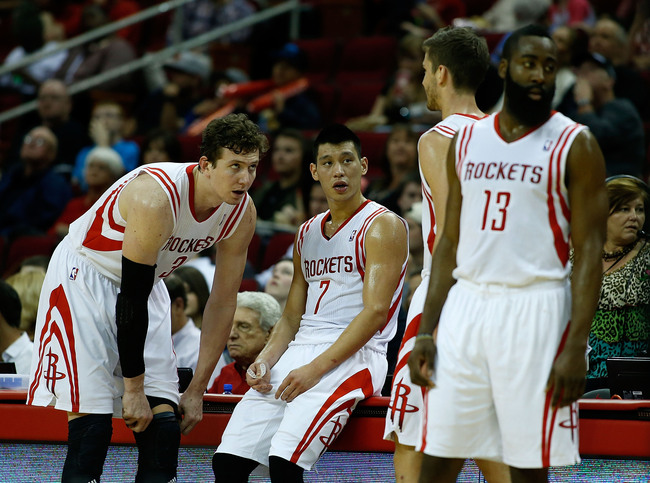 Scott Halleran/Getty Images
The Buzz
The notion of the Rockets and Los Angeles Lakers teaming up in a sign-and-trade to get Dwight Howard to Houston without going through extreme salary dumping has been lingering for a while now and it's still hanging around a bit.
Marc Stein and Ramona Shelburne reported at length multiple sign-and-trade possibilities for the Lakers in mid-June for ESPN.com.
However, Mark Heisler reports that the Lakers have absolutely no interest in either player, or taking on their salaries that would hurt potential cap space next summer.
Jonathan Feigen of the Houston Chronicle passes along word from GM Daryl Morey that the team is not shopping Lin or Asik. "Both with Omer and Jeremy, we feel like they're good fits for Dwight."
Buying or Selling?
Buy this one, as the Lakers seem to be sticking to their guns.
Don't call it a complete reason to tank from the Lakers, but even if Howard decides to leave, letting Kobe Bryant take his time to heal and running with salary cap space next summer seems to be their most lucrative offer.
Besides, Houston has cleared out enough room to sign a free agent to a maximum deal, so they don't need any help getting him into town.
Keep Reading

Houston Rockets: Like this team?