Would San Antonio Spurs Upset of Miami Heat in Finals Mark Death of Superteams?
Use your ← → (arrow) keys to browse more stories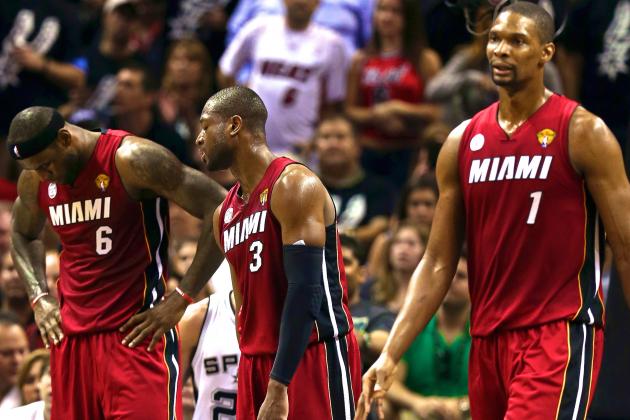 A San Antonio Spurs championship will defile everything LeBron James and the Miami Heat represent.
Superteams were supposed to win championships before anyone else. James, Dwyane Wade and Chris Bosh said so. Well really, James said it. Their alliance said the rest.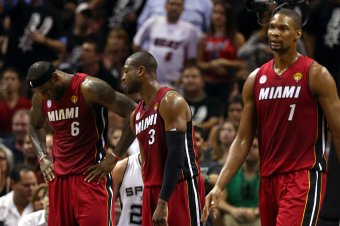 Mike Ehrmann/Getty Images
Three consecutive NBA Finals appearances seem to corroborate their methodology. Losing two out of those three championship cameos doesn't. Falling to the Spurs renders the Heat a footnote. Full pages of history, like Miami wishes to write, are penned by dynasties, not a prolific team of almosts.
Like the Spurs.
In their own you-think-we're-boring-but-we're-really-too-complex-and-perfect-for-you-to-understand way, the Spurs are super. With three championships in the last 10 years, going for four in the past 11 makes them divine. Tim Duncan, Manu Ginobili, Tony Parker and Gregg Popovich make them spectacular.
Contemporary powerhouses such as the Heat aren't built like the Spurs, though. San Antonio isn't in the prime of its development. At 31, Parker is the youngest of the Big Four (Pop included). The Spurs, they're—well, they're old. Their core I mean, the Big Three. Not New York Knicks old, but aged enough to be a walking billboard for championships of days past.
South Beach's triumvirate took the concept of an absolute power and manipulated it to form something allegedly greater. The Heat weren't the first superteam. Not even close. And not even of the era. There was the Boston Celtics. The Spurs before them. And various versions of the Kobe Bryant-led Los Angeles Lakers before them.
What the Heat did sparked a chain reaction, more so than any aristocratic outfit previously. They weren't just the standard; they were the future.
Dwight Howard went on to seek the shelter of any team that wasn't the Orlando Magic. Now he'll explore free agency, where he's expected to return to the still star-studded Lakers, ride James Harden's coattails to the Houston Rockets or drivel at the opportunity to create an extraordinary faction with Chris Paul in a less-than-mediocre market we call Atlanta.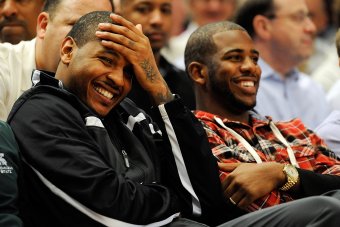 Patrick McDermott/Getty Images
Paul himself abandoned the pedestrian reputation of the then New Orleans Hornets, eventually forcing his way to the Los Angeles Clippers, where a budding superstar in Blake Griffin awaited.
Carmelo Anthony stripped the New York Knicks of all their assets to form a superteam that could rival the Heat. He's instead found himself virtually alone, like he did with the Denver Nuggets, but that's besides the point.
The Brooklyn Nets fancy themselves a star-laden contender with Deron Williams, Joe Johnson, Gerald Wallace and Brook Lopez. Most of us know better, though the effort is there.
All over, Miami's blueprint is being replicated or attempts are being made to duplicate what the Heat created. Conventional methods of rebuilding have been discredited. Reclamation projects rarely begin with the draft anymore. They start with free agency, trades and fat wads of cash.
San Antonio is the antithesis of the modern-day superteam. Duncan, Ginobili and Parker have spent their entire careers with the Spurs, and you never once heard of them conspiring to lure in additional superstars at steep discounts.
Now especially, they've gone against the grain. The roster hasn't been blown up in fear of Father Time and the Spurs haven't sought out a younger, high-paid superstar to offset the average birthdays of their core. They've simply continued to play, well beyond their purported championship window.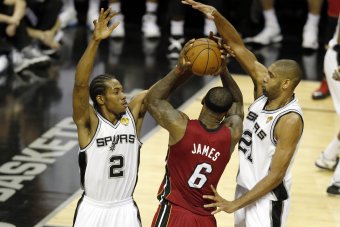 Derick E. Hingle-USA TODAY Sport
Should the Heat fall to that team, the one winning on borrowed time, it maims (not kills) the current perspective through which we view the framework of a contender.
Maybe you don't need a coterie of All-Stars in their prime to win a title. Perhaps Howard won't be as reluctant to remain with the aging Lakers and all the uncertainty the summer of 2014 will bring. Maybe Paul won't hesitate to re-sign with the Clippers, suddenly believing he and Blake Griffin are enough.
Maybe the superteam schematic will find itself buried six feet under. Or, you know, maybe not.
Falling shy of a title yet again isn't going to disprove what the Heat have built. Three straight finals appearances is an incredible feat. Losing for a second time won't erase any and all visions of splendor across the board.
But it will pry open an old door.
Two victories. That's all the Spurs need to instill change by way of reminding us there are other ways to win.
Would another Spurs championship spell the death of superteams?
No longer would hoarding max-contract talents be considered a necessity. Teams like the Memphis Grizzlies—provided they stop making dumb decisions like parting ways with Lionel Hollins—won't be doubted every season because of their cost-conscious spending.
Franchises like the Toronto Raptors won't be so inclined to take on overpaid players in hopes they get lucky and live up to their salaries. Draft picks won't be so readily viewed as trade fodder. And the word "rebuilding" won't send prospective superstars running to the closest equal.
Two victories is all it's going to take for the Spurs to kill the notion (not the concept) that the Heat's way is the only way.