Most Intriguing Free Agents for Utah Jazz to Sign with the Mid-Level Exception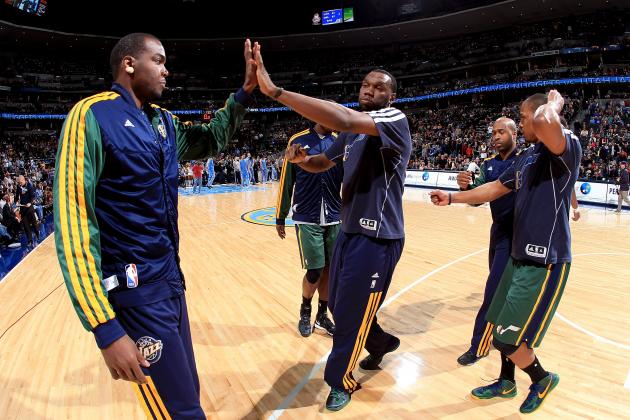 Doug Pensinger/Getty Images

With loads of cap space opening up this summer, the Utah Jazz should be big players in the 2013 NBA free-agent market. They'll have the freedom to go after superstars and role players alike. And teams often use a "mid-level exception" (MLE) on role players.
There are plenty of big names like Dwight Howard and Chris Paul on the market this year, but complete teams have great supporting casts and Utah could sign a solid contributor with their MLE.
According to HoopsWorld, Utah currently has $27 million on the books for the 2013-14 season, and ESPN's Marc Stein has tweeted that next year's salary cap will be $58.5 million.
A team under the cap can use what's called a mini MLE that starts at $2.6 million for next season, while a team over the cap can use the full MLE at $5.2 million.
What kind of exception the team uses depends on where Utah is after re-signing current players and going after big-name free agents. Either way, they have plenty of needs (particularly in the backcourt) and several solid options are available on the market.
Begin Slideshow

»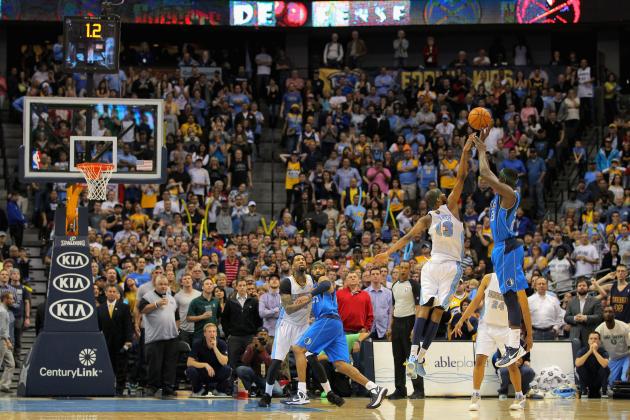 Doug Pensinger/Getty Images

2012-13: 4.0 points per game, 37 percent three-point shooting, $4 million
Type: Mini MLE
After averaging double-figures in each of his first four seasons in the NBA, Anthony Morrow found himself relegated to the role of benchwarmer for the Atlanta Hawks and Dallas Mavericks this past season. He appeared in just 41 games, and averaged nine minutes and four points.
The lack of playing time and production may make it easier for teams to sign Morrow this offseason, and that could make him a great bargain for someone.
Prior to the 2012-13 season, Morrow averaged 12.1 points a game while hitting 43 percent of his three-point attempts. That kind of shooting would be welcome in Utah's backcourt, as the team was in the bottom third of the league in threes made last year.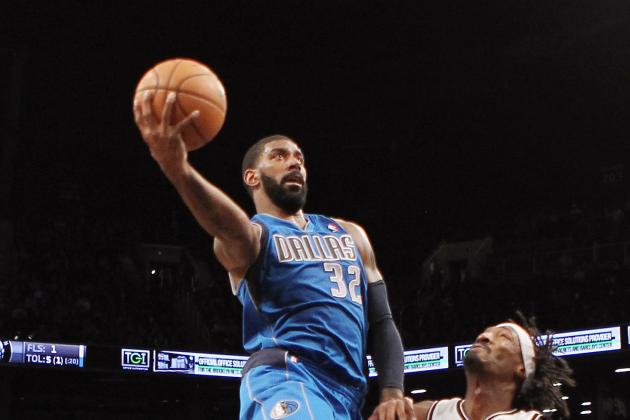 Bruce Bennett/Getty Images

2012-13: 15.3 points, 4.4 assists per game, 41 percent three point shooting, $4 million
Type: Full MLE
This one may be a bit of a stretch, as Mayo will almost certainly be looking for more than $5 million a year. However, he might not find the market to be as generous as he'd like following his slide in 2013.
Mayo averaged 18 points on 46 percent shooting prior to the All-Star break, but just 11 points on 42 percent shooting after.
If he can rediscover the aggressiveness with which he played the first half of the year, Mayo could be Utah's most effective scorer (assuming Al Jefferson doesn't re-sign).
He and Gordon Hayward could make for an exciting, young tandem on the wings. Both shot over 40 percent from three-point range last season. Having them on the floor together would make it extremely difficult for opposing defenses to clog the paint.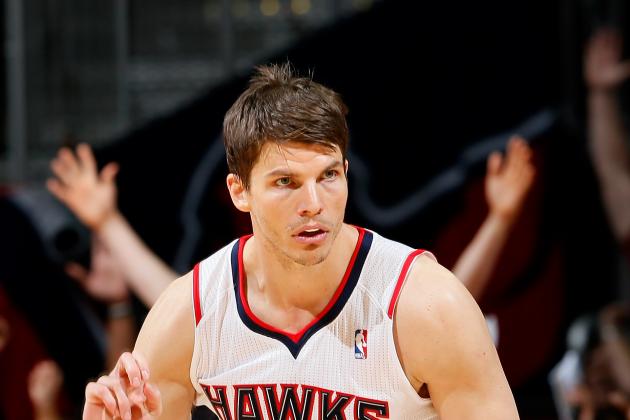 Kevin C. Cox/Getty Images

2012-13: 10.9 points, 4.0 rebounds per game, 46 percent three-point shooting, $5 million
Type: Full MLE
Kyle Korver may be the best three-point shooter in the NBA, having failed to hit 40 percent of his threes in just three of his 10 seasons in the league. Last season, he hit 46 percent of his threes, and during the 2009-10 season, he led the league at 54 percent.
And he did that for the Utah Jazz.
The team and its fanbase would gladly welcome Kyle Korver back to the Salt Lake Valley. His range made him a fan favorite during his two-and-a-half seasons as a fixture of the Jazz bench.
Defenses would have to pay close attention to Korver roaming the perimeter, which would open things up for Utah's post players.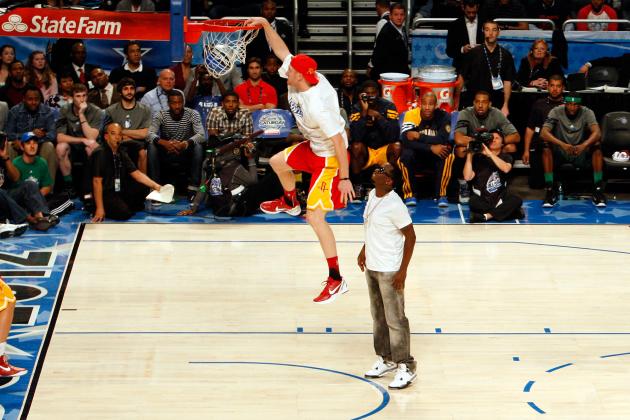 Mike Ehrmann/Getty Images

2012-13: 9.4 points and 3.1 rebounds per game, $885,120
Type: Mini MLE
Chase Budinger has seemed to be on the verge of breaking out since his rookie year. You can be disappointed he hasn't yet, or you can appreciate the fact that a second-round pick has been, a steady, consistent rotation player when healthy.
In each of his four NBA seasons, he's averaged right around 9.5 points in 22 minutes a game.
Budinger earned his nickname "Air Bud" because of his athleticism and ability to finish plays with electrifying dunks. The Jazz haven't had that kind of exciting wing player in recent memory.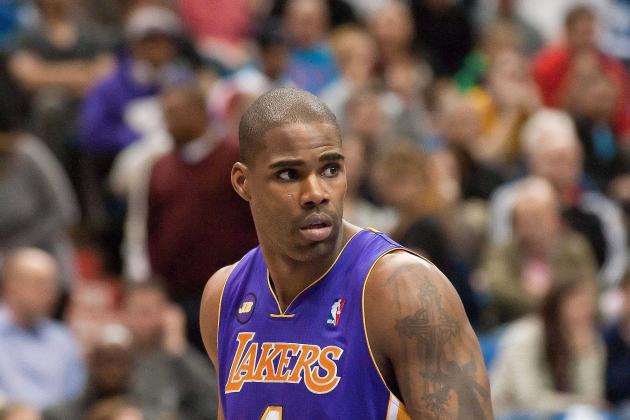 Greg Smith-USA TODAY Sports

2012-13: 9.4 points and 4.8 rebounds per game, $854,389
Type: Mini MLE
Antawn Jamison will be 37 years old next season, but he has a kind of "old-man game" that could allow him to score until he's in his 40s. Anyone who's played a lot of pickup basketball at a local YMCA knows what I'm talking about. Jamison can flip, hook or toss the ball into the hoop in ways that drive defenders mad.
This past season, Jamison failed to average over 10 points a game for the first time since his rookie season. But don't let that deceive you, the Los Angeles Lakers forward still scored almost 16 points per 36 minutes. Even in limited minutes on a team with Kobe Bryant, Jamison still managed to get shots—and make 46 percent of them.
At this stage of his career, his defensive and rebounding abilities are becoming more and more suspect, but Jamison could still provide a solid scoring punch to Utah's second unit.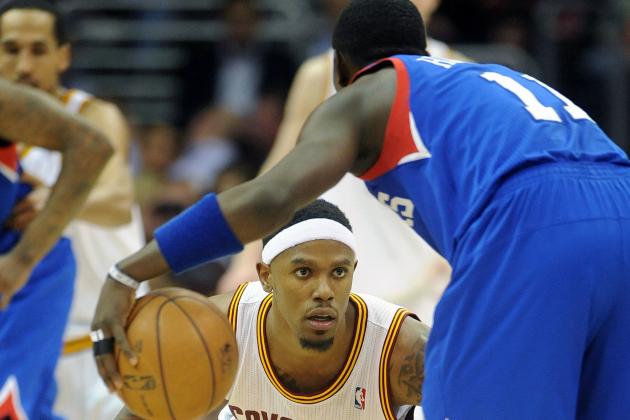 Eric P. Mull-USA TODAY Sports

2012-13: 5.4 points and 34 percent three-point shooting, $4.8 million
Type: Mini MLE
Daniel Gibson certainly isn't the true point guard the Jazz need, but his ability to shoot from the outside could make him a solid backup to whomever Utah signs or drafts to be the primary distributor.
I'm inclined to think the 34 percent he shot from three-point range last year was more of an aberration than a sign of things to come, as he hit 42 percent of his threes over his first six years.
Toiling in Cleveland without the help of LeBron James, Gibson has gone straight into obscurity. Utah could get a proven three-point specialist for even less than the $2.5 million designated for the mini MLE, which would leave them a little room to sign another role player.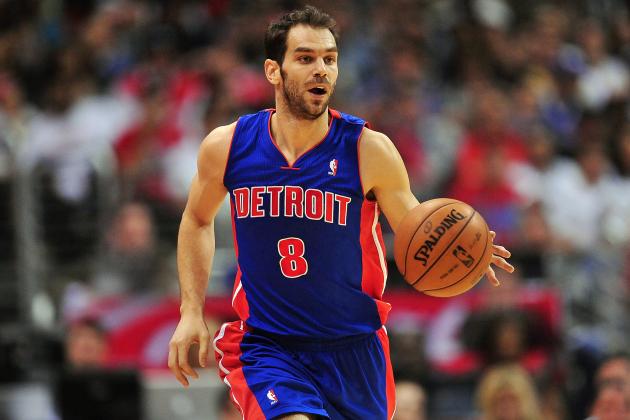 Gary A. Vasquez-USA TODAY Sports

2012-13: 11.3 points, 7.1 assists a game, 46 percent three-point shooting, $11 million
Type: Full MLE
As with O.J. Mayo, getting Calderon to sign for $5 million a year may be a bit ambitious. But the Spanish point guard is almost 32 years old and is playing in a league that is quickly becoming saturated with young and extremely athletic players at his position.
He may not find the open market to be as generous as he hopes.
If he did choose to sign a MLE-type deal, Utah would be an excellent fit. The Jazz don't have a single point guard under contract heading into the 2013-14 season, and it was a position of need this past year.
It has been ever since Deron Williams was traded.
Calderon isn't the scorer Williams was in Utah (though he is a better shooter, boasting better percentages from the field, three-point range and the free-throw line). He's also not the playmaker Williams was for the Jazz, but he's averaged over seven assists in less than 30 minutes a game for his career.
He wouldn't be a long-term solution for Utah at point guard, but he would be the best the team's had since Williams' departure and a potential mentor for Shane Larkin, Dennis Schröder—or some other point guard on whom the Jazz might use this year's No. 14 draft pick.