Examining New York Giants' Offseason and Key Preseason Positional Battles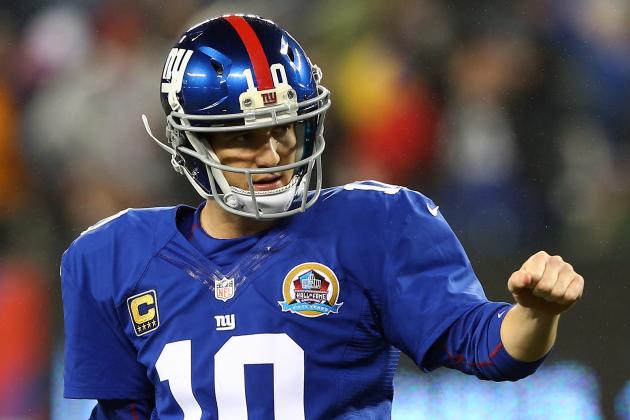 Elsa/Getty Images

The New York Giants don't typically miss the playoffs. And they rarely miss out on postseason play in back-to-back seasons, even in one of the toughest divisions in football
Despite posting a 9-7 record, the Giants missed the playoffs in 2012 as rookie signal-caller Robert Griffin III and the Washington Redskins grabbed hold of the NFC East title and a playoff berth. But if recent history is any indication, the Redskins shouldn't expect the same result in 2013.
With the Philadelphia Eagles in flux, the Dallas Cowboys still sorting out the same issues that have plagued them under Jason Garrett and the Redskins hoping they can repeat the fleeting success that is often so hard to duplicate in the NFL, New York is once again in position to ascend the throne in the NFC East.
John Mara and Steve Tisch are two of the best owners in football, and general manager Jerry Reese has done well in establishing himself as one of the preeminent personnel men in the NFL. With stability and a group of forward-thinking executives with Super Bowl aspirations in mind, the Giants can never be counted out.
Veteran running back Ahmad Bradshaw and linebacker Michael Boley won't be back in blue this season, but Reese did well in replenishing New York's talent in several areas, including at the linebacker position with the addition of Dan Connor.
The Giants also added a bevy of role players at other positions, including former Pittsburgh Steelers safety Ryan Mundy, Oakland Raiders tight end Brandon Myers and veteran defensive tackle Mike Patterson, all of whom should see significant time on the field this season.
Reese also did some work in the 2013 draft, adding a trio of players in the first three rounds that should all make a big impact this season.
Drafting Syracuse offensive tackle Justin Pugh in the first round may not have been a popular choice, but New York needed to find a piece or two to solidify its offensive line and keep Manning on his feet. Regardless of value, Reese made up for it in the second round with Ohio State defensive tackle Johnathan Hankins and in the third with Texas A&M defensive end Damontre Moore—two players some regarded as early second-round prospects.
Finding Moore in the third round was a minor miracle for a team in need of a replacement at the position with Osi Umenyiora's free-agent departure. Given his college production and innate ability to get after opposing quarterbacks, there's a good chance he sees a lot of time lined up opposite Jason Pierre-Paul.
But apart from a solid draft and some depth signings in free agency, the Giants didn't make many big personnel changes this offseason. As has been the case in recent years, Reese perpetuated an environment of stability and continuity—two factors that have made New York an NFL powerhouse for nearly a decade.
We'll examine those offseason moves more closely and also break down the Giants' 2013 draft class and position battles to keep an eye on as the 2013 season draws near. Read on.
Begin Slideshow

»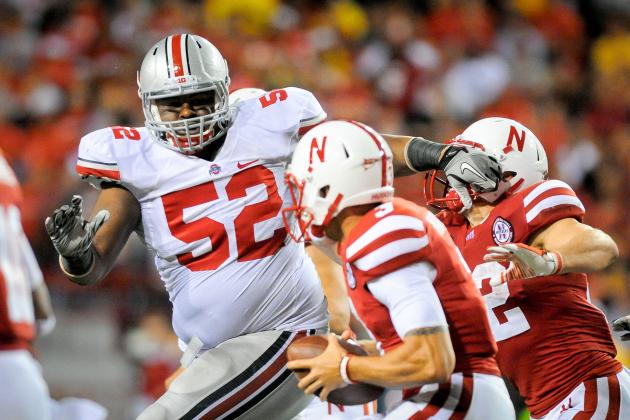 Eric Francis/Getty Images

Round 1 (Pick 19): OL Justin Pugh, Syracuse
Round 2 (Pick 49): DT Johnathan Hankins, Ohio State
Round 3 (Pick 81): DE Damontre Moore, Texas A&M
Round 4 (Pick 110): QB Ryan Nassib, Syracuse
Round 5 (Pick 152): S Cooper Taylor, Richmond
Round 7 (Pick 225): OG Eric Herman, Ohio
Round 7 (Pick 253): RB Michael Cox, UMass
Grade: B
Justin Pugh wasn't widely expected to garner lots of first-round consideration, but it wasn't a bad pick for the Giants at No. 19. With the top offensive tackles and guards already off the board, Jerry Reese saw fit to fill a position of need with the best offensive tackle still on the board.
The Syracuse product probably won't end up at left tackle in the NFL, but he has a ton of versatility to slide all over the offensive line. Like most teams, the Giants have been plagued with injuries at several offensive line positions in recent years, and Pugh adds both depth and talent critical to keeping the offensive moving forward.
Johnathan Hankins should fill a similar role on New York's defensive line this season. While Cullen Jenkins and Linval Joseph will likely have the starting defensive tackle roles locked up, the Ohio State product gives New York added depth and versatility to use in a rotational run as both a run stuffer and interior pass-rusher.
But the best value pick Reese made in the draft was selecting Damontre Moore—a player whose pre-draft workouts necessitated a massive drop in projections from the top of the first round to his eventual landing spot in the third round.
Moore doesn't impress with incredible speed or quickness, but he had a terrific 2012 season at Texas A&M because of his high motor and instinctive ability to get into the backfield. He isn't a physical freak like Jason Pierre-Paul, but he certainly stands to garner a lot of playing time this season.
New York's fourth-round pick probably won't see the field at all in 2013, but he does play a vital role in the sustainability of the franchise.
Syracuse signal-caller Ryan Nassib was lauded as a potential top-10 pick prior to the draft. But in a weak quarterback class that gained very little interest from teams in the early rounds, Nassib's fall into the fourth round should have been expected.
With a mid-round pick, New York couldn't have found much more value. He won't be the immediate impact player who some teams invariably found in the fourth round, but he does give the Giants some depth at the position and a player they can develop behind Eli Manning.
In all, Reese did a good job of both filling needs and taking advantage of value throughout the draft. It wasn't a flashy draft class, but New York's crop of incoming rookies should have a substantial impact on the team in the near future.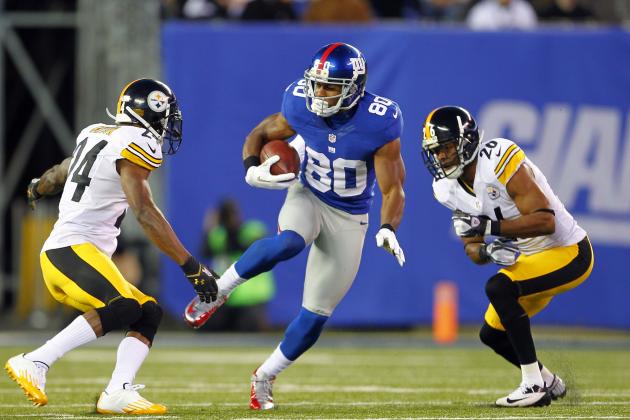 Rich Schultz/Getty Images

One of the biggest stories this offseason has been the absence of star wide receiver Victor Cruz and running mate Hakeem Nicks.
Neither wideout has shown up for offseason activities, and both are hoping to land a new contract prior to the 2013 season. Whether that happens or not remains to be seen, but there's a good chance at least one of the pair finds a big payday before the season commences.
What that means for the Giants is unclear. While Cruz and Nicks are staying at home, New York's young receiving corps are getting extra time with Eli Manning, including Jerrel Jernigan, Rueben Randle and Louis Murphy, as well as the recently re-signed Ramses Barden.
It's not a bad thing that those receivers are getting some extra work in with Manning this offseason, but Cruz's and Nicks' absence still stands to have a detrimental impact on the Giants' passing attack this offseason.
If Manning doesn't have his top two targets to work with in offseason activities, it will be nearly impossible for the signal-caller to develop the consistent timing necessary to cultivate an optimal passing offense. The duo needs to return to practice. Soon.
But regardless of the distraction factor, it's unlikely either player holds out into the season. When opening weekend comes around, expect Cruz and Nicks to be No. 1 and No. 2 on the depth chart.
The third slot on that depth chart is a little more intriguing, though.
Randle and Murphy appear to be in position to battle it out for the No. 3 receiver position right now, but there's a lot of uncertainty in that receiving corps behind Cruz and Nicks. And with Barden back in the fold, it's hard to predict which of the trio will earn the spot entering the 2013 season.
Given Barden's familiarity with Manning and the offense, expect him to be an early favorite to assume the role, though Randle and Murphy aren't far off the pace.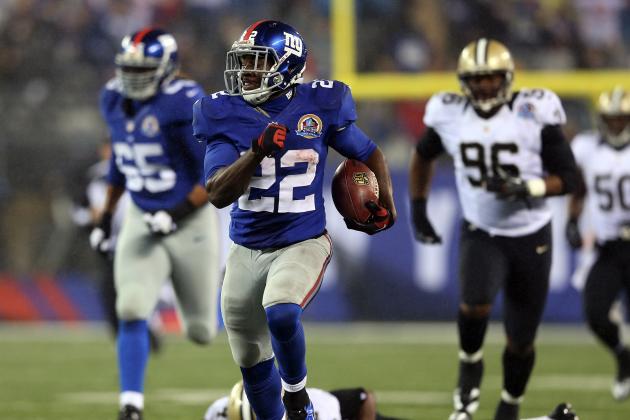 Elsa/Getty Images

2012 first-rounder David Wilson found himself in Tom Coughlin's doghouse early last season, but he showed a lot of potential throughout the season, both in the backfield and as a kickoff returner.
Wilson thrived as a returner in 2012 (1,533 return yards and one touchdown), but he's first in line to assume Ahmad Bradshaw's starting role in the backfield, and there's a good chance a portion of those returning touches are transferred to Randle, Jernigan or cornerback Aaron Ross.
With Wilson likely the No. 1 running back in 2013, Andre Brown should see a bigger role in the offense as his change-of-pace running mate. Brown took advantage of his opportunities last season to the tune of 385 yards and eight touchdowns on just 73 carries, but he found himself on the injured reserve list after breaking his leg late in the season.
If Brown is back to full strength, expect him to compete with Wilson for carries in 2013. He's a bruiser between the tackles who showed a ton of talent in his time last season, and it wouldn't be a big surprise to see the two enjoy a fairly even portion of New York's carries this year.
Provided both stay healthy, there won't be much competition for either role. Ryan Torain had some success with the Redskins in 2010 (742 yards, four touchdowns), but there's not much chance he overtakes Wilson or Brown on the depth chart.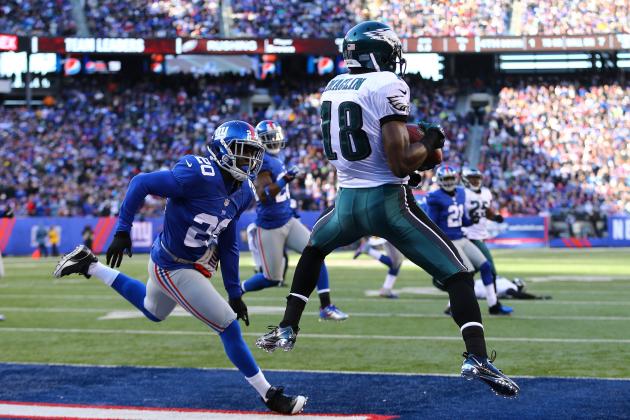 Al Bello/Getty Images

Injuries have hampered the Giants' ability to stop the pass in recent years, especially in 2012 when the Giants saw their pass defense allow 254 yards per game—the fifth-worst mark in the league.
Terrell Thomas has been battling major injuries for the last few seasons, and he'll be very much under the microscope this season as he returns from those injuries.
Likewise, Corey Webster is on the decline and his eventual replacement hasn't developed quite as New York would probably have hoped.
2011 first-round pick Prince Amukamara was expected to see immediate action with the Giants, but he has struggled to stay healthy and maintain consistency on the field. This may be the year the Nebraska product must break through that barrier, though.
New York also brought back cornerback Aaron Ross to add some depth at the position, and given the question mark surrounding the aforementioned trio, Ross could see significant time as both a starter and nickel corner this season.
Whatever the case, the Giants need a couple cornerbacks to step up in 2013. Another 28th-ranked pass defense would likely spell a near-.500 finish in a tough NFC East.
Expect Webster and Thomas to begin the season as New York's starting cornerback duo, though it's hard to imagine either player remaining in those roles throughout the season—Webster for his inconsistency and Thomas because of his injury history.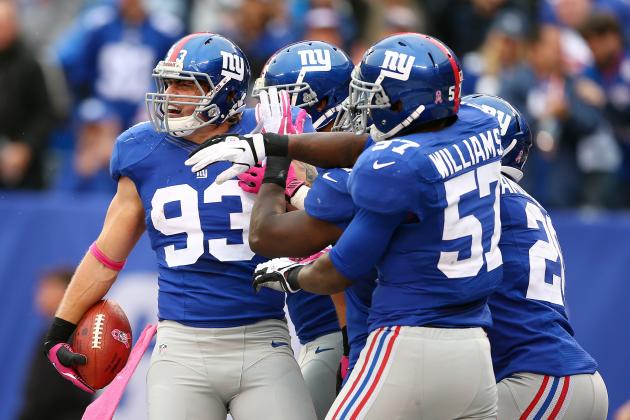 Elsa/Getty Images

Michael Boley's departure wasn't a huge surprise, but New York already has some big question marks at the linebacker positions. This offseason was an opportunity to address some of those issues and solidify a unit that underperformed in 2012.
Adding Dan Connor was a terrific start. The linebacker tallied 56 tackles as a member of the Cowboys last season, and though Dallas couldn't manage to find a role for him in its new 4-3 front, defensive coordinator Perry Fewell should be able to find a good spot for him in the middle of New York's defense.
With Mathias Kiwanuka and Keith Rivers on the strong side and a hopefully healthy Jacquian Williams on the weak side, the Giants should have plenty to work with at the outside linebacker positions.
At middle linebacker, Connor and 2011 undrafted free agent Mark Herzlich will be battling it out for the starting role in 2013—two players with a lot of potential, but also a lot to prove.
The position was a big concern heading into this offseason, and while the Giants chose not to add a linebacker in the draft, there's reason to be hopeful that the unit will perform better this season than it did in 2012.
Look for Williams to have a breakout campaign similar to his 2011 season (78 tackles) alongside Connor and Kiwanuka, with Herzlich and Rivers providing the depth to solidify the unit.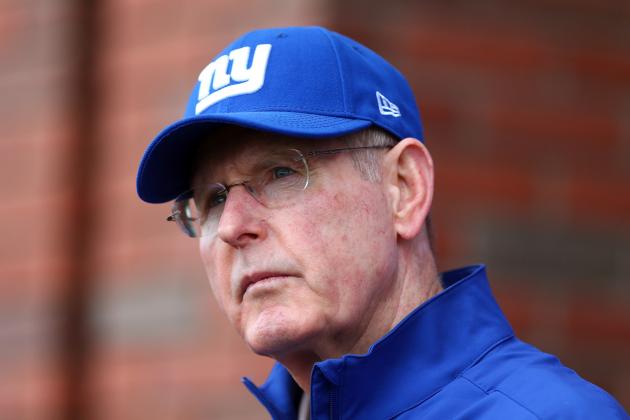 Elsa/Getty Images

*For a complete look at New York's 2013 schedule, check out NFL.com.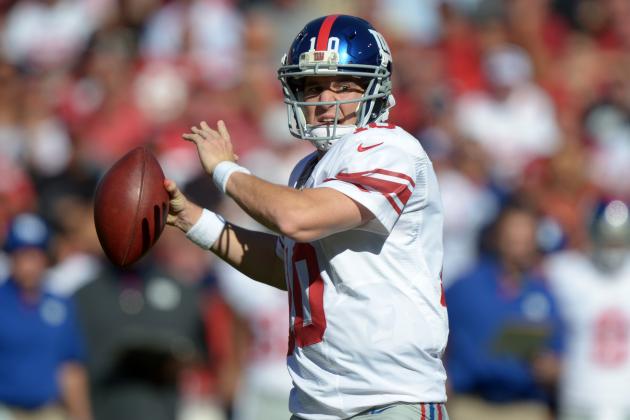 Kirby Lee-USA TODAY Sports

The Giants' 2013 schedule is about what one would expect following a disappointing 2012 campaign. Several winnable games litter the schedule, but things are never that easy in the NFC East.
The Dallas Cowboys will be back in the discussion this year to make a run at the division title, while the Washington Redskins enter the season the favorites to repeat with Robert Griffin III at the helm. Philadelphia is in a transitional period, but there's still enough talent on that roster to make two matchups with the Eagles very difficult affairs.
On the non-division side of the slate, New York faces the always difficult NFC North with, matchups against the Green Bay Packers, Detroit Lions, Chicago Bears and Minnesota Vikings. New York is capable of winning each of those contests, but a split series with the NFC North would be nothing to be ashamed of.
But not every non-division matchup will be as challenging.
Contests against the Oakland Raiders (Week 10), Kansas City Chiefs (Week 4) and Carolina Panthers (Week 3) will all be games the Giants should be favorites to win. Anything can happen on NFL Sundays, but New York is in good position to take those games outside the NFC East schedule.
From its schedule alone, New York looks to be headed for another difficult campaign, but many of the pieces are in place to traverse a difficult schedule en route to a division title.
Prediction: 10-6, first in NFC East
There's nothing to suggest New York can't tack on another win to its 2012 campaign this season, especially with a quietly solid offseason and a lot of key pieces still in place.
Continuity and consistency are the marks of a good football team, and the Giants possess both in spades. And with a two-time Super Bowl winning quarterback like Eli Manning under center, anything less than a 10-win season shouldn't be expected.