Pros and Cons of Boston Celtics Becoming Rajon Rondo's Team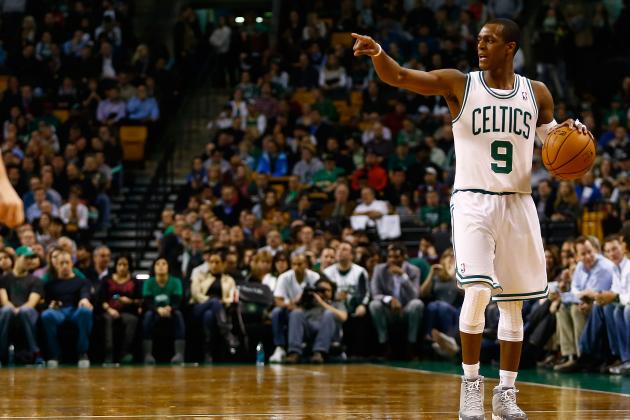 Jared Wickerham/Getty Images
Can Rajon Rondo keep Boston pointed in the right direction?
Coming to an agreement in an argument over Rajon Rondo is next to impossible. The Boston Celtics' star point guard is simply too confusing and too talented to come to any real conclusions.
Therefore, the best thing to do is examine the good and the bad, and hope you wind up somewhere in the middle with answers.
Ultimately, you may find that most of Rondo's benefits are also drawbacks. He is truly that unique of a basketball player and personality. There are things about him that fans love, but those are the same things that they also hate.
All in all, it makes no sense—nor does Rondo.
However, with the Paul Pierce/Kevin Garnett era teetering on the edge, the Celtics are growing closer to a Rondo-led experience. The team claimed that it was his team a year ago, but you never really take over until the big brother leaves the nest. Then, you can move into his room and use his stuff. Until then, you're only acting.
The time for acting is coming to a close in Boston. Next season will be sink-or-swim time for Rondo's Celtics. We'll spend the next few months trying to figure out if this is a good idea or not, but only time will tell.
For now, everyone grab your yellow legal pad, it's pros and cons time!
Begin Slideshow

»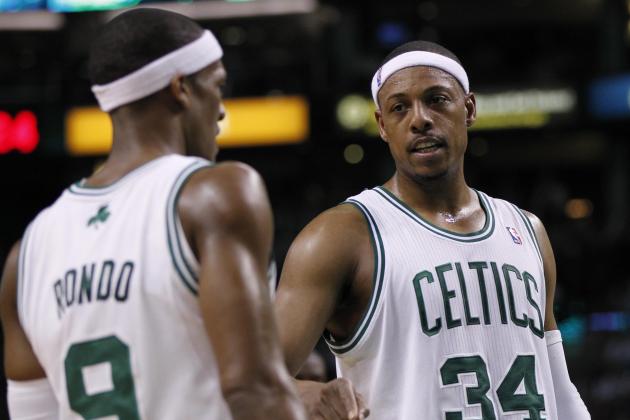 Greg M. Cooper-USA TODAY Sports

The Boston Celtics are not in a great situation with the salary cap. None of that, however, is Rajon Rondo's fault.
Owed just less than $25 million over the next two seasons combined, Rondo is still very much a bargain. When he is able to return to 100 percent from his ACL injury, that will tell us what level of a bargain he really is on the court.
This gives GM Danny Ainge and the Celtics two years to figure out a way to make space and find money to fill in spots around him. The benefit of having Rondo so cheap is obvious—the less you have to pay a superstar-caliber player, the more chances you can take with role players.
You won't find many franchise players making what Rondo does, which is a blessing for the Celtics.
To this point, Ainge hasn't done a great job of filling those spots, but if they are able to make salary-cap room from the contracts of Paul Pierce and Kevin Garnett, he'll have another opportunity.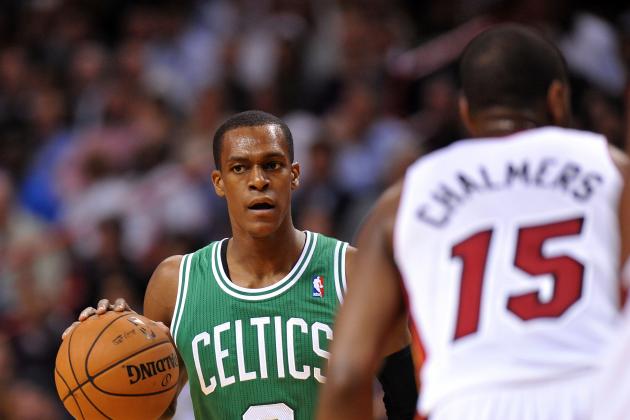 Steve Mitchell-USA TODAY Sports

One big thing an NBA team looks for in a game is whether its franchise player can give it consistent mismatches at both ends.
Rajon Rondo does that for the Celtics, particularly in the Eastern Conference. Scanning the point guards in that half of the league, there are names like Mario Chalmers, George Hill, Raymond Felton and Jeff Teague.
While those are solid players, Rondo is head and shoulders above them when he is at his best. Other top-level point guards like Chris Paul, Russell Westbrook and Tony Parker reside in the Western Conference, so the East is Rondo's territory.
Point guard has become one of the deepest positions in the league lately, with young guys like Jrue Holiday, Kyrie Irving and John Wall making waves. That doesn't mean the position is expendable, though. Now it is more important than ever to have a good player at the front of the lineup.
As long as Rondo is in Boston, the Celtics won't be at a disadvantage in the floor general department.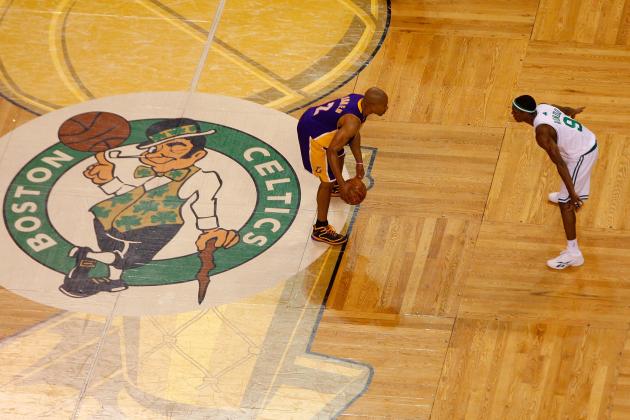 Jim Rogash/Getty Images

Once Paul Pierce and Kevin Garnett move on, Rajon Rondo will be the Boston Celtics' most marketable star.
He'll be—along with coach Doc Rivers, if he stays—the only remaining face from their title runs in 2008 and 2010. He's going to continue being one of the top-selling jerseys in the NBA, and he is a big contributor to the fashion explosion going through the league right now.
It seems natural to build around a guy like that. He's got the skill-set to be a great player, as well as the name recognition to sell tickets.
If Boston should go a different route, it will be trying to market a team featuring strange and unknown names to a rapidly growing Boston Bruins fan base in the winter months. Casual fans aren't hitting the box office for middling free agents and Jeff Green.
Rondo keeps the Celtics at a level where they can compete in the Eastern Conference playoffs for at least the next two seasons. He also keeps the Celtics relevant in their own town.
Don't underestimate the importance of that second part.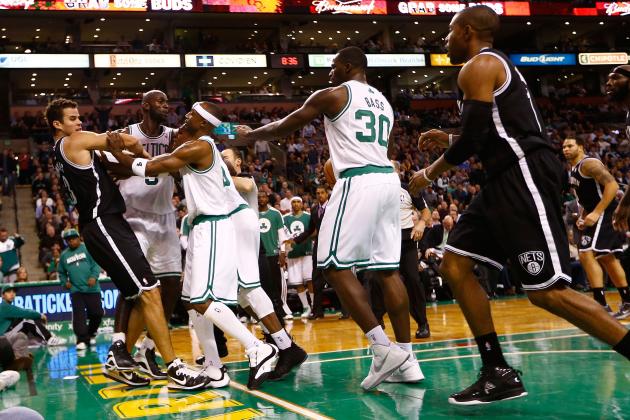 Jared Wickerham/Getty Images

Picking apart Rajon Rondo's leadership abilities is pretty easy at this point, and we'll do just that in our list of cons.
However, there are facets of his game and personality that do lend themselves to being a good leader.
For one, Rondo is not backing down from anyone in the league right now. He is always ready and willing to stand up for a teammate, regardless of the situation. At times, that will get him into trouble, however, as the Kris Humphries altercation from last season was one of those.
Also, for all we say about how much we value those traits in professional athletes, we get shockingly negative when they actually come to fruition. We expect players to police themselves to an extent and defend their team. Yet, when that defense turns physical, we shun it.
In this case, it is probably a good thing for the Boston Celtics that Rondo doesn't seem to care one lick what anyone outside the locker room cares about him. He won't hide after a loss and is as honest as they come during interviews.
It may drive media and fans a little nuts from time to time, but Rondo is a gutsy and hard-nosed leader. He'll play through virtually anything and he will go out of his way to defend a fellow green jersey.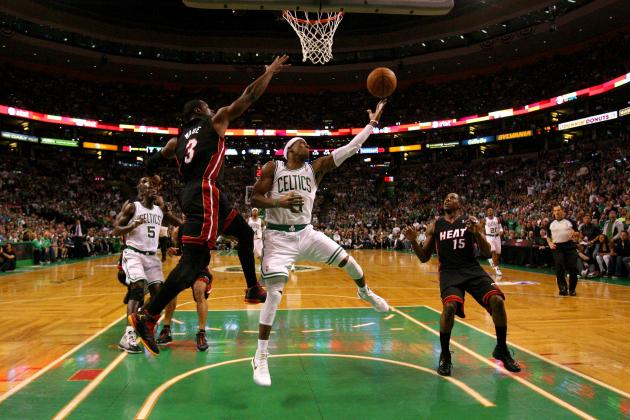 Jim Rogash/Getty Images

Since we haven't seen Rajon Rondo play without superior scorers on the floor with him, we don't totally know how he would respond to him being a major option on offense.
However, what we do know is that he struggles scoring.
After the 2011 playoffs, when he averaged 17.3 points over 19 games, it was hoped that he would translate that to regular season scoring. The Celtics desperately needed a more potent game from him on offense yet prior to his ACL injury, he was only averaging about two more points per game than the previous year.
If the Celtics are going to be his in the future, and without the benefit of Paul Pierce and Kevin Garnett being by his side, Rondo has to average more than the 13.7 points per game he did this season.
While his jump-shooting has improved, it is still a weakness that teams look to exploit every game. Defenses sag off him regularly and will continue to do so until he proves capable of efficient shooting.
On top of those difficulties, Rondo is still just a 62 percent free-throw shooter for his career. His inabilities at the line have an obvious effect on how he plays in crunch time, and even in regards to Doc Rivers' willingness to put the ball in his hands in those moments.
You can't be a true leader for a great team if you can't score consistently and be a real option late in games.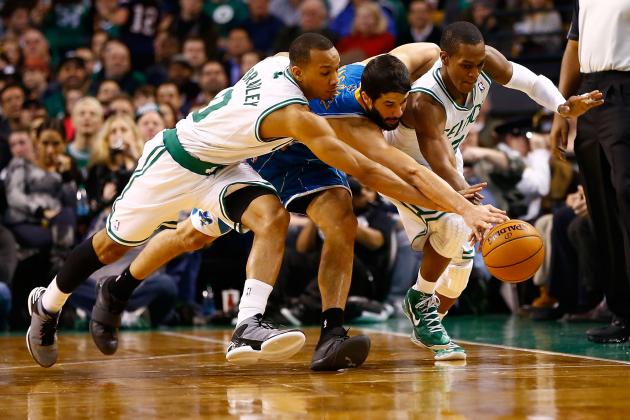 Jared Wickerham/Getty Images

Rajon Rondo is not your typical NBA star. He can't shoot very well, nor does he attempt to. He isn't a high-flyer or a dominant scorer. Because of this, building a team around him is unusual and difficult.
Building teams around athletic, scoring swingmen is the norm in today's NBA. Get a distributor, a perimeter marksman, a rebounding big and maybe an interior scorer. That is the general recipe for NBA teams.
Building around an ingredient like Rondo is a little different. He is a ball-dominating player who doesn't shoot or score often. Instead, the offense runs through him in a series of A-to-B passes. Almost always, B is in a good position to shoot, but there likely won't be another pass.
Therefore Rondo has to be surrounded by shooters. This means that players like Brandon Bass can wind up being overvalued, thanks to all the open mid-range jumpers they get. The team has to have a bunch of players like this—ones who can hit jump shots.
Rondo will also have difficulty getting a good look in the clutch. This also brings up his failings at the free-throw line. Teams built around him have to feature a Paul Pierce-type clutch scorer.
Defensively, Rondo is very much a gambler. While that gets him certain recognition on All-NBA teams and a vast number of steals, it leaves him very vulnerable, position-wise. A team will need a dynamite perimeter defender and rim-protector in order to pick up the slack when Rondo ventures out of position unsuccessfully.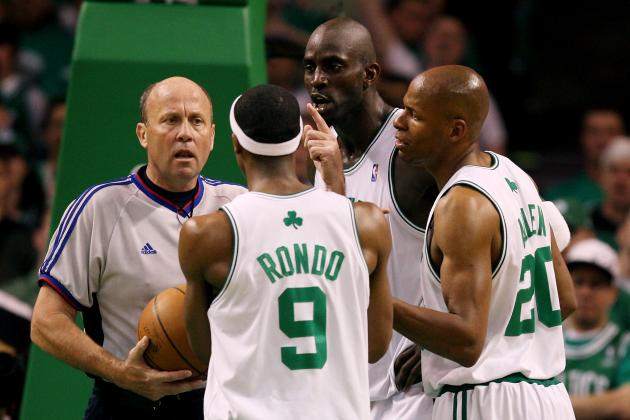 Elsa/Getty Images

It can't be denied that Rajon Rondo possesses leadership qualities. Unfortunately, he also possesses immature qualities that occasionally cloud that leadership.
The ferocity with which he defends his teammates can sometimes get him into trouble. It is also sometimes misguided and over the top. Rondo isn't one to be the bigger man and walk away. He is still the young hothead who will fight back.
That hasn't changed in seven years of NBA play, so the chances are getting slimmer that it ever does.
That over-intensity has also gotten Rondo into trouble with referees. He has been reprimanded more than once for either touching an official or throwing the ball at one. That may be a quirky thing once or twice, but it has been repeated too often and it got him suspended for a playoff game last year.
At this point, the benefit of the doubt is out the window between Rondo and the league. Any time he is even remotely involved in an altercation, there will be reprimands and occasionally suspensions.
You can't lead when you're not on the court. That could develop into a real problem for Rondo and the Celtics.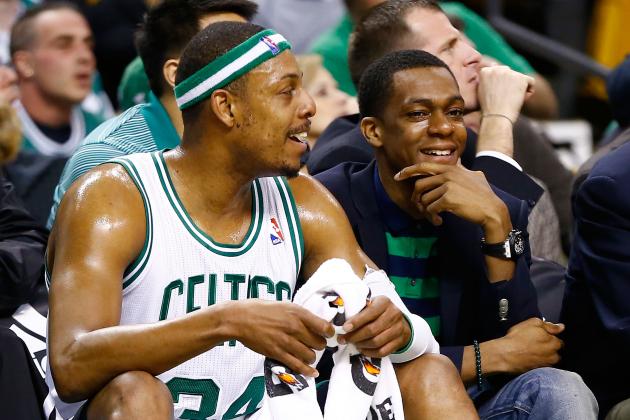 Jared Wickerham/Getty Images

Rajon Rondo's biggest concern right now is regaining his health.
For the most part, ACL injuries are freak occurrences and can happen to any player. A busted ACL doesn't make a player prone to injuries, but missing more than 20 percent of a your games over the past three seasons may.
Rondo has been getting nicked and dinged up a fair amount in recent years. He missed 14 games in 2010-11 and 13 during the condensed season last year. The ACL injury held him out of 44 games this past season, plus the team's six playoff games.
Coming back from this major injury will be interesting. Rondo is still expected to be ready to go by training camp, though we have seen similar players fail to meet deadlines. Derrick Rose's lost season in 2012-13 has to concern fans, along with Ricky Rubio, who took a full year to look like himself after his injury.
Those are similarly skilled and athletic point guards. If Rondo returns at less than 100 percent, Boston is in trouble.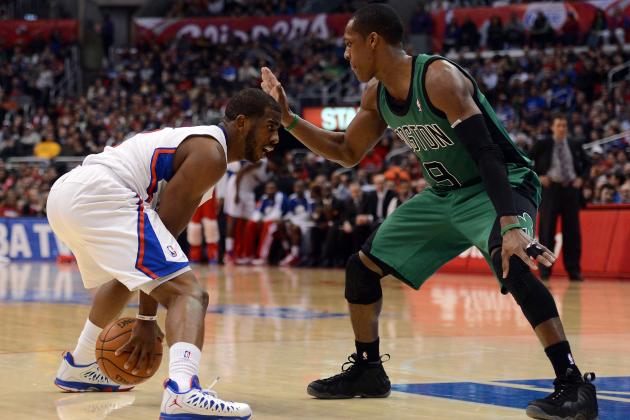 Harry How/Getty Images

In Game 2 of the 2013 Eastern Conference Finals, LeBron James went off for a triple-double. That was the ninth playoff triple-double of his career.
This is meaningful here because one slot above James on that list is Rajon Rondo. Rondo has 10 playoff triple-doubles in 35 fewer postseason games. In fact, only Larry Bird, Jason Kidd and Magic Johnson are in double-digits in this category.
A knock on Rondo for a long time has been that he occasionally takes games off. He has been known to not put forth a total effort in slow regular season games against inferior opponents. The great illustration for this is the number of triple-doubles he puts up in nationally televised games.
The Harvard College Sports Analysis Collective completed a study detailing that Rondo had indeed played better in games with a national audience. He has registered 21 triple-doubles on national television, but just seven on local coverage.
The mystery of whether this means he doesn't try as hard in less-important games or if he simply rises to the spotlight in big games is open for discussion. It is simply a matter of interpretation at this point.
The thing that the Boston Celtics have to keep in mind is that there are a bunch of games played on national television every spring. In the NBA, they call those the postseason, and your best players are supposed to play their best then.