While Johnny Manziel lives the good life this season—playing Pebble Beach, taking batting practice with the San Diego Padres and hanging out on Bourbon Street—the biggest question heading into the 2013 season is what he will do for an encore.
Fair or not, Manziel raised the bar for himself after passing for 3,706 yards and 26 touchdowns and rushing for 1,410 yards and 21 touchdowns as a redshirt freshman last season. His accolades last season—which resulted in the Heisman Trophy—are big reason why Texas A&M finds itself squarely in the mix to be in the preseason Top Five of most major polls and a legitimate threat to intra-division foe Alabama.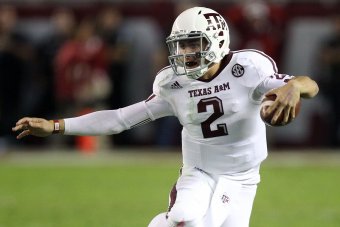 Mike Zarrilli/Getty Images
So, what should we expect from "Johnny Football" in 2013? Fewer rushing yards would be a good start.
Manziel was simply magical on both designed runs and scrambles last season, but if he tops the 1,400-yard mark on the ground in 2013, something probably went terribly wrong for the Aggies.
Why?
Outside of Tuscaloosa, Texas A&M boasts the deepest and most talented backfield in the SEC. Ben Malena returns to lead a stable that includes Oklahoma transfer Brandon Williams, the lightning-fast Trey Williams and Oregon transfer Tra Carson.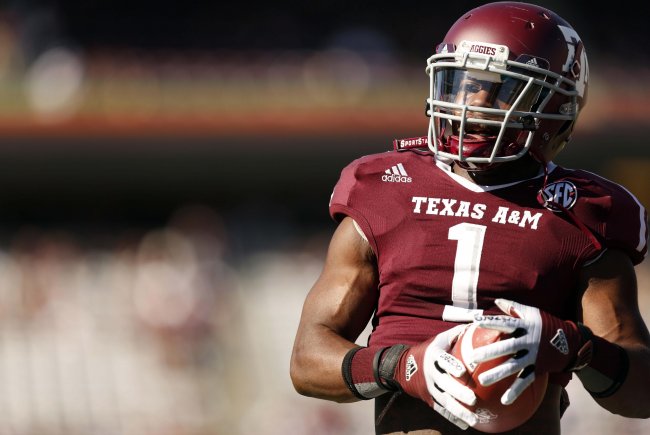 Thomas Campbell-USA TODAY Sports
But it isn't just raw talent that makes this group so dangerous. The best part for Aggies fans is that they all bring a little something different to the table.
Malena, who rushed for 808 yards and eight touchdowns a year ago, will be the feature back. The 5'8", 195-pound senior led Aggie running backs in rushing last season and possesses the versatility it takes to be a star in the SEC. In addition to his work as a running back, he caught 18 passes for 111 yards and a touchdown out of the backfield a year ago.
But it isn't just his work with the football that makes him so effective. Malena's work in pass protection is what makes him a weapon for the Aggies.
"What Ben has given us is a steady guy who understands everything, who is a potent threat with the ball in his hand and also a pass-catcher and a protector," head coach Kevin Sumlin told ESPN.com last season.
Every Johnny Manziel TD in 2012
In the video above at the 3:42 mark, Malena—who is lined up next to Manziel in the shotgun—steps up in the pocket and picks up the blitzing linebacker, allowing Manziel to find Thomas Johnson in the end zone in the third quarter of the Aggies' win over Louisiana Tech.
While Malena may be the unquestioned starter, Brandon Williams may be the rising star.
The Oklahoma transfer rushed for 219 yards with the Sooners in 2011 before sitting out last season after transferring to Texas A&M. You saw a glimpse of what Williams was capable of during the Aggies' spring game, when the 6'0", 192-pounder rushed for 59 yards and a touchdown and caught three passes for 29 yards and another touchdown.
"He's impressive," Manziel told the Associated Press (via AggieAthletics.com) after the Aggies' spring game. "He works hard and he's one of my favorite people on the entire team."
Texas A&M spring game highlights
In the highlights from A&M's spring game above, take a look at the first play. Brandon Williams flashes his speed and shows quickness, exposing the bad angle taken by the safety.
While Brandon Williams is the rising star, Trey Williams epitomizes the definition of a "changeup back."
The 5'8", 185-pounder rushed for 376 yards and five touchdowns last season, averaging a whopping 5.78 yards per carry in the process. He's incredibly dangerous in space and has breakaway speed when he gets to the second level.
Trey Williams TD run in the Cotton Bowl
Whether it's as a running back or out of the backfield as a receiver on screen passes, Trey Williams adds a different dimension to the Aggies offense and can be in the lineup along with one of the other running backs, giving head coach Kevin Sumlin options and flexibility with play-calling.
Will quarterback Johnny Manziel lead Texas A&M in rushing again in 2013?
Scary.
At 6'0", 227 pounds, Carson will likely find the majority of his work as a short-yardage and goal-line specialist. Not a bad gig. But don't be fooled by his size, Carson is every bit as versatile as the his mates in the backfield and could evolve into a bigger role as his career in College Station develops.
Four players, all of whom are talented but possess slightly different traits. Texas A&M may have lost some key pieces on the offensive line, but the four-headed monster at running back will allow the coaching staff plenty of options offensively, even if the offensive line struggles to gel.
Manziel will get his share of yardage on the ground. But he visited quarterback coach George Whitfield, Jr. this month with the stated goal of becoming a better pocket passer. Part of what makes a pocket passer good is faith in the running game.
With the four running backs lining up alongside him this season, that trust should be on display early and often. If it's not, something's wrong.