Miami can probably claim the title, USC could have some say and Auburn would likely carry the torch for the SEC, but there's no denying that Alabama's recent success on the ground has established the Crimson Tide as the most successful "Running Back U" over the last six years.
Since head coach Nick Saban took over the program in 2007, five different Crimson Tide running backs have topped the 1,000-yard mark on the ground, three of whom—Eddie Lacy, Trent Richardson and Mark Ingram—have been selected in the first two rounds of the NFL draft.
In 2009, Mark Ingram became the first Alabama player to ever win the Heisman Trophy.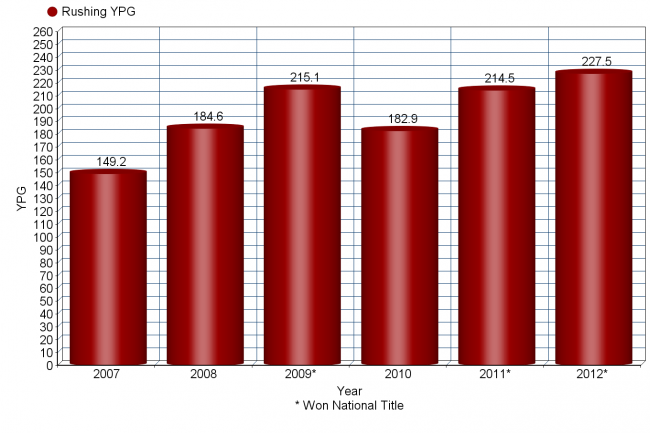 Not a bad run, and the best may be yet to come.
The 2013 Crimson Tide will feature sophomore T.J. Yeldon as their lead running back. Yeldon rushed for 1,108 yards and 12 touchdowns as a true freshman last season, serving primarily as the backup to Eddie Lacy.
Yeldon will move up to the top spot on the depth chart this year, but don't be surprised if the Alabama running game looks a little different in 2013.
Though Yeldon has what it takes to be an every-down back in the SEC, Alabama is absolutely loaded at the position with players who can contribute in a variety of ways.
First, let's look at Yeldon. The 6'2", 216-pounder has the build to be a force between the tackles and is not afraid of contact. We saw that in the first game of his career, when he rushed for 111 yards and a touchdown against Michigan in the Cowboys Classic.
T.J. Yeldon vs. Michigan in 2012
He has power, but it's his patience and quickness in traffic that make Yeldon so dangerous.
In just one short season, we've seen Yeldon show the patience of a veteran and the burst that keeps him one cut away from taking it to the house at any moment.
In the video below versus Missouri last season, Yeldon stayed behind his pulling offensive linemen, waited for the right moment and then jumped five yards into the end zone to extend Alabama's lead on the Tigers.
T.J. Yeldon vs. Missouri in 2012
Yeldon averaged 6.33 yards per carry last season. That number will go up next season thanks to the supporting cast around him.
One of the primary members of that cast is early enrollee Derrick Henry. Henry missed Alabama's spring game with a broken leg, but should be up to 100 percent by the time toe meets leather against Virginia Tech in the Crimson Tide's season opener at the Georgia Dome.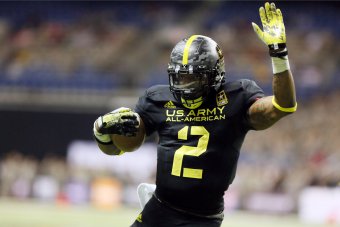 USA TODAY Sports
When healthy, Henry is a boss. He set the career school rushing record at Yulee (Fla.) High School with 12,212 yards, scored 153 touchdowns and was named the Maxwell Football Club's 2013 National High School Player of the Year.
At 6'3", 238 pounds, his size will likely land him as a short-yardage back during the start of his Tide career. But with 4.54 speed in the 40-yard dash, he can certainly be a superstar in the SEC.
For now, though, expect Henry to get predetermined series as the the feature back—as was the case with Yeldon, Lacy and Richardson when they were backups—but to be a major contributor in short-yardage and goal-line situations.
Alabama likes to line up a defensive tackle at fullback near the goal line. It's kind of hard to stop a running back the size of a linebacker when a defensive tackle is plowing the road in front of him.
Derrick Henry's Full Ride Scouting Report
But it isn't just Yeldon and Henry who will carry the load.
Kenyan Drake rushed for 281 yards and five touchdowns last season, averaging 6.69 yards per carry in the process. The 6'1", 201-pounder is more of a weapon outside. If used properly, offensive coordinator Doug Nussmeier can use Drake's ability to be creative with play-calling.
Lining up with either Yeldon or Henry as the primary back with Drake in the slot as a receiver will make opposing defensive coordinators' heads spin. It would allow Nussmeier to use the feature back as he always does, but Drake as either a running back or a receiver in screen passes or downfield.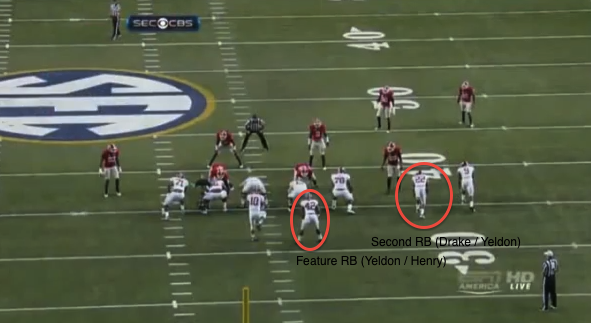 Alabama isn't a spread offense, but it has the ability to give off that impression with the talent in the backfield.
However, it isn't just those three who will be in the mix. Dee Hart dabbled as a defensive back this spring, but the former 4-star (per 247Sports.com) running back is lightning-quick and could move in with Drake as that changeup back with home run capabilities.
Toss in 6'1", 250-pound Jalston Fowler as another short-yardage specialist and Alabama's current crop of running backs is loaded with talent.
Will Alvin Kamara, Tyren Jones and Altee Tenpenny all redshirt in 2013?
The scary thing is that help is on the way.
Alvin Kamara, Tyren Jones and Altee Tenpenny all signed with Alabama as 4-star prospects in the 247Sports.com composite index in February and will join the team this summer. All three of those players would probably earn playing time at other schools this season as true freshmen, but will be battling to avoid a redshirt season in fall camp.
Of the trio, Kamara has the best shot to play right away. He has the versatility to be a feature or changeup back and could find the field right away. If any of the three crack the lineup, it'd be quite an accomplishment and quite a statement to the rest of the SEC.
Alabama's running game is going to be filthy next year due to the talent, depth and versatility it boasts. Sure, the offensive line may be a question mark, but this group of talented backs is certainly capable of overcoming some inconsistencies up front.
These Alabama running backs create the most punishing and versatile rushing attack the Crimson Tide have boasted under Saban.
That's downright frightening.