Power Ranking the Chicago Bears 2013 Schedule from Easiest to Hardest Games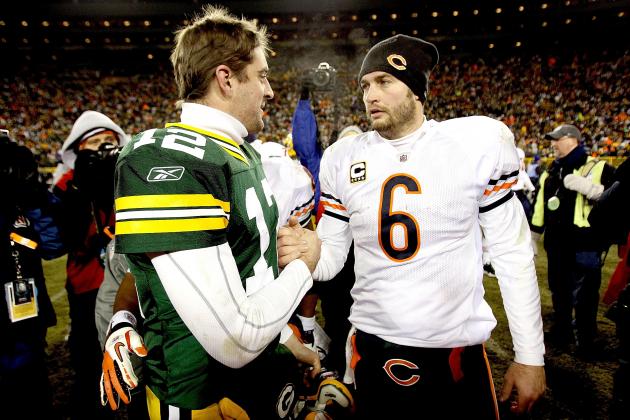 Matthew Stockman/Getty Images
Is Jay Cutler prepared to duel it out with Aaron Rodgers again this season?
If head coach Marc Trestman is going to take the Chicago Bears to the playoffs in his first season, he certainly has his work cut out for him.
The NFL released team schedules on Thursday night, and the Bears have a tough one.
Seven of Chicago's games are against 2012 playoff teams, four of which are within the NFC North schedule. There are also several teams that were on the bubble last year, and even the two worst teams from 2012 on the schedule (the Detroit Lions and Philadelphia Eagles) are ultra-talented.
The Bears are also a very talented team, but they'll need to work for almost every win. There's no Jacksonville, Oakland or Arizona on the schedule. That's right, Cleveland is moving in the right direction.
The entire Bears schedule for 2013 is below. The following slides rank each game from easiest to hardest.
Chicago Bears 2013 schedule
Week 1: vs. Cincinnati Bengals (10-6), 1 p.m. Sunday
Week 2: vs. Minnesota Vikings (10-6), 1 p.m. Sunday
Week 3: @ Pittsburgh Steelers (8-8), 8:30 p.m. Sunday
Week 4: @ Detroit Lions (4-12), 1 p.m. Sunday
Week 5: vs. New Orleans Saints (7-9), 1 pm Sunday
Week 6: vs. New York Giants (9-7), 8:25 p.m. Thursday
Week 7: @ Washington Redskins (10-6), 1 p.m. Sunday
Week 8: Bye
Week 9: @ Green Bay Packers (11-5), 8:30 p.m. Monday
Week 10: vs. Detroit Lions (4-12), 1 p.m. Sunday
Week 11: vs. Baltimore Ravens (10-6), 1 p.m. Sunday
Week 12: @ St. Louis Rams (7-8-1), 1 p.m. Sunday
Week 13: @ Minnesota Vikings (10-6), 1 p.m. Sunday
Week 14: vs. Dallas Cowboys (8-8), 8:30 p.m. Monday
Week 15: @ Cleveland Browns (5-11), 1 p.m. Sunday
Week 16: @ Philadelphia Eagles (4-12), 1 p.m. Sunday
Week 17: vs. Green Bay Packers (11-5), 1 p.m. Sunday
Begin Slideshow

»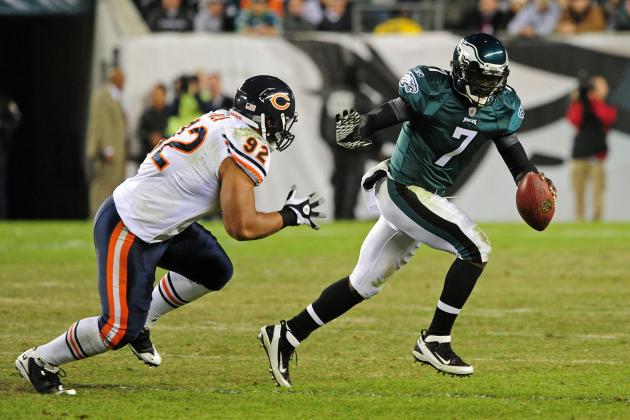 Scott Cunningham/Getty Images
The Bears have actually been very successful at containing Mike Vick during his NFL career.
While the Eagles are a talented and potentially explosive team on offense, they are simply atrocious on defense.
The Eagles allowed the third most scoring in the NFL last season with 27.8 points allowed per game. That tied them with the Jacksonville Jaguars. Philadelphia's net points at the end of the season were worst in the NFC (-164).
With all due respect to head coach Chip Kelly's accomplishments at Oregon, the Eagles will probably be bad again in 2013. They can't be considered an automatic win because of their offensive firepower (LeSean McCoy, Jeremy Maclin, DeSean Jackson, etc.) and the creativity Coach Kelly will likely bring to that offense.
On the other hand, the Eagles have the Cleveland Browns' former linebackers coach (Billy Davis, reported by NFL.com) as their new defensive coordinator. That doesn't inspire much hope.
The Bears will be fresh off a game against the Browns and probably be in the hunt for a playoff spot. Chicago will be as well-rested as possible late in the season and hungry for a victory. The Eagles are particularly susceptible to the run, so expect Matt Forte to power them to a win.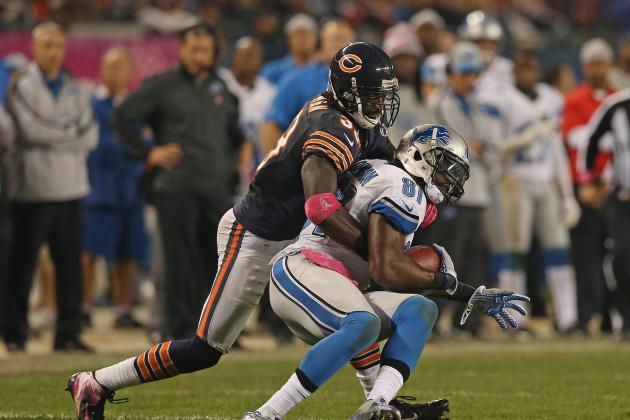 Jonathan Daniel/Getty Images
Charles Tillman is one of the few corners that can hang with Calvin Johnson.
The Detroit Lions are much better than their 4-12 record in 2012 suggests. They had the misfortune of playing in a division with three teams that posted 10 or more wins.
Even so, their 0-6 record in the NFC North last year means they'll probably be the division doormats again.
The Lions put up a lot of points last year, but they couldn't keep opposing teams out of the endzone. They allowed 27.3 points per game last season, and their formidable defensive line will feel the absence of Cliff Avril in 2013.
The Lions couldn't get consistent production at running back last year, so they're hoping the offseason addition of Reggie Bush will help their rushing attack. Their offense will be dangerous, but the Bears held them to only seven points in one game last season.
Charles Tillman's physical play against Calvin Johnson was a big factor, and Chicago will hope to see similar success from Tillman and Co. in 2013.
If the defense steps up, this will be one of the easier games for the offense next season.
Jason Miller/Getty Images
Pat Shurmur and Lovie Smith are both out as head coaches.
Though the Cleveland Browns appear to be headed in the right direction, this will still be one of the easier games on the schedule.
Browns quarterback Brandon Weeden threw 14 touchdowns and 17 interceptions last season. The Bears' talented secondary should have a field day with Weeden.
The Browns will be running a new system under head coach Rob Chudzinski, so there might be some growing pains. Weeden would have benefited from more continuity in his second year.
The game will be in Cleveland and on a short week for the Bears, so it will definitely be harder than fans might expect.
The offensive line will be important in this game. Cleveland had a decent pass-rush last year and added former Ravens linebacker Paul Kruger to that unit.
Though the Browns have a decent defense, it's very hard to imagine Cleveland's inexperienced offense outscoring Jay Cutler, Brandon Marshall and Matt Forte.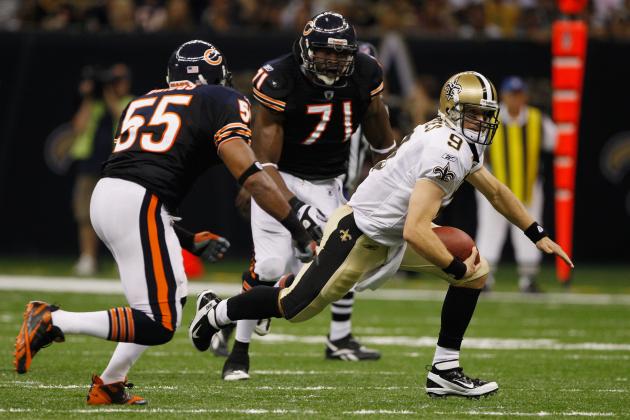 Chris Graythen/Getty Images
Drew Brees and Lance Briggs will meet again in 2013.
After an early two-game road trip, the Bears will return to Soldier Field to take on new offensive coordinator Aaron Kromer's former team.
Head coach Sean Payton's return will surely help the Saints, but they are still a mess.
New Orleans allowed the most yards per game and second most points per game in 2012.
They added cornerback Keenan Lewis, who ESPN described as "a rising player at a coveted position," but there are still a lot of holes on the defensive side of the ball.
For how often the New Orleans Saints throw the ball, their offensive line allowed a stunningly low amount of sacks last year (26). The departure of Kromer might hurt the Saints' success along the offensive line. Either way, Julius Peppers, Henry Melton and Shea McClellin will need to generate pressure for the Bears to have success.
This game will probably be a shootout. New Orleans only scored seven more points than they allowed in the entire 2012 season.
Whichever team's defense can make a defensive stand will win, and that makes the Bears an obvious pick to win in this one.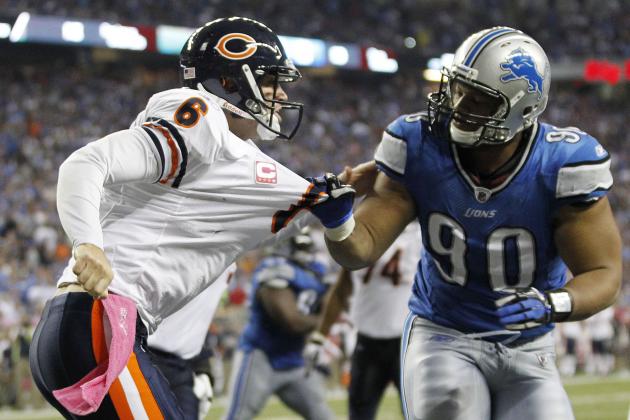 Leon Halip/Getty Images
There's definitely animosity between the Bears and the Lions.
This will be a difficult game because the Bears will be coming off of another away game against the Pittsburgh Steelers. The Lions will also be looking to prove themselves as NFC North contenders early in the year.
Again, the play of Chicago's secondary will be vital. It's somewhat impossible to stop Megatron, but the Bears can make it happen.
The Bears will obviously be favorites in this one, but playing at Ford Field will give the Lions a boost.
Matt Forte's production could be an X-factor. He averaged 99.5 rushing yards in the two wins against Detroit last season.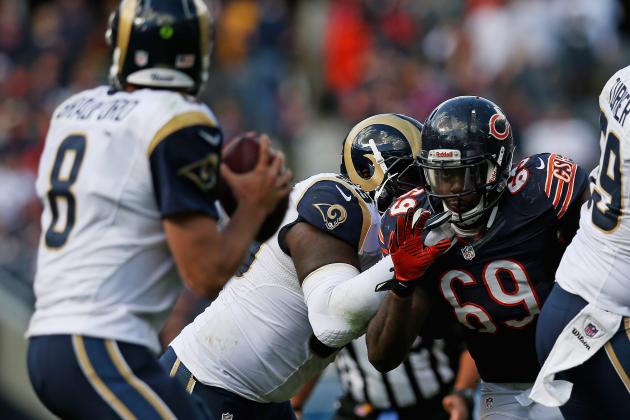 Jonathan Daniel/Getty Images
Henry Melton and the Bears will try to bring the pressure against Sam Bradford.
The Rams did not have a potent offense in 2012.
St. Louis averaged 18.7 points per game last year, putting them 25th in the NFL.
Sam Bradford took a step forward in 2012 after a gigantic leap back in 2011, but the offensive line still wasn't very good. The Rams are hoping that big-name free agent Jake Long helps keep Bradford upright.
Either way, the Rams can be surprisingly good. They played well against the 49ers and Seahawks in 2012 (2-1-1 overall), and they have a lot of quality young talent. They just didn't show much consistency.
There are still a lot of question marks for St. Louis to answer on offense, too. Can Daryl Richardson replace Steven Jackson? Do the Rams have enough skill at wide receiver?
If the answer to those questions is yes, then the Rams will be a tough opponent. If it's no, look for the Bears defense to eat them alive.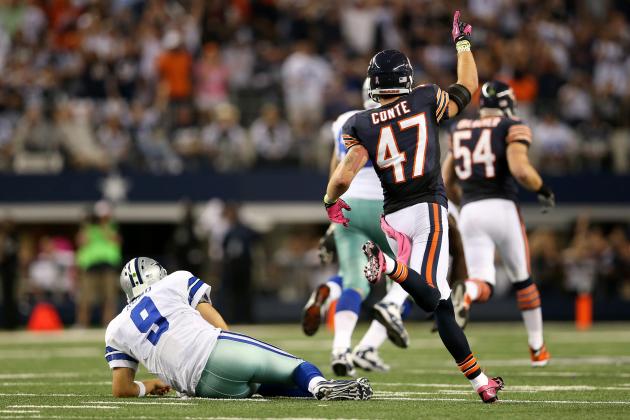 Ronald Martinez/Getty Images
Romo had an awful game against the Bears in 2012.
The Bears face "America's Team" at home after a two-game road trip against the Rams and Vikings. If it's even remotely like last year's game, the Bears will be just fine.
Despite struggling with interceptions last year, Cowboys quarterback Tony Romo became the highest-paid player in Dallas Cowboys' history this offseason, according to ESPN. Romo threw 19 total interceptions last year.
Five of those interceptions came against the Bears.
The Bears mauled the Cowboys in that game, and Romo is looking for redemption this season. It seems unlikely.
Romo has been compared to Brett Favre, as Joe Vitt told CBS Sports, and Favre had a propensity for throwing risky interceptions. Favre himself then described Romo's play as reckless on NFL.com.
It makes you wonder if Favre knows that Romo modeled his play after him (via FOXNews.com).
Regardless, Romo's reckless play will get him into trouble against Chicago's defense again this year. The Bears' ball-hawking secondary makes this a lock for the easiest game against a .500 or higher team from last year.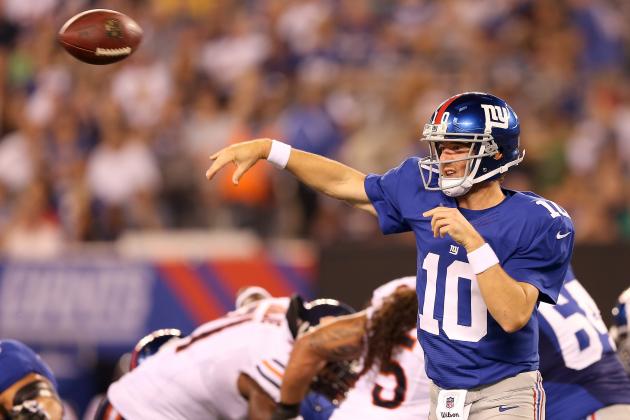 Elsa/Getty Images
Eli Manning is much worse when he's pressured.
The New York Giants have a strong offense to pair with a quality defense. Their net points from 2012 were 85, which was higher than the net points for the Redskins and Vikings, both playoff squads.
The Bears haven't faced the Giants in the regular season since 2010, so there's not as much relevant head-to-head context for this matchup.
The Giants have a well-oiled machine for their offense; Eli Manning, Hakeem Nicks and the currently unsigned Victor Cruz are dangerous. New York can plug any running back in and have success. To get a win, the Bears need to rattle Manning with pressure to force bad passes.
On the other side of the ball, the Giants' secondary allowed the fifth most passing yards in the NFL last season. Unfortunately for New York fans, the Giants have the same personnel returning at cornerback.
Brandon Marshall will probably have a big day against the Giants. Good production from Marshall might be all Chicago needs to get a slight edge.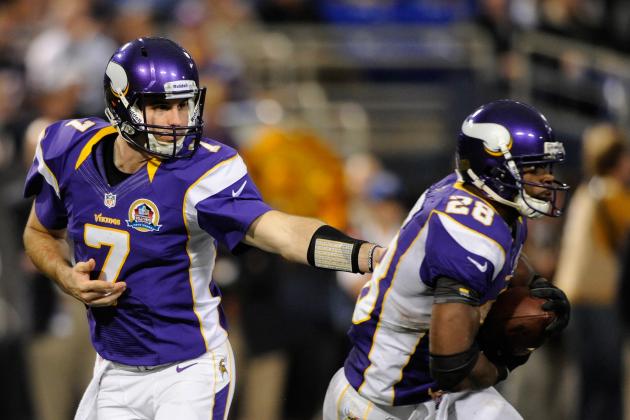 Hannah Foslien/Getty Images
Christian Ponder handing the ball off to Adrian Peterson against the Bears.
This game will be the Bears' first NFC North matchup in 2013. It has added significance since the Vikings beat the Bears out for the last playoff spot in 2012.
The Bears will have plenty of motivation in this one. They will play at home with the desire to prove they are better than the Vikings early on.
Adrian Peterson has shredded the Bears in the past. He will obviously present the biggest problem for the Bears again, and Chicago may struggle to stop him so early in the season with new linebackers (D.J. Williams and James Anderson) and a new defensive coordinator (Mel Tucker).
Still, the Bears have the advantages of playing at home and wanting to avenge last year's third-place NFC North finish. Against a team that is pretty one-dimensional on offense, especially with the loss of Percy Harvin, the Bears should be able to get the victory.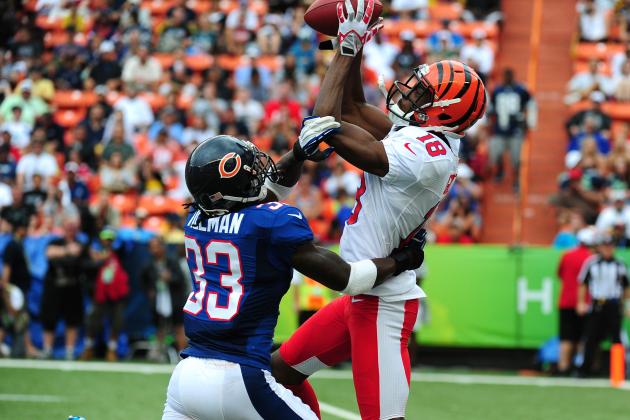 Scott Cunningham/Getty Images
A.J. Green versus Charles Tillman in the Pro Bowl.
The Bears have a pretty tough draw for their opening game in 2013—the up-and-coming Cincinnati Bengals.
Andy Dalton and A.J. Green form one of the most dangerous quarterback-wide receiver tandems in the league. Green is a little smaller than Johnson (6'4" versus 6'5"), though, so Charles Tillman should still be able to handle him.
The Bengals were actually pretty stingy against the run in 2012; they allowed only 107.2 rushing yards per game (only seven teams allowed less than 100 per game). Jay Cutler will need to step up if the Bengals limit Matt Forte's effectiveness.
If history holds true, the Bears will find a way to win. The Chicago Tribune reported the Bears have won 17 of their last 20 home season openers.
Even against a talented team, it's reasonable to expect Chicago to get the win at Soldier Field. There are high expectations for the season, and the Bears don't want to disappoint in their first home game.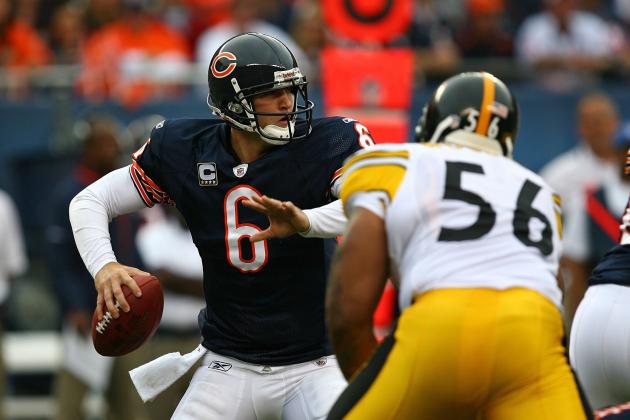 Jonathan Daniel/Getty Images
The Bears need to protect Jay Cutler from the Steelers' linemen and linebackers.
Though the Steelers weren't a playoff team last season, they are a tough team every year. The Bears will face their towel-toting fans at Heinz Field early in 2013.
It will be hard for the Bears to come out with a win in this one. The Steelers are very tough against the run (second best in yards per game allowed last season), so Matt Forte might not be able to open things up for Jay Cutler and the passing game as much as head coach Marc Trestman would like.
The Steelers also have a lot of players who can rush the passer effectively. This game will be an early season test for the offensive line. If they can't clear holes for Forte and keep Cutler upright, it could be a long game.
Fortunately for the Bears defense, Jonathan Dwyer and Isaac Redman are just average running backs. Chicago can focus on stopping Ben Roethlisberger and his corps of talented receivers.
Playing Pittsburgh on the road is always hard, and this game comes after two tough opponents. Week 3 will be a grind.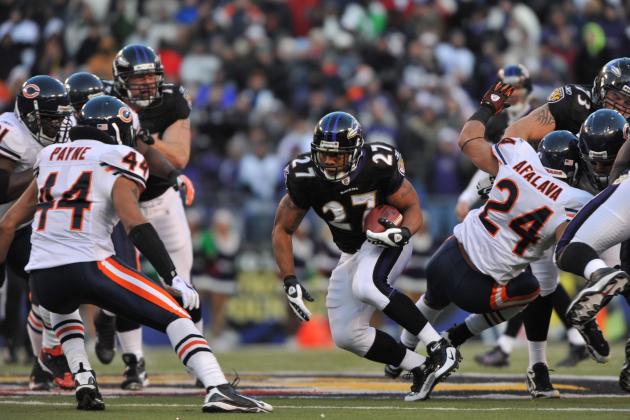 Larry French/Getty Images
Ray Rice could cause major problems for the Bears.
The defending Super Bowl champions are still talented, but they gutted their team in the offseason. They are definitely not the most dangerous team on the schedule.
Ray Lewis, Ed Reed, Paul Kruger, Dannell Ellerbe, Bernard Pollard and Cary Williams are all gone from Baltimore's defense. Anquan Boldin, who had 380 receiving yards and four touchdowns last postseason, was traded to the San Francisco 49ers.
In other words, Baltimore made themselves a long shot to repeat as champions.
This game will be harder than the game against Pittsburgh because of Joe Flacco. The young quarterback had an amazing postseason, and that will probably carry over into the 2013 regular season.
Between the threat of Flacco and running back Ray Rice, it's imperative to stay honest on defense. By keeping Chicago from cheating, Baltimore should be able to break Rice loose or get Flacco some signature shots downfield.
The Baltimore Ravens scored the fourth most points in the AFC last season, after New England, Denver and Houston. Due to their offensive firepower, the Ravens remain a tough opponent.
Jay Cutler and Co. will have a surprisingly easy time matching the scoring against a depleted defense.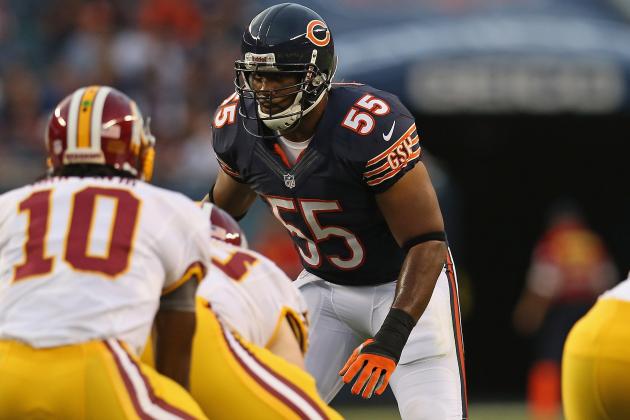 Jonathan Daniel/Getty Images
Robert Griffin III will almost certainly be back in time to play the Bears.
The Redskins are the best team the Bears will face that isn't in the NFC North.
Though Robert Griffin III's injury during the playoffs led to some concern for the Redskins next season, SB Nation said he is "on track to start Washington's Week 1 contest."
RGIII will definitely be playing by Week 7.
The Redskins have a slew of above-average receivers to go with a talented young running back. It will be hard for the Bears to stop every threat on offense.
The most important person to contain is Alfred Morris. In games when Morris had 20 or more attempts last year, Washington went 9-1.
The Bears are stout against the run, but Morris is a handful. He stands 5'9", 218 pounds, giving him a frame similar to Maurice Jones-Drew.
The Redskins defense is good against the run but terrible against the pass. Brandon Marshall, Alshon Jeffery and Martellus Bennett should be the beneficiaries of Washington's weak pass defense.
The game will be in Washington immediately before Chicago's bye week. Even with 10 days to prepare, this will be a tough matchup.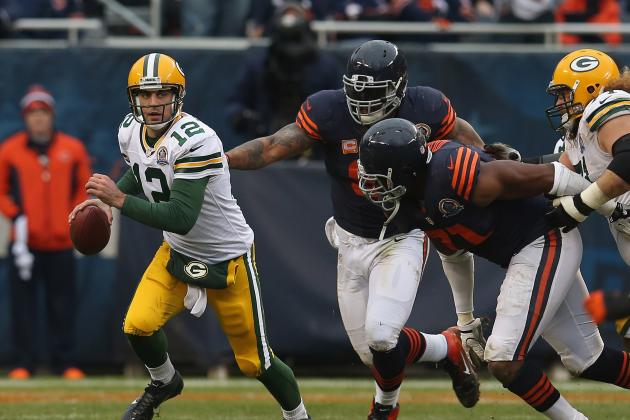 Jonathan Daniel/Getty Images
Aaron Rodgers continues to beat the Bears consistently.
The first game against the Packers will be at Lambeau Field.
Though they aren't at home, this game will be easier for Chicago. The Bears are fortunate to have a bye week right before playing their archrivals.
The Packers have owned the rivalry in recent years, going 9-2 against the Bears since 2007 (including the 2011 playoff game).
The obvious X-factor during that time has been Aaron Rodgers.
In those 11 games against the Bears, Rodgers has thrown for 2,730 yards with 19 touchdowns and eight interceptions.
With a quarterback like that, it's logical to assume that the Packers pass far more than they run. In fact, Green Bay ranked 16th in both passing and rushing attempts. Their balance makes them the antithesis of the New Orleans Saints.
That makes Green Bay difficult to play against. The Bears defense can't cheat against Rodgers, and he is so accurate that he can effectively pick apart the base Cover 2.
Due to Rodgers' skill, the Packers will be one of the most difficult games on the schedule every time they play.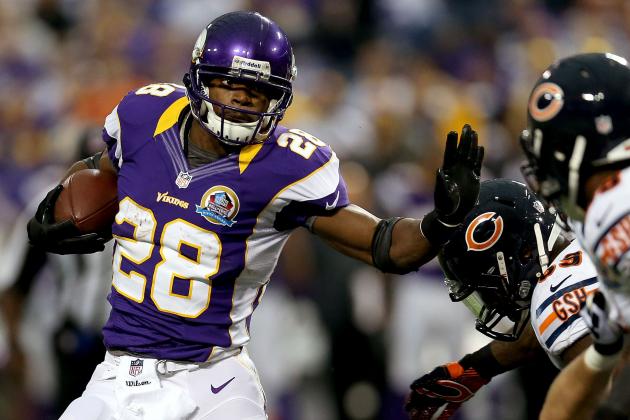 Matthew Stockman/Getty Images
In a game that will feel more meaningful than the early season matchup, Adrian Peterson is a threat to take over.
Adrian Peterson is for the Vikings what Aaron Rodgers is for the Packers.
He just beats the Bears.
In two games against Chicago last season, Peterson had 262 rushing yards. Vikings quarterback Christian Ponder had 250 passing yards in those same games.
Peterson's MVP season was just the latest in his impressive NFL body of work. He has 8,849 rushing yards and 76 rushing touchdowns in six seasons (one of which was cut four games short by injury).
Peterson is in a league of his own at running back. He won MVP last year for more than his statistics; he willed his team into the playoffs.
When the Bears are in the middle of their late season grind, they will have to travel to the Metrodome and face Adrian Peterson. Even with a good run defense, Chicago will probably struggle to stop Peterson. Playing away from home won't help in that endeavor.
This game will have much more of a playoff atmosphere than Week 2, so expect this one to be significantly tougher. Week 13 could very possibly decide which team goes to the playoffs.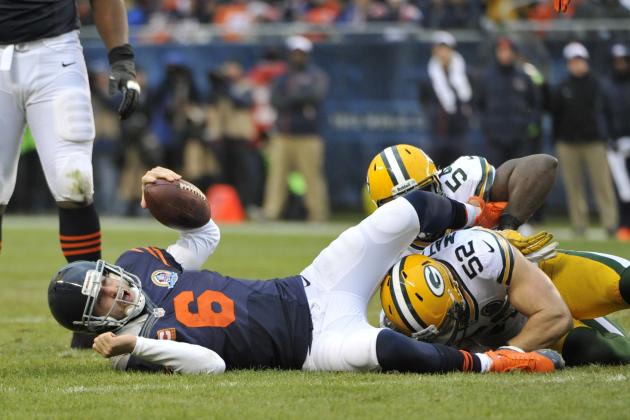 David Banks/Getty Images
Clay Matthews is effective against the Bears.
There won't be an extra week of rest before this one.
The Bears will take on the Packers in the last week of the regular season at Soldier Field.
Even with the contest being at home, this game will be harder for the Bears than the Week 9 matchup. One team will likely be clawing for a playoff spot. Both teams hate each other.
The key for the Bears defensively is still limiting Aaron Rodgers. The offensive key might be the Bears' new read-option.
When Chicago beat Green Bay in 2010, the Bears' leading rusher was Jay Cutler with 37 yards (NFL.com box score).
When Cutler is a threat in the running game, it opens things up for him in the passing game.
Cutler will need to be wary of disruptive linebacker Clay Matthews. He had 5.5 sacks in two games against the Bears in 2012. Chicago's offensive line needs to keep Matthews out of the backfield whether Cutler is running or passing.
It will be interesting for Bears fans to see if Coach Trestman's system works for Cutler and the Bears. There could be no bigger stage or more difficult matchup than the final week of the season against the Packers.
Save the best for last.
*All statistics provided by NFL.com.