5 Closest Calls During Unbelievable Miami Heat Streak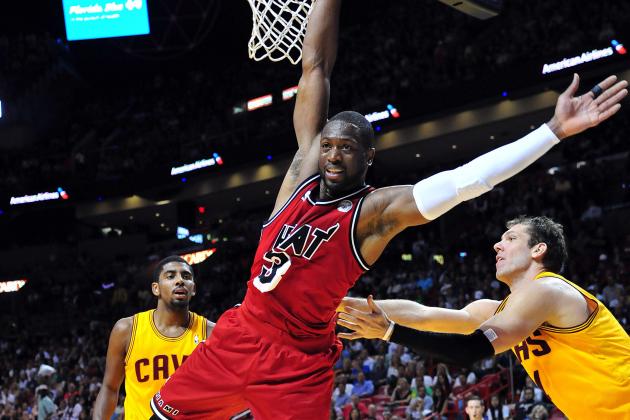 USA TODAY Sports
The Cavaliers took the Heat to the wire on February 24, and it didn't even make this list.
So what's the word you would commonly associate with a 24-game winning streak?
Dominant? Devastating?
How about resilient? And resourceful?
The reality is that the Miami Heat have been more of the latter two, as they have improved their record from 29-14 on February 1—after a loss to the Indiana Pacers—to 53-14 as of March 20, when they stormed back to edge the Cleveland Cavaliers.
Close calls? They have had more than a few, and most of them have come against the teams that many would assume they would handle the easiest.
In the 12 games against likely playoff qualifiers, the Heat have won by an average of 11.6 points.
In the 12 games against teams likely to miss the playoffs, the Heat have won by an average of 10.3 points.
That doesn't necessarily surprise those who have watched the Heat closely since the start of the season, and seen how their energy level clearly spikes and dips due to the relative quality of the opponent.
That's how they roll, so to speak—against the dregs, it takes some time to get rolling.
There have been so many surprising challenges from overmatched opponents that two of the tighter games during the streak—a five-point home win against Charlotte on February 4 and a four-point home win against Cleveland on February 24—don't even make the cut.
So which five do?
(All quotes for the piece were collected through the course of the author's coverage of the Miami Heat for the Palm Beach Post. All statistics are accurate as of Thursday afternoon.)
Begin Slideshow

»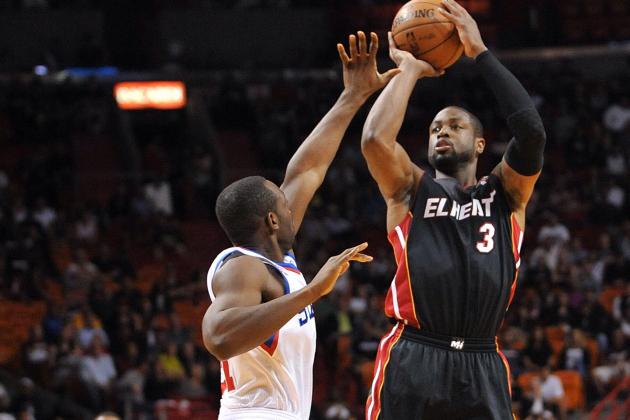 Steve Mitchell-USA TODAY Sports
Dwyane Wade made just enough plays down the stretch to pull away in Philadelphia.
There's an assumption of inevitability whenever the Miami Heat face the Philadelphia 76ers.
The games are often the same: Philadelphia uses its quickness to stay close for a while, until Miami ultimately uses its starpower to pull away.
In fact, entering the contest at Wells Fargo Center, the Heat had won 13 straight regular-season games in the series—as well as four of five in the 2011 postseason first round. After losing twice in less than two weeks, 76ers coach Doug Collins essentially admitted that he had no answers for Miami's superior talent.
Then, on March 13, Miami took a 12-point lead into halftime, and a 10-point lead into the game's final nine minutes. That's when Philadelphia exploited LeBron James' rest time to pull within four and—after James's poor pass—even take the lead.
Miami was ahead 92-91 when the first of two fluky things happened, the sort that have marked this streak.
First, All-Star point guard Jrue Holiday, feeling light pressure from Chris Bosh, dribbled the ball out of bounds off his foot.
Then, after Dwyane Wade tipped in an in-close James miss, Spencer Hawes appeared to beat Bosh to a spot, but blew the reverse layup.
As Shane Battier acknowledged:
"Luck plays a big part in wins and losses. I believe if you play hard and play the right way, luck goes in your favor more often than not. But you can't be good in this league without a little bit of luck."
On that night, Miami got more than its share.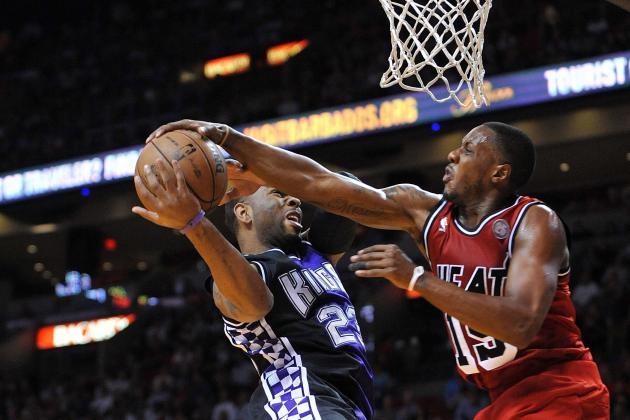 Steve Mitchell-USA TODAY Sports
The Kings proved a surprisingly feisty opponent.
Five wins.
Twenty-five losses.
That was the Sacramento Kings' road record as they visited American Airlines Arena on February 26.
Forty-eight minutes is all it should have taken for the Miami Heat to take care of them.
Instead, defensively, the Heat didn't appear to be taking the Kings all that seriously, with Shane Battier's hamstring-related absence certainly not helping.
The Kings led 85-84 entering the fourth quarter, before the Heat appeared to seize control, up 112-104 with 1:39 remaining in regulation.
That's when Marcus Thornton—a 2009 Heat second-round pick who was traded on the night he was selected—got loose again. Thornton made two more three-pointers, part of his 36-point performance.
And after Dwyane Wade missed two free throws, DeMarcus Cousins converted a putback and Wade missed an isolation jumper, the game was headed to its first of two overtimes.
"Yeah man, long game," Wade said later. "Those guys kept making bombs."
The Heat exploded in that second overtime, scoring 17 points in just five minutes, and finally stifling the short-handed Kings on the other end. Wade and James combined for all but two of those, and combined for 79 points in the contest as a whole. Wade had 39. James had 40.
"It would have been great to get 40-40," Wade said.
It would have been even better to get past Sacramento in fewer than 58 minutes.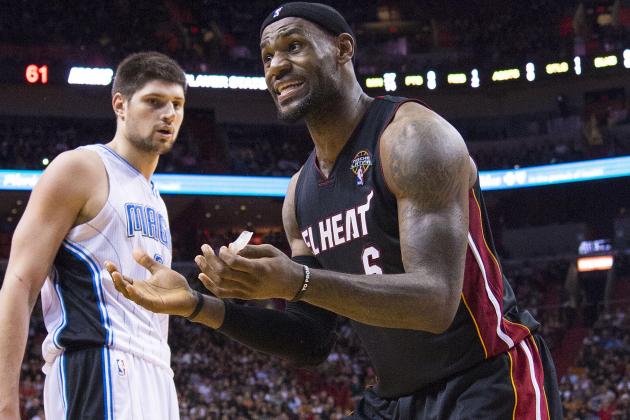 Scott Rovak-USA TODAY Sports
LeBron James and the Heat battled through frustration to beat the Magic.
Everyone knew that the Miami Heat would make a mockery of the depleted Southeast Division this season.
The Washington Wizards and Charlotte Bobcats were already engaged in seemingly-endless rebuilding projects when the Orlando Magic lost their centerpiece, Dwight Howard, to free agency.
Still, the Heat's tendency to take lightweights too lightly nearly cost them a victory in Orlando on New Year's Eve; they allowed young center Nik Vucevic to record 29 rebounds before surviving in overtime, 112-110.
You'd think that Miami would have addressed him more effectively in the rematch, when his skill set was no longer a secret.
Well, on March 6, the Heat did a bit better.
Vucevic only grabbed 21 rebounds.
Of course, he also had 25 points, and many of those helped Orlando rally from a 20-point deficit.
"They took it to us," Heat coach Erik Spoelstra said. "We relaxed, got a little bit complacent. They were able to pound their way into the game."
If not for Shane Battier drawing a charge of Tobias Harris, with the Magic up three and 52 seconds left, they might have come away with a victory. Instead, Harris and Vucevic—Orlando's two most effective players—fouled out, and LeBron James drove for the winning layup with 3.2 seconds left.
"I was just trying to be patient to see if I could penetrate to the hole, and I was able to do that and finish," James said.
Who knew that, with win No. 16, the streak was just getting started.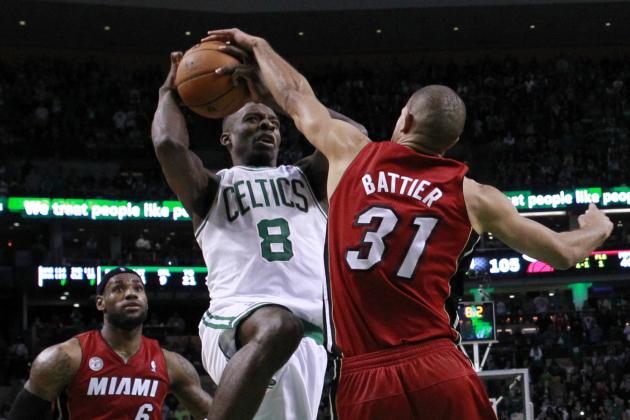 Greg M. Cooper-USA TODAY Sports
Jeff Green gave the Heat all they could handle, until the end.
The news came about an hour before tipoff on March 18.
Kevin Garnett wouldn't take part in the latest confrontation with the Miami Heat. The problem wasn't his hip, as was speculated earlier in the day, but the flu.
That wasn't something for the Heat to celebrate.
After all, the Boston Celtics have proven to be more dangerous when wounded. Several weeks earlier, Rajon Rondo was ruled out a few minutes before the game—with what was later revealed to be a season-ending knee injury—and the Celtics somehow beat the Heat, 100-98.
Now, without Garnett, Jeff Green would get the start in a makeshift lineup that made the Heat's small-ball lineup seem massive.
So, naturally, Green would play the game of his life, as Boston went for its 11th straight regular-season win at TD Garden against Miami. He scored 22 points in the first 15 minutes, as the Celtics rolled out to a 17-point lead. Nor did the Heat ever really stop him, with the exception of a Shane Battier strip with eight seconds left.
Fortunately for the Heat, they had a guy who could match Green from start to finish—LeBron James, who scored 37 points with seven rebounds and 12 assists. That included a vicious dunk at the expense of Heat nemesis Jason Terry, who was sent sprawling back to the floor.
"Yeah, I seen him down there," said James, who received a perfect lob from Norris Cole. "I don't think he saw me."
With the score tied at 103, Heat fans saw a familiar sight: James rising up for a game-winning jumper, after the designed set had broken down.
"Save us," Heat coach Erik Spoelstra said he was thinking. "It's been a tough game."
Over the course of James's Heat career, most of those jumpers have rattled out.
This one fell through.
And so the streak went on, to 23 games.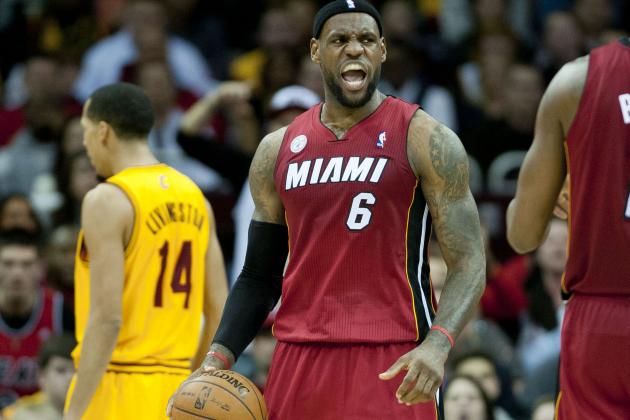 Jason Miller/Getty Images
For old time's sake, LeBron James broke the spirits of Cleveland again.
First, the scoreboard sprung a leak.
Then, it appeared the streak had, too.
With the Miami Heat and Cleveland Cavaliers players already on the Quicken Loans Arena floor, ready to begin, the tipoff was delayed for nearly 45 minutes as the arena crew cleared the condensation.
Also delayed, for much, much longer: the arrival of the Heat's interest.
Cleveland, playing without its top three players—including franchise point guard Kyrie Irving—romped to a 67-40 lead, with former star LeBron James playing surprisingly passion-free basketball for Miami, and the Heat scoring just 10 points in the second quarter.
"The streak wasn't on my mind," James said. "Us getting blown out crossed my mind a couple of times."
After the game, Heat coach Erik Spoelstra wouldn't say whether it crossed his mind to pull all the starters. But he did make one rotation alteration, replacing Udonis Haslem with Shane Battier, and going back to the NBA Finals starting lineup for a spell.
Battier started sinking threes.
James started showing life—feeding off his verbal sparring with a courtside fan.
The Cavaliers started tightening up, and playing down to their expected level.
In the span of 14 minutes, the Heat would outscore the Cavaliers, 51-17, to take a seven-point lead. After pushing that lead to nine, Miami let the Cavaliers back within one, and needed Wayne Ellington and C.J. Miles to miss late, long jumpers to close it out.
"One of the most bizarre, unique days of my life," James said after the 24th straight win.
And just another chapter in one of the most bizarre, unique streaks in NBA history.