2013 Free Agent Tight Ends Who Can Replace Tony Gonzalez in Atlanta
Mike Ehrmann/Getty Images

Although has yet to officially retire and, according to reports (h/t CBS Sports), may still be considering a return next season, the Atlanta Falcons would still be wise to look for someone in the 2013 free agent class who could potentially replace future Hall of Fame tight end Tony Gonzalez.
Guys like Dustin Keller, Martellus Bennett and Jared Cook tend to be the most talked about replacement options, but they are certainly not the only ones available.
On the other hand, the best fit for Atlanta could be to go with another wide receiver as their third option in the passing game instead of a tight end. However, that wouldn't be what Matt Ryan is used to, and a tight end who can line up everywhere is a much more valuable threat for the team's offense.
However, this article will feature the top tight ends on this year's free agent market that the Falcons should target as we get set to enter the free agency period that begins next week.
Begin Slideshow

»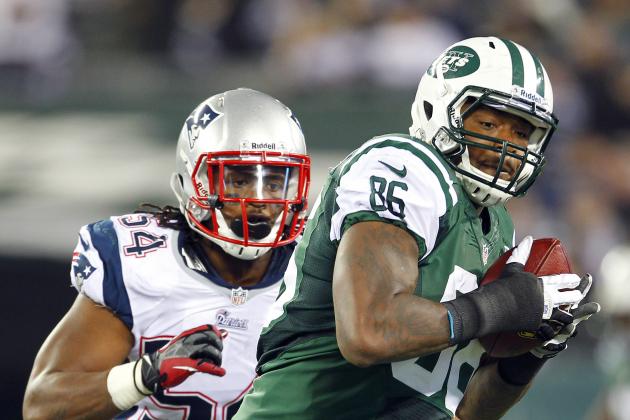 Rich Schultz/Getty Images

2012 stats (with New York Jets): 29 catches, 359 yards, three touchdowns
The fact that Jeff Cumberland is the eighth best tight end available in this year's free agent class shows just how weak this year's crop of free agents is at the position
Cumberland is a solid blocker and a decent underneath target, but for the most part, he's a secondary option at tight end. He is not someone that you would want as a starter for more than 3-4 games.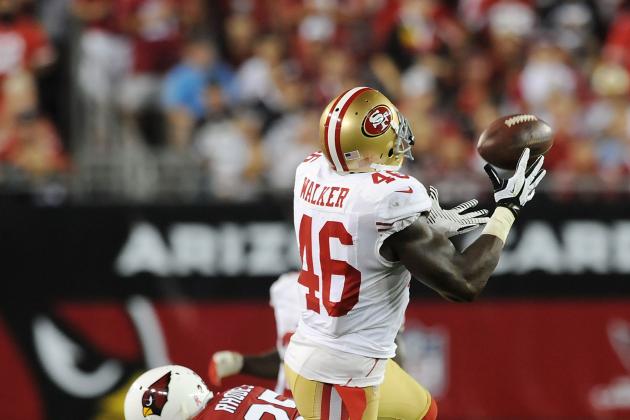 Norm Hall/Getty Images

2012 stats (with San Francisco 49ers): 21 catches, 344 yards, three touchdowns
Making his living as a secondary threat at tight end and as an H-back, Delanie Walker would work best if he were brought in with another one of the tight ends later on this list.
He's a great fit for the Falcons as an H-back, though, and would be the right veteran to complement another primary tight end.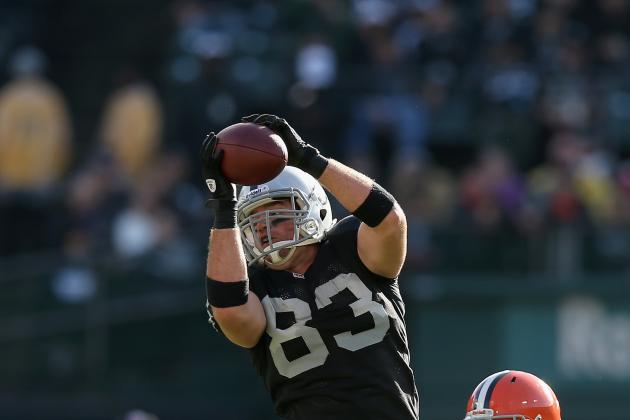 Ezra Shaw/Getty Images

2012 stats (with Oakland Raiders): 79 catches, 806 yards, 4 touchdowns
As a receiving threat, Brandon Myers is one of those rare talents that can use his size, speed and strength to find holes in zone defenses and locate the ball at it's highest point.
As a blocker, he needs a ton of technical work and is arguably the worst blocking tight end in the NFL—ProFootballFocus agrees with this notion.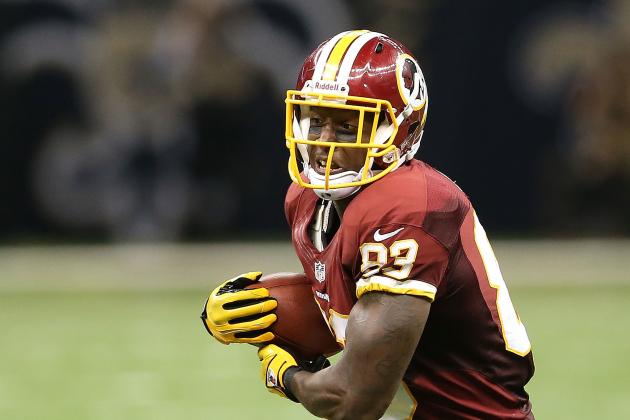 Ronald Martinez/Getty Images

2012 stats (with Washington Redskins): 24 catches, 325 yards, zero touchdowns
Fred Davis is a unique fit for the Falcons, but he's coming off of an Achilles tendon injury that sidelined him from the seventh game of the season onward in 2012.
What he did in seven games last season, though was nothing short of excellent, and he should be able to fit in well with the Falcons—that is, if he can fully recover from his injury.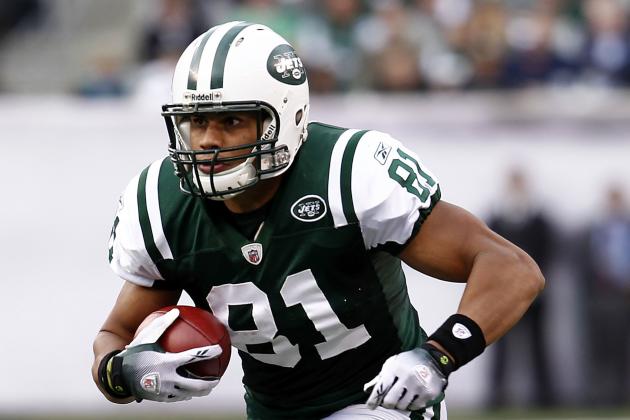 Jeff Zelevansky/Getty Images

2012 stats (with New York Jets): 28 catches, 317 yards, two touchdowns
Dustin Keller is another H-back type who would fit more as a complement to Chase Coffman and Michael Palmer than as the starter.
Keller is a great receiver who's also average as a blocker. His ability to line up anywhere in the different alignments only helps his value to the Falcons.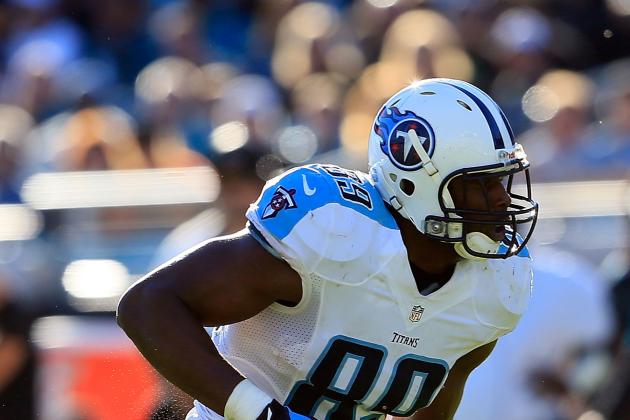 Sam Greenwood/Getty Images

2012 stats (with Tennessee Titans): 44 catches, 523 yards, four touchdowns
Jared Cook is one of the joker-type tight ends who will also line up at wide receiver quite a bit. Unfortunately, his blocking is pretty close to Brandon Myers' level.
He also is expected to be tagged as the Titans' franchise player, and he isn't worth a pair of first round picks.
John Grieshop/Getty Images

2012 stats (with New York Giants): 55 catches, 626 yards, five touchdowns
He's the best all-around tight end that the Falcons can bring in. The self-proclaimed "Black Unicorn" is a top threat who can line up at tight end, out wide or even in the backfield.
His ability to catch and run is an asset that the Falcons would take advantage of.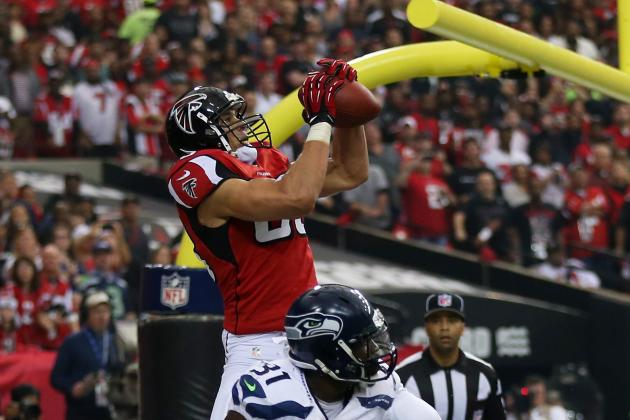 Mike Ehrmann/Getty Images

2012 stats: 93 catches, 930 yards, 8 touchdowns
In the end, there is no one who can replace Tony Gonzalez. The best bet for the Falcons would be to bring back the great one on a one-year deal that pays him close to franchise level.
Gonzalez was weak as a blocker in 2012, but the Falcons did well without him blocking well.
All stats used are either from Pro Football Focus's Premium Stats, ESPN, CFBStats or the NFL. All contract information is courtesy Spotrac and Rotoworld. All recruiting rankings come from 247Sports.com.
Scott Carasik is a Featured Columnist for Bleacher Report. He covers the Atlanta Falcons, NFL and NFL Draft. He is also the Falcons analyst at Drafttek, runs the NFL Draft Website ScarDraft.com and hosts Kvetching Draftniks Radio.