NBA All Star Game 2013: Biggest Winners from Sunday's Superstar Showcase
Ronald Martinez/Getty Images
One of the best parts of the NBA All-Star festivities is the way it allows players to loosen up the chains and play for fun.
With the All-Star Game, even though you could see moments where the intensity was ramped up, it gave these incredible athletes a stage to show the world why they are so great at what they do and why we love watching them.
Even if the result doesn't count, players can elevate their stock to casual fans who might not pay attention to anything but the All-Star Game before tuning back in come playoff time. Here are the players who helped their stock the most on Sunday night.
Cleveland Cavaliers PG Kyrie Irving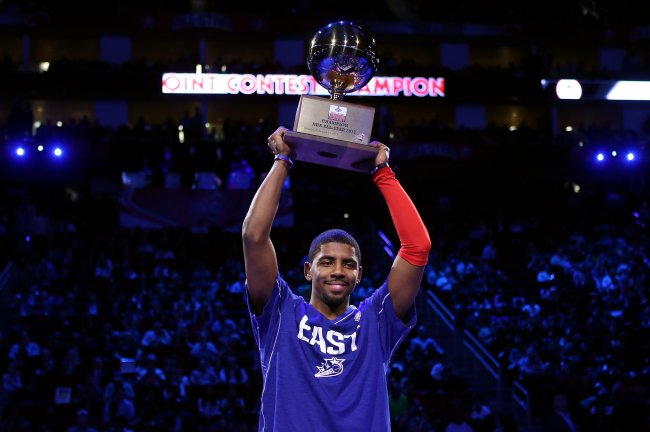 Ronald Martinez/Getty Images
Irving's coming out party—which actually started on Friday night in the Rising Stars Game—continued on Saturday when he won the three-point shooting contest and ended when he scored 15 points on 6-of-11 shooting in 25 minutes.
When the Cavaliers drafted Irving with the No. 1 overall pick in the 2011 draft, it was with the hope that he could turn into a superstar who would ease the pain of losing LeBron James.
Even though the rest of the team still needs work, and the front office has to find a way to re-sign Irving, the Cavaliers know they have the franchise cornerstone around whom they can build everything else.
Sunday's All-Star Game was just the tip of the iceberg for Irving. He is just starting to scratch the surface of what he can do in the NBA.
Los Angeles Clippers PG Chris Paul
Ronald Martinez/Getty Images
Which player had the best All-Star performance?
In addition to having a phenomenal season for what is easily the best team in Los Angeles, Paul keeps playing himself into more rarefied air with each passing day. He will be a free agent after this season and is a sure-fire max contract candidate.
Oh yeah, Paul also won the All-Star Game MVP by scoring 20 points, dishing out 15 assists and recording four steals. (Who says they don't play defense in the All-Star Game?)
After Paul won the MVP award, Michael Wallace of ESPN.com wrote a Daily Dime column talking about Paul being a stronger MVP candidate than you might think:
But it's time to take Paul far more seriously as a legitimate dark horse threat. And not simply on the merits of a meaningless exhibition that played out Sunday. Paul has been doing these same sort of things throughout the season.
It's not entirely clear what a dark horse MVP candidate is to me—you are either a candidate or you aren't. We all know that LeBron James is going to win the MVP award again. The only real question is, who comes in second place?
But the fact that a national writer took the time to make an MVP argument for Paul following his brilliance in the All-Star Game should tell you how high his stock around the league is right now.
Los Angeles Lakers SG Kobe Bryant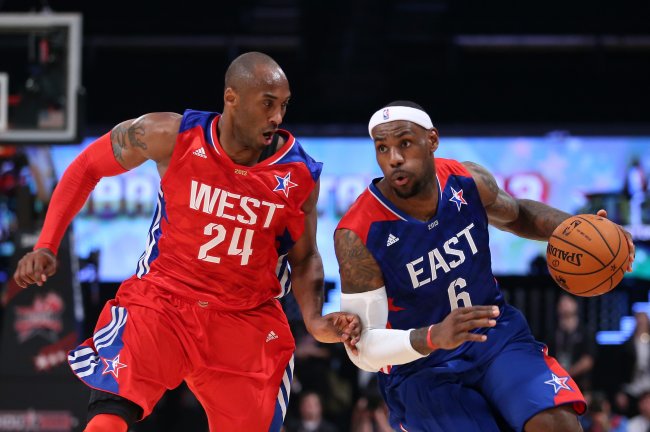 Ronald Martinez/Getty Images
This has been a dismal season for Bryant and the Lakers. They were thought to be one of the top teams in the NBA after acquiring Dwight Howard and Steve Nash, but everything that could possibly go wrong, has.
But for one night, against the best the NBA has to offer in a game that is not supposed to be about defense, it was Bryant who made the biggest play of the game to help preserve a win for the Western Conference.
After having to listen to so many stories about how LeBron James is the best player in the NBA—which he is—Bryant provided a reminder of why he is still pretty good in his own right. Bryant blocked James' shot late in the game to seal the victory for his team.
Considering how lauded Bryant has been for defense throughout his career, it was fitting that, on this stage, against that player, he would come up with a stop to help his team win. Bryant had nine points and eight assists, but his defense was the biggest reason the West won.
This article is
What is the duplicate article?
Why is this article offensive?
Where is this article plagiarized from?
Why is this article poorly edited?