Ranking the Top Los Angeles Lakers All-Star Performances Ever
Ronald Martinez/Getty Images
Kobe Bryant is a 15-time NBA All-Star. He was the leading vote getter this season.
How many NBA teams can boast of having 11 of the greatest performances in All-Star history? Give up?
Only one team, the Los Angeles Lakers, can lay claim to 11 All-Star Game MVP Awards. Nine of those have worn the purple in gold while their first, George Mikan, won it as a member of the old Minneapolis Lakers.
The Lakers could certainly use some of that All-Star magic right about now. Limping into the break at 25-29 record and 3.5 games out of a playoff spot, this year's Lakers still feature two starting All-Stars in Kobe Bryant and Dwight Howard.
For Bryant, today's game marks his team record 15th straight selection, Howard was named starting center for the seventh time in his career, this being his first as a member of the Lakers.
One need only look at some of the greatest performances in All-Star history to understand why the Lakers occupy such a special place. Of course, there have been a number of other incredible MVP games from players not with the Lakers—Michael Jordan, Isaiah Thomas, Oscar Robertson, LeBron James, George Gervin and Wilt Chamberlain all come to mind.
But, no team has come close to matching the Lakers and their 11 MVPs. The Boston Celtics, with eight, are next in line.
Just six players have collected those 11 awards for the Lakers. And what's equally fascinating is that Kareem Abdul Jabbar—the game's all-time scoring leader and all-time All-Star with 18 appearances—never won an MVP.
Ranking the top 10 L.A. Lakers MVP performances is not an easy task.
But, on this special day when the team gets to rest and its top two players lead the Western Conference into battle in Houston, picking the best of the best among the purple and gold All-Star MVPs is a guilty pleasure.
Begin Slideshow

»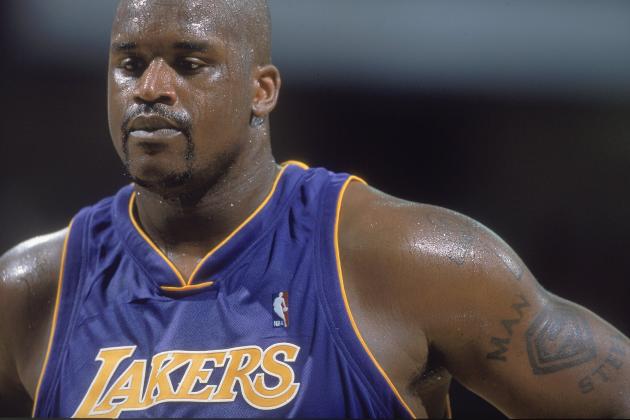 Ronald Martinez/Getty Images

The Western Conference dominated this All-Star Game, but the East, behind the play of Allan Iverson (26 points, nine assists), kept things close for three quarters.
Shaquille O'Neal and San Antonio's Tim Duncan shared the MVP Award. In just 25 minutes, O'Neal had 22 points, nine rebounds and three assists. Duncan chipped in with 24, 14 boards and four assists.
O'Neal didn't even play the fourth quarter due to a sore shoulder, making his performance all the more remarkable.
Said Tim Duncan after the game: "Shaq's a force to deal with night in and night out. You don't see many MVP guys who can go inside and outside" (h/t Associated Press via Sports Illustrated).
This marked the first of three MVP awards won by O'Neal over the course of his Hall of Fame career. Ironically, he would win his last one as another Co-MVP, this time as a member of the Phoenix Suns. He shared the honor that year with former teammate Kobe Bryant.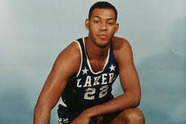 Elgin Baylor poured in 24 points in Western Conference win.
Elgin Baylor was the architect for today's modern wing player. Before there was Michael Jordan, there was Elgin Baylor.
Baylor appeared in 11 All-Star Games, mostly in the Lakers purple and gold. But it was his first in 1959 as a member of the Minneapolis Lakers that brought the 6'5" small forward his only MVP award.
Baylor made 50 percent of his shots en route to 24 points in the West's 124-108 win over the East in the NBA's ninth All-Star Game held at Olympia Stadium in Detroit. The NBA was in its infancy in 1959, and just 10,541 people saw Elgin Baylor's MVP performance.
Baylor added 11 rebounds to complement an all-around game of finesse that handcuffed many of the East's more stationary big men like Dolph Schayes and Bill Russell.
Elgin Baylor went on to win Rookie of the Year in 1959. He would make the All-NBA First Team for 10 of the next 11 years.
The Hall of Fame superstar (1977) went to the Finals eight times with the Lakers and had his jersey retired by the team.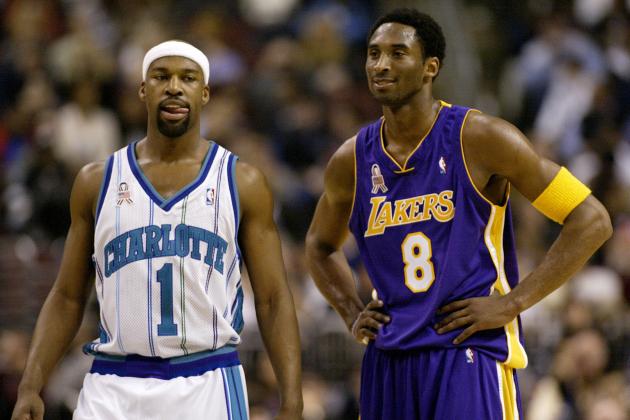 Andy Lyons/Getty Images
Kobe Bryant won the first of four All-Star MVP's in 2002
Kobe Bryant was just 23 and in his fourth All-Star Game when he had a breakout performance and captured the first of four MVPs.
Wearing No. 8 at the time, Bryant brought his A game home to Philadelphia where he helped lead the Western Conference to a 135-120 win before almost 20,000 fans at the First Union Center.
Bryant poured in a game-high 31 points on 12-of-25 shooting. He missed all four of his three-point attempts but added five assists and five rebounds in a performance that would come to typify Kobe Bryant's game over the course of a 17-year career.
Orlando's Tracy McGrady may have had the memorable play of the game when he sent himself a pass off the opponent's backboard and then slammed home a dunk. But it was Kobe Bryant who made the difference in the team's victory.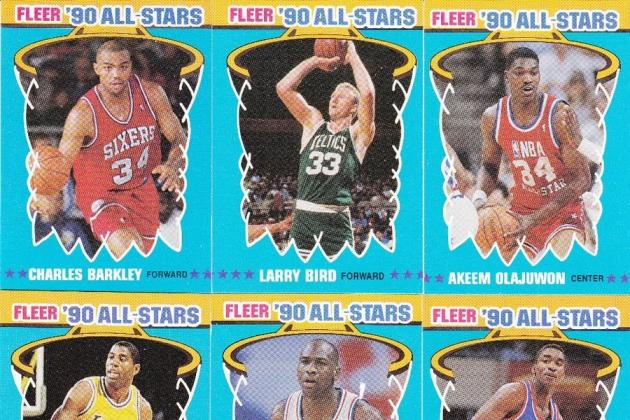 Earvin "Magic" Johnson was all about "Winning Time." And so taking home the MVP trophy in a losing cause at the 1990 All-Star Game was not his idea of victory.
It was a vintage performance by Magic Johnson as he scored 22 points and had six rebounds and four assists.
Still, the East had seven players in double figures, including Michael Jordan (17), Charles Barkley (17) and Isaiah Thomas (15), and they pretty much controlled the game from the onset.
Johnson was a 12-time All Star, missing only one season (1981) because of torn cartilage in his left knee that sidelined the Magic Man for 45 games.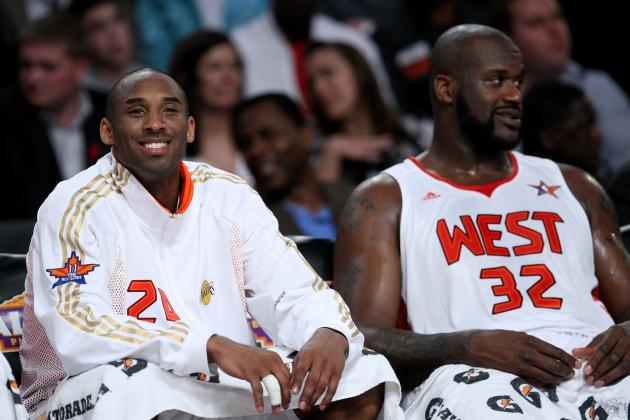 Ronald Martinez/Getty Images

Kobe Bryant and Shaquille O'Neal carried on a very public feud for several years, but the ice started to thaw around this time.
The All-Star Game of 2009 was an opportunity for the former Lakers teammates to mend fences. They did so by helping to lead the West to a 146-119 thrashing of the East. Bryant and O'Neal, then with the Phoenix Suns, shared MVP honors.
For his part, Kobe Bryant scored 27 points in 29 minutes. He added four rebounds, four assists and four steals as he continued to add to his legendary status as perhaps the greatest NBA All-Star performer of all time.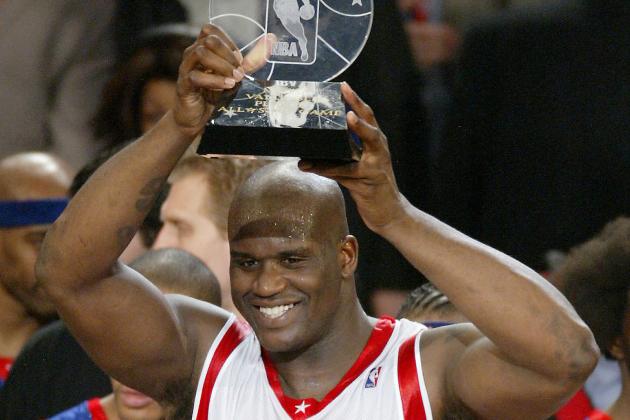 Vince Bucci/Getty Images

This was the year Shaquille O'Neal was truly dominant. He scored 24 points, including nine dunks, blocked two shots, had 11 rebounds and made two steals in leading the West to a hard-fought (for an All-Star game) 136-132 victory.
O'Neal's "Can You Dig It" interview following the game brought him worldwide attention and confirmed what everyone already knew:
The Big Diesel was not only one of the most dominant centers to ever play the game, he also was one of the most fun-loving.
On one of O'Neal's numerous dunks, this one with less than two minutes to play and the West holding a slim lead, he barreled down the lane as New Jersey point guard Jason Kidd ran for cover.
Said Kidd (via NBA.com): "You've got to think about your family. I don't know if he (O'Neal) has an anti-lock brake system but I was just going to get out of the way."
The Spurs' Tim Duncan made a crucial basket that sealed the win late, but it was O'Neal's night to shine in front of the home town fans at Staples Center in Los Angeles.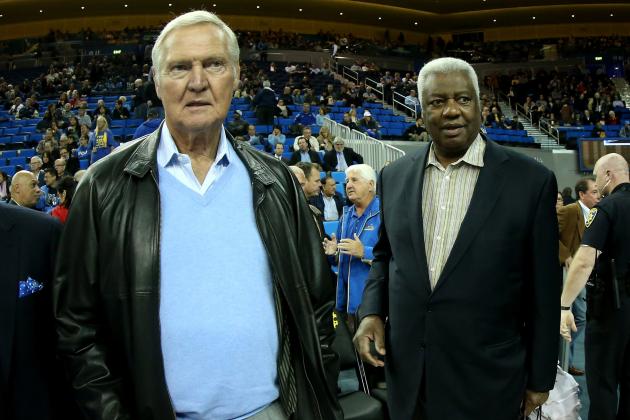 Stephen Dunn/Getty Images

Jerry West made the most of the Lakers' 1971-72 season, including the go-ahead basket in the All-Star Game that led the West to a 112-110 win.
West scored just 13 points (tied for team honors), but it was his crucial 20-foot jumper with seconds remaining that gave the Western Conference the lead and the victory.
Jerry West contributed 13 points, six rebounds and five assists that night as the All-Star game was being played at the previous home of the Lakers, the Fabulous Forum in Inglewood.
West averaged 26 points and 10 assists per game during the 1971-72 season, and the Lakers won a world championship. The mid-season classic merely represented a microcosm of the entire season for West and the Lakers.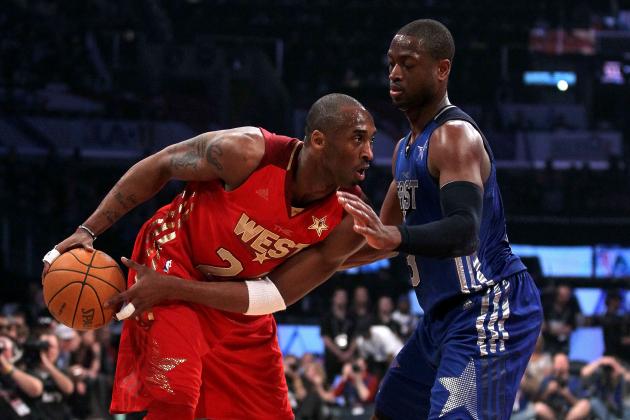 Jeff Gross/Getty Images

Some would rank this among the best All-Star performances by anyone ever. Kobe Bryant scored 37 points in 29 minutes as his West team battled the East.
Playing in front of a home crowd at Staples Center in Los Angeles, Bryant made 14 of 26 shots in scoring his 37 points. He also had a game-high 14 rebounds and added three assists and three steals.
Kobe Bryant may have been 32 when he was his MVP this particular season, but he certainly did not play like it.
The 6'6" forward/guard pulled down 10 of his rebounds on the offensive glass and was easily the driving force behind the West's five-point win over the East.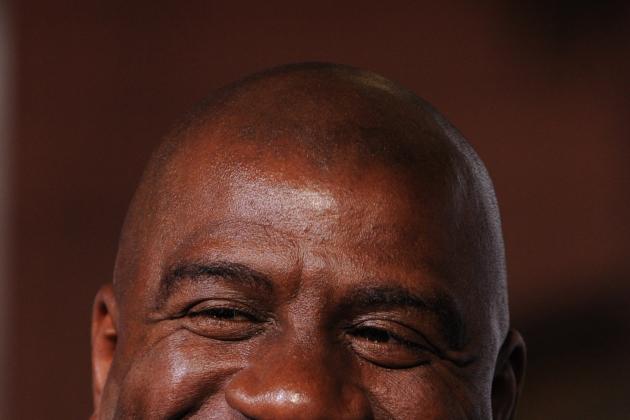 Frazer Harrison/Getty Images

Earvin "Magic" Johnson won the MVP twice during his illustrious career, the most memorable being in 1992 when he was leaving the game due to having contracted HIV.
Not only was Johnson facing this deadly disease, he also was facing the scrutiny of a number of NBA players who were afraid to step on the court with him. They feared for their own safety.
Magic Johnson responded with a performance for the ages: He scored 25 points and had nine assists and five rebounds.
The West blew out the East 153-113—not the most exciting, hard-fought game, but truly one of the more inspirational in league history.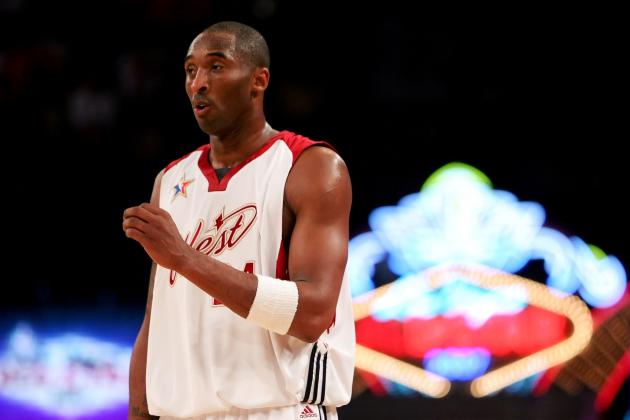 Jed Jacobsohn/Getty Images

This has to rank as the finest performance by a Laker player in All-Star history.
For the four-time MVP, Kobe Bryant picked this night to showcase what it meant to be the consummate player and sure-fire vote as one of the greatest to ever lace up his sneakers.
The West was without three guards due to injury, and so Bryant was forced to step up and diversify his game.
Kobe Bryant responded with 31 points, five rebounds, six assists and six steals in just 28 minutes. His West team set All-Star records with 69 field goals and 52 assists in the 153-132 victory.
Kobe Bryant could set more records today in his 15th All-Star Game. He currently is tied for the most MVP wins with four and will forever be ahead of his rival, Jordan, in that department.
The accolades are sweet, and they are something Kobe Bryant will always treasure. But winning a 17th title for the Lakers is what drives this elder statesman. The All-Star Game is merely a sideshow.