Stopping Kaepernick Just Part of the Baltimore Ravens' Super Bowl Game Plan
Use your ← → (arrow) keys to browse more stories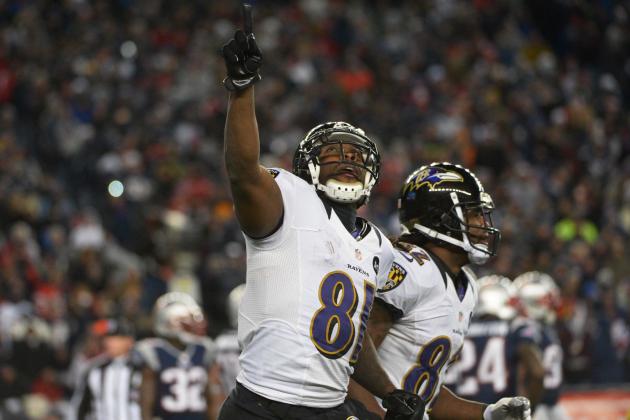 Kirby Lee-USA TODAY Sports
A Ravens Super Bowl victory includes keeping Colin Kaepernick from running, but it's more than that.
When the Baltimore Ravens take on the San Francisco 49ers in Sunday's Super Bowl, one of their biggest and most difficult tasks will be to keep Niners quarterback Colin Kaepernick from shredding their defense as he did against the Green Bay Packers in the Divisional round, when he ran for 181 yards and two rushing scores.
However, it's not the only thing the Ravens will need to do. Kaepernick is but one component of how the Niners will be attacking the Ravens—there's also the rest of their offense to contend with, as well as their fierce, pass-rushing defense.
It won't mean much if Baltimore holds Kaepernick to 21 rushing yards (as the Falcons did in the NFC title game) if Frank Gore, Vernon Davis and Michael Crabtree cannot be stopped, or if San Francisco's defense keeps Ravens quarterback Joe Flacco from connecting with his passing targets.
This is 11-on-11, after all, regardless of how important the two quarterbacks are to their respective teams' chances of taking home the Lombardi trophy.
So how can the Ravens do it? What's the big secret to taking the explosiveness out of San Francisco's offense and exploiting their rare defensive weaknesses?
When it comes to Kaepernick, the solution is simple—well, not simple, but it can be simply stated.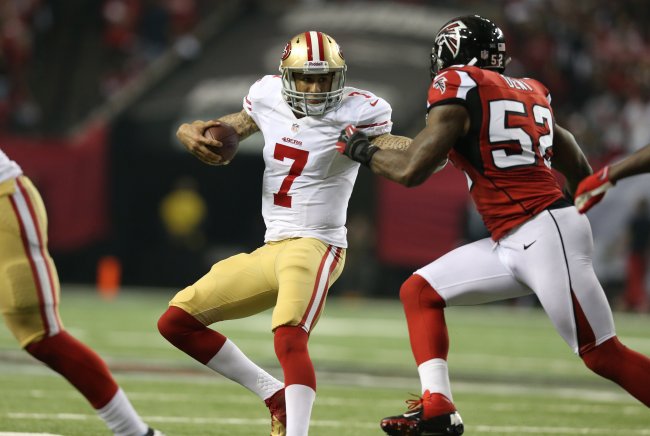 Matthew Emmons-USA TODAY Sports
In order to avoid the fate that befell the Packers in the previous week, the Falcons spent the NFC championship game with defensive end John Abraham as their "spy" on the quarterback, keeping him from getting dangerously mobile.
It worked—Kaepernick had just 21 rushing yards and took off only twice—but they had to sacrifice covering Gore to do so. As a result, Gore ran the ball 21 times for 90 yards and two rushing touchdowns. This approach is not an option for the Ravens on Sunday—those two touchdowns aren't something they can afford to give up.
So how do the Ravens keep Kaepernick from running while also cutting off the option to hand it off to Gore? To start, Baltimore's defense has to shift their thinking—there isn't Kaepernick running the option on one hand and Gore getting the ball like a straightforward running back on the other. The two are the very same thing.
What's the biggest defensive key to a Ravens Super Bowl win?
The Ravens must simply limit the damage the Niners can do on the ground, period.
This is a lesson the Ravens learned when they faced the Washington Redskins earlier in the season. Though Robert Griffin III didn't get much rushing yardage—just 34 yards on seven carries—Redskins running back Alfred Morris had 23 carries for 129 yards and a touchdown, averaging 5.6 yards per rush.
The Ravens did against the Redskins what the Falcons did against the Niners, and the result was exactly the same. This time around, the Ravens will clearly be taking a different approach. First, they must limit both Kaepernick's and Gore's ability to run outside.
Setting and closing off the edge means that the only running lanes available to either man are in the middle of the line, making it easier to contain them. It would thus be a failure of tackling, rather than a failure of strategy, that would net the Niners significant rushes.
But how to force Gore and Kaepernick inside every time? Clearly, they'll test the outside a handful of times before realizing there's nothing positive available, but for the Ravens to do this, they'll need more than just their front seven—it will take safety support.
Having Bernard Pollard, for example, helping out on the edge will leave 49ers like Vernon Davis or Randy Moss singled up, which means that the Ravens defenders in coverage will need to be disciplined.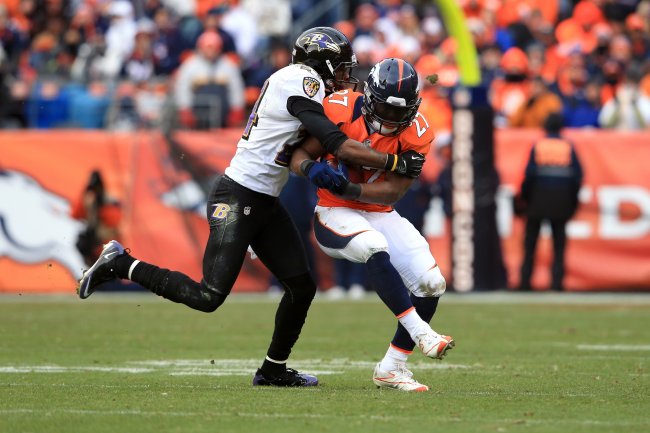 Doug Pensinger/Getty Images
This is not a time for Corey Graham to be allowing two touchdowns while he's in the nickel, alone, unless he also adds two well-timed interceptions to that total (as he did against the Denver Broncos earlier in the playoffs). The point here is to shut down the run as completely as possible and force San Francisco's offense into one-dimensionality, and then to properly defend the passes.
Though Kaepernick has been a pretty solid passer this year—he's thrown 13 total touchdowns to just four interceptions and is averaging 9.54 yards per attempt in the postseason—his passing has been greatly helped by his ability to run, as well as the safety valve that is handing the ball off to Gore.
His interception total is low because when the pressure gets to him, he doesn't have to force the ball in risky situations in order to keep the drive moving—he can simply take off.
Without that option available to him, however, he'll either need to throw the ball away more often or take more risks, and if he does the latter, the more experienced Ravens defense can take advantage of these potential errors.
What's the biggest offensive key to a Ravens Super Bowl win?
Remember—though he's in the Super Bowl, and though this has technically been his second year in the NFL, in many ways, Kaepernick is a rookie, one who doesn't have a full 16-game season to his name. In terms of football smarts, the Ravens defense has the advantage over Kaepernick.
On offense, the Ravens will likely try to rely more heavily on the arm of Joe Flacco rather than have the Ray Rice and Bernard Pierce-led run game be their primary source of yards. That doesn't mean the run game isn't important, but considering how well the big play has worked for the Ravens in their playoff run, it would be foolish to turn away from Flacco's magic in the Super Bowl.
In the past three postseason games, Flacco has thrown for 853 total yards, eight touchdowns and no interceptions. Nearly half of those yards—416 of them—have come on his 12 completions of 20 yards or more, as well as four of those passing touchdowns.
Flacco's ability to make big plays (and at the exact right time) is a major reason why the Ravens are in the Super Bowl, and it's how they'll win it as well.
The Ravens have done more with less during their playoff run—only in one game did they end up with the advantage in time of possession, and that was only because of a dominant second half against the New England Patriots. They've struggled with converting third downs and having drives that lasted five or more minutes.
However, they've made the plays that matter and outscored their opponents every time, despite these other deficiencies.
Considering the 49ers defense—one that is heavy on the pass rush and good at keeping the length of drives to a minimum—will be coming after Flacco repeatedly, the chance is there again for the Ravens to have few successful drives, especially when it comes to shorter throws. Though big plays aren't all the Ravens have to offer, they've paid the highest dividends.
These 20-plus-yard passes must remain part of their offensive arsenal on Sunday.
For this to work, however, Baltimore's offensive line must keep Flacco well-protected. Throwing the ball deep requires more time than something short or intermediate, and with the Niners well aware of how dangerous Flacco is when looking far downfield, they'll be trying to bring as much pressure as it takes to keep that from happening.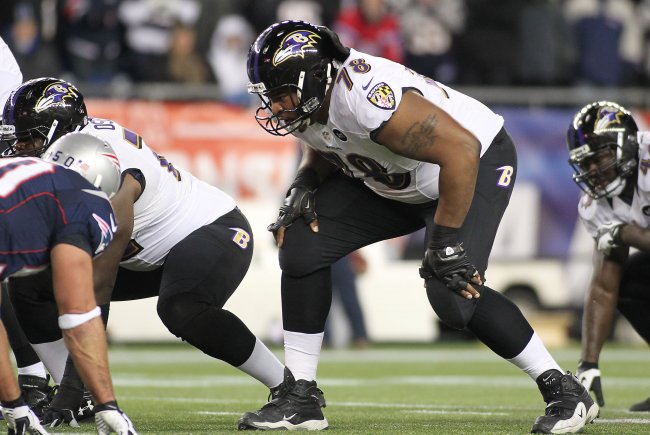 Stew Milne-USA TODAY Sports
Flacco has been sacked only four times in the playoffs after the Ravens offensive line was restructured, moving Bryant McKinnie to left tackle, Michael Oher to the right and making rookie Kelechi Osemele the left guard. It seems to have been a positive adjustment, but the real test is how well that line can keep Flacco upright against a fierce pass-rushing front in the most important game of the year.
If they can, Flacco shouldn't have much trouble getting the ball out to receivers Anquan Boldin and Torrey Smith, and in turn, the two receivers shouldn't struggle all that mightily against the Niners secondary, considering Boldin's physical style of play and Smith's speed.
If the Ravens defense can turn the 49ers offense one-dimensional and Flacco can get enough time to throw deep passes and complete them, Baltimore can certainly carry their postseason momentum into a Super Bowl victory. With a well-balanced opponent ahead, the Ravens must be disciplined, play as a team and read and react to what the Niners do on both offense and defense accurately and quickly.
Considering how well they've handled these tasks throughout the playoffs, it shouldn't be difficult for them to execute a winning game plan on Sunday.
Though controlling Kaepernick, especially on the ground, is a major component of that potential victory, it will take a more thorough effort than simply keeping him from running to win.