5 Moves the Kansas City Chiefs Should Make to Drastically Improve Next Season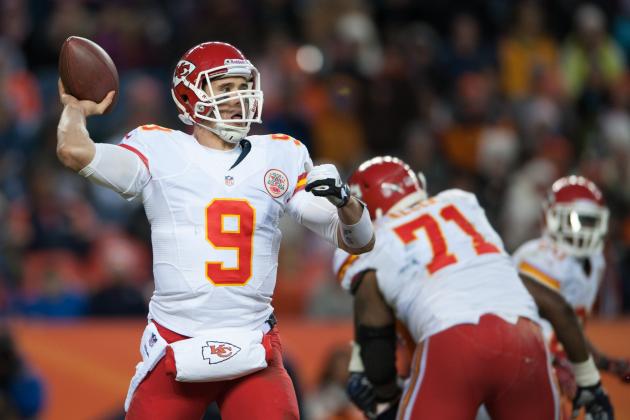 Dustin Bradford/Getty Images

The Kansas City Chiefs aren't as bad as their 2-14 record would suggest. From a talent standpoint, Kansas City is much better than teams like the New York Jets or the Jacksonville Jaguars, who will be picking behind the Chiefs in April's NFL Draft.
So, why are the Chiefs currently on the clock with the No. 1 pick? There are a number of reasons.
First, they were completely inept offensively thanks to some terrible quarterback play by the duo of Brady Quinn and Matt Cassell, which led to Kansas City being second to last in passing. The Chiefs also finished dead last in the NFL in scoring, averaging a meager 13.2 points per game.
This is despite having a Pro Bowl WR in Dwayne Bowe and an electrifying RB like Jamaal Charles.
Second, Romeo Crennel was never the man to coach this team. In his first game as interim head coach, he led the team to a shocking upset over unbeaten Green Bay last season and that bought him a second chance at running things for an NFL franchise.
In his first full season as Chiefs head coach, however, the wheels progressively came off Kansas City's wagon.
As bad as they were on offense, the team didn't do particularly well on the defensive side of the ball either. That's the area where Crennel's presence was supposed to have the most impact.
Instead, the Chiefs struggled to stop the run, allowing 125.7 yards per game on the ground (27th in the league) and were 20th in total yards allowed. On the bright side, they finished 12th in pass defense, thanks in large part to pass-rushing dynamos Tamba Hali (9 sacks) and Justin Houston (10 sacks).
These elements combined with some untimely injuries are what led to Kansas City finishing tied for the NFL's worst record with the Jaguars.
That being said, all is not lost, Chiefs fans. Kansas City still has plenty of young talent on the roster in guys like Charles, Hali and S Eric Berry. They also have the fortune of possessing the No. 1 overall pick, albeit in a draft that isn't deep at QB.
As we learned from this year's Indianapolis Colts, you can bounce back from a dreadful season if you make the right moves. That's why I've come up with five moves the Chiefs should make that will help them escape the NFL's basement.
Begin Slideshow

»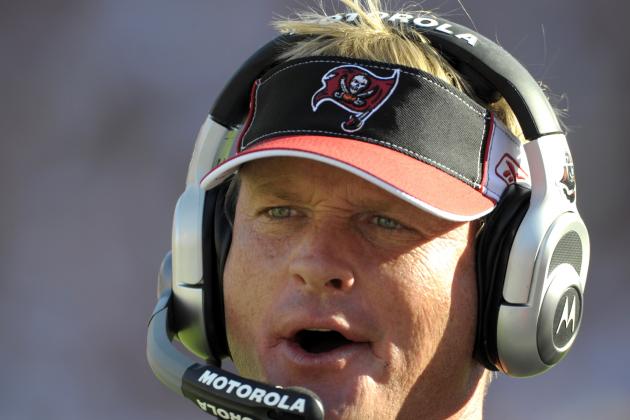 Al Messerschmidt/Getty Images

There hasn't been an official word on the fates of Chiefs GM Scott Pioli and head coach Romeo Crennel. NFL.com's Gregg Rosenthal is reporting that Pioli will probably survive the guillotine, while Crennel won't be as fortunate. NFL.com's Ian Rapoport, meanwhile, tweeted that Pioli might go after Iowa head coach Kirk Ferentz as Crennel's replacement, if he's retained.
Regardless of whoever is running things in Kansas City, their aim for their next head coach should be a little higher. More specifically, they should go after former Raiders/Bucs coach and current Monday Night Football commentator Jon Gruden.
Gruden's name will never go away when it comes to coaching vacancies.
He's a former Super Bowl champion with a reputation for building franchises and molding quarterbacks. In 2002, he won a championship with a Bucs team that defeated a Raiders squad he helped build.
Gruden has spent the last couple of years doing segments for ESPN where he hosts film sessions with QB prospects. He brings the right kind of intensity, discipline and experience that would greatly benefit this Chiefs team.
Whether Gruden would actually leave the booth to return to the sideline is another story.
There was a report on NFL.com earlier in the year that Gruden might be interested in coming back to coaching if presented with a "perfect opportunity" with a "large-market" team.
Kansas City is neither, but it wouldn't hurt the Chiefs to at least kick the tires on Gruden's interest. Of the coaches that are potentially available, Gruden is better than Ferentz or ex-Eagles coach Andy Reid. He's the right guy for this team. It's just a matter of selling him on coming to Kansas City.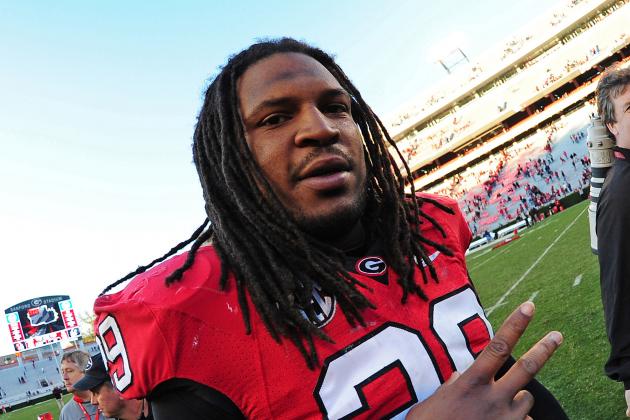 Scott Cunningham/Getty Images

According to numerous mock drafts, West Virginia QB Geno Smith looks to be the favorite to be selected by the Chiefs as the No. 1 overall pick. On paper, it makes a ton of sense. Smith is the top-rated passer on many draft boards and Kansas City is in desperate need of upgrading the QB position.
That being said, just because a team NEEDS a quarterback doesn't mean you reach for one with the first overall pick.
Geno Smith is a fine prospect, but he's nowhere close to being the best player in this draft. Also, the gap between Smith and other QB prospects such as Arkansas' Tyler Wilson or North Carolina State's Mike Glennon isn't wide enough to justify reaching for the Mountaineers' signal-caller.
The man whose name should be the first one called is Georgia linebacker Jarvis Jones, assuming the junior declares for the draft. Granted, the Chiefs already have quality pass-rushers in Tamba Hali and Justin Houston, but the New York Giants have proven to us over the years that you can never have enough guys coming after the quarterback.
The Chiefs' road to winning the AFC West goes through Peyton Manning and the Denver Broncos. You don't beat Denver if you can't put pressure on Manning and disrupt the passing attack. Jones, coming off a season that saw him register 77 tackles and 12.5 sacks, is the top prospect on Mel Kiper Jr's Big Board and is fifth on Scouts Inc.'s Top 32.
Smith, meanwhile, is listed 23rd on Scouts Inc.'s list and isn't even in Kiper's Top 5.
Jones reminds some, oddly enough, of current Broncos phenom Von Miller. He's an athletic linebacker who can play in either the 3-4 or 4-3 and is as solid against the run as he is against the pass. Kansas City could use him in a rotation with Hali and Houston. The Chiefs could also move back to the 4-3 and play Hali at defensive end, while Houston and Jones man the outside linebacker spots.
As for the Chiefs' QB needs, they could search for a prospect in Round 2 or try to swing a deal for a QB like Washington's Kirk Cousins or Seattle's Matt Flynn. The team could also try to trade down and use their first-round pick on another QB prospect, but Jones represents the most bang for K.C.'s buck.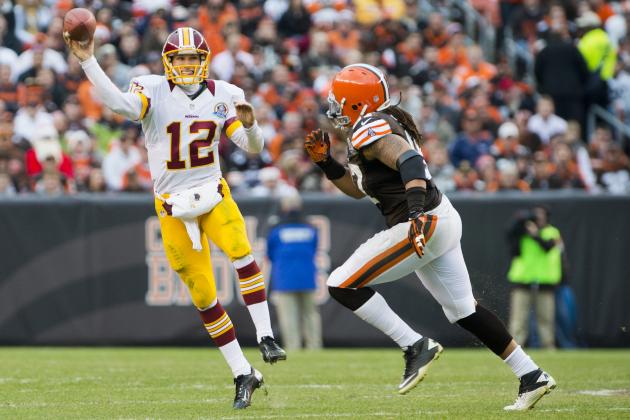 Jason Miller/Getty Images

This is a move that makes sense for both teams.
The Redskins mortgaged future draft picks in a trade with St. Louis for the right to land star prospect Robert Griffin III. That gamble ended up working out for the 'Skins, but it also left the cupboard bare in terms of draft picks.
Thanks to their first-round pick going to the Rams and Washington's trip to the postseason, the Redskins won't make their first pick until near the end of Round 2. As promising as this Redskins team has looked as of late, they still have needs that need to be addressed.
Luckily for Washington, they have the luxury of having a capable, young backup QB in rookie Kirk Cousins. Cousins performed well in relief of RG3 but, barring something unforeseen, he'll never be much more than a backup in the nation's capital.
With the draft not very rich in QB talent and the free-agent market not very promising either, the Redskins should try to sell high this offseason and take advantage of quarterback-needy teams.
The Kansas City Chiefs would be one of those teams and they can offer the 34th pick in this year's draft. That would be a pretty nice haul for Washington, considering they used a fourth-round pick on Cousins.
It would also give the Chiefs a young QB with a little bit of starter experience, as opposed to rolling the dice on an unproven rookie.
Granted, the Chiefs have been burnt in the past when trading for another team's backup (Matt Cassel), but the team can't afford to let past failures cloud their judgement. Guys like West Virginia's Geno Smith, USC's Matt Barkley and Arkansas' Tyler Wilson all have potential, but they'll need time to adjust to the NFL's learning curve.
Cousins has already hurdled that obstacle. There's no guarantee it will work out, but it will be a cheaper risk than rolling the dice on a QB with the No. 1 pick.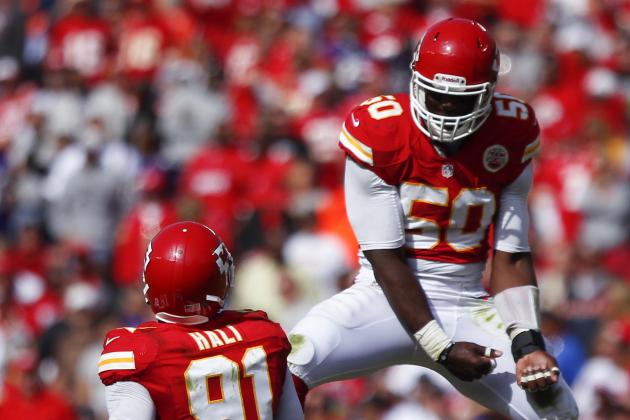 Kyle Rivas/Getty Images

Despite having a talented group that includes pass-rushers Tamba Hali and Justin Houston as well as tackling machine Derrick Johnson, the Chiefs' stint using the 3-4 alignment hasn't really worked out.
Part of the reason behind that is a number of the draft picks the team has used weren't really a great fit for the scheme. Last year's first-round pick Dontari Poe has the size, speed and athleticism to be a quality nose tackle, but he didn't really make much of an impact in his first season.
Former first-round pick Glenn Dorsey was dominant at LSU in a 4-3 scheme, but never produced like he should as an end in the 3-4. Dorsey's a free agent this year and it would probably suit him to find a defense he'd be more comfortable in.
Dorsey's college teammate and fellow first-rounder Tyson Jackson was decent in the 3-4, but not productive enough for where he was taken in the draft.
It's time for a change.
As sexy as moving to the 3-4 has become around the NFL, it only works if you have the right personnel. The Chiefs' best players are guys like Hali, Houston and Johnson, who could be productive in either scheme.
Dorsey, if re-signed, could probably be a more productive player in a rotation with Poe and Jackson in the middle of a 4-3 defensive line. If the team drafts Jarvis Jones (or if Jones doesn't declare, Notre Dame LB Manti T'eo) as suggested earlier, it would allow Hali to move to defensive end while Jones and Houston bracket Johnson in the linebacking corps.
The Chiefs have a ton of talent on defense, but they aren't getting the most out of their potential. That could be due to poor coaching or it could be due to playing in the wrong scheme. The former will be resolved by the arrival of a new regime after the inevitable dismissal of Romeo Crennel.
A change back to the 4-3 scheme would fix the latter. With the way the Chiefs played on the defensive side of the ball this season, it couldn't hurt to give it a try.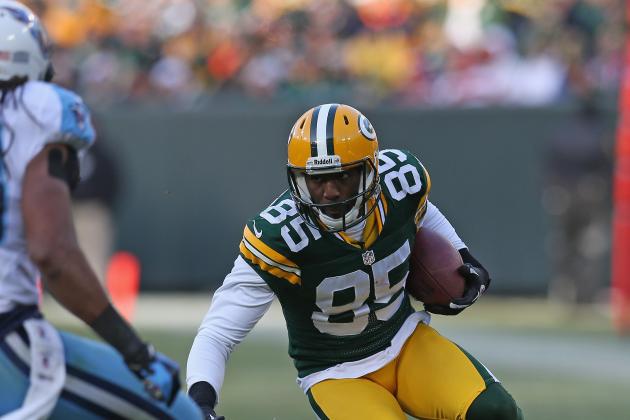 Jonathan Daniel/Getty Images

Dwayne Bowe has been a solid receiver for the Kansas City Chiefs for a number of years, but it is time for Bowe and the team to go their separate ways. Bowe deserves the chance to earn a big payday and spend the prime of his career playing for a contender.
Bowe's absence would leave the Chiefs with a huge void at No. 1 WR. Former first-round pick Jon Baldwin has been groomed to be Bowe's successor, but his lack of production this season proves he's not quite ready to fill Bowe's shoes.
That's why the Chiefs should make a run at Packers free agent WR Greg Jennings. Like Bowe, Jennings will probably be allowed to test the market and search for a deal elsewhere. The Packers have a deep receiving core with the trio of Jordy Nelson, Randall Cobb and James Jones. That makes Jennings expendable.
Also, like Bowe, Jennings could be looking for a big contract on a contender. The question is, with so many good receivers on the open market (Bowe, Pittsburgh's Mike Wallace, New England's Wes Welker, to name a few), what contenders will be willing to bid on Jennings?
Could the Patriots let Welker leave and sign Jennings to pair with Brandon Lloyd? Possibly. Could Jennings try to stick it to his former mates and sign with his hometown Lions to be Calvin Johnson's tag team partner? Maybe.
Another possibility is Jennings being lured by a big contract on a slightly less talented team in the hopes that his presence can turn things around. That's where the Chiefs would come in.
Sure, playing for a team coming off a 2-14 season is no star player's dream (especially one as accustomed to winning as Jennings has been), but the Chiefs can try to sell Jennings on being part of a team on the rise.
With a competent QB, a good RB in Jamaal Charles and an improved coaching staff in a weak division, Jennings could be marketed as the missing piece. Is it far-fetched? Sure. However, there's a good chance Bowe has played his last game as a Chief. Even if he's franchised, his days are likely numbered.
The Chiefs are going to need to find his replacement. The Chiefs need to open up their checkbook and make sure Greg Jennings is that guy.