Looking at the New York Knicks' Early Contenders for Major NBA Awards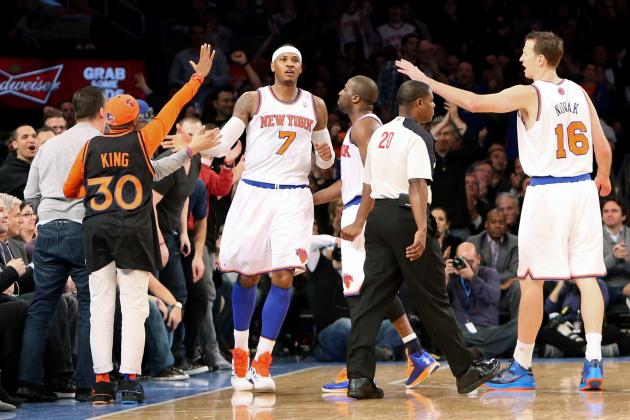 USA TODAY Sports

During their hot start to the season, the New York Knicks have had major contributions from players throughout the roster. As a result, a number of players have a serious chance of challenging for some of the NBA's individual awards.
From Tyson Chandler and his Defensive Player of the Year crown to Carmelo Anthony and his early-season pursuit of the MVP award, there are plenty of Knicks stating their claim to the league's major awards.
As the season moves on, the respective pictures will become a lot clearer, but for now let's go through each contending player's chances of winning awards and whom they'll have to get past to win them.
Stats used in this article were accurate as of Dec. 23, 2012. Advanced stats are from Basketball Reference.
Begin Slideshow

»
Elsa/Getty Images

As the reigning Defensive Player of the Year, Tyson Chandler was always going to be one of the front-runners to win the award again.
Whilst the Knicks as a whole have dropped in terms of defensive efficiency (mainly because of a few standout bad outings against the Houston Rockets and Dallas Mavericks), Chandler has continued his own dominant form.
Statistically, Chandler has dropped off quite a bit, but if he can continue to work hard on D the numbers should eventually catch up for both himself and his team.
The main things that Chandler does for the Knicks can't really be quantified with statistics; he is a leader on defense and someone who changes shots more often than he blocks them.
Though Dwight Howard has struggled to help the Los Angeles Lakers defensively, Chandler still faces a lot of competition in the form of Serge Ibaka and the resurgent Tim Duncan. Out in Chicago, Joakim Noah, too, has a good chance of winning the award with his team sitting third in defensive efficiency.
With all that said, nine of the award's 16 individual winners have gone on to repeat the next year, so Chandler does have history on his side.
Main Competition: Serge Ibaka, Joakim Noah, Tim Duncan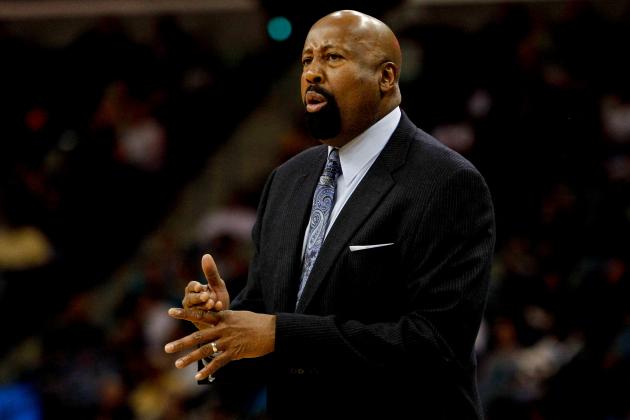 Derick E. Hingle-USA TODAY Sports

What Mike Woodson has done in his short time as head coach of the New York Knicks has been simply remarkable.
After leading the team out of trouble to an 18-6 finish and a playoff berth last season, Woodson has proved to be an elite head coach with his work in 2012-13.
New York was in a mess when Woody took control back in March, but he has steadied the ship and completely changed the culture from what it was under Mike D'Antoni.
Woodson is holding players accountable and getting the best out of them with his leadership, and it has resulted in a fantastic early-season record.
The Knicks have always had the talent to be this good; they just needed a coach and veteran players like Jason Kidd to get it out of them. Now that they have both, we are seeing just how dangerous they can be.
If only for lighting a fire under Carmelo Anthony and finally getting J.R. Smith to play smart basketball, Coach Woodson has to be the leading candidate for this award.
Main Competition: Tom Thibodeau, Mark Jackson, Lionel Hollins, Gregg Popovich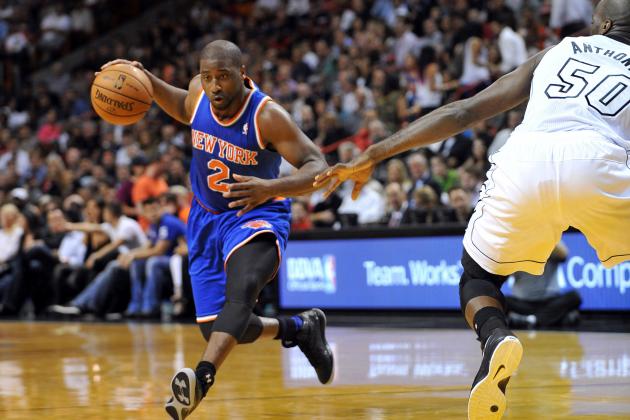 USA TODAY Sports

Though he has been off in his last few games, when you look at Raymond Felton's whole body of work on the season he is certainly a candidate for the Most Improved Player award.
After a terrible season for the Portland Trailblazers, Felton has come back to New York and given the Knicks exactly what they needed out of the point-guard position. With his defense, aggression and pass-first mentality, he has done a great job of covering what was once a position of weakness for the 'Bockers.
So far this season, he has improved his averages in points, rebounds and three-point percentage whilst also reducing his turnovers per game.
Unfortunately, after appearing to silence his doubters early in the season, Felton has opened himself up to more criticism with his recent form and is playing himself out of contention for the award.
Through his last 10 games, Felton is shooting only 36 percent from the floor, and as a result his season's shooting percentage has plummeted to below 40.
With Carmelo Anthony in and out of the lineup in December, Felton has struggled to pick up the scoring load efficiently but should regain form with his No. 1 option back in the lineup.
Felton's competition is quite strong this year with a number of younger players like Jrue Holiday and James Harden stepping up into bigger roles, but if he can repeat his play from November he could be in with a chance.
Main Competition: Jrue Holiday, James Harden, Anderson Varejao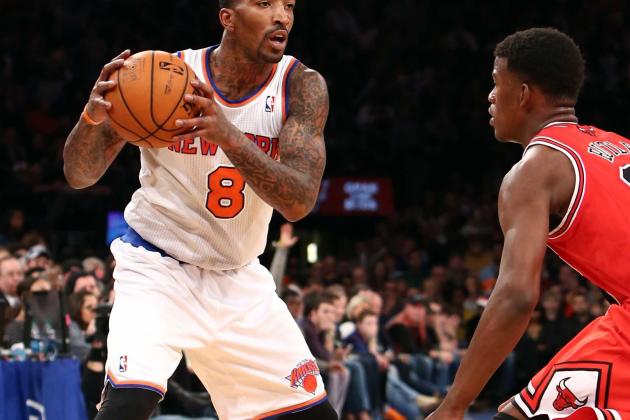 USA TODAY Sports

He may have been skeptical about coming off the bench to start the season, but after embracing his role J.R. Smith has become one of the NBA's elite sixth men.
When he came back from China last season, Smith was good for the Knicks off the bench, but this year he has improved tenfold.
Now that Smith is committed to defense and playing smart basketball, his talent and athleticism are shining through, making him a nightmare for opposing second units.
Much like Felton, he struggled early in December but has appeared to regain his form as he is averaging 20.7 points per game on 52 percent shooting in his last three games.
For the season as a whole, Smith's 14.8 points per game are the highest he has had since the 2009-10 season. With 4.9 boards per game, he is averaging a career high in rebounds as well.
Smith will need to improve both his efficiency and the volume of his scoring to compete with the likes of Jamal Crawford, who is putting up ridiculous numbers for the Los Angeles Clippers off the bench despite playing less minutes.
Main Competition: Jamal Crawford, Kevin Martin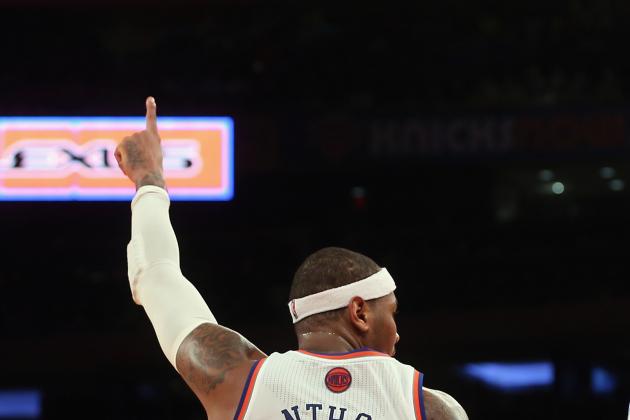 Bruce Bennett/Getty Images

When the New York Knicks traded half their team to pry Carmelo Anthony from the Denver Nuggets back in 2011, this is the player they were hoping to get.
Melo has had his critics during his first two seasons in New York—and rightly so—but with the way he is playing right now it's hard to find anything to complain about.
Through the first third of the season, Melo is second in the league in scoring with 28 points per game and ranks third in Player Efficiency Rating.
Statistically, Anthony has been right up there with leading candidates Kevin Durant and LeBron James, and more importantly, his team is winning at a high level too.
With Melo playing how he is, you can expect something special from him every time he steps on the floor, and he really has the presence of an MVP right now.
If the Knicks can continue to win at this rate, and Anthony can build a rapport with Amar'e Stoudemire, he will remain a major candidate to the very end.
After all the criticism he has fought through and the great storyline of him leading his hometown team to its best season in years, Melo deserves to be a key part of the MVP discussion.
Main Competition: Kevin Durant, LeBron James, Chris Paul