Houston Rockets' James Harden Is Rising Among NBA's Elite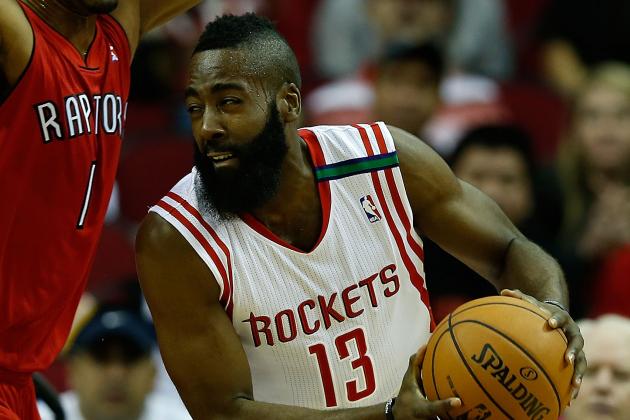 Scott Halleran/Getty Images

LeBron James, Kevin Durant, Kobe Bryant.
Those are the names we are used to seeing on the list of the NBA's best players.
James Harden?
Just last season, Harden was serving as the sixth man on an Oklahoma City Thunder team that made the NBA Finals, playing the perfect complement to superstars Durant and Russell Westbrook.
But just six months later, Harden has rocketed (yes, I went there) himself into the discussion of one of the games' best players as the leading man in Houston.
Where does he fall on the list of the Top 10 players in The Show? Here's one man's perspective...
Begin Slideshow

»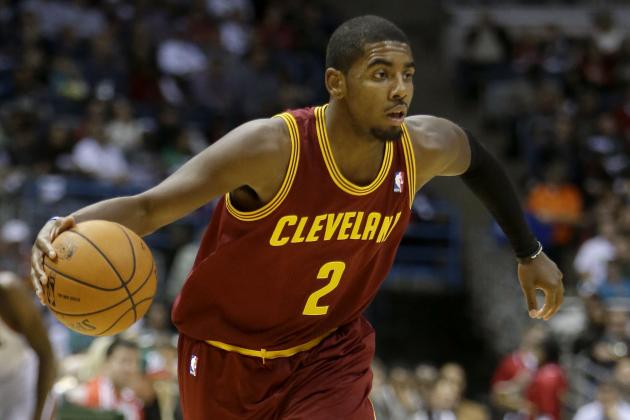 Mike McGinnis/Getty Images

At just 20 years old, Kyrie Irving is the youngest on the list.
But, in just his second season, Irving is showing why he needed just 11 games at Duke before he felt he was ready to make the jump to the NBA.
After averaging 18.5 PPG in his rookie season last year, Irving's points per game average has jumped to nearly 24 points. His three-point percentage is in the low 40's and he is opening eyes amongst the veterans in the league.
His 41-point outburst at Madison Square Garden last week shows he's prime for the spotlight.
Now only if he could get some other talent around him in Cleveland.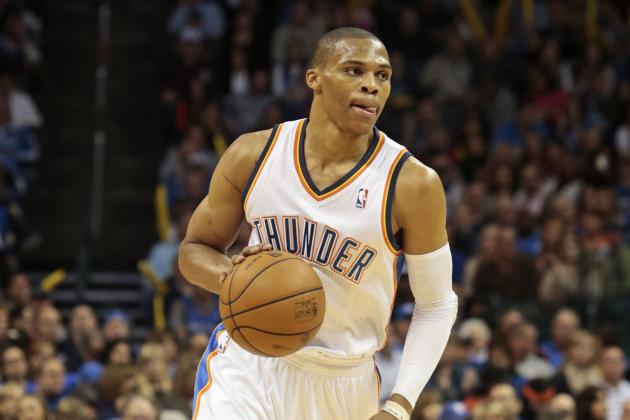 Brett Deering/Getty Images

Russell Westbrook has two things working against him:
1. He's perpetually performing in the shadow of teammate Kevin Durant, one of the game's brightest stars.
2. He is prone to turnovers and his decision-making is sometimes less than stellar.
Now, there is not much he can do about the first one. And I'm sure most everybody would bend over backwards to be Robin to Durant's Batman.
But, the second part? The turnovers? Westbrook is doing something about that.
Take this, for instance. Here are his turnover-to-assist ratios for the first four seasons of his career: 1.60, 2.42, 2.10 and 1.53. The 1.53 assists per turnover from last season was a main reason why some thought the Thunder came up short in the NBA Finals.
But, this year? Westbrook is averaging a career-high 8.8 assists and a career-low 3.2 turnovers, good for 2.75 assists for every turnover.
Oh yeah, and the athleticism oozing out of his pores may be more than anyone at the point guard position has ever possessed.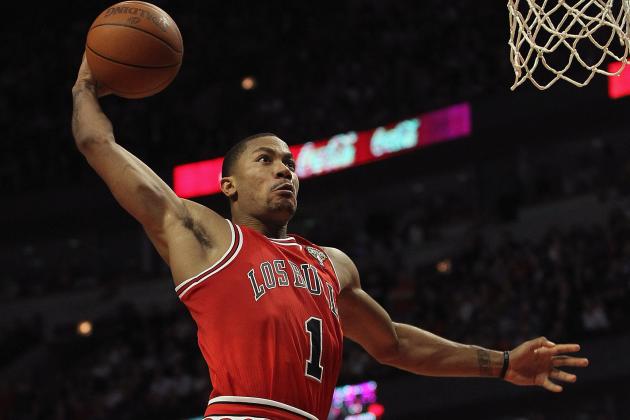 Jonathan Daniel/Getty Images

That's three spots so far and three point guards.
Yes, even with Derrick Rose on the shelf nursing a torn ACL for much (if not all) of this season, he still works his way up to No. 8 on the list.
When healthy, Rose's athleticism at the point rivals that of Russell Westbrook.
But, Rose has delivered his team to a conference finals and has an MVP award sitting in his trophy case.
Knowing Rose's dedication to getting better on the court, I expect the same effort off the court as he rehabs his knee. Think Adrian Peterson coming off his torn ACL to have a great bounce-back season upon his return.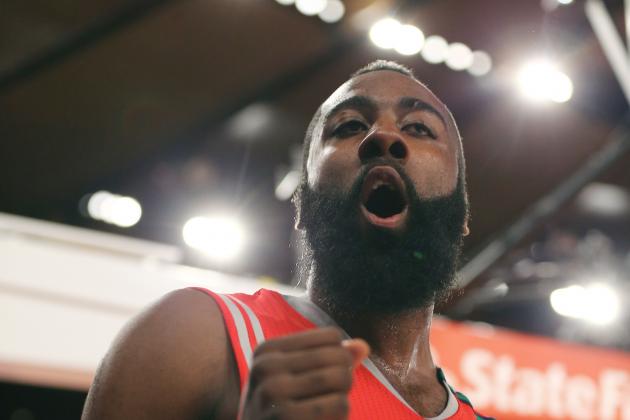 Elsa/Getty Images

So, how has James Harden liked being "The Man" for the Houston Rockets? I'd say he's warmed up to the role just fine.
A year after averaging 16.8 PPG for the Thunder, Harden is carving up opposing defenses for over 25 points a game with the Rockets.
He's already had six games of 30 or more points, including 82 points in his first two games of the year. He has announced he is ready for the challenge.
A season ago, Harden was the third best player on his own team. Today, he is at No. 7 on the list of the best players in the NBA.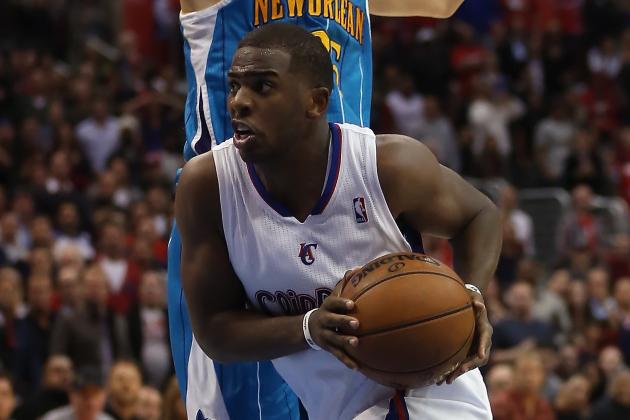 Jeff Gross/Getty Images

Chris Paul is the quintessential leader in the NBA.
His numbers on the season (16.0 PPG, 9.2 APG) are not eye-popping. But, he is the walking cliche that "makes everyone on his team better."
On a Los Angeles Clippers team with a boatload of guys having to share the load, CP3 makes sure that everyone is happy and keeps carrying everyone on his shoulders in the process.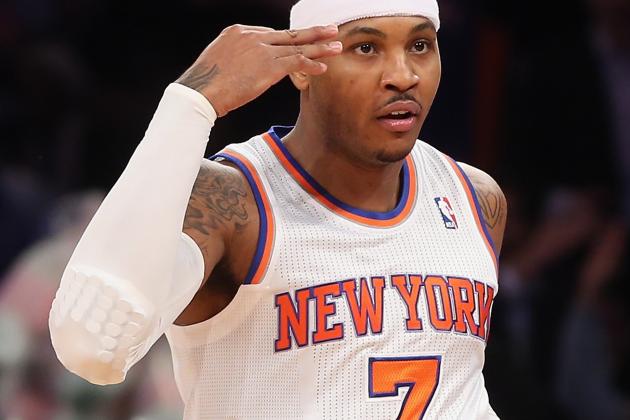 Bruce Bennett/Getty Images

Carmelo Anthony has garnered serious MVP consideration in the early part of the 2012-13 season, and deservedly so.
While he is averaging a career-best 27.9 PPG, it has been his willingness to buy into coach Mike Woodson's defensive philosophies that have made him a two-way player like he has never been before.
Pile on top of that, the fact that the New York Knicks are leading the Eastern Conference with an 18-6 record.
Melo has always been able to get his shot off, perhaps better than anyone else in the league. But it seems like he has now matured into a complete player, causing him to rise in the rankings of the league's elite.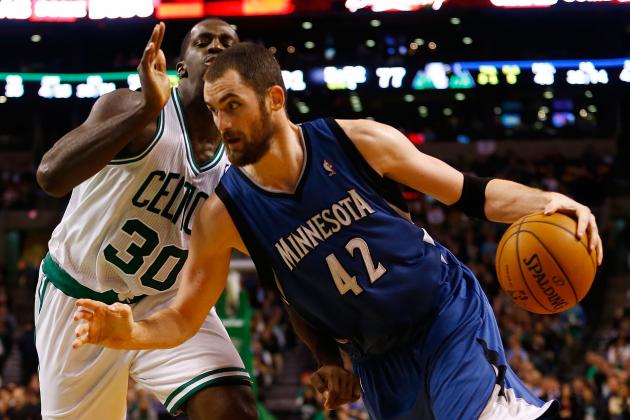 Jared Wickerham/Getty Images

This is the wild card on the list.
I suspect others may have him a little lower on the list.
But, Kevin Love is a walking 20-20 player and those are rare among the rest of the league.
Despite missing the first 10 games of the season with a broken hand, Love has returned to average basically 20 points and 14 rebounds a contest.
He is the rare big man who can score, rebound, shoot the 3-pointer, pass, and has good footwork.
General managers would give up a large part of the farm to acquire a guy like Love. If his confrontation with the Minnesota front office continues and he decides to opt out of his contract in a few years, expect other GMs to line up to attempt to lure his services to their cities.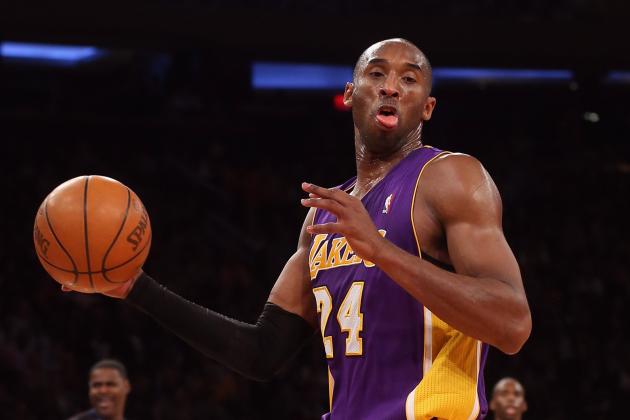 Bruce Bennett/Getty Images

The old sage has still got something left in the tank.
How about a league-leading 29.5 PPG so far this season?
With Steve Nash and Dwight Howard joining Kobe and Pau Gasol, it was reasonable to anticipate Kobe pacing himself during the regular season. Fewer minutes equals fewer points.
But, with the Los Angeles Lakers underachieving with a boatload of talent on the squad, Kobe has had to do as much, if not more, than he is accustomed to doing.
In a league ruled by 20-somethings, Kobe is getting it done at the highest levels at the age of 34. Recently passing the 30,000-point plateau is just another milestone on Kobe's belt.
But his competitive drive is second to none. And that's what allows him to continue to do what he is doing.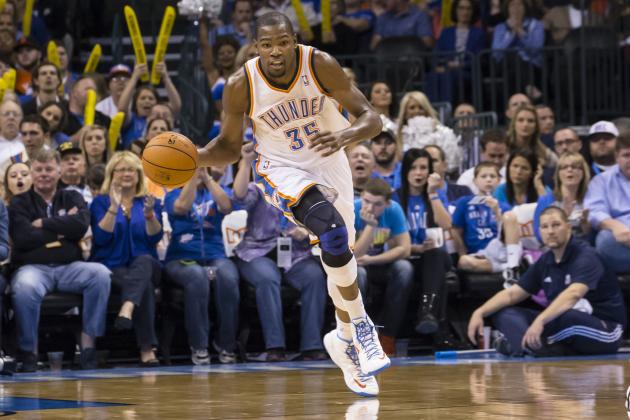 Shane Bevel/Getty Images

Kevin Durant is the league's best pure scorer.
At 24 years old, KD already has three straight scoring titles to his credit and is averaging over 27 points a game this season.
You want a three-pointer? Durant can get that. A post-up move? KD can bang on the block. How about a hard drive to the cup? Durant will do that and draw a foul. Spot up? No problem.
Oh, and outside of Kobe, he may be the most feared man with the ball in his hands in the final seconds with his team needing a game-winning shot.
Durant can score from every spot on the court and does so efficiently. It's disgusting (that's a good thing) how effortless KD makes scoring look.
I'm not so sure if I had to pick just one person to start a franchise that I WOULDN'T go with Kevin Durant.
But alas, if you're going to hold me down and pick just one player, I'll go with...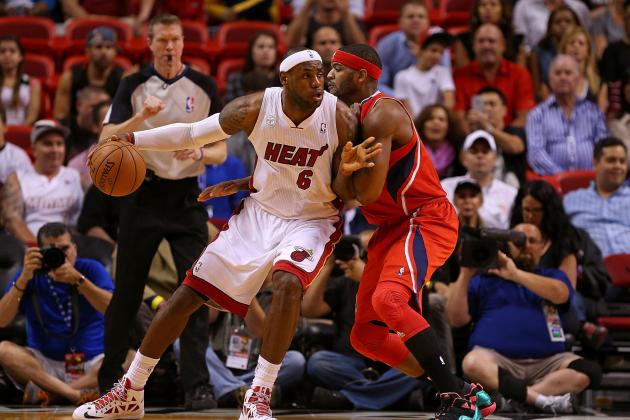 Mike Ehrmann/Getty Images

LeBron James. The reigning holder of the title "Best Basketball Player on the Planet."
If Kevin Durant can score in every conceivable fashion, LeBron can do anything any coach could ever ask of a player.
Score? Yup. Rebound? Sure. Pass? Absolutely. LeBron is the closest thing to Oscar Robertson since Magic Johnson, able to put up a triple-double on any given night.
LeBron can defend at the highest level as well. And not just defend at his position, but James can defend every spot on the floor minus the center position.
The two biggest knocks on LeBron the past few seasons (other than "The Decision") have been:
1. He hasn't won a championship. Well, we can check that off the list. He can now say he belongs in the group of those who can lay claim to a title.
2. He never developed a post game. Since last season, LeBron has taken smaller defenders down on the block and gone to work. It was never a matter of talent that made him not a good offensive player in the post. For whatever reasons, LeBron was just never comfortable playing with his back to the basket.
As he's added that to his repertoire, he has just become that much MORE unstoppable.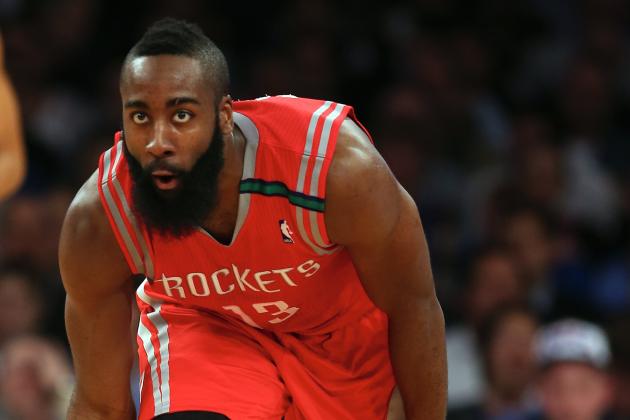 Elsa/Getty Images

Where would Harden have ranked at this time last year on the list of the NBA's best players? Top 40? Top 30? Top 25? Top 20?
To see how far he has come in such a short time has been nothing short of impressive.
Sure, he was playing understudy to two of the NBA's best players. But, even the keenest of eyes probably did not expect the kind of performances we have seen from Harden so far this season.
He has taken on being the No. 1 option with opposing defenses double-teaming him on a nightly basis.
The real test will be to see if he can sustain this type of effort and output over the course of an entire season.
If he does, what is his ceiling in the rankings of the best players in the game? Top 5? Top 3?