49ers vs. Patriots: Final Grades, Analysis for San Francisco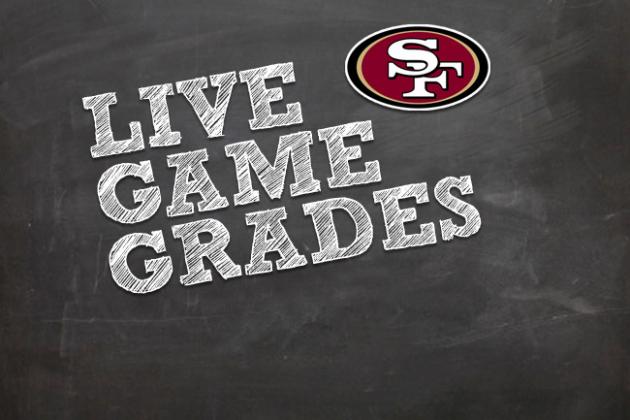 My 11-year-old cousin gives Tom Brady an "A" for dreaminess.
The San Francisco 49ers won a stunning, crazy game 41-34 at New England that was a rout, then a massive gag-job, and then a solid road win all wrapped up in one to improve to 10-3-1 and clinch a playoff berth in the NFC.
It's hard to figure out what was more impressive, the events of the first 40 minutes in the game, in which the 49ers thoroughly dominated in all phases to race out to a 31-3 lead behind four turnovers from the defense and three touchdown passes from Colin Kaepernick; or how quickly Tom Brady rallied the Patriots, leading his team to four touchdowns in a 14-minute stretch overlapping the third and fourth quarters.
The unlikely X-factor was 49ers rookie back LaMichael James, whose 66-yard kickoff return following New England's game-tying touchdown set up Kaepernick connecting with Michael Crabtree for a 38-yard catch-and-run one play later to put the Niners back up, for good, 38-31.
Bill Belichick made the curious decision to go for it deep in Patriots' territory on fourth-and-two with 2:25 to go, when the Patriots still had the option of punting and using their two time outs and the two-minute-warning to stop the clock and get the ball back.
Brady's pass was incomplete and the 49ers didn't have to move the ball an inch for David Akers to ice it with a field goal. The Patriots chose to kick a field goal with 43 seconds to go, but the ensuing onside kick was recovered by the 49ers to end the game.
The win by San Francisco takes a lot of the drama out of next week's game at Seattle, as they still retain a 1.5 game lead in the NFC West. Also, the Niners are still a half-game up on Green Bay for the second seed and a first-round bye.
The Patriots, meanwhile, lose for the first time in eight games and now are a game behind Denver for the second seed in the AFC. The Broncos don't play anyone of note their last two games, so it doesn't appear that the Patriots will get to enjoy a break unless they choose to sit everyone in Week 17.
Begin Slideshow

»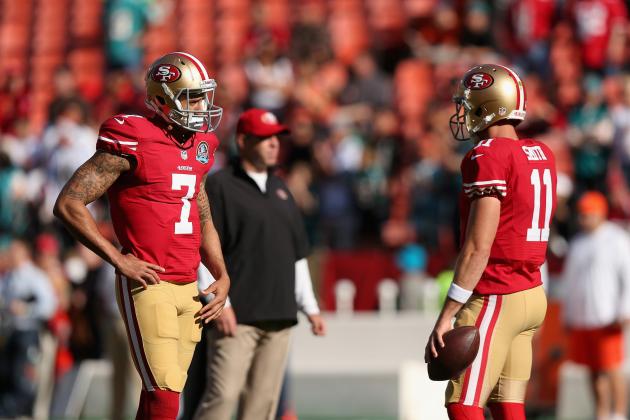 Ezra Shaw/Getty Images
Awkward...
Grade: A-
Kudos to Colin Kaepernick, who definitely answered once and for all whether it was the right decision for Jim Harbaugh to start him over veteran Alex Smith with an impressive performance at New England, where he out-dueled Tom Brady.
No, Kaerpernick wasn't perfect in the game by any means. He threw one interception and should've thrown two. He had a couple more clock adventures where Harbaugh had to call timeouts. He had about five fumbles/bobbles with center Jonathan Goodwin.
The whole game was an adventure for him, filled with peaks and valleys.
However, the key was that there were peaks and valleys, instead of Smith's consistent, steady-as-she-goes, no-frills play.
When Kaepernick tries to impersonate Smith, dinking-and-dunking down the field, checking down every play and trying not to lose, like he did at St. Louis, then you might as well put Smith in there, because he's superb at managing games and not making the big mistake.
Kaepernick's advantage is in his ability to throw deep, to make chunk plays and to throw balls into tight windows. It's a feast-or-famine approach, but as long as the famines are three-and-outs and not turnovers, it's worth it to play him over Smith, because he opens up the whole field.
It can't be overstated that Kaepernick had four touchdown passes in his fifth start while Smith has never had more than three in any of his starts. Obviously Smith hasn't always played with this kind of talent surrounding him, but the point remains that there are throws Kaepernick can make that he cannot and more importantly throws that Kaepernick is willing to throw that Smith is not.
For whatever reason, Harbaugh just couldn't cultivate or get it across to Smith that he needs to be more aggressive, that it's not good enough to just not screw up. Kaepernick's approach seems more in line with his coach's, and the physical ability he brings with it is an enticing package.
Kaepernick is still learning on the fly, and he still makes mistakes here and there, but the way he looked off the safety all game was encouraging and he's earning more believers each week.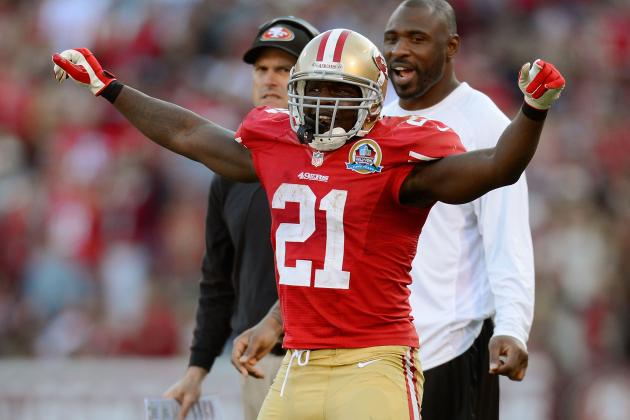 Thearon W. Henderson/Getty Images
Gore's touchdown wasn't quite how they drew it up.
Frank Gore: B+
Gore's had a couple of games like this on the season, where his biggest contributions don't come on runs.
He had a tough 83 yards on 21 grueling carries at New England, but the two plays of note came on a Kaepernick fumble he pounced on alertly at the 9-yard-line and turned into a freaky touchdown, finding a wide open lane through the befuddled Patriots front seven to score; and a 26-yard reception on third-and-long, where he turned something into nothing.
Gore also blocked well in blitz pickup and earned enough respect from the Patriots that they kept falling for the play-action again and again, opening up huge plays for Kaepernick and his receivers.
LaMichael James: C
Eight carries for 31 yards for James, who got too cute at times and tried to bounce a few runs outside when nothing was there. He needs to be someone the coaches can trust the next two weeks because Gore desperately needs relief.
Anthony Dixon: Inc.
Two carries for seven yards for Dixon, and he's another guy who needs to see plenty of the ball down the stretch, especially in Week 17 against the woeful Cardinals.
Bruce Miller: C
Blocked okay, but he's getting used to the pistol. Miller is more agile than the average fullback, so the unique angles of that formation should provide him ample opportunities to lay the wood on linebackers, but Miller's not very experienced as a fullback so he's still trying to figure it out.
Jim Rogash/Getty Images
How do you make New Englanders complain about too much Crab?
Michael Crabtree: A
Give Crabtree this much: In a game featuring one certain Hall-of-Famer in Randy Moss, another likely one in Wes Welker and a pair of guys in Deion Branch and Brandon Lloyd who've enjoyed very solid careers, he was the best receiver on the field bar none.
Crabtree had his second multi-touchdown game of the season (and third in a 15-game stretch going back to last year) and made a number of acrobatic catches in the game, finishing with seven receptions for 107 yards.
What was impressive about the performance was that the receptions weren't in his usual comfort zone, short and in between the numbers. Instead he worked the sidelines, turned one short pass into a 38-yard score and had a leaping 27-yard score in between the two safeties on the kind of seam route Vernon Davis typically runs.
Crabtree is turning into more and more of a complete receiver by the week it seems, and he's opened a lot of eyes with his play.
Randy Moss: B-
A pair of early receptions, for Moss, one in which he took a hard shot to make a catch and another, a 24-yard score that helped him leapfrog past Isaac Bruce into third on the all-time receiving yard list. However, his route-running left something to be desired in the second half and he wasn't sharp in his cuts as he could've been, letting defensive backs undercut him often and quitting too often on routes.
Moss just doesn't seem to have more than 15 or 20 routes in his legs and he needs Mario Manningham back.
A.J. Jenkins: Inc.
Played a scant few snaps and didn't see the ball. He might get some token work in two weeks.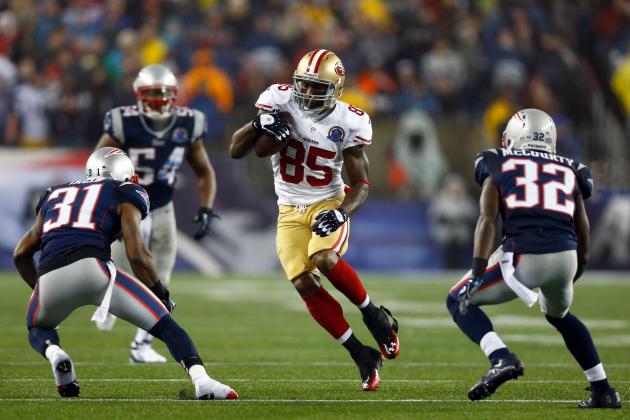 Jared Wickerham/Getty Images
Davis was surrounded by defenders as usual.
Vernon Davis: B
The final numbers -- one reception for 10 yards -- don't tell the story for Davis, who could've had a hat trick of touchdowns on a different night.
He was wide open on one pass, but Kaepernick was overthrown. He looked to have a step on the safety on a post route, but Kaepernick threw wide. He was uncovered down the middle on a third play, but Kaepernick threw to equally uncovered Delanie Walker for the touchdown.
On the one ball the antsy Davis did catch, he turned a 14-yard gain into 10 yards with some Jim Marshall-like YAC skills.
Delanie Walker: B-
Par for the course for Walker, who had a 34-yard touchdown but somehow finished with 29 receiving yards for the game.
He continues to play a ton because of the mismatch he represents against opposing linebackers, and the wheel route he ran and scored was a good illustration of that. However, his hands have been terrible all year and he coughed up the ball on a routine hit early in the game, leading to a rare airing out from Jim Harbaugh, who usually saves his tirades for the refs, not his own players.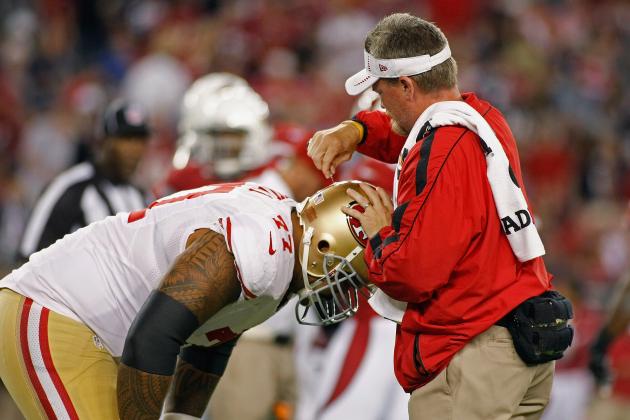 Ralph Freso/Getty Images
Iupati and co. had their heads on right against the Patriots.
Joe Staley: A
Great game for Staley, who didn't allow his man to get a sniff of Kaepernick all night and got to get out and run on several cutback plays out of the pistol.
Mike Iupati: A-
Suffered a right shoulder injury in the game but was playing well before departing and more than held his own against mountainous Vince Wilfork. The pistol formation definitely suits his skill set, in that it lets him get out and move.
Jonathan Goodwin: C-
Being the guy he is, Kaepernick took full responsibility for all the missed exchanges with Goodwin, but it takes two to tango and whatever Goodwin was doing technique-wise, it wasn't working. The shotgun snaps went off without a hitch though, and Goodwin did fine work helping out on Wilfork.
Alex Boone: B
Was matched up against Wilfork quite a bit, but also had a fair amount of help. The one sack allowed came through his gap. Faded as the game went on.
Anthony Davis: B
An unusual game for Davis in that his pass-blocking was quite good but he wasn't getting much push in the run game at all.
Leonard Davis: B-
Played in relief of Iupati and while his lack of mobility was felt on some stretch runs that went nowhere, he didn't cost the team in terms of penalties or sacks.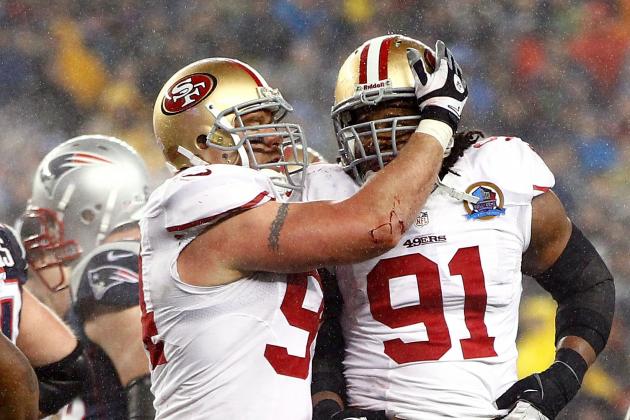 Jared Wickerham/Getty Images
Don't do this against Tom Brady.
Justin Smith: B-
Was having a solid night before he got hurt, and had a goal-line stop on third-and-goal in the second half. The Patriots ran the ball much better once he left.
Isaac Sopoaga: C-
Played a bit in base and some more in relief of Smith, but wasn't effective at all. His days as a 49er are winding down.
Ray McDonald: A-
Welcome back, Ray McDonald. After recording just a half-sack all season, McDonald got to Tom Brady twice, including one play where he lost his helmet before slamming into the Patriots' superstar, and had a couple of other pressures besides.
McDonald got to line up at end more than he usually does in the game thanks to a couple of tweaks from coordinator Vic Fangio, and it helped free him up to do some damage.
Ricky Jean Francois: B+
Played in relief of Justin Smith and had a sack on a slick swim-move. Jean Francois will likely be a starter for the 49ers next season.
Will Tukuafu: C
Saw some action checking into the game on New England's longer drives, but wasn't of much help against Tom Brady's trickery.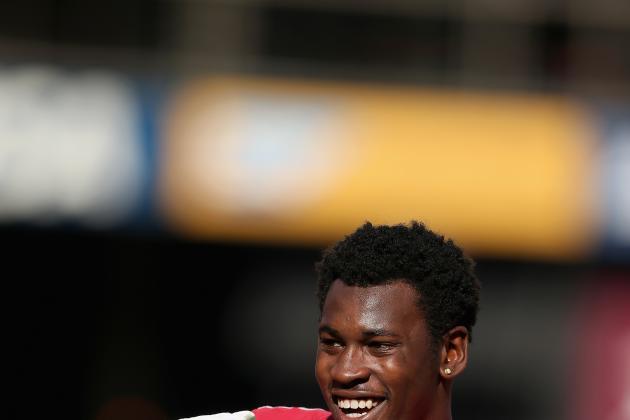 Ezra Shaw/Getty Images
Even without a sack, Smith found a way to piss off Brady.
Patrick Willis: B+
In on 11 tackles, including a couple of crunching stops outside the hashes. No longer a fish out of water in coverage. His effectiveness waned without Justin Smith in front of him though.
NaVorro Bowman: A-
Tied with Willis for the team lead in tackles and forced a fumble from Stevan Ridley in the first half. Had a couple of huge plays in coverage against Danny Woodhead late in the game, forcing incompletions on third and fourth down to seal the win. Both he and Willis lined up outside the hashmarks at times when the Patriots spread their back out wide.
Aldon Smith: B-
A mystifying game for Smith, who grew more and more frustrated as it went on.
He hurried Brady a few times in the first half and really threw off his rhythm, and showed good enough hands to come up with an interception that deflected off Carlos Rogers on an attempted hitch route, but he was so gassed during the Patriots furious comeback in the second half that he flat out quit rushing the passer, just taking a couple of token steps after the snap and stopping in his tracks.
It was as if without Justin Smith in front of him to swallow up blockers Smith just decided, "What's the point?"
It was disappointing to see.
He remains three sacks behind ex-Giant Michael Strahan's single-season record of 22.5, and now he's been joined for the league-lead with Houston's J.J. Watt, who had a hat trick of sacks against Andrew Luck in the morning.
Ahmad Brooks: D
A couple of pressures, but otherwise very little of note from Brooks.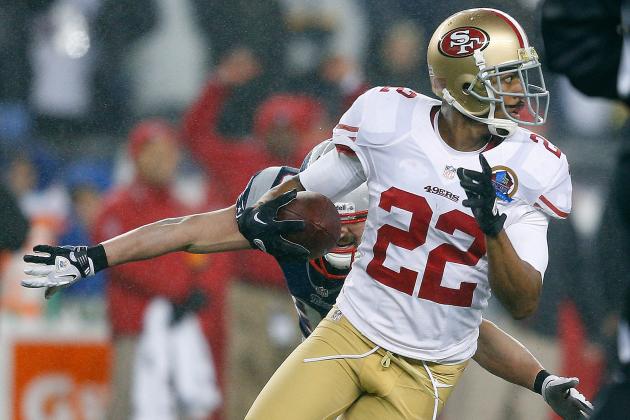 Jim Rogash/Getty Images
Have you ever thought about returning punts?
Carlos Rogers: A+
Rogers finally broke his interception duck on the season, and his sprinting, over-the-shoulder catch on an overthrown Brady bomb may have been the finest of his mostly stone-handed career.
He was fortunate to no get called for holding on the play, but overall Rogers was extremely impressive against Wes Welker, and the way he anticipated a hitch route led to a second interception, as the ball bounced off of him and into Aldon Smith's waiting arms.
Welker finished the game with five grabs for 56 yards, totals that the 49ers coaches would've gladly taken before the game.
Rogers was also physical in run support, almost creating one fumble and causing Brady some panic with a blitz from the corner.
Tarell Brown: D
Brown will be seeing Brady and Brandon Lloyd in his nightmares. Brady picked on him again and again, and about all that can be said of Brown's performance was that he wasn't directly involved in a touchdown pass, though he did have a 38-yard pass-interference penalty which put the ball at the 1-yard-line.
Chris Culliver: C-
A great first half for Cully, and a terrible second half. Both Lloyd and Deion Branch burned him, and Lloyd had a 53-yard grab against him. A night to forget in all.
Dashon Goldson: B-
Laid a few licks, returned a fumble 60 yards and almost scored and even had a 31-yard run on a fake punt. Did get called for another helmet-to-helmet penalty though and he should expect another fine. Wasn't of much use down the field with Brady finding guys so early.
Donte Whitner: B
Had a forced fumble and a few other solid hits, but was vulnerable in coverage at times and dropped another interception, which Brady turned into a touchdown a short time later. It's astonishing how bad his hands are, week after week.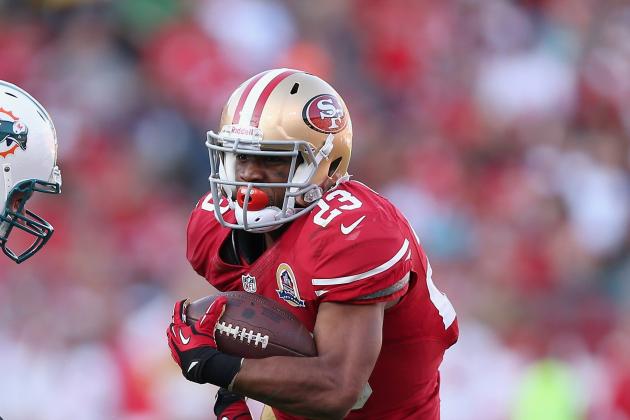 Ezra Shaw/Getty Images
A James who doesn't take eight years to show up in the fourth quarter?
David Akers: D
Jim Harbaugh has to make the move. Even if it kills him personally (and it won't), he has to make the move. Akers cannot be trusted beyond 30 yards anymore.
Andy Lee: A
Unlike Lee, who remains the Lionel Messi of punting, with a sterling 56.2-yard average and three punts inside the 20.
Brian Jennings: A
Terrific diagonal snap to Dashon Goldson on the fake punt.
LaMichael James: B+
Averaged 33.3 yards on four kickoff returns, and his 62-yard return in the fourth quarter changed the game around.
Ted Ginn: D
Doing everything he can to be ushered off the roster, but there are no good alternatives.
Jim Rogash/Getty Images
A word of advice: Quit being so accommodating to the media.
Grade: B+
It looked very shaky there for a stretch, with the Patriots scoring four touchdowns seemingly in the time it takes you to read this sentence, but it's hard to complain much about a 10 point road win at New England, however it comes.
The game basically boiled down to ideas versus time. The 49ers coaching staff had just enough tricks in their bag on all three phases to get out to a healthy lead. The offense had Kaepernick throwing deep off of play-action passes. The defense had their zone blitz schemes. The special teams unit chipped in with a fake punt, which worked but didn't lead to any points.
Then, suddenly, the coaches got conservative on both sides of the ball and the game was almost blown in epic fashion.
For the defense, the lesson learned is to never play prevent against Tom Brady or any elite quarterback. Simple enough.
For the offense, it's a bit trickier. All they have these days is Michael Crabtree and Frank Gore. The coaches have to find a way to get Vernon Davis involved and they need Mario Manningham healthy. The running backs have to be incorporated more into the passing game as well.
It's a talented offense, but the coaches still can't seem to put all the talent to use over a 60-minute game and they're still working around Kaepernick's growing pains. At least they figured out that he's not Alex Smith, which was important.