5 Predictions for L.A. Lakers Once Steve Nash Returns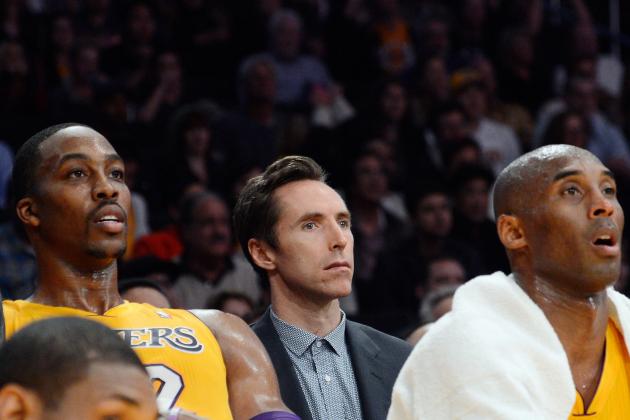 Kevork Djansezian/Getty Images

One quarter of the way into the 2012-13 season, the team that most people picked to at least appear in the NBA Finals, currently occupies the No. 12 spot in the Western Conference.
After the offseason acquisitions of Dwight Howard and Steve Nash, the Los Angeles Lakers were expected to tear through the regular season, lock up a top seed and show off four all-world talents.
Two games into the season, however, Steve Nash fractured his left leg. While the injury appeared relatively minor, the 39-year-old has missed 20 games and counting.
Nash will return at some point in the not-too-distant future, and when he does, Lakers fans expect their fortunes will change.
They will get their wish, but it won't all be for the better.
Begin Slideshow

»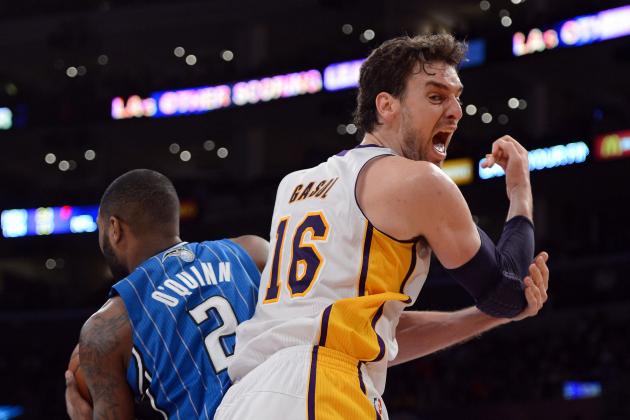 Harry How/Getty Images

Those claiming that Pau Gasol is being underutilized in Mike D'Antoni's system need to be careful. Gasol has attempted 11.8 field goals per game, second on the Lakers to Kobe Bryant. Pau's relatively low 12.6 points per game is more a result of his 42 percent shooting than his lack of shots.
Gasol isn't being underutilized, but he is being used ineffectively. This will change with Nash in the lineup. The Lakers will run more pick-and-rolls, which will be effective due to defenders having to respect Nash's shot as well as his ability to hit a rolling big.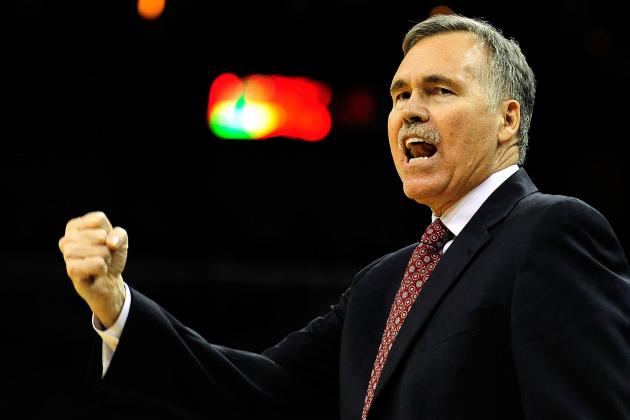 Stacy Revere/Getty Images

Kobe Bryant and Steve Nash are future Hall of Famers. Dwight Howard has the potential to join them, and Pau Gasol is a four-time All-Star.
With so much superstar talent, however, comes even more egos. Dwight Howard will not take blame for losing. Kobe Bryant will not take kindly to getting fewer touches on the ball. Pau Gasol won't accept less minutes.
Mike D'Antoni won't force them to.
D'Antoni's Lakers would be best-suited running their offense through Nash at times and Bryant at other times, usually with the other guy sitting on the bench. Neither player is nearly as effective off the ball as they are on the ball, and as old as they are, 30-33 minutes a night would pay dividends.
Howard should be put in the game when defense and rebounding are at a premium. If other teams start fouling him and he can't convert, he should sit. The Lakers have a decent second big in Gasol.
The notion that D'Antoni would actually sit Kobe in crunch time if Nash is running the offense smoothly, however, is a laughable one. So is the idea of sitting Dwight Howard late in a close game because he can't hit any free throws.
D'Antoni is an above-average NBA coach, which means he is one of the best basketball coaches in the world. Unfortunately for the Lakers, he is not the type of coach who can manage their Dream Team-like starting five.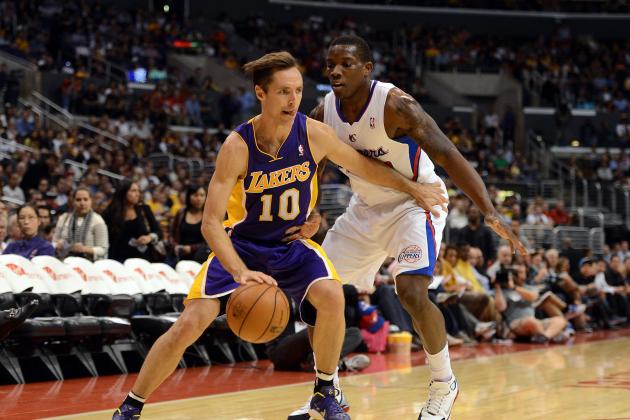 Harry How/Getty Images

Let's do some quick statistical analysis.
The Los Angeles Lakers are 9-13, the 21st best record in the NBA. Despite this, they are in the top half of the league in just about every major stat, with two extreme outliers. The Lakers are 29th in the NBA in turnovers (second-most) and dead last in free-throw percentage.
Steve Nash has shot over 90 percent from the stripe during his 16-year career, and commits less turnovers than the Lakers' current primary ball-handler (Kobe Bryant) despite being an aggressive passer and playmaker.
No matter what Nash's role—free-reign over the offense or just 15 minutes a night off the bench—will be, a healthy Nash will help the Lakers improve in the areas they need to work on the most.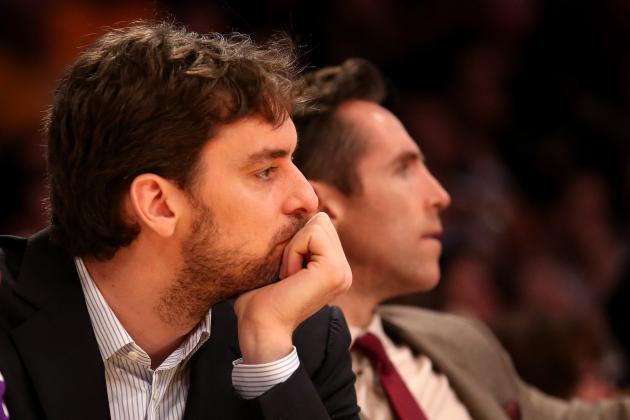 Stephen Dunn/Getty Images

Mike D'Antoni's Phoenix Suns would win 60 games annually with an offense based around Stave Nash and Amare Stoudemire. In theory, a team with Nash, Pau Gasol and Dwight Howard should be able to run an even more potent offense, especially when you throw in Kobe Bryant.
Defensively, this team should be just as dominant, with three of the NBA's best defenders in Bryant, Howard and Metta World Peace.
In theory, this starting five could will their way to a title. A Steve Nash-run offense with great options surrounding him. A Dwight Howard-anchored defense with Bryant and Artest guarding the perimeter. This team could be one of the best all time.
Except they clearly are not. They are 9-13, and it isn't all "dysfunction." Teams know how to beat them. Foul Dwight Howard. Pressure their ball-handlers. Exploit their age with athleticism. Exploit their lack of depth with superior depth and create mismatches. They are very flawed and very beatable.
As great a player as Steve Nash is, the 39-year-old point guard is not going to fix all these problems.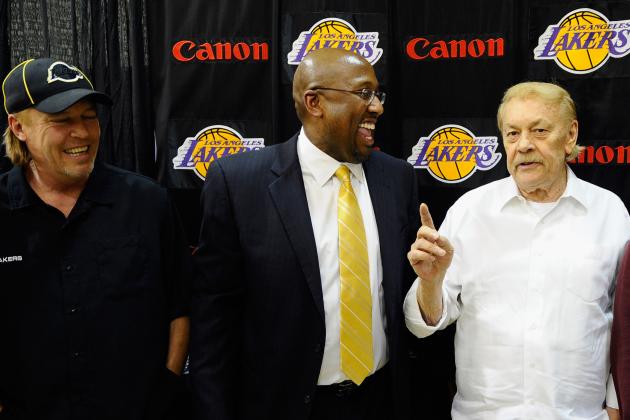 Kevork Djansezian/Getty Images

Even though the NBA is a league of 30 teams—30 teams that want to win—the Los Angeles Lakers believe that every title should be theirs. They believe that the only reason they don't win every year is because they have major personnel or coaching issues, not because other teams might just be better.
The Lakers have always expected greatness, and greatness has always been expected from them. As self-centered as this way of thinking is, this reciprocal relationship is a major reason why the Los Angeles Lakers have won five of the past 13 titles and 16 championships overall.
It's why they traded for Kareem Abdul-Jabbar. It's why they signed Shaquille O'Neal. It's why they signed Karl Malone and Gary Payton. It's why they traded for Pau Gasol. It's why they traded for Dwight Howard. It's why they signed Steve Nash. It's why they have been able to retain all-time legends like Magic Johnson and Kobe Bryant throughout their careers.
It's why now, with Kobe still looking for his sixth title and trade chips aplenty, they will not hesitate to pull the trigger if things don't turn around by February.