First-Quarter Report Card Grades for Each Member of the L.A. Lakers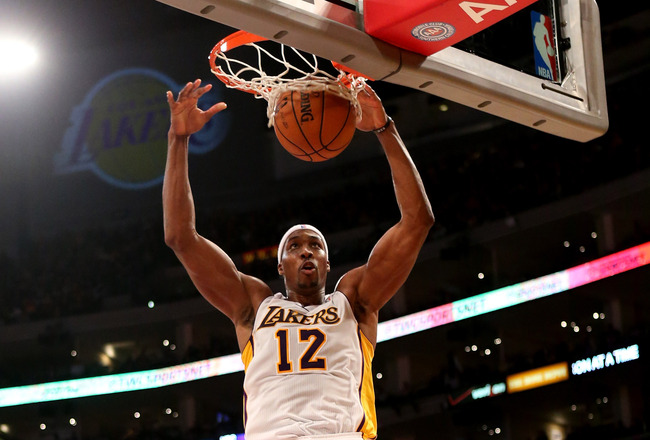 Stephen Dunn/Getty Images
In terms of talent, the Los Angeles Lakers are definitely stacked.
With a dominant force on defense in the form of Dwight Howard and one of the greatest scorers in the history of the NBA in Kobe Bryant, the Lakers have two of the best anchors on both ends of the floor.
Furthermore, the acquisition of Mike D'Antoni has ushered in an era of showmanship and excitement not seen in L.A. since Magic Johnson's Showtime Lakers.
However, things haven't gone as smoothly as anticipated.
Stumbling out of the gates to the tune of 12 losses in their first 21 games, the Lakers are in desperate need of a heart transplant.
Playing with what appears to be a lack of heart and effort in the face of adversity, the Lakers are showing a lack of mental toughness. Some of that boils down to the coaching and personnel changes. However, the onus of the blame still falls on the players themselves.
This report card will grade all of the players on the Lakers averaging over 10 minutes a game based on the following criteria: offense, defense and intangibles.
Furthermore, Steve Nash and Steve Blake have not played enough games this season to warrant a grade. Nash has played less than two games while Blake has played less than a third of the first quarter of the season.
Statistics are accurate as of Dec. 10, 2012
Kobe Bryant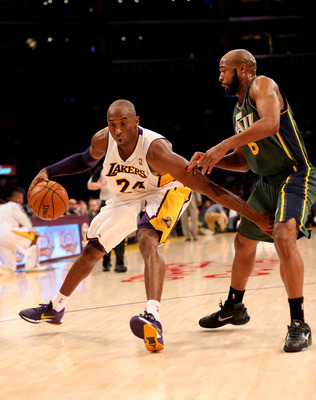 Stephen Dunn/Getty Images
Offense
Kobe Bryant is averaging a career-high 48.2 percent shooting from the field while averaging 28.6 points per game. Furthermore, the Black Mamba is shooting 39.8 percent from three-point range and is shooting a career-high 87.0 percent from the free-throw line.
However, the one knock on the Mamba's offensive performance are his four turnovers per game.
All of these numbers point towards an elite level of efficiency from the veteran. The turnovers can be attributed to the offensive struggles the entire team is currently facing in terms of conforming to D'Antoni's system.
Despite the Lakers' early-season struggles, there is no doubt that Bryant's offensive output has not been been lacking.
Averaging his highest amount of points per game since the 2007-08 NBA season, Bryant has shown that attention to conditioning and fundamentals can prolong a superstar's elite level of production.
Despite the constant criticisms regarding his ball-stopping tendencies and the numerous isolation plays Bryant has per game, the Mamba's two championships without Shaquille O'Neal are evidence enough that him being the focal point of an offense works.
Grade: A
Defense
Bryant's five rebounds and close to two steals per game are right where his career averages are.
Thus, there has been no dropoff statistically for Bryant on the defensive end.
However, it has been apparent that Bryant isn't the same perimeter defender he used to be earlier in his career. He is still a very good perimeter defender, but age and mileage has hindered his ability to delegate an equal amount of effort on both ends of the court.
It appears as if Bryant's efforts on offense have mitigated his efforts on defense. Thus, it appears as if Bryant is sacrificing his defensive proficiency for his offensive efficiency.
Although he may still be destined for another All-Defensive selection due to his reputation, Bryant's defensive prowess no longer warrants him the label of a true defensive stopper.
He has often been late on rotations and has even been scolded by Dwight Howard on the court for missing rotations or being late on help defense.
Though this may be the case for the time being, if the Lakers are able to rediscover their offensive prowess under Mike D'Antoni, perhaps Bryant may be able to refocus his efforts on the defensive end of the court.
Grade: B
Intangibles
Bryant has never been a motivational leader.
The Black Mamba has guided his championship teams through intimidation. Furthermore, his ability to lead a team by example has been the true hallmark of his intangible impact.
However, in the past two seasons, his arrogance in regard to the ability of his team may have hindered their collective killer instinct. Though this confidence comes with believing he is the best, Bryant's temperament in this regard often fluctuates between pure frustration and confident indifference.
Either Bryant is going to jump down his teammates' throats or he's going to overlook some major problems.
Consider the fact that Bryant did not see the danger signs when the Lakers stumbled out of the gates under Mike Brown.
Recall how Bryant's initial indifference turned into intense frustration (i.e. Kobe Death Stare).
The Black Mamba is going to continue to be the Black Mamba. However, consider what Charles Barkley continues to stress.
Barkley emphasizes that players like Dwyane Wade, Kobe Bryant and even Michael Jordan to some extent, do not make the players around them better in the same way players like LeBron James and Magic Johnson do.
Concurrently, Bryant isn't the greatest locker-room motivator. However, his drive and his will should continue to be a good example for his teammates.
Grade: B
FINAL GRADE: B+
Jodie Meeks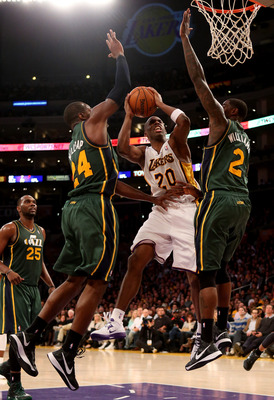 Stephen Dunn/Getty Images
Offense
Since finding a home in D'Antoni's system, Jodie Meeks has become the consistent outside shooter the Lakers knew he could be.
Averaging 10.5 points on 43.6 percent shooting from the field and 50.0 percent shooting from three-point range, Meeks' ability to stretch the floor and nail the open shot make him a perfect addition to the pick-and-roll offense D'Antoni is trying to implement.
Furthermore, his ability to move without the ball and utilize screens to get an open shot make him a good complement to Dwight Howard's post game and pick-and-roll play.
Grade: B+
Defense
Touted as an excellent perimeter defender, Meeks has utilized his skills well during the limited minutes he plays per game.
Averaging 0.6 steals in only 14.7 minutes per game, Meeks has a nose for the ball and is an excellent reader of the passing lanes.
Furthermore, Meeks has the mobility and athleticism of a youngster and is able to play excellent man-to-man defense while also possessing the IQ to cover his rotations.
Grade: B+
Intangibles
The youngster braved through a tough start to the season under Mike Brown and has flourished under Mike D'Antoni.
Despite the early-season struggles the Lakers are going through, Meeks has been a steady constant thus far and provides excellent shooting and defense for a team in need of consistency.
Grade: B+
FINAL GRADE: B+

Dwight Howard
Brett Deering/Getty Images
Offense
Dwight Howard has continued to put up the same offensive numbers fans are accustomed to seeing. Scoring 18.4 points per game on 58.6 shooting from the field, Howard's scoring numbers are right where his career averages are.
Furthermore, his close-to-four offensive rebounds per game are a great help to the Lakers in terms of generating easy shots and second opportunities.
However, despite his efficient shooting from the field, Howard hasn't been able to rectify his greatest weakness.
Although many critics still target his lack of a true post game, Howard's main weakness revolves around his inability to make a free throw.
Averaging close to 10 percent less than his career average this season, Howard's abysmal 47.7 free-throw shooting percentage has been a big hindrance to the Lakers in close-game situations.
Although the onus of the blame for the Lakers' struggles isn't on Howard, a big reason for their inability to close out close games lies in his inability to respond to the Hack-a-Howard technique.
Grade: B-
Defense
Although it is pretty clear that Howard isn't exactly 100 percent yet, there is no doubt that Howard is still one of the premier defenders at any position.
Averaging 11.7 rebounds per game while swatting away close to three shots a game, Howard continues to be the only steady defensive contributor on the team. The Lakers are expecting Howard to contest almost every shot, and he has done a good job of doing so thus far.
The main deficiency the Lakers have on defense is their transition defense, an aspect of defense that has more to do with the team than with his ability to shut down the paint.
Grade: A
Intangibles
With Howard showing some frustration toward his teammates, it is clear that Howard is trying to come into his own as a leader on this squad.
Playing alongside another alpha male in Kobe Bryant, Howard has become like a character foil to the Black Mamba.
While the Mamba is intimidation and intensity as its peak, Howard is the epitome of optimism and hope.
Playing with more of a youthful exuberance than a killer mindset, Howard's style of play and leadership could either lead to a positive dynamic with Bryant or an eventual clash. Furthermore, Howard's happy-go-lucky attitude seems to correlate with his inability to rectify his main weakness.
Though Howard's free-throw deficiencies aren't uncommon in big men, his regression is definitely unexpected.
This regression poses questions regarding his mental toughness and fortitude under the massive media spotlight in Los Angeles.
Grade: B-
FINAL GRADE: B

Metta World Peace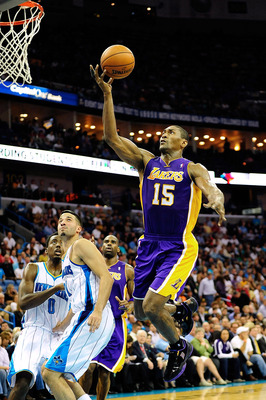 Stacy Revere/Getty Images
Offense
Although it's safe to assume that Metta World Peace will never regain the offensive effectiveness of his All-Star days, World Peace remains a very important offensive cog in the Lakers' system.
Although World Peace is shooting a pedestrian 41.8 percent from the field, his 38.5 percent shooting from three-point range is exactly what the Lakers need from him.
In D'Antoni's system, World Peace needs to stretch the floor with his three-point shooting as well as run the floor on the fast break. Furthermore, the offense is going to revolve around Dwight Howard and eventually Steve Nash in a system focused around the pick-and-roll.
Thus, World Peace is going to be no more than the fourth of fifth option in the starting unit.
This means that, although World Peace's 12.6 points per game are definitely a positive contribution, he is going to have to tighten up on his shot selection and increase his field-goal percentage in order to be the effective floor-stretcher the Lakers need him to be.
Grade: B
Defense
Despite his offensive inconsistency and the conditioning issues he faced last season, World Peace remains an effective perimeter defender for the Lakers.
Averaging a little over five rebounds and a little less than two steals per game, World Peace continues to produce statistically on the defensive end.
Furthermore, the Lakers are a plus-8.7 with World Peace on the court.
Though his offensive output may be contributory to his number, he still makes his living by fighting hard in the paint and defending with intensity on the perimeter.
Defense: B+
Intangibles
World Peace has never been a leader.
In fact, oftentimes in his career, the eccentric player has been more of a locker-room distraction and a cause for negative media attention.
However, at his best, World Peace is an eccentric player whose effort and intensity on the court cannot be questioned.
Thus far into the season, World Peace hasn't been the cause of too much drama. This is exactly what the Lakers need from him.
An errant elbow like the one threw at James Harden or a monumental mental breakdown like the Malice in the Palace back in 2004 would really deter the struggling Lakers from recovering.
Grade: B+
FINAL GRADE: B
Chris Duhon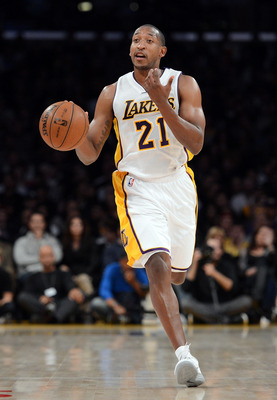 Harry How/Getty Images
Offense
Filling in for Steve Nash and Steve Blake during their injuries, Chris Duhon has been a steadying presence for the Lakers.
Though his numbers are pedestrian, Duhon is shooting 48.1 percent from the field and 48.6 percent from three-point range.
Although he isn't going to create for his teammates or effectively run the pick-and-roll with Dwight Howard consistently, Duhon will stretch the floor and hit the open shot with consistency.
Grade: B
Defense
At this point in the journeyman's career, Duhon has become a less-than-average perimeter defender.
He has a high basketball IQ and understands his rotations, but may lack the foot speed and mobility to keep up with the quicker guards in the NBA.
However, Duhon is definitely a more proficient perimeter defender than Steve Nash, whose back woes have really hindered his defensive ability in the past few seasons.
Grade: B
Intangibles
Like most veteran journeyman, Duhon is the type of player who can mentor a young player.
However, given the deficit of quality young point guards on the Lakers, Duhon's great asset in the locker room is the fact that he doesn't create any needless waves.
His steadying presence and consistent play are definitely positives in a locker room searching for answers.
Grade: B+
FINAL GRADE: B
Antawn Jamison
Harry How/Getty Images
Offense
Despite the complete mitigation of Antawn Jamison's skills in Mike Brown's system, Jamison has showed flashes of greatness in D'Antoni's system.
However, the shooting big man has been far too inconsistent this season.
Averaging eight points per game on 46.4 percent shooting from the field and 33.3 percent shooting from three-point range, Jamison is the ideal power forward for D'Antoni's offense.
However, his offensive output revolves around hitting the open shot and creating space for Dwight Howard to go to work.
Thus, his offense contributions will go hand in hand with the Lakers' offensive output.
A good indicator of the Lakers and their performance will be Jamison's performance. A good shooting night from the big man means that the Lakers offense is clicking and the ball is finding the open man.
Thus far, the Lakers have been very inconsistent, and Jamison's output has mirrored that.
Grade: C+
Defense
In his older age, Jamison has become almost a non-factor on defense.
Though he does average four rebounds in roughly 20 minutes per game, he has never been an excellent low-post defender. Furthermore, Jamison doesn't have good instincts in the passing lane nor is he a proficient shot-blocker.
He may have the foot speed to guard smaller power forwards, but he doesn't have the defensive skills to be effective anywhere else.
Grade: C+
Intangibles
Antawn Jamison has always been a high-character guy.
He has said the right things and been patient throughout the team's struggles.
When he got the chance to really test himself in D'Antoni's system, he has responded well.
Averaging 12 points while shooting 50 percent from the field in his last 10 games, Jamison is definitely showing that he can be a force off of the bench.
However, averaging nine points while shooting 37.9 percent from the field in his last three shows that his inconsistency is something that the Lakers have been able to consistently expect from him.
Grade: C+
FINAL GRADE: C+

Darius Morris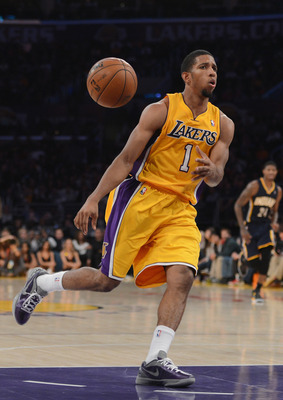 Harry How/Getty Images
Offense
Like Chris Duhon and Jodie Meeks, Darius Morris is another player who is asked to stretch the floor for the Lakers.
Though he isn't really a factor on offense, his 4.9 points per game coupled along with his 40.6 percent shooting from three-point range makes him another guard that helps create space for Howard to go to work down low.
Furthermore, Morris is decent at running the pick-and-roll. Although he definitely isn't anywhere close to being the creator Steve Nash is, his rudimentary knowledge of the pick-and-roll makes it a decent weapon in the former MVP's absence.
However, being a filler for Steve Blake and Steve Nash at the guard spots, Morris will continue to see limited action on the floor.
Grade: B-
Defense
Darius Morris is a young guard with high endurance and good mobility.
However, he isn't the most experienced player and has shown some defensive lapses during his time on the court. Despite this, he has shown great potential on defense and always plays hard on that end of the court.
Given his youth, Morris should continue to improve with age and has the potential to be a very good defensive player on the perimeter.
Grade: B+
Intangibles
Morris is a young guard on a veteran roster.
Despite the inconsistencies the Lakers have been struggling with, all Morris is tasked with doing is giving 100 percent effort in his limited minutes and continue to improve gradually.
Grade: B+
FINAL GRADE: B

Jordan Hill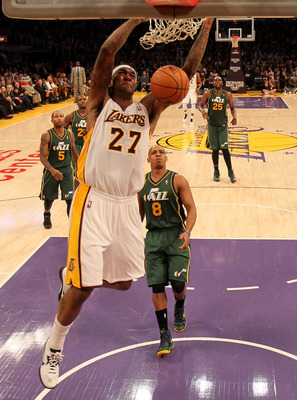 Stephen Dunn/Getty Images
Offense
Jordan Hill's offense is mostly reliant on his energy and effort.
Averaging 2.7 offensive rebounds per game, Hill gets the majority of his 6.3 points off of hustle plays and offensive putbacks. Although he plays with a hot motor and high endurance, his offensive game is very raw and has a long way to go.
He isn't a proficient low-post threat, despite shooting 49.0 percent from the field.
Grade: C+
Defense
Hill is a very mobile defender who is adequate at defending the pick-and-roll.
However, he isn't an excellent low-post defender and his 2.6 defensive rebounds per game simply won't cut it for a big man of his size and athleticism.
However, the fact that he is able to block 0.8 shots per game while playing only 15.4 minutes per contest is quite impressive.
Grade: C+
Intangibles
Like other big men such as Joakim Noah and Paul Millsap, Jordan Hill is an energy player who relies on his effort to make plays on both ends of the court.
He is a high-character player who doesn't make waves in the locker room.
However, the true test of his character and skills as a player will come after the season, where he has a chance to utilize his time off to refine his very raw skill set.
Grade: B
FINAL GRADE: C+

Pau Gasol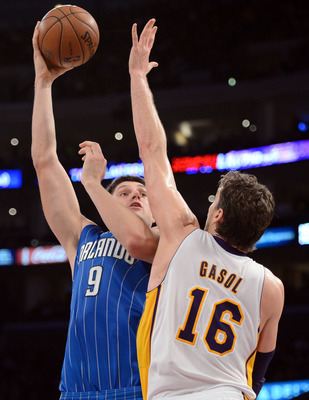 Harry How/Getty Images
Offense
Although Pau Gasol's poor performance may be linked to knee issues that have plagued him for the majority of the season, it is hard to explain Gasol's career-low shooting percentage from the field.
Averaging 12.6 points while shooting 42.0 percent from the field, Gasol's scoring numbers and field-goal percentage are atrocious for a big man with his skill.
Despite possessing one of the most polished low-post games in the league, Gasol's poor play could be linked to his attempts to adapt to two different systems with shoddy knees.
Nevertheless, his mitigated output has been a major reason the Lakers have been struggling thus far.
Without a consistent post presence from the big man and effective pick-and-roll play due to the absence of Steve Nash, the Lakers have not had a consistent style of offense other than the typical Kobe Bryant isolation.
Although his close-to-four assists a game still prove his proficiency in passing from various positions on the floor—including the high post—Gasol's terrible offensive output for a man of his talent and championship pedigree is unacceptable.
Grade: C
Defense
Although Gasol is still averaging close to nine rebounds a game while blocking close to a shot per contest, his knees have been a major issue.
This injury has caused Gasol's rotations to be a step slow.
Furthermore, Gasol has never been an enforcer in the paint. His wobbly knees have allowed quicker players to blow past him and stronger post players to out-muscle the big man.
The onus of the blame can be attributed to the injury, there is no doubt that the Lakers need a healthy Gasol to regain their defensive proficiency.
Grade: C+
Intangibles
Having been called out by both Kobe Bryant and Mike D'Antoni to make adjustments to the system, Gasol hasn't been able to respond.
Furthermore, being benched for the past few games to cope with his ailing knees has left little room for the big man to adapt to a system that doesn't fit his skills.
Gasol has always been regarded as soft.
His inability to respond to the challenges he faced this season as well as his ongoing knee issues have only emphasized the label of softness he has carried with him throughout his career.
Grade: C
FINAL GRADE: C

Keep Reading

Los Angeles Lakers: Like this team?