Right Choice or Not, Contract Made Mark Sanchez the Only Choice for Jets QB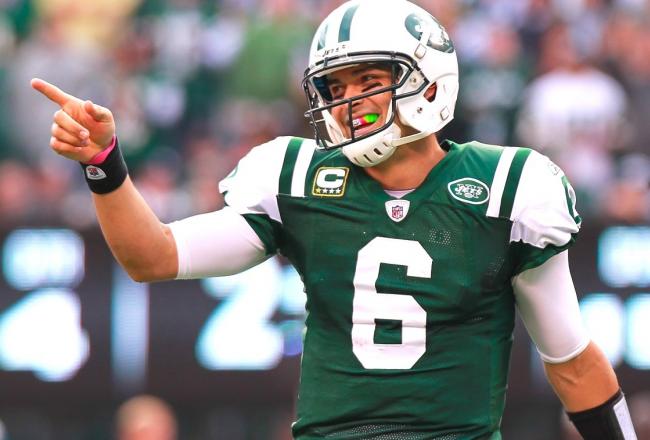 There was never really a quarterback controversy for the New York Jets. The only real controversy was how the Jets would eventually try to explain turning back to the struggling Mark Sanchez over Greg McElroy.
I can explain why: It's all about the Benjamins.
Rex Ryan, understandably so, didn't go that route in explaining it to the media.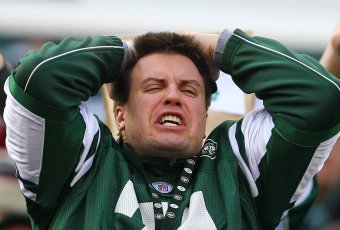 Al Bello/Getty Images
"When I looked at everything," Rex said at his press conference, "the biggest thing that I kept coming back to was what I had mentioned before about, 'Who gives us the best opportunity to win, and in particular this week?', and I think when I kept coming back to that, the correct answer is Mark Sanchez."
We've heard that before. That may be part of the answer, but the Jets didn't have any other choice.
Not with the contract they gave him this offseason.
The Jets extended Sanchez's rookie deal into a five-year, $58.25 million contract that fully guaranteed Sanchez $8.3 million next season, whether he is on the team or not. Andrew Brandt of ESPN explained all the details of that extension in his column for NationalFootballPost.com back in March, but he put it best on Twitter Wednesday morning:
The Jets' made a two-year bet with Sanchez in March.$20.5 million guaranteed, betting he would be their guy for two years.

— Andrew Brandt (@adbrandt) December 5, 2012
What if McElroy had actually done well against the Jaguars (an idea not too far-fetched, considering they rank near the bottom of the league in every pass defense metric)?
Eat Sanchez's contract and make McElroy the starter going forward? Search for another quarterback in the offseason?
Forget a quarterback controversy for Week 14 in what's looking like a lost season; we'd have a full-blown quarterback controversy for Week 1 of 2013—and there's time enough left in the season that we may still have one yet.

That likelihood, however, is slim. Not with Sanchez's contract, and now, with four weeks left in the season and no fearsome opponents to speak of, the Jets give him an opportunity to change the tone of the Jets season and his own.
No matter how the season ends, though, this entire situation is a major indictment of general manager Mike Tannenbaum, the brains behind Sanchez's contract extension.
The Jets inked Sanchez to a new deal shortly after their failed courtship of quarterback Peyton Manning. The timing of the deal led many to believe that the contract was something of an apology, or at least an attempt to make amends and prove to Sanchez that they do, indeed, have confidence in him.
Sanchez as the starter: right move or wrong move?
Sounds like remorseful buyer's remorse.
Tannenbaum, who was brought in as the director of player contract negotiations in 1997 specifically for his shrewdness in dealing with the salary cap, has failed the Jets miserably as general manager, specifically in his mismanagement of the cap.
Chew on that.
If you thought the "controversy" was bad in the three days between the Cardinals game and the announcement, imagine how bad it could have been for eight months between football games with over $8 million hanging in the balance.
Erik Frenz is the AFC East lead blogger for Bleacher Report. Be sure to follow Erik on Twitter and "like" the AFC East blog on Facebook to keep up with all the updates. Unless specified otherwise, all quotes are obtained firsthand or via team press releases.
This article is
What is the duplicate article?
Why is this article offensive?
Where is this article plagiarized from?
Why is this article poorly edited?

New York Jets: Like this team?