Who Should Stay and Who Should Go for the Oakland Raiders?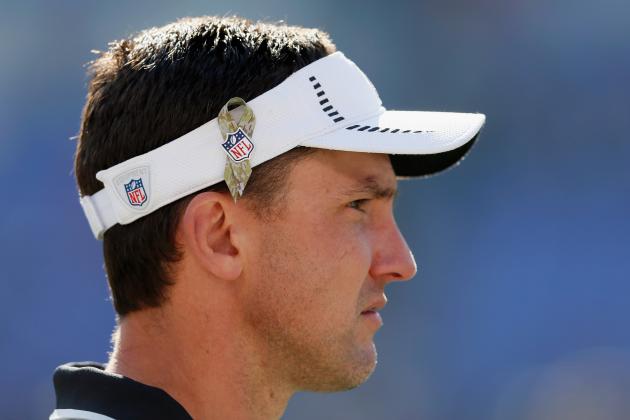 Rob Carr/Getty Images

As the Oakland Raiders continue the 2012 season under first year general manager Reggie McKenzie and head coach Dennis Allen, tough questions will need to be asked as Oakland tries to build towards 2013 and beyond.
Do they stay keep quarterback Carson Palmer? Safety Michael Huff? Offensive coordinator Gregg Knapp?
Who should stay and who should go?
Begin Slideshow

»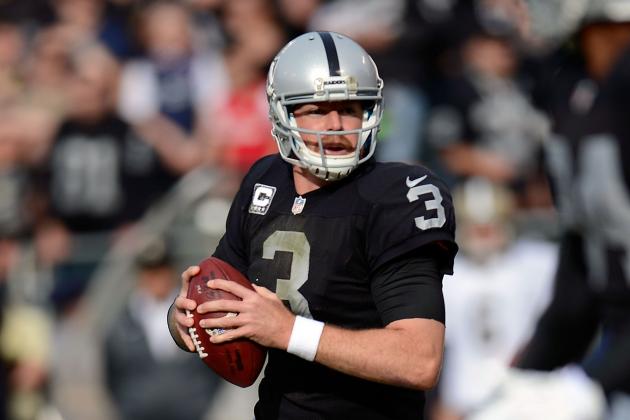 Thearon W. Henderson/Getty Images

Oakland Raiders' quarterback Carson Palmer has been playing his best ball since his injury back in 2008 with the Cincinnati Bengals.
Palmer has completed 252 passes out of 415 attempts for 3035 yards so far this season with young wide receiving corps and a faltering running game.
He is also due $13 million in salary in 2013. While it's a big salary cap hit, it's worth the price to keep consistency at the quarterback position.
Even though he was a holdover from the Al Davis and Hue Jackson era, Carson Palmer has proven he can adapt and play well in offensive coordinator Greg Knapp's offense.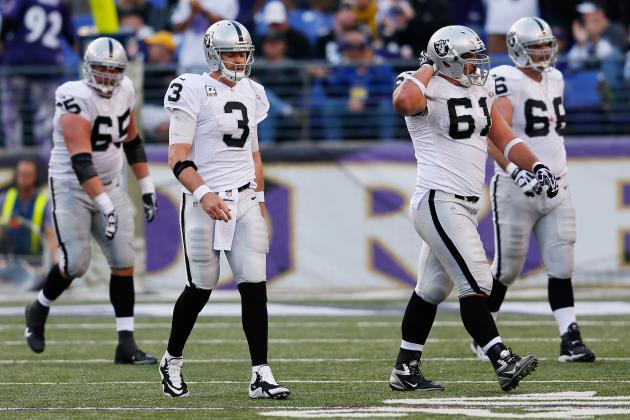 Rob Carr/Getty Images

G Mike Brisiel – Brought in by Coach Knapp to help with the zone blocking scheme, he's been as successful as Oakland's last ranked run game.
G Cooper Carlisle – Another part of the puzzle that hasn't worked. He hasn't grasped the zone blocking scheme and is a free agent in 2013. GONE
T Willie Smith – Second-year tackle that was picked up as an undrafted free agent by the Washington Redskins, but was cut in 2012. Signed the next day by Oakland, he hasn't progressed and will should be cut as well.
T Khalif Barnes – Khalif Barnes is in his final contract year with the Raiders and is a free agent in 2013. Barnes is an aging player who's skills are diminishing.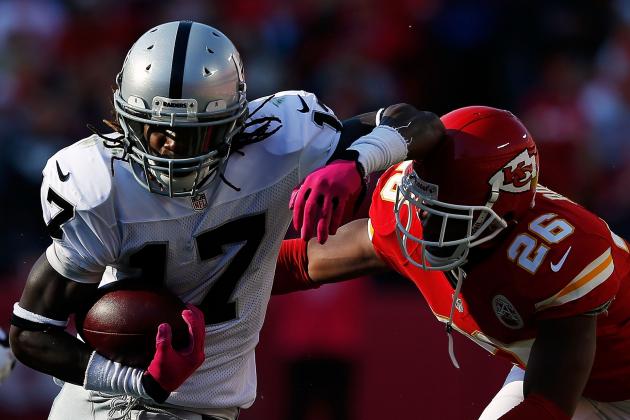 Jamie Squire/Getty Images

Wide receiver Denarius Moore may be the most dependable wide receiver on the team.
While he may be third on the team in receptions (behind tight end Brandon Myers and fullback Marcel Reece), he is one of the more reliable receivers on the team.
Would he be a number one or number two wide receiver on any other team?
No, but on this Oakland Raiders team he's been one of the most reliable, sure-handed options for quarterback Carson Palmer.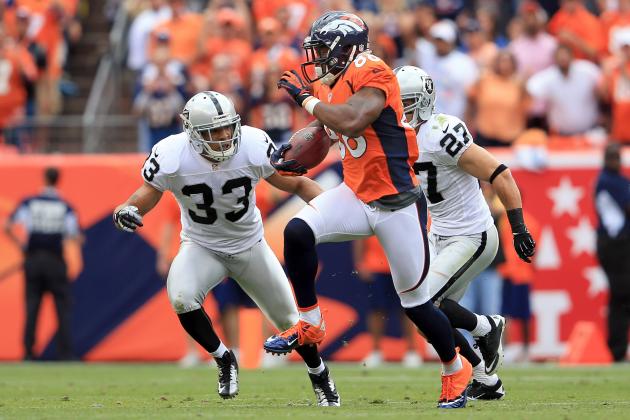 Doug Pensinger/Getty Images

Absolutely nothing positive to say about Giordano's performance as safety.
He's burned often, makes bad reads and chooses bad angles for tackles.
A free agent in 2013, it's best for Oakland to cut its losses here.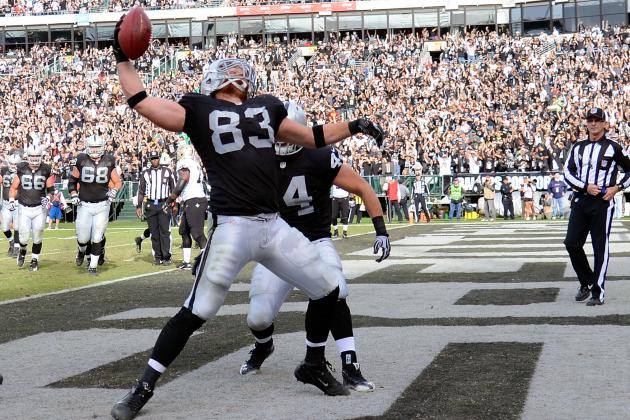 Thearon W. Henderson/Getty Images

Tight end Brandon Myers leads the team in catches and has become a threat down the middle of the field. When quarterback Carson Palmer needs to attack the middle of the field, he looks Myers's way.
An area of improvement for Myers is run blocking. With more effort in this area, Myers can become a true, well-rounded tight end, which the Raiders sorely need.
Brandon Myers becomes a free agent in 2013, so the Oakland Raiders will be smart to lock him up!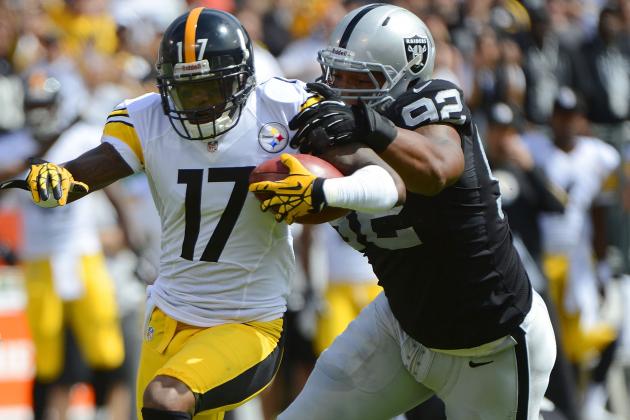 Thearon W. Henderson/Getty Images

The defensive tackle has seen an injury plagued season but does lead the team in sacks with three (which doesn't say much for this Raiders' defense).
He is due $7,500,000 in 2013 with a cap hit $2,240,000. Neither of which are worth the price for Seymour.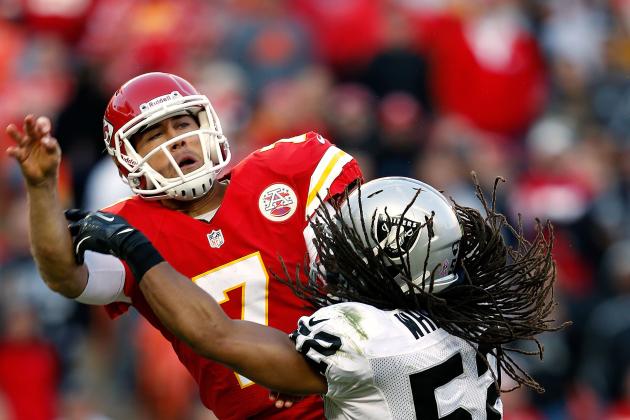 Jamie Squire/Getty Images

Linebacker Philip Wheeler (along with Miles Burris) have been diamonds in the rough in the Raiders' linebacking corps.
Wheeler was brought in on a one-year contract after playing four years with the Indianapolis Colts and quickly became the Raiders' leading tackler.
He's easily the team's best linebacker on the field and becomes a free agent in 2013: Lock him up and get this guy a contract!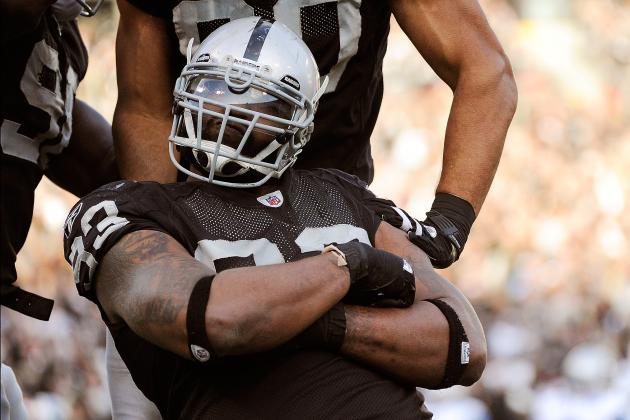 Thearon W. Henderson/Getty Images

Tommy Kelly was a guy that was supposed to anchor the defensive line with Richard Seymour.
Instead he's got zero sacks and is 12th on the team in tackles.
He is due $6,500,000 in 2013 and has a cap hit of $8,892,856.
The Oakland Raiders are not crazy enough to keep him in 2013, are they?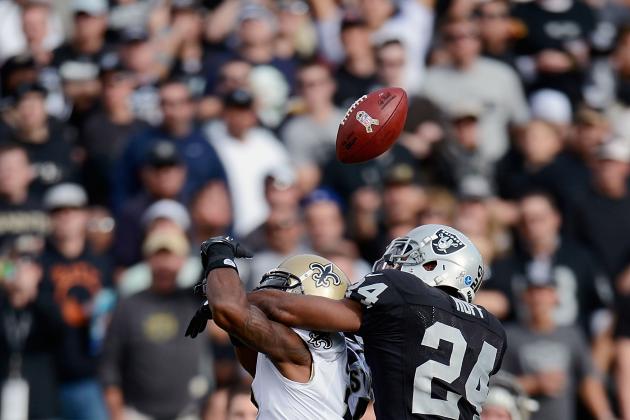 Thearon W. Henderson/Getty Images

Safety Michael Huff has done the near impossible when he was asked by the Raiders' coaching staff to switch to cornerback when the position was decimated by injuries.
For the most part, he's played extremely well and his willingness to make the switch shows his a player willing to do anything to help the team.
Oakland needs more guys like this.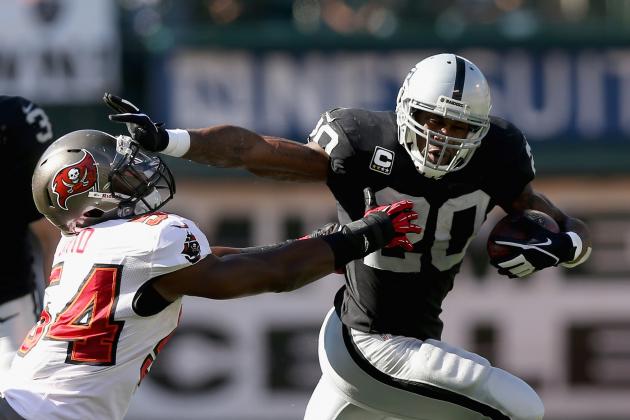 Ezra Shaw/Getty Images

Surprised?
Yes, running back Darren McFadden is a stud. And yes, he runs hard when and has led the league in rushing when he's part of a power running game.
He also has never played a full season in his five year career as an Oakland Raider.
Darren McFadden also becomes a free agent in 2014.
Don't get me wrong, I'm a BIG fan of DMC. HUGE FAN. But I also prepare each season (and take bets) as to when he's going to get injured. My heart just can't take it any more!
Be that as it may, now may be the time to start shopping this stud running back around the league for draft picks as general manager Reggie McKenzie continues to build this Oakland Raiders team.
Kirby Lee-US PRESSWIRE

I'm willing to go easy on Oakland Raiders' defensive coordinator Jason Tarver.
He's in his first NFL season as a defensive coordinator, and doing the best he can with a unit that is overpriced and underperforming.
Coach Jason Tarver's coaching history
1996–1997 West Valley College (Linebackers/Defensive Backs/Special Teams)
1998–2000 UCLA (Graduate Assistant)
2001–2003 San Francisco 49ers (Offensive Quality Control)
2004 San Francisco 49ers (Asst. Running Backs/Offensive Assistant)
2005–2010 San Francisco 49ers (Outside Linebackers)
2011 Stanford University (Defensive Coordinator/Linebackers)
2012–present Oakland Raiders (Defensive Coordinator)
We have seen an attempt to be more aggressive by this Raiders' defense (since when have they run this many blitzes?) and if you take into consideration injuries and the poor play of our front seven,
I'd like to see coach Tarver, head coach Dennis Allen and general manager Reggie McKenzie continue to build this defense with Tarver staying on board for another season as defensive coordinator.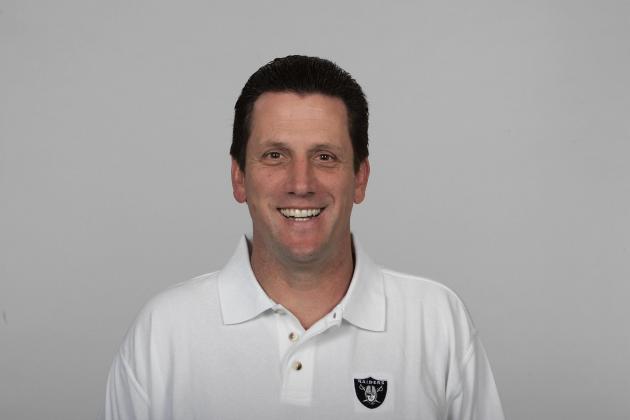 Getty Images/Getty Images

Offensive coordinator Greg Knapp has had some success (and failures) in the NFL with a few teams.
While he may have helped get the San Francisco 49ers to the playoffs during his time with them from 2001-2003 and his offense led the Atlanta Falcons to an 11-5 NFC Division Championship season under Michael Vick.
He's also been part of some horrible teams, including his first stint with the Oakland Raiders back in 2007-2008 (remember coach Lane Kiffin and quarterback JaMarcus Russell?) and the Matt Hassleback-led Seattle Seahawks in 2009.
Coach Knapp's offense so far in his return season to Oakland has been a disaster (to say the least).
The vaunted zone blocking scheme has produced the 31st-placed rushing team in the NFL.
Because of the tepid Raiders' rushing game, Oakland has been forced to throw the ball often late in games. While that's great for quarterback Carson Palmer's numbers, it doesn't translate into wins.
Let's cut our losses early and let Knapp go.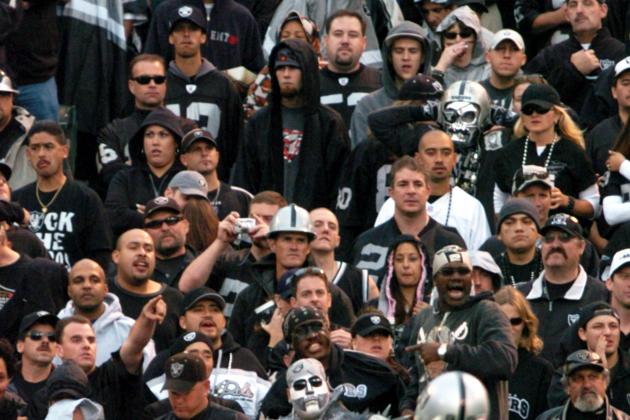 Travis Lindquist/Getty Images