Detroit Pistons: 5 Things We Learned from the Pistons' Preseason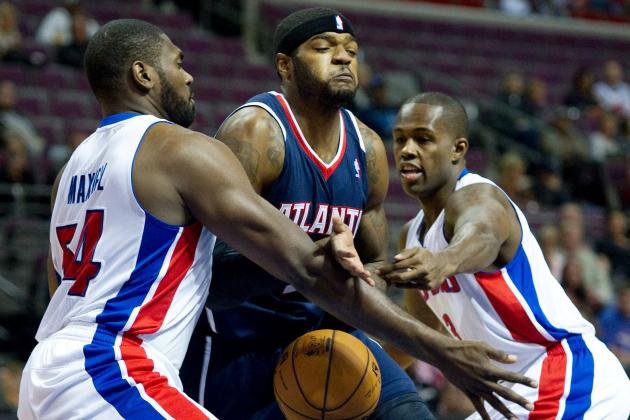 Tim Fuller-US PRESSWIRE
Will the Pistons show fight this season?
What a difference a year makes.
Last year at this time, the Detroit Pistons were trying to learn a new defensive scheme, implemented by a new head coach, and hampered by a dramatically shortened training camp and just two preseason games that were, in reality, glorified scrimmages.
After such a tumultuous and abbreviated camp, a 4-20 start to the season wasn't that difficult to believe. But when the Pistons finished the season on an extended .500 run and drafted the intriguing Andre Drummond to boot, the cliched "wait 'til next year" line started to gain credibility.
This year, with a full camp and preseason schedule, with a year of coach Lawrence Frank's schemes under their belts and coming off that 21-21 run, the Pistons' preseason deserves meaningful scrutiny for the first time in many years.
And meaningful scrutiny is what you will get when you read on.
What can we glean from the now-completed Pistons' preseason?
Begin Slideshow

»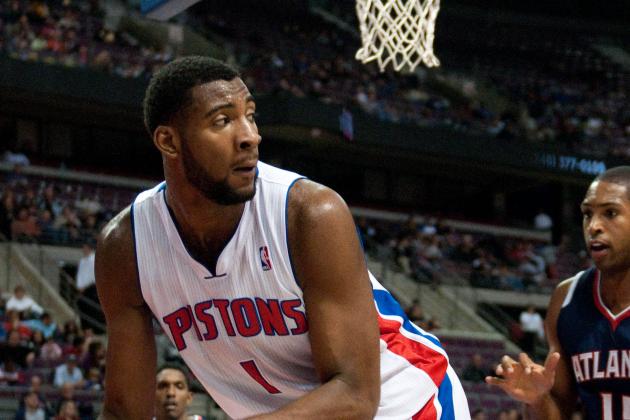 Tim Fuller-US PRESSWIRE
Andre Drummond's shot-blocking, offensive rebounding and high scoring percentage—not to mention his hustle—make him a soon-to-be starter.
We all heard it over and over again when the Pistons selected Drummond with the ninth overall pick in this year's draft. Unlimited upside, but raw. Undisciplined. A project. Needs to mature. Don't look to him to contribute right away. Yadda yadda yadda.
I say yadda yadda yadda because, from Drummond's play this preseason, we heard something very different. Something that sounded a lot more like "gimme the ball."
Averaging only 16.5 minutes per game in eight preseason games, the No. 9 overall pick logged per-game averages of 9.0 points (on 62 percent shooting), 5.9 rebounds and 1.4 blocks. And many of his plays have been of the highlight-reel variety, like the reverse alley-oop over LeBron James and Ray Allen, and blocks on guys like Ed Davis and Al Horford.
In addition, despite his limited playing time, Drummond led the team in blocks, was fourth in scoring and second in rebounds. He flies down the court in transition, and grabs offensive rebounds, which gives the Pistons more second-chance scoring opportunities.
The long and the short of it is the Pistons haven't had a player this exciting since Ben Wallace in his prime. And like Wallace, Drummond is going to be the face of the franchise before very long.
This writer predicted before preseason began that Drummond would crack the starting lineup while the season was still young. I still believe that, not only because of Drummond's readier-than-he-was-given-credit-for skills, but also because Drummond at the 5 means Monroe can start at the 4...and finally give other teams a reason to worry when they see the Pistons on their schedule.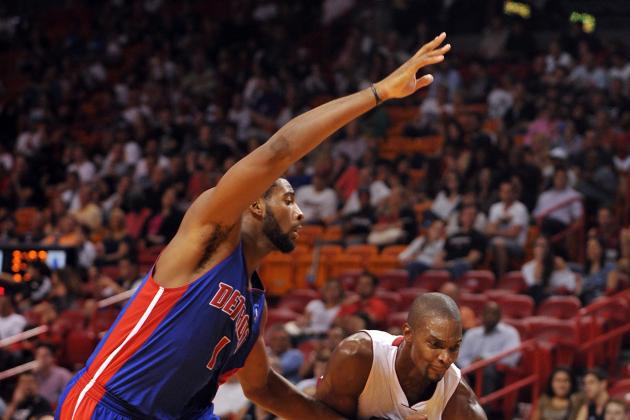 Steve Mitchell-US PRESSWIRE
Greg Monroe and the Pistons got their hats handed to them by the Heat. But the Pistons are headed upward.
The Pistons' biggest loss this preseason was to the Miami Heat. The NBA's Big Three took it to the boys in red, white and blue, opening up an 18-point lead after one quarter. And this without Udonis Haslem and Mario Chalmers.
But there is a bright side to consider. The Pistons missed 18 of their first 22 shots. Yes, the Heat were playing tough defense, but when the Pistons did get open looks, they couldn't hit the side of a barn with a cow. They shot just .125 from beyond the arc.
The chances of the Pistons being as cold the next time they play each other are low.
In addition, the Heat have reached their ceiling. Wade, James and Bosh, though tremendously talented, are not going to improve markedly at this point in their NBA careers.
Can you find any qualified NBA commentator who can say the same about Drummond, Greg Monroe and Brandon Knight?
Don't look for the Pistons to dethrone the NBA's elite team this season. It's not gonna happen.
But the Pistons' time is coming. And it's not far off.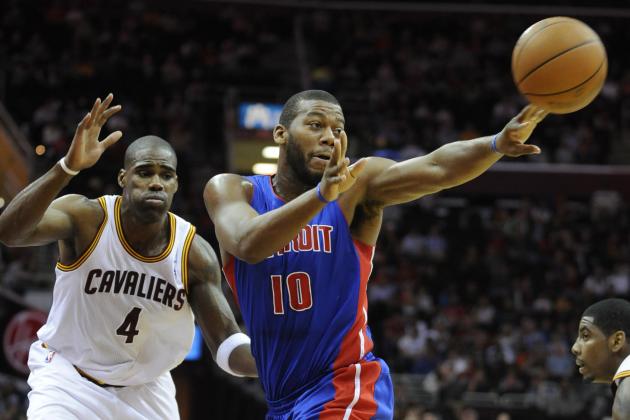 David Richard-US PRESSWIRE
Greg Monroe wants to lead the Pistons in the fast break.
In another article, I talked about how coach Lawrence Frank is encouraging the Pistons to score on the run after defensive stops. The catalyst just might be Greg Monroe.
This preseason, after he grabbed a rebound or made a steal, Monroe often looked to lead the break, something he rarely did his previous two seasons. He's already well-known for his passing ability, but now he's willing to put the ball on the floor as well—and seemingly more adept at it.
With Monroe, Drummond, Knight and Rodney Stuckey, the Pistons have a fast, athletic core that should really be able to score in transition.
Their transition defense is still a major concern: the Miami Heat, for example, scored 36 fast-break points on the Pistons. But with Monroe's passing skills and newfound desire to lead the way, these guys are going to run like the dickens—out of control sometimes, but running wild nevertheless—and as a result, they're gonna be a heckuva lot of fun to watch.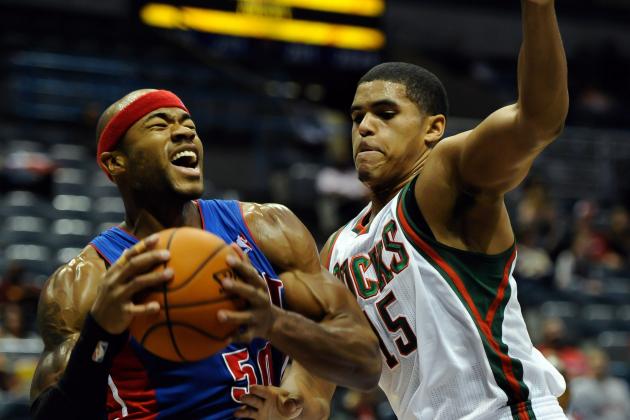 Benny Sieu-US PRESSWIRE
Corey Maggette is the Pistons' only injury, which might save their impending West Coast trip—not to mention their season.
Outside of Corey Maggette, who's been sidelined with a strained calf muscle, the Pistons are injury-free. And that might just save their season.
After the season opener against Houston, the Pistons face a brutal six-game, nine-day Western road trip, during which they'll face the Lakers with Dwight Howard, Oklahoma City fresh off their NBA Finals appearance and the Denver Nuggets with Andre Iguadola.
Yes, Kobe Bryant is injured and the Thunder lost James Harden, but the Pistons already struggled on the road this preseason, going 0-4 with three blowout losses and playing with far less aggression and passion than at home.
Had the Pistons gone into this road trip with any significant injuries, they could easily have been looking at a 1-6 record after the road trip—which can be demoralizing for a young team with elevated expectations.
I look for the Pistons to emerge from the road swing with a 3-4 record, and feeling awfully good about themselves—as well they should.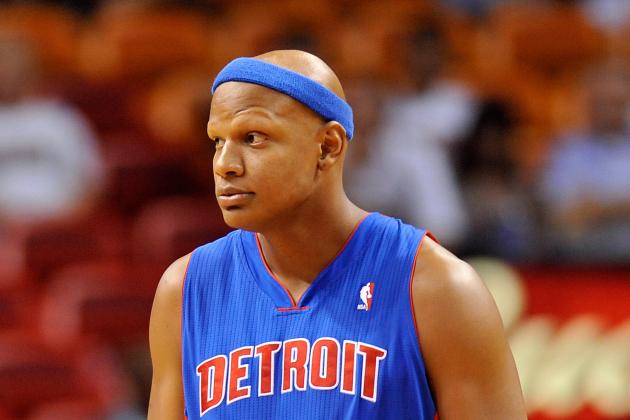 Steve Mitchell-US PRESSWIRE
The good news is, you won't see this guy on the court very often this season for the Pistons.
It's clear after the preseason that the Pistons are going into the regular season with a starting rotation of Brandon Knight, Rodney Stuckey, Tayshaun Prince, Jason Maxiell and Greg Monroe.
But for how long?
Drummond's play will almost certainly buy him a spot as a starter in the near future and the Pistons' management is eager to shift Monroe to the 4, which will help Drummond's cause as well.
For now, Drummond will start the season coming off the bench. His partners off the pine figure to be prodigal sub Kyle Singler—who had a very nice preseason—Corey Maggette, Will Bynum—who's played his way back into Frank's favor—and Jonas Jerebko. Much was made of Slava Kravstov earlier in the preseason, but Kravstov averaged just seven minutes per game and right now looks to be a longshot for big minutes.
Austin Daye, shooting just 17 percent in his four preseason games, including 0-5 from three-point range, has most likely and thankfully played his way out of the rotation. Same for Charlie Villanueva, who in his six games shot the lights out by comparison: 22 percent from the floor, six percent from three-point range.
But before you fret about Villanueva's contract for the umpteenth time, realize that at this point, it's no longer that big a deal. First of all, the Pistons aren't the only team in the history of the NBA to have a bad contract. Now they just have to do something about it, as Dumars did brilliantly with the disappointing Ben Gordon.
Trading Villanueva's contract—no team wants Villanueva for his playing skills or lack thereof—is realistically impossible. So Villanueva is an expensive insurance policy this season. But with the amnesty clause still available, and new owner Gores looking to win, Charlie V. will be watching from an armchair next year. And Daye, whose contract expires at the end of this season, will be traded by the deadline or simply not re-signed.
But the good news is, if these guys are out of the rotation, that means the rotation has gotten better. Much better.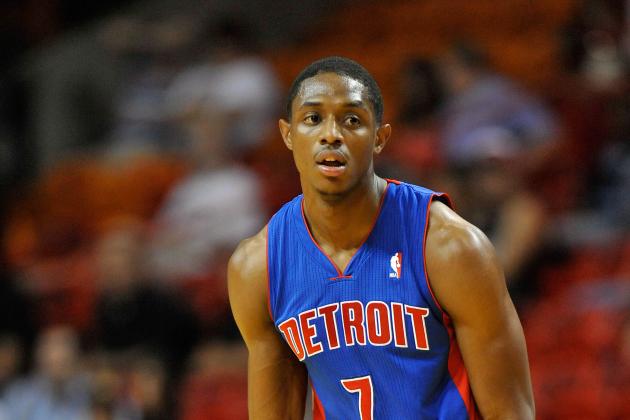 Steve Mitchell-US PRESSWIRE
Brandon Knight will lead the Pistons into a season of promise.
The Pistons finished the preseason at 4-4—continuing their .500 run from last year. But preseason is really a time to examine puzzle pieces. So conclusions cannot be drawn from the record itself.
Their road struggles, including two blowouts, are a cause for concern. But the impressive play of Andre Drummond, as well as Greg Monroe's continued emergence and Brandon Knight's progression, bode well for the Pistons coming out of the gate.
Amazingly, Sports Illustrated's Power Rankings slots the Pistons at 24th in the league going into the regular season. With a solid preseason behind them, the team deserves to be closer to 15th with a bullet. They'll be in solid contention for the playoffs—and look to be buyers at the trade deadline.
But the best news of all is this: the preseason is over. Now the games count—and matter. So enough talk. Let's hoop it up.