San Francisco 49ers vs. Arizona Cardinals: Final Game Grades, Analysis for Cards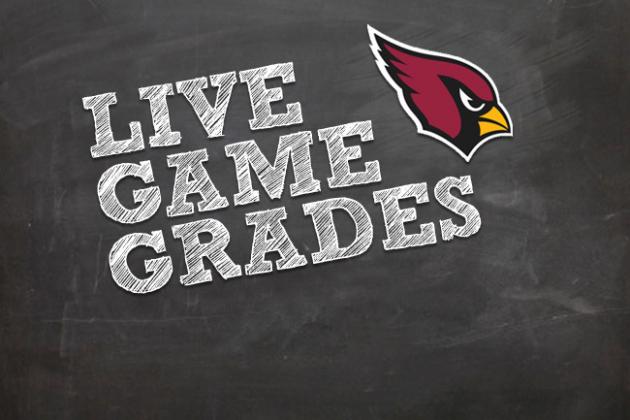 San Francisco 24, Arizona 3
Is it time for the Cardinals to abandon ship, pick up the pieces and regroup for next season? At 4-4, they are in the middle of not only a four-game losing streak, but the toughest part of their schedule as well.
If the team performs over the next two games as it did Monday night on ESPN, the Cardinals will enter the Nov. 25 home game against the St. Louis Rams at 4-6 and on a six-game losing streak—the same amount of games in a row they lost last season before finishing 7-2 to round out the season at 8-8.
The performance was lackluster. It was frivolous. It was repulsive.
Enough about the first-half performance of Ray Horton's defense. There are other aspects to get to as well. Final game grades are a click away.
Begin Slideshow

»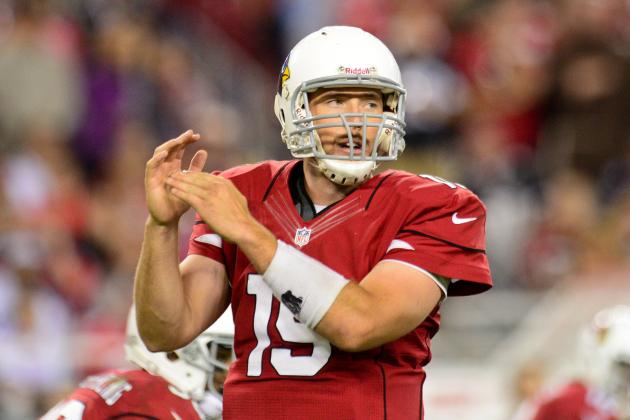 Matt Kartozian-US PRESSWIRE

Final Grade: C
John Skelton had opportunities in the second half when given time to throw. He made plays—though not enough plays to make a difference—and looked comfortable in the pocket as always. If he played the first half as he did the second, the game may have been closer.
In no way is that to say Skelton would have won them the game with a better first-half performance, but it would have certainly been a more entertaining Monday night affair.
Skelton completed 32-of-52 for 290 yards and a first-half-ending interception on a Hail Mary pass.
He missed plays and left yards—and perhaps points—on the field. Though he looked good during the second half, he has to improve his first-half performances. As has been the case throughout his career.
Fourth Quarter: C
He was not able to get the ball into the end zone, but Skelton played well again in the final frame. He completed 11-of-19 for 94 yards and had the Cardinals on the doorstep of scoring a touchdown at the end of the game.
Third Quarter: B
It is amazing what a Cardinals quarterback can do with protection. Skelton was good on a scoring drive because the line held up for him. It led to just a field goal, but it is better than what was being had through the first two-plus quarters.
Skelton completed 10-of-12 passes during the third frame and was not sacked once. He is showing what he can be with an offensive line.
Second Quarter: C-
Skelton is struggling against the 49ers top-ranked defense. No deep routes as expected, but the short routes are coming in spurts—not consistent enough to put a drive together. He will have to step it up to keep his team in this game.
First Quarter: C
The first play run was a screen pass to LaRod Stephens-Howling, and it gained 23 yards. But after that, Skelton did nothing to "wow" anyone. We knew it would be difficult against the 49ers defense, and it has been early.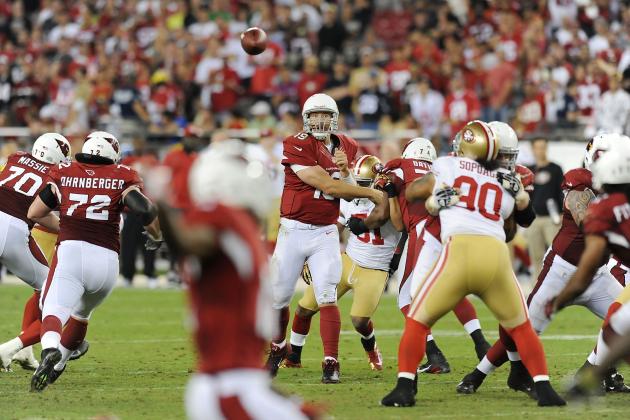 Norm Hall/Getty Images

Final Grade: D+
The second half was good in terms of yards, drive production and time of possession, but the points were not there, nor was the offense at all during the first half. For the most part, the offensive line held up in pass protection. But boy, were they awful at protecting for the run game.
It appears they can do one or the other; the line can either pass protect or run protect. Never both. Most times neither.
One bright spot was Skelton's spreading of the ball to his receivers. Andre Roberts once again led the team with seven receptions for 65 yards; Larry Fitzgerald had five receptions for 52 yards; rookie Michael Floyd had a career-high five receptions for 35 yards.
All three receivers were targeted 11 times each.
LaRod Stephens-Howling carried the ball eight times for just six yards—a far cry from his career-high 20-carry, 104-yard outburst last week in Minnesota.
Fourth Quarter: C+
Skelton was the offense during the fourth quarter. That much we know. He was unable to find the end zone. We also know that.
Receivers not named Larry Fitzgerald stepped up to make plays when the outcome had been decided. It was a depressing game to watch, but if you can take anything from the second half—the fourth quarter in particular—it is that the offense can be good when run properly. That includes having good protection from the men up front.
Third Quarter: B-
With the run game abandoned, Skelton was able to drive the offense down the field and get on the board for the first time. A field goal is not what they wanted, but anything is better than what had been achieved.
Second Quarter: D+
A very mundane start to the game for the offense as a whole. Larry Fitzgerald has been targeted twice, but he likely will be credited with two drop, as he has dropped two third-down pass attempts from Skelton.
The run game is going nowhere fast. Something needs to happen, or this game is going to get out of hand. The defense is doing all it can to keep them in it.
First Quarter: C+
The aforementioned screen pass to Stephens-Howling highlighted a short initial drive. Two run plays went nowhere and Skelton's third-down pass fell incomplete, forcing a punt.
The second drive went three-and-out and was very predictable.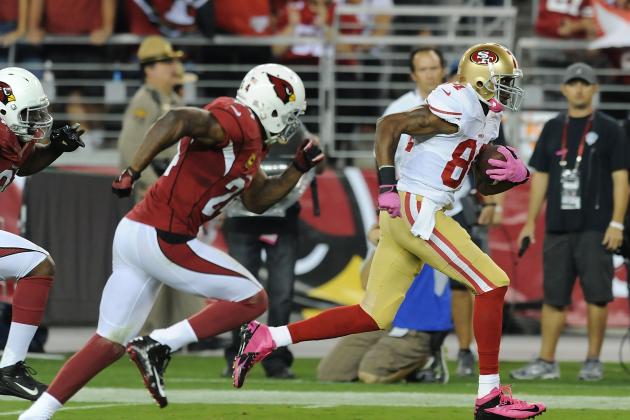 Norm Hall/Getty Images
The Cardinals forgot how to tackle Monday night, leading to this Randy Moss 47-yard TD pass from Alex Smith.
Final Grade: D
Alex Smith completed 18-of-19 for 232 yards and three touchdowns for a 157.1 QB rating. Anyone who expected that was expecting a miracle.
The only pass that fell incomplete was a drop by tight end Delanie Walker.
Frank Gore and Kendall Hunter were held in check for the most part, but the Cardinals secondary was made to look rudimentary Monday night. The fact that no one on the team knows how to tackle properly certainly did not help the matter.
If there were less than 10 missed tackles from the Arizona defense, I will be shocked. It was the worst tackling performance I have ever seen from an NFL franchise—and on the biggest stage.
Ray Horton's crew failed miserably on Monday Night Football; but what is new? Failed performances are what Cardinals fans are used to during primetime football games.
There is work to be done, and with a trip to Lambeau Field to face Aaron Rodgers and the Green Bay Packers looming this week, there is not much time to fix the issues.
Lost amid this putrid defensive performance is the fact that inside linebacker Daryl Washington recorded two more sacks and now has eight on the season—by far the most of any player at his position.
Not lost amid this despicable defensive performance is the fact that cornerback Patrick Peterson was made into a fool by multiple 49ers receivers tonight. He was directly responsible for giving up both Smith-to-Michael Crabtree touchdowns in the first half and looked a step slow all game.
Fourth Quarter: B
When the game was already decided, the defense decided to step up and make plays. Tackling improved, but the damage had already been done.
Third Quarter: F
Missed tackles. Once again, missed tackles bite the Cardinals in the backside. Patrick Peterson. William Gay. Kerry Rhodes. Jamell Fleming.
This defense is embarrassing itself on national television.
Second Quarter: C
Daryl Washington is playing lights out once again, recording his seventh sack of the season—that leads all inside linebackers. The run game is not gaining yards in huge chunks as it was in the first quarter, but the passing game is now heating up. Smith is incredibly efficient, having all day to throw the ball.
He has completed 14-of-15 for 146 yards and two touchdowns—both touchdowns being given up by Patrick Peterson. Peterson is playing terrible football tonight.
First Quarter: C-
The Cardinals started on defense, and at first, it appeared San Francisco was on their way to a long, easy scoring drive. But a penalty backed them up, and the scheme of Ray Horton took over. They crossed midfield for one play but were pushed backward on the three consecutive plays that followed.
They are gaining big chunks of yards on the ground, however.
Alex Smith was perfect in the quarter, completing 6-of-6 for 50 yards, including a three-yard strike to receiver Michael Crabtree over Patrick Peterson, who failed to look back at the ball, making it easy for Crabtree.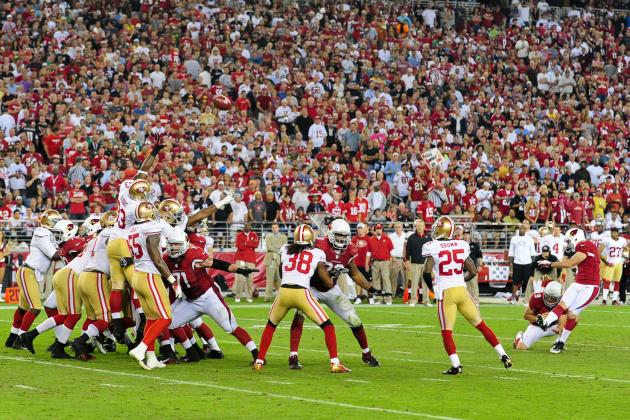 Matt Kartozian-US PRESSWIRE
Jay Feely makes a 28-yard field goal in the third quarter.
Final Grade: C-
The only play of note took place in the second quarter, when San Francisco punt returner Ted Ginn Jr. returned a Dave Zastudil punt 35 yards, setting up the 49ers offense with great field position. Missed tackles and bad angles were to blame.
Jay Feely broke his field-goals-missed streak at two, connecting from 28 yards for the only Arizona scoring of the night in the third quarter.
Fourth Quarter: B
Nothing significant happened once again. It was a boring fourth quarter on the special teams front.
Third Quarter: C
Nothing significant happened on special teams. Jay Feely hit a 28-yard field goal, but he nearly missed it.
Second Quarter: D
The coverage on Zastudil's third punt of the night was not good. Ginn bounced around for a few seconds and found a lane up the left sideline for big yards, setting up Smith and the San Francisco offense with great field position.
First Quarter: C
No substantial plays occurred on special teams in the first quarter. Dave Zastudil punted the ball away on Arizona's first drive, and the 41-yard kick was returned five yards by Ted Ginn Jr.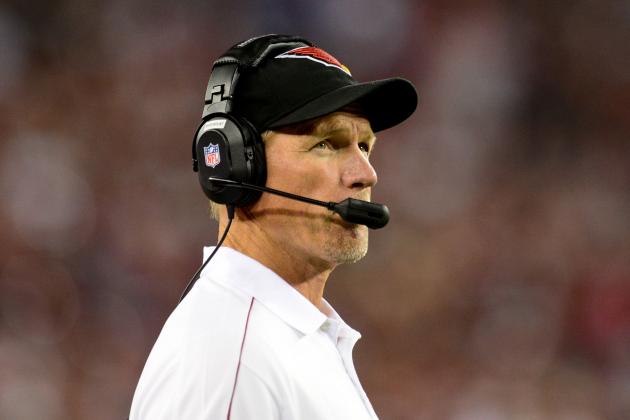 Matt Kartozian-US PRESSWIRE

Final Grade: D+
On offense, Mike Miller forced the run too often when it was not working. Inside, outside. It did not matter. If it was a run play, it was not working Monday night against the 49ers stout defense.
Why it took he and head coach Ken Whisenhunt an entire half to realize that is beyond every fan's wildest dreams, but it was pathetic.
As well as the run game worked in Minnesota, that is how bad it was in front of millions watching on ESPN. The passing game opened up when Miller spread the field with receivers, and Skelton rewarded his coach with a slew of completions in the second half. But why did it take so long for Miller to call plays at which Skelton is known to be adept?
Even the most casual fan can see Skelton succeeds most out of the shotgun and in no-huddle situations.
On defense, Ray Horton was simply outcoached. That and, his players embarrassed themselves by missing routine tackling opportunities. They likely missed more tackles Monday than any team during any game throughout the 2012 season.
Fourth Quarter: B
A pity grade here. With the game in hand, the offensive plays being called were no-brainers. Skelton threw the ball 19 times during the final frame while there were exactly zero rushing plays called.
The play-calling on defense was simple as well. Nine run plays to just one pass play for San Francisco. Nothing too difficult about stopping that.
Third Quarter: B
Miller got it right during the third quarter. The run game, which had failed miserably through two quarters, was finally abandoned. It led to the first two sustained drives of the game, as Skelton was able to lead the Cardinals on a scoring drive toward the end of the quarter. The line held, and Skelton picked the 49ers' defense apart the entire quarter.
Horton can do only so much now. Calling the correct plays is one thing, but his defense has missed countless tackles tonight. They are playing terribly tonight.
Second Quarter: F
Running up the middle—broken record alert—is not working, but up-the-middle plays continue to be called. At what point will Mike Miller and Ken Whisenhunt stop beating the dead horse?
Ray Horton is being thoroughly outcoached tonight. 49ers offensive coordinator Greg Roman has called a perfect game, and Horton's scheme has been rendered useless.
First Quarter: D
Offensively, the play-calling was predictable in the first quarter. The screen pass worked, but the run game is going up the middle (as per the usual early in games), and when Patrick Peterson entered the game as a receiver, San Francisco knew the ball was going to him—which it did, for a loss of two yards.
On defense, the 49ers know exactly what Ray Horton is going to call it seems, as the run game has not been stopped yet. Frank Gore carried eight times for 46 yards while Kendall Hunter carried three times for 21 yards. Smith was perfect in the first frame. That is not a good start for Arizona's top-10 defense.