Redskins vs. Steelers: 7 Things for Pittsburgh Fans to Watch for in Week 8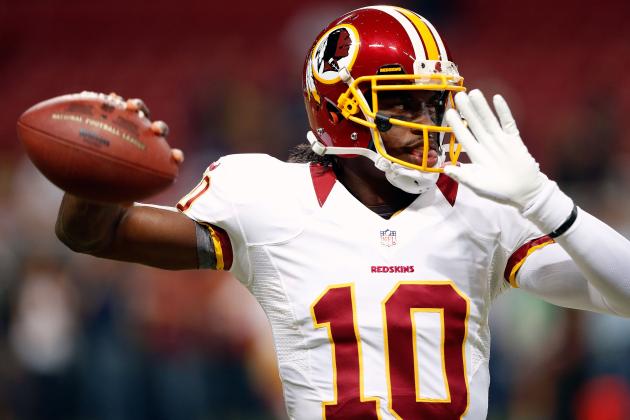 Jamie Squire/Getty Images

The Pittsburgh Steelers and Washington Redskins certainly don't square off on a regular basis, but the Week 8 combatants are certainly not complete strangers to each other.
"If that boy billionaire thinks he can shut me up, he should stick his head in a can of paint."
As you can surely guess, the boy billionaire above is Dan Snyder.
The quote above came from an irate Myron Cope, broadcasting the Steelers' final game at Three Rivers Stadium (December 16, 2000). During a 24-3 Steelers win over the Redskins, Washington owner Daniel Snyder sent a representative into Cope's broadcast booth to request that the screechy-voiced announcer cease and desist with referring to his team as the "Wash Redfaces."
Beyond a tough loss in one game and the on-air rebuttal from Cope, Washington's current four-game losing streak in the series is surely enough to truly give an angry Snyder an actual crimson visage.
However, unlike during D.C.'s other recent failures against the 'Burgh, this time the "boy billionaire" will come equipped with a rich new toy at his disposal, a quarterback who is the league's poster child in 2012 and whose serial number is RG3.
Looking to build on momentum seized during a comeback win against the Bengals, can the Steelers finally attain their first winning record of 2012 with a victory over the 'Skins? Here are seven things for Pittsburgh fans to watch for during Sunday's interconference tilt.
Begin Slideshow

»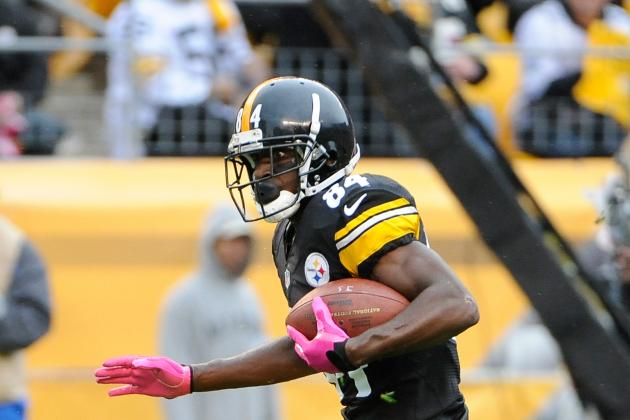 Joe Sargent/Getty Images

This theme is not unfamiliar to Steelers fans for a few reasons.
First, the Black and Gold have had the luxury of battling a few subpar, if not completely depleted (see: Jets and Raiders), defensive backfields in 2012.
Secondly, Pittsburgh's passing attack features the team's most dangerous weapons on any side of the football, and utilizing the speed and playmaking threat the roster sports at wide receiver is simply rational.
The final factor is the Steelers' lack of consistency on the ground. Though the team has had a pair of fine rushing efforts from Dwyer and Mendenhall in the last three contests, there's no guarantee that the ground game will have success. Therefore, much of the onus for the offense's success has come at the expense of opposing secondaries.
The Redskins run defense has been far more effective than its pass rush, which means that a decent showing by Pittsburgh's offensive line (fingers crossed) should allow Ben Roethlisberger and the "Young Money" crew the luxury to attack a suspect secondary.
Many big-name receivers have made huge plays against the Redskins defensive backs, and Washington's lapses at the safety positions have been so glaring that they could actually make Steelers fans thankful for the presence of Ryan Mundy.
(Okay, perhaps I'm overstating things a bit...)
DeAngelo Hall and Josh Wilson have had a roller coaster season at their respective corner spots, so there will be plays available to be made for Antonio Brown and Mike Wallace.
However, the entire receiving crew should be licking their chops.
Though he's had a decent showing, Madieu Williams failed in safety coverage up top last weekend, and the coverage lapse resulted in the game-winning touchdown bomb from Eli Manning to Victor Cruz. It was a microcosm of the team's struggles at the safety position and in the defensive backfield as a whole.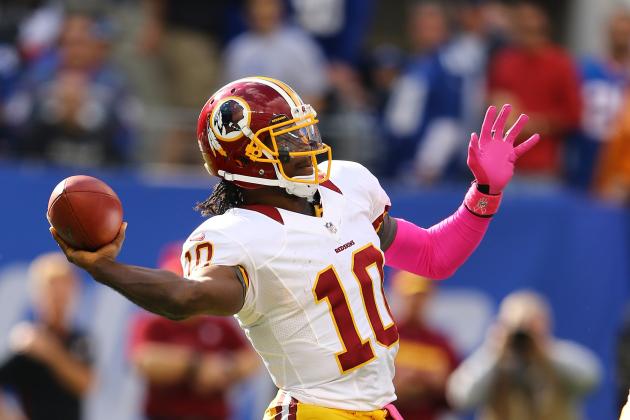 Al Bello/Getty Images

Whether you type R.G.III, RGIII, RG3, R.G.3, or any other of the endless combination that result in the same set of initials, you can certainly come to agree with one word that aptly describes the rookie season of Washington's No.10: awesome.
He's freakishly athletic, respectably accurate, has a cannon arm and showcases an aplomb that most rookie quarterbacks—short of Big Ben circa 2004—can't dream of possessing.
Who would have anticipated the successes of his first season if one would have known that Pierre Garcon's season would be such a disappointment through eight weeks? In fact, Griffin has been sharp in the passing game, finding Santana Moss for four touchdowns while also connecting steadily with tight end Fred Davis and receiver...
...Leonard Hankerson??!!
Yes, indeed, it would certainly seem the adage is true: a quarterback does make the wide receiver!
Griffin's gallery of gifts make him a headache to defend, so it's vitally important that the defensive front—Hampton, McLendon, Hood and Keisel (in whichever combination applies at any given time)—wins the battle with the men in front of them.
After all, it will be hard to contain Griffin if he is allowed a free release to the outside of the pocket, where his playmaking ability only increases ten-fold. However, of even more concern to the defensive front will be the containment of another unexpected success story in "ol' D.C." (see next slide)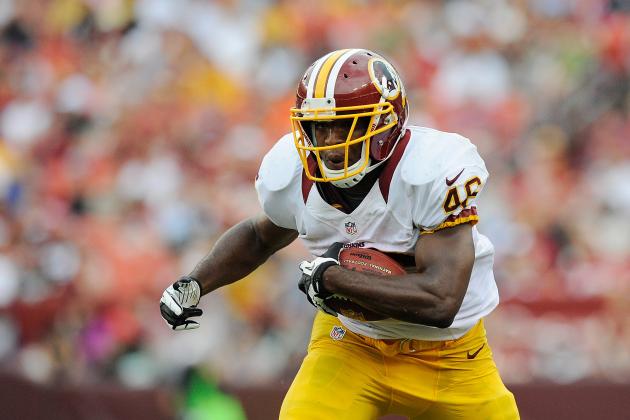 Patrick McDermott/Getty Images

In the NFL, there have been many one-shot wonders at running back. In fact, head coach Mike Shanahan has been a witness to a slew of them, as the list of runners who benefited from the offensive line and overall scheme in Denver reads like a phone book.
Certainly, Washington's offensive line has done a fine job of opening up running lanes for Alfred Morris to hit. Likewise, the tension placed on a defense by the combined threat of Morris and RGIII certainly has a positive impact on his production.
Additionally, Leonard Hankerson and Josh Morgan have been great as blockers on the outside. Steelers fans can appreciate the edge provided by a sound (nay, amazing) blocking receiver.
Despite many factors working in his favor, I feel the biggest benefit Morris has is his own talent.
I think Morris will be a productive back for the long haul and is a few years away from being a household name featured on an offense (and team) geared up for a championship run.
While Dan Snyder may have put in a foolhardy construction (buy 'em used!) effort in the past, the change in direction and philosophy for the Redskins is now paying clear dividends.
Shifting the focus back to Morris, I have yet to use the word stud, so I'll do it now. He's a stud!
His season is the best in the "cap" since Clinton Portis, currently ranked second in the NFL with 658 yards. He has five touchdowns on the ground while averaging 4.8 yards per carry. Not too shabby...
His brute force has allowed him to shed initial contact, breaking tackles at the line of scrimmage on oodles or runs and the Steelers defense will be tested to the max—but hopefully not to its breaking point!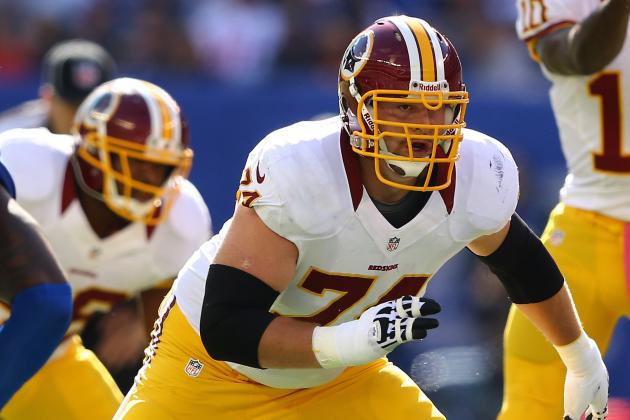 Al Bello/Getty Images

Jammal Brown's injury forced Tyler Polumbus into action for the Redskins, and he has been a liability at right tackle.
In action around Polumbus will be "Ziggy" Hood, Larry Foote and... Lamarr Woodley!
The Washington O-line has done a sound job of keeping Griffin protected and blocked for Alfred Morris phenomenally. Along that line, however, Polumbus marks the weak link that the Steelers defense needs to attack to cause disruption.
Not only will winning the matchup against Polumbus open up rushing lanes for linebackers and keep a steady defensive presence in the backfield, but it will also help the defensive front to keep containment of RG3. The worst thing that could happen aside from a big game by Alfred Morris would be the allowance of Griffin around the edge...particularly to his throwing side on the right!
Andy Lyons/Getty Images

On Sunday Night, Jonathan Dwyer ran rampant over the Cincinnati Bengals, most impressively shown when the team finally ground out the last ticks of the clock late in the fourth quarter. It was the type of game-deciding (or, salvaging) march that Steelers fans have missed in recent seasons.
During the broadcast, it was mentioned by the Michaels-Collinsworth duo that Dwyer is a back in the Jerome Bettis mold, best utilized over the course of an entire game to wear down a defense and progressively "ground and pound" the opposition.
To that point, Dwyer's season had been lackluster compared to his prospects entering camp, having arrived in tip-top shape and showing off for legions of fans at St. Vincent College. His 17 rushes for 122 yards finally reflected the type of optimism that Steelers fans had for him entering 2012.
Part of the disappointment in the run game has been the offensive line and nagging injuries that continually plague the unit. However, I believe another key factor in the team's inconsistent (if not non-existent) run attack has been a misuse of talents.
Isaac Redman, oft-injured before the season, started and took the bulk of carries in the early going. Too many people put stock in his final two games of last year (averaging over seven yards per run), and not enough focuses on his real strength as a committee back who provides an offensive spark or change of pace.
I felt (and feel) strongly that in the absence of Mendenhall, Dwyer should be the featured back with occasional handoffs to Redman. This facilitates both of their experiences and styles. Now, with the team's health forcing its own hand, the Steelers will once again give Jon the bulk of work.
Was last week's effort against the Bengals, who the Steelers have traditionally run well against, a mere aberration? Or, was it a showcase of things to come?
The Redskins have fared well against the run, giving up 85.3 yards per game and 3.9 yards per carry.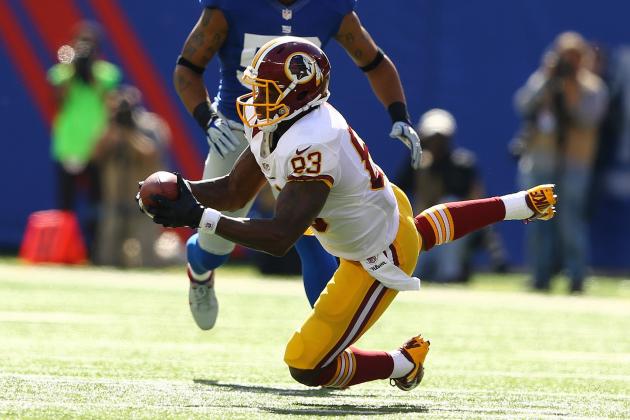 Al Bello/Getty Images

Sunday's game is a showcase for some of the NFL's most productive tight ends to-date in 2012.
"Heeeeeeeeeeeeeeeath!"
It's a call that is becoming very common across Steelers Country in 2012.
Heath Miller can put himself in position for the checkdown pass, find the soft spot against the defense for key first downs, and make the key block when held on the line.
Heath Miller is a do-it-all tight end. Having such a great player is a true luxury. So far, Miller has 31 receptions for 290 yards and five (five!) touchdowns.
For all of the acclaim surrounding Miller, Washington's Fred Davis had been a steady force on the 'Skins offense. His 24 grabs for 325 yards are both team leads, and though he didn't find the end zone, he averaged over 13 yards per catch.
In the wake of Davis' injury, the Redskins have Chris Cooley as replacement. His role in the offense and play time will be interesting to gage.
In a game that promises to have an offensive edge, tight ends will certainly see their share of targets!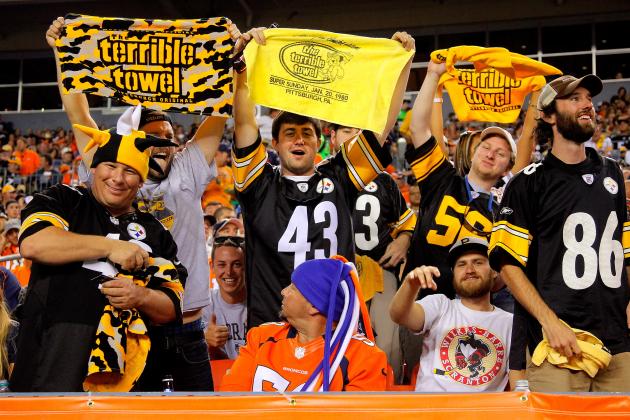 Doug Pensinger/Getty Images

The Steelers look to follow up on a huge 24-17 win over the Bengals by improving their home record to 3-0. Sunday night's victory allowed the Black and Gold to leapfrog Cincy, reclaim a .500 record, and served as the team's first game and win over a division rival.
All of these things were important, vital really...
But the magnitude of the win in Western Ohio will be greatly diminished with a home loss to the Redskins. With a shot to attain a winning record for the first time all season, the Steelers cannot afford to slip up.
After all, if the Ravens are ripe for the plucking, the time is now to make up ground. With Baltimore on the bye, the feasibility of being thick in the division race will be largely dictated on the Steelers' ability to string wins together.
With a victory, one would be able to argue that the team is finally ready to move on from a sluggish start, learn from their mistakes, improve and win.
Yet, with a loss, all of that is nullified.