Breaking Down Rob Ninkovich's Clutch Plays for New England Patriots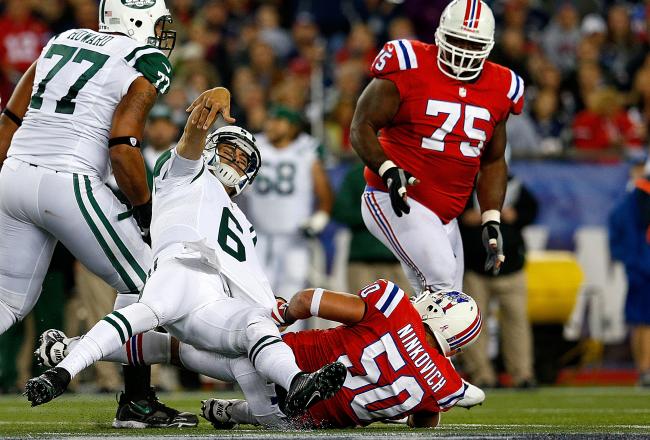 Jim Rogash/Getty Images
When the New England Patriots needed a big play from their defense as much as at any other point in the season, the player who stepped up was the player who has done so more than any other Patriots defender in the past three seasons.
Rob Ninkovich has moved around for the Patriots, playing a mix of linebacker and defensive end, but one thing has stayed the same: his nose for the football. In the past 2.5 seasons combined, he has logged 14.5 sacks, four interceptions, six forced fumbles and eight fumble recoveries.
Head coach Bill Belichick had this to say about Ninkovich's performance (via Patriots.com):
He's at the end of the line, however you want to slice it up, whether he's up or down or end or linebacker, whatever you want to call it, he's an end of the line type player. Rob does a good job for us. He made a big play on the running play there, came inside and made the hit in the overtime series and obviously the strip. He's around the ball and always seems to play well against the Jets. He's got a lot of big plays against those guys.
This season alone, Ninkovich has forced four fumbles and has recovered two of them, helping the Patriots rank first in fumble recoveries with 11 as a team.
How much of it is luck? Miscues by the opponent? Playmaking ability by the Patriots?
It's obviously a mix, but the important thing is that Ninkovich's biggest plays have all come in the biggest moments.
Take, for example, the fumble he forced on Broncos running back Willis McGahee. A touchdown seemed inevitable, but Ninkovich knocked the ball free.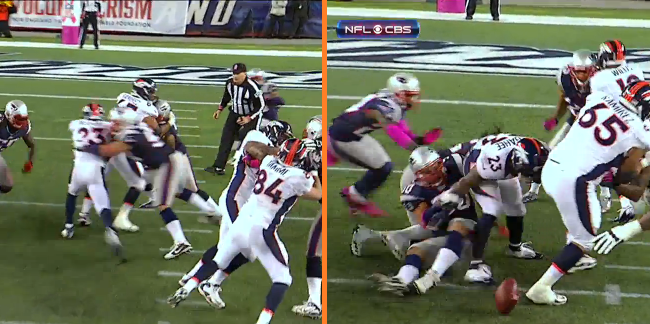 Ninkovich does a great job of prying McGahee's arm off the football as he tackles him, forcing the fumble and allowing Jermaine Cunningham to fall on it.
That wasn't even his first forced fumble of the game, though. He had another one earlier on with a sack-fumble of Broncos quarterback Peyton Manning.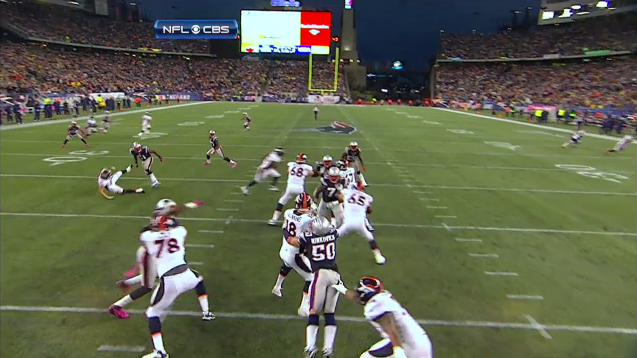 What's impressive about that play is that he started off at left defensive end, rushing across Manning and eventually hitting him from behind. He looped all the way around, never giving up on the play and locating the ball when he got there.
Nothing lucky about that, it's just Ninkovich making a huge play for the defense.
The walk-off sack-fumble recovery by Ninkovich came with an assist by Patriots defensive lineman Jermaine Cunningham, who wrapped his arm around the ankle of Jets quarterback Mark Sanchez.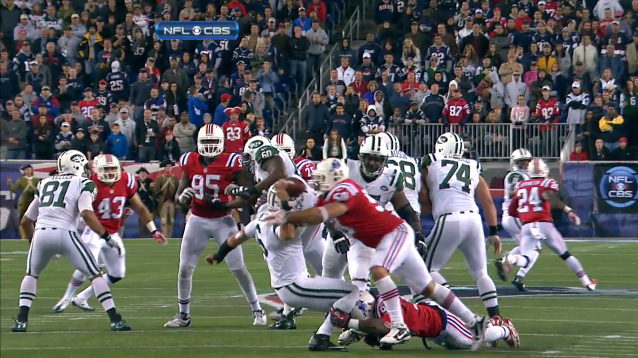 As Ninkovich came in from the top, his helmet knocked the ball loose before Sanchez had a chance to engage the "Tuck Rule" by moving his arm in a throwing motion. How often does one's helmet clank off a football on accident—not vice versa, Tim Tebow—with the player running full speed at the ball-carrier?
My guess is not often.
NFL Films guru Greg Cosell (via WEEI.com) has raved about how much Ninkovich has meant to this defense in the past.
"I thought he played real well, particularly down the stretch," Cosell said of Ninkovich, one of only two NFL defenders to finish the regular season with at least six sacks and two interceptions. "I think Ninkovich, he became a really versatile player. He's not a dynamic, explosive playmaker, play after play. I don't think he's a guy who offenses say, 'We better account for Rob Ninkovich.' But I thought he played really well down the stretch."
Ninkovich proved once again on Sunday night that he is one of the most important yet underrated pieces to the puzzle that is the Patriots defense.
And yes, this defense is still puzzling.
It still gives up a 99.2 passer rating to opposing passers, still yields 8.1 yards per pass attempt and still ranks in the bottom half of the league in sack percentage.
But its ability to make game-changing plays, Ninkovich especially, has helped the Patriots win games.
Ninkovich won't swing the turnaround the Patriots defense is looking for all by himself, but even though the defense may never be in the elite category, or even the good category, Ninkovich's big plays have helped them do just fine in the "good enough" category.
Erik Frenz is the AFC East lead blogger for Bleacher Report. Be sure to follow Erik on Twitter and "like" the AFC East blog on Facebook to keep up with all the updates. Unless specified otherwise, all quotes are obtained firsthand.
This article is
What is the duplicate article?
Why is this article offensive?
Where is this article plagiarized from?
Why is this article poorly edited?

New England Patriots: Like this team?