5 Perennial NBA All-Stars Who Won't Make the Game in 2012-13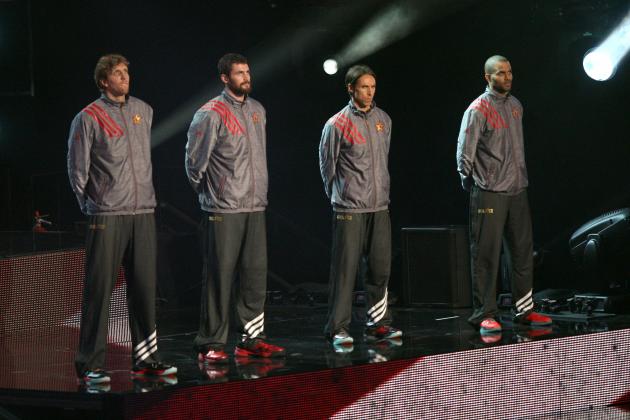 Mike Ehrmann/Getty Images

Roster turnover was the order of the day at the 2012 NBA All-Star Game in Orlando.
Kevin Garnett and Tim Duncan were both omitted for the first time since 1999. Ray Allen, though absent in 2010, failed to make the trip to central Florida, and isn't likely to earn a spot now that he's coming off the bench for the Miami Heat. Amar'e Stoudemire's decline with the New York Knicks ended his All-Star streak at five appearances since suffering a knee injury in 2005.
Such is part of the natural order of the All-Star Game.
Every year, the league's ranks of worthy attendees fluctuate while the allotment of "golden tickets"—24, barring injuries—remains constant. Injuries, age and general regression all play a part in clearing out space for the NBA's rising stars from year to year.
This year will be no different.
The 2013 edition in Houston will almost certainly feature more than a few fresh faces, albeit at the expense of some of the usual suspects. Among The Association's most frequent All-Star weekend fliers, these five are most squarely in the firing line.
Begin Slideshow

»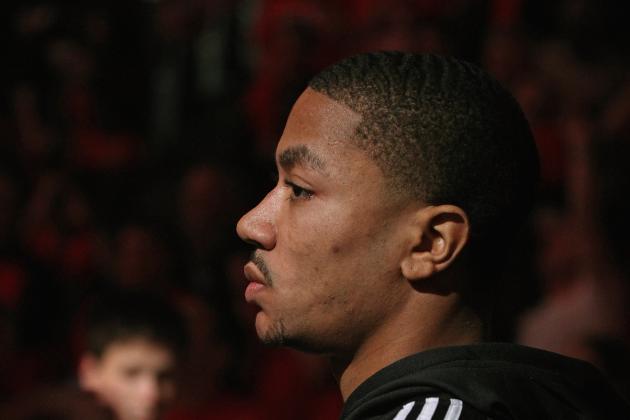 Jonathan Daniel/Getty Images

Derrick Rose's streak of three straight All-Star appearances is all but guaranteed to end this season. The former MVP has suggested he might forgo the entirety of the 2012-13 season to recover from an ACL injury, though he could just as well be back around the All-Star break.
Obviously, Rose wouldn't be able to participate in the Houston festivities if his return is pushed back until late February or March. And even if Rose is ready by, say, early February, he's unlikely to earn a spot ahead of reigning Rookie of the Year Kyrie Irving, who appears primed to elevate his game with the Cleveland Cavaliers this season.
Surely, if Irving is deserving and Rose isn't ready, then the former will have a flight to book while the latter spends the weekend not dancing.
Stephen Dunn/Getty Images

Steve Nash is a shoe-in for the All-Star Game, right?
I mean, he's participated eight times, and now he's moving from a mediocre outfit with the Phoenix Suns to a championship-contending Los Angeles Lakers squad that's bound to be combed over by the media at every turn.
How could he not wind up in Houston in mid-February?
Simple: numbers.
As in Nash's own numbers.
His shooting percentages have gone up, but his scoring and assist averages have declined along with his workload. He'll have fewer (not more) opportunities to drop dimes and fine-dine the twine now that he'll be sharing the ball with Kobe Bryant, Dwight Howard and Pau Gasol on a nightly basis.
As in Nash's age.
He turns 39 just before the All-Star Game. Steve's done remarkably well to keep his body in tip-top shape, but the Lakers aren't going to risk running him ragged before their all-important playoff push. Throw in the ever-increasing specter of injury that comes with age, and Nash's prospects for All-Star selection No. 9 seem even slimmer.
And as in ballots for Jeremy Lin.
It's practically inevitable that Linsanity will be voted into the All-Star Game. He'll have the support of the host city along with countless votes coming in from East Asia, where his popularity is already burgeoning and only figures to grow with the support of the savvy Rockets.
As such, at least one of the West's point guards from last year will probably have to stay home this time around. Of the four that made it last year—Nash, Chris Paul, Russell Westbrook and Tony Parker—Steve appears to be the most vulnerable.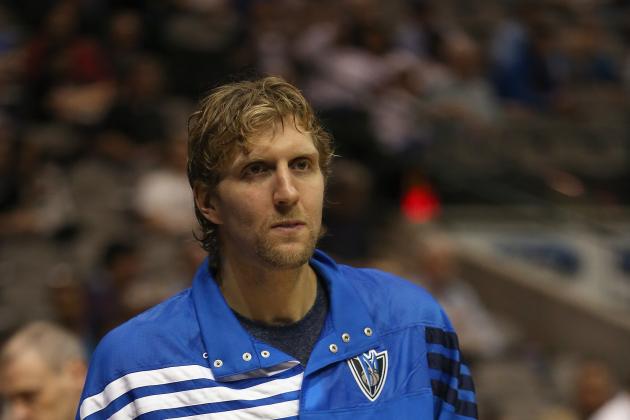 Ronald Martinez/Getty Images

As for one of Nash's former teammates, Dirk Nowitzki is teetering on the edge of his first All-Star-less season since 2000-01.
The face of the Dallas Mavericks barely cracked the Western Conference squad last year after an abysmal start induced by poor conditioning and swelling in his knee.
Nowitzki wound up in Orlando, despite averaging a relatively subpar 19.6 points—on 45.4 percent shooting from the floor, 27.8 percent from three—6.8 rebounds and 2.3 prior to the break and taking a week off in January to get himself in proper playing shape.
Dirk's dealing with similar setbacks in the very same knee right now.
He's had it drained twice during Mavs training camp and has missed the team's last three preseason games while weighing whether to go under the knife or wait for the symptoms to subside.
If Nowitzki opts for surgery he'll likely be out of action for three-to-six weeks, not counting however much time it'll take the 34-year-old power forward to get himself back into basketball shape once he's fit to return.
If he doesn't, Dirk could find himself limping around and coping with pain much as he did for part of 2011-12, when he struggled out of the gate.
Either way, he'll have DeMarcus Cousins hot on his heels for a spot at power forward with the West's best.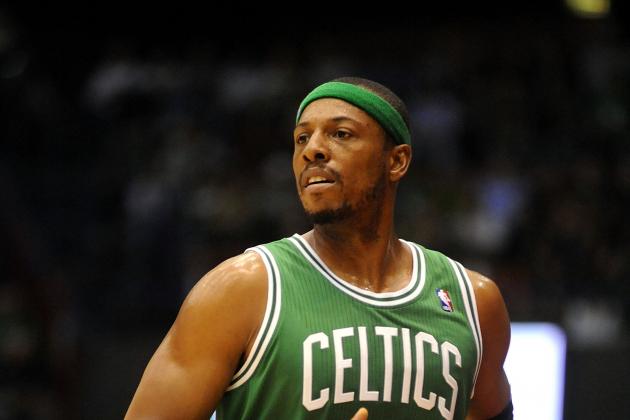 Roberto Serra/Iguana Press/Getty Images

It's been a good run for Paul Pierce.
The Truth has made the trip to each of the last five All-Star Games since the start of the "Big Three" era in Boston after appearing in five straight between 2002 and 2006.
But Ray Allen is no longer with the Celtics, though Pierce's absence won't be on account of Jesus Shuttlesworth's switch to South Beach.
Instead, it'll be Pierce's own decline and the improvement of the Celtics supporting cast that keeps him sequestered from Space City in February. Pierce is still capable of taking over games from time to time, but at 35, he'd be fortunate to sustain his efforts at an All-Star level.
Not that he won't still be a vital part of what Boston does. The C's will need him to attack the basket and spot up for threes as he always has.
Just not as frequently as before. Last season, the C's counted on Pierce to carry a heavy workload amidst injuries to key players and an overall lack of depth along the front line.
The additions of Jason Terry, Courtney Lee, Leandro Barbosa and rookie Jared Sullinger, along with the return of Jeff Green, mean that Boston can call on any number of players to provide the scoring punch it needs.
As such, a reduced role for Pierce, along with Al Horford and Josh Smith both gunning for All-Star spots out of Atlanta, likely means less green at the All-Star Game than usual this season.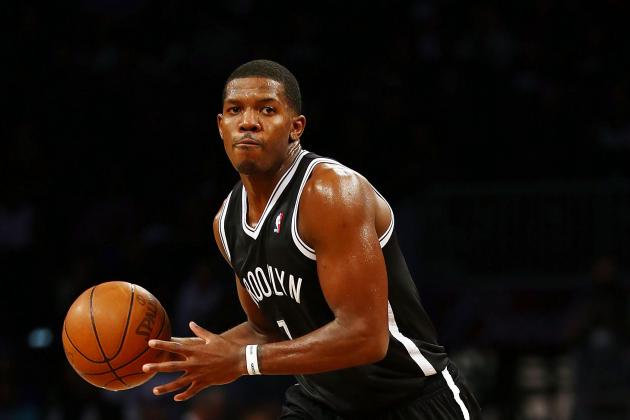 Alex Trautwig/Getty Images

Everyone and their mother has Paul George pegged for a breakout year in 2012-13. The same could be said for the Brooklyn Nets, though not as much for their newest star, Joe Johnson.
True, he'll have no shortage of flashbulbs alighting his every move at the Barclays Center while sharing a backcourt with Deron Williams. And there will be plenty of jubilation in the Big Apple over the Nets' return to relevancy, assuming all goes according to plan.
None of this, though, is particularly good for Iso Joe.
He's been accustomed to having his run of the proverbial joint since he first signed with the Atlanta Hawks in 2005. Whether it was Mike Woodson or Larry Drew calling the shots, Johnson always seemed to have the ball in his hands, pounding the rock and milking the clock until he felt most comfortable launching a jump shot off the dribble.
He won't have such freedom to handle and shoot whenever, wherever and however he pleases, not with a top-five point guard in D-Will orchestrating the arrangement.
Furthermore, Johnson's numbers began to tail off a bit over his last two years in the ATL and only figure to continue to decline now that he's on the wrong side of 30. As such, Johnson's Brooklyn debut may well coincide with his departure from the ranks of perennial All-Stars.