NFL Week 7: Jets Head to Foxboro to Face Patriots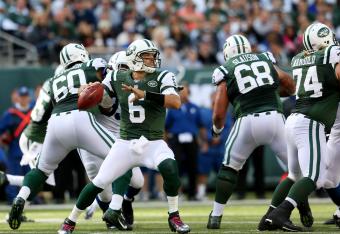 Nick Laham/Getty Images
The Jets are going to be underdogs when they head to Foxboro this weekend. So the question becomes, can the Jets upset the Patriots?
And the answer is, maybe.
It's not out of the realm of possibility. How, you ask? Against the Pats, the game plan remains the same. The Jets defense needs to keep Tom Brady on the sidelines as much as possible and the offense can't turn the ball over (I'm looking at you, Mark Sanchez).
Let's take a closer look at some of the keys for the Jets to win.
Running Game
Shonn Greene needs to keep up what he started against the Colts. I've been plenty critical of Greene, but credit where credit is due, Greene had an outstanding performance against Indy. 161 yards and three TDs is pretty impressive. He was helped by some terrific blocking, a credit to the coaching staff making adjustments during the week in practice. He needs to keep it up against the more robust Pats run defense.
The Jets need to stick with the run, even if it doesn't pay early dividends—if only for the way it burns clock better than the pass. Plus keep an eye out for Jonathan Grimes—suddenly elevated on the depth chart—since Bilal Powell does not look likely to play. Strong reporting by Conor Orr of the Star-Ledger gives us Grimes' history.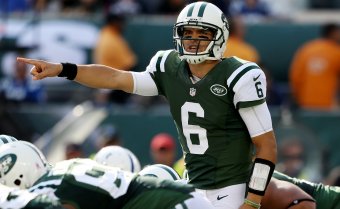 Nick Laham/Getty Images
Ball Security
The running game against Indy was great, but my biggest takeaway was this: No turnovers from Mark Sanchez. Turnovers against the Pats' fast-tempo offense will be killers. There is no way Bill Belichick hasn't pointed out Sanchez' issues with batted and tipped balls. Defensive hands will be in the air. Sanchez must be aware of this. If the passing lanes are not clear, just scramble out of trouble or throw the ball out of bounds. Better to live and fight another down than throw a soul-crushing pick-six.
Additionally, if the Jets find themselves down, Sanchez needs to resist the temptation to play hero ball. He wants to try to make things happen when the Jets are behind, that is his default setting. When he does this, it is often a recipe for disaster—he tries to force throws or get a pass off as he is about to be sacked. If it's not there, don't force it. Better to punt than hand the ball to the opponent with a momentum-changing pick or fumble.
Execution
The Jets need to be aggressive in short yardage. I say anytime the Jets are in 4th-and-2 or 4th-and-1 within the Pats' 30, go for it. You need touchdowns, not field goals against the Patriots. Use Tim Tebow and gamble on his brute strength to pick up the 1st down. New England will be prepared for it because Belichick and Josh McDaniels (the guy who drafted Tebow in Denver) will make certain the entire team is familiar with Tebow's moves. It's unlikely the Pats will be surprised by anything when Tebow comes in. So, it comes down to execution on any Tebow play.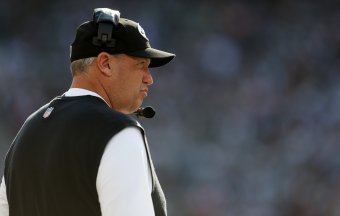 Nick Laham/Getty Images
Coaching
Bill Belichick teams are always well prepared. Rex Ryan acknowledges that Belichick is a superior coach. That's never really been a debate. The Jets' advantage lies in Rex Ryan's motivational powers. The injury losses this team has incurred have given the more inexperienced players an opportunity to step up, and in a weird way, I think that has brought the team closer together. I guarantee you Sanchez is spending extra time with his young receiving corps and I can't wait to see if Grimes can make an impact in the running game.
I think the Jets play best when their backs are against the wall and they cast themselves as a scrappy team with a "no one believes in us, we'll show them" attitude. I think they play with more effort. Effort counts a lot in a rivalry game which is what this has turned into since Ryan came into town.
Anything can happen in a rivalry game. I will not be surprised at all if Ryan resurrects the famous "Burn the Boats" strategy. Here's a link explaining it. Ryan used it to tremendous effect against the Steelers late in 2010. I love it as the Jets' battle cry.
This is a huge opportunity for the Jets. If they can beat new England, they will be 3-0 in the division. Rex will need to remind the team the Jets have beaten the mighty Patriots before. In fact, I'd argue that the seminal win of the Rex Ryan era was when the Jets went to Foxboro and beat the heavily-favored Patriots in the 2010 Divisional playoffs.
The Jets season won't be over if they lose to the Pats. But they have a chance to prove to everyone, and most importantly themselves, that they can bounce back from brutal injury losses and an up-and-down first six weeks to being an opponent that everyone has to take seriously moving forward.
We'll find out what they're made of on Sunday. They will too.
This article is
What is the duplicate article?
Why is this article offensive?
Where is this article plagiarized from?
Why is this article poorly edited?

New York Jets: Like this team?