Los Angeles Clippers: 5 Keys for a Return to the Postseason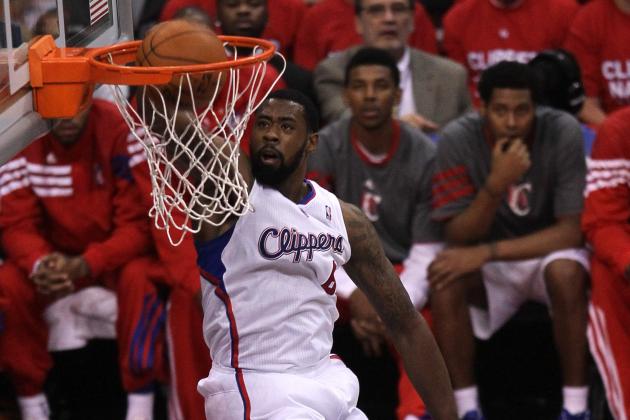 Jeff Gross/Getty Images

The Los Angeles Clippers are coming off a successful year in which they reached the second round of the NBA playoffs before getting swept by the San Antonio Spurs.
For fans of a team that has been the laughingstock of the league for many years, this had to be considered a step in the right direction. And yet, it feels like there's so much more to accomplish.
The team has one of the premier point guards in the league in Chris Paul, a high-flying star in Blake Griffin and a defensive anchor at center in DeAndre Jordan.
The Clips posted a 40-26 record in the strike-shortened 2011-12 NBA season, good enough to earn them the fifth seed in the Western Conference. They also finished just a game behind the third place Los Angeles Lakers.
This year's Clippers team is as talented as any other squad in the history of the franchise, and they're behind only the Lakers and Oklahoma City Thunder in terms of star power in the West.
But several questions loom large. Can they build an early lead in their division as the Lakers are possibly struggling to gel? Is Chris Paul planning to stay in L.A. beyond this season? Will Griffin remain a highlight-reel guy only, or can he improve in all phases of the game?
Coach Vinny Del Negro enters the final year of his own contract, and the pressure to succeed is greater than ever.
Here are five keys that will ultimately determine how far this Clippers team can go.
Begin Slideshow

»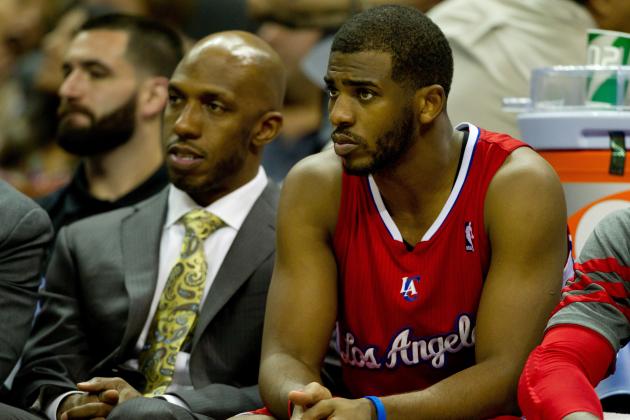 Justin Edmonds/Getty Images

Staying healthy is important for every NBA team, but the Los Angeles Clippers had to deal with injuries the hard way last season.
Guard Chauncey Billups, an excellent shooter and overall leader, was sidelined after appearing in just 20 games. Eric Bledsoe, backup to Chris Paul, missed 26 games. And incoming wingman Grant Hill missed 17 games while playing for the Phoenix Suns.
All three of these guys will be hugely important once the regular season begins. If the team reaches the playoffs, having a healthy squad will be vital.
Both Billups and Hill are veteran guys who have played in big games, but can you imagine this team without Paul, Griffin or Jordan? They'd be lucky to stay competitive against better teams.
The Clippers obviously survived last year long enough to make some noise in the playoffs, but they'll have a tough time making another run if multiple players are injured.
On the other hand, if the gang is intact and ready to go in April and May, last year may have been just the beginning.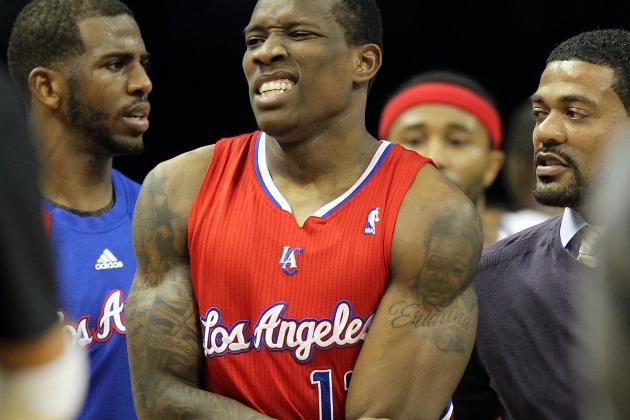 Andy Lyons/Getty Images

Having a deep bench may not matter if your team trots out a starting lineup with Kobe Bryant, Steve Nash, Dwight Howard and Pau Gasol. Or maybe you have the good fortune of being able to put LeBron James, Dwyane Wade and Chris Bosh on the court all at once.
The Los Angeles Clippers, unfortunately, do not share the same luxuries as the Lakers and Miami Heat. Therefore, getting contributions from role players and guys coming off the bench will say a lot about how good this team can be.
After an up-and-down (to put it nicely) season with the Dallas Mavericks, can Lamar Odom return to Laker-form? Will Jamal Crawford be able to score in bunches as he's been known to do? And how long can Grant Hill continue to be effective?
Each of these questions will have to be answered at some point, and if the Clippers aren't getting consistent play from their bench, they will struggle.
We've seen how important the sixth man in the rotation can be with guys like James Harden of the Thunder and Manu Ginobili of the Spurs affecting the playoffs in a major way.
Odom knows what it's like to be an important piece of the puzzle without starting. Can he, or anyone else coming off the bench, make enough of an impact to change the outcome of games?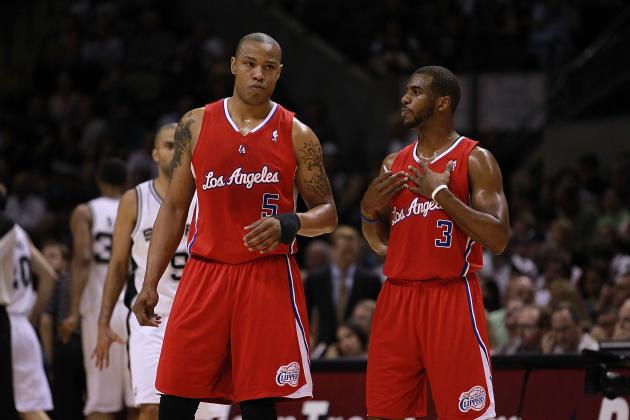 Ronald Martinez/Getty Images

The Clippers open up the season against the Memphis Grizzlies on Oct. 31 and will have played 15 games before the calendar reaches December.
While some teams may struggle to find an identity early on because of new additions, the Clippers know what they have. After finishing just a game behind the Lakers last season, a fast start could mean the difference between winning the division and failing to grab home-court advantage.
Of course, the Lakers might just steamroll everybody and win 70 games. But some predicted the Miami Heat would do the same thing a couple years ago, and it took quite some time before the team started playing together effectively.
In their opening stretch of 15 games, nine are at home. Tough home games include contests against Miami, San Antonio and Chicago, but the road is much more daunting.
The Clips play the Lakers (I realize it's the same building, but it's still a home Lakers game) and the Portland Trail Blazers early on before embarking on a four-game trip later in the month that includes San Antonio, Oklahoma City and Brooklyn.
Getting 10 wins or more would probably put the Clippers in great position entering December. But only reaching six or seven would lead to bigger problems later on. Regardless of how the team is playing in February and March, a quick start is crucial to a successful season.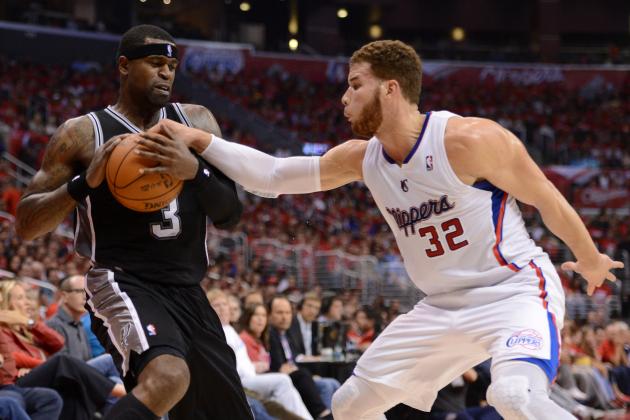 Harry How/Getty Images

There isn't any doubt about how high Blake Griffin can jump. But whether he can learn to defend skilled big men is another matter.
Averaging a double-double is certainly nothing to scoff at, and Griffin earned himself an All-Star spot last season. But several glaring weaknesses remain, and as other power forwards continue to emerge, Griffin must round out his game if he wants his team to reach the mountaintop.
Unfortunately for Griffin, having your highlights shown for weeks on end does not improve the overall quality of your game. What will improve his game is better defense and a wider variety of offensive moves.
He averaged just over half a block a game last season, and his free-throw percentage dropped by 12 percent from his rookie season.
Right now, Kevin Love is a better power forward. An argument could be made that LaMarcus Aldridge is also ahead of Griffin at this point. Granted, both have several seasons on Blake, but he could learn a thing or two from them.
Griffin has the tools to become an all-time great. But until his best skill is something other than dunking, he won't come close to reaching his full potential.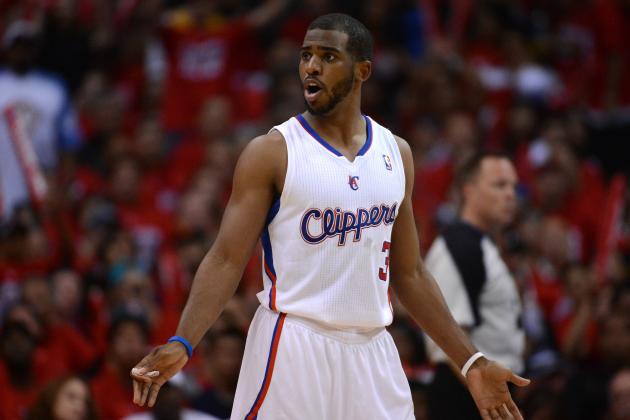 Harry How/Getty Images

Being in a major media market like Los Angeles will undoubtedly bring distractions upon the team.
Chris Paul's contract situation has the potential to be devastating no matter what Paul ultimately chooses to do. Or have you forgotten about Dwight Howard's indecision last season with Orlando?
Paul, who enters the final season of his contract, is scheduled to make a shade under $18 million. When the year ends, he'll become an unrestricted free agent, giving him the option to sign with anyone.
This kind of situation has been known to cause distractions before. I seem to recall some guy named LeBron having his own decision to make a couple seasons back.
But that was in Cleveland. This is Los Angeles, where every ounce of pop culture and media combine to wreak havoc on unsuspecting teams. Do the Clippers have what it takes to avoid the unavoidable?
People want to know what Chris Paul is going to decide next July. His teammates are probably curious themselves. But Oct. 31 is the only date that matters right now, and if Paul's situation lingers into the season, nothing good will come of it.
The team must be prepared to block everything out and focus on basketball. If they can manage this early on, distractions will become easier to handle. They could also just win a bunch of early games.
Because winning cures everything, right?