The Biggest Pitfall Each L.A. Laker Must Avoid in 2012-13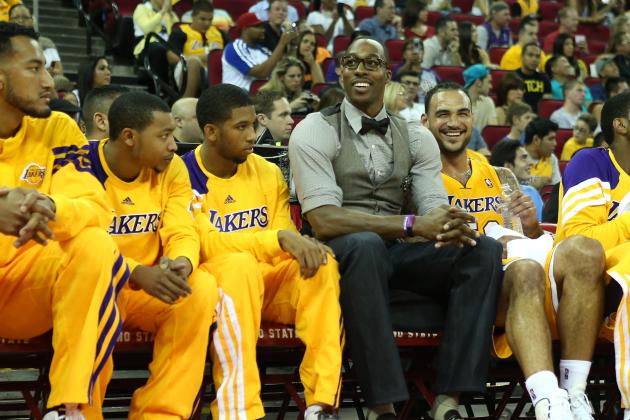 Stephen Dunn/Getty Images

Few teams carry as much promise into the 2012-2013 season as the Los Angeles Lakers.
Chock full of All-Stars and future Hall of Famers, the Lakers are considered to be a top threat for the NBA title along with the Miami Heat and Oklahoma City Thunder.
While it's a completely different year and team, comparisons to the 2004 Lakers squad that featured Shaquille O'Neal, Karl Malone, Gary Payton and Bryant are inevitable.
That team, despite all of its star power, ultimately fell short of the NBA title, collapsing in the Finals against the Detroit Pistons.
This Lakers team, which should be even better, can avoid the same problems that the 2004 squad faced.
Each player on the team carries certain expectations and must avoid certain factors or situations that could inhibit the team's success.
The 2012-2013 Lakers have a chance to be very special, if only these players can avoid the following pitfalls.
Begin Slideshow

»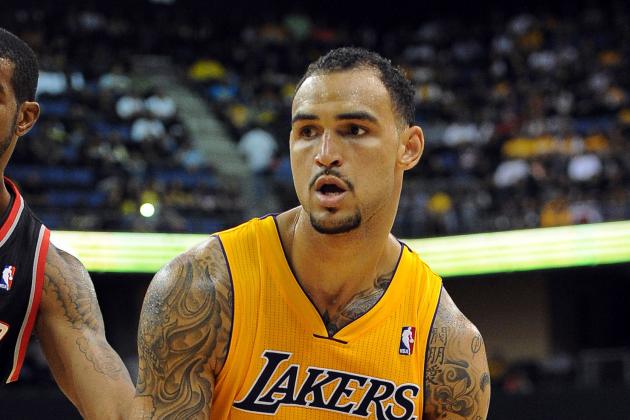 Jayne Kamin-Oncea-US PRESSWIRE

Must Avoid: Trying to Do Too Much
The final pick of the 2012 NBA draft, Sacre should see a bigger role with the Lakers now that Earl Clark is out indefinitely with a groin strain.
With Dwight Howard, Pau Gasol and Jordan Hill all ahead of him on the depth chart, Sacre will get to watch and learn from some of the best while hopefully still seeing some court time.
Being the last pick of the draft, it's important Sacre not try to do too much too early to try to prove he should have been drafted earlier.
The Lakers are always going to have other play-makers on the court, and it's tough to imagine a situation where he won't be the fifth option on offense anytime he's on the court.
The plan for Sacre should be to spell Howard, protect the rim, rebound and on occasion, hit a jumper. Nothing fancy, nothing special, just enough to warrant a roster spot and do his job when his number is called.
Doug Pensinger/Getty Images

Must Avoid: Playing Like He Did in Orlando
Duhon has never been a star in the league, but never was it as bad as his past two seasons in Orlando.
Averaging 2.5 and 3.8 points per game the past two seasons respectively, Duhon registered a well below-average 8.39 PER.
Duhon averaged 3.8 points and 2.4 assists in 19.5 minutes a game in his ninth year last season with the Orlando Magic. Even though Duhon shot 42% last season from three-point range, he lacked consistency with shots from 3 to 9 feet (23%) and 16 to 23 feet (38%). With a high turnover rate (27.6%) and low assist ratio (19%), Duhon also struggled last season in running the Magic offense.
Not exactly high words of praise.
The good news for Lakers fans is that Duhon is No. 3 on the depth chart at point guard, and shouldn't be counted on to run the offense very much, if at all.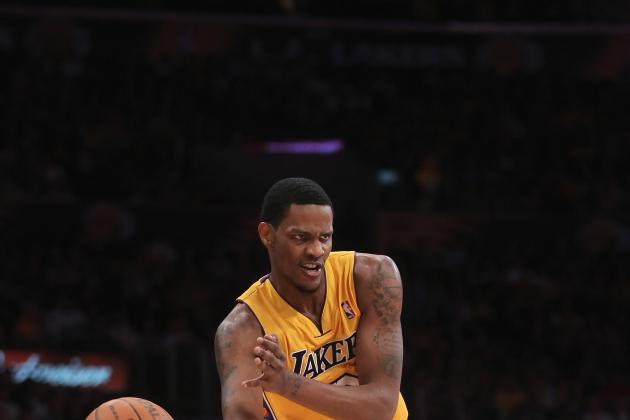 Jeff Gross/Getty Images

Must Avoid: Being an Offensive Liability
With Matt Barnes' departure, Ebanks now becomes the primary backup to Metta World Peace.
Currently the best thing Ebanks has going for him is his length and versatility.
At 6'9", Ebanks can play either forward position and is also competing for minutes at shooting guard.
This is a somewhat puzzling idea, as Ebanks is one of the team's worst offensive players.
In his two seasons in LA, Ebanks has averaged 3.6 points on 41.4 percent shooting from the field. His three-point percentage is abysmal at 14.3, which explains why he only attempted nine all of last season.
Ebanks' job should be to step in at three different positions when called upon to defend and rebound. Any offense they get from him at this point should be an added bonus.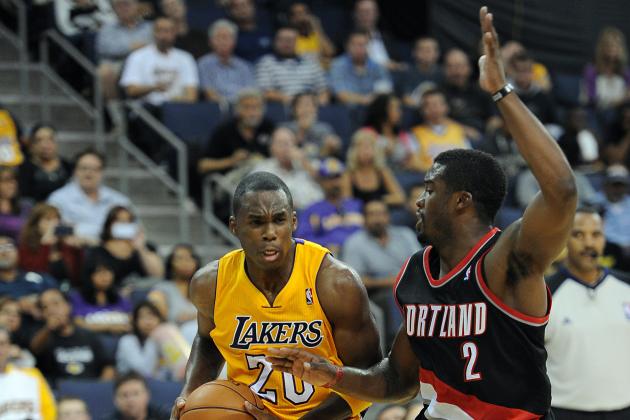 Jayne Kamin-Oncea-US PRESSWIRE

Must Avoid: Falling in Love with the Three-Pointer
Meeks will be the primary backup to Kobe Bryant this season, and brings an impressive offensive repertoire with him to LA.
Last season with the Philadelphia 76ers, Meeks averaged 8.4 points on 36.5 percent shooting from deep.
A career 37.1 percent three-point shooter, Meeks has had great success in his four-year career as a marksman.
Despite this success, it's important Meeks doesn't become complacent with his offensive game. It's important that he continue to attack the basket on occasion, as any contact he draws will likely turn into Laker points.
Meeks is a career 88.4 percent shooter at the line, and shot a career-best 90.6 percent last season in Philly.
Vary the scoring, and the second-team offense should thrive with Meeks.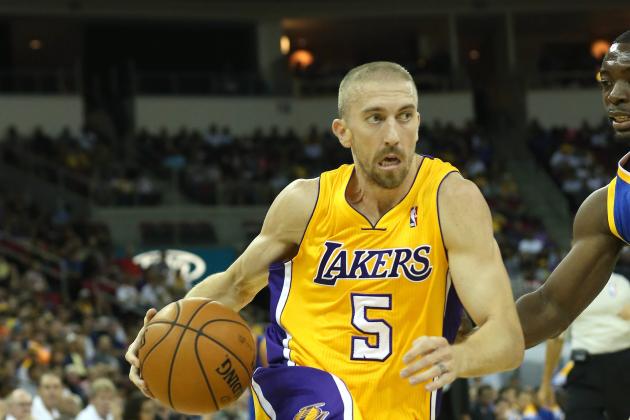 Stephen Dunn/Getty Images

Must Avoid: Thinking He's Steve Nash
There's a reason the Lakers have desperately been searching for a point guard the past few years.
Not saying that Blake is bad at what he does, but at this point in his career, a starting job is probably out of the question.
A solid ball-handler off the bench, Blake needs to realize his role and accept it. Watching Nash work his magic on the court may be tempting to try to copy, but for Blake, simple is probably better.
Only averaging 1.4 turnovers per game last season, Blake won't wow anybody with his scoring or assist numbers, but he is a reliable backup to a player like Nash.
As long as Blake keeps it simple and doesn't try to do too much when he's in the game, the Lakers second unit should be just fine with Jodie Meeks and Antawn Jamison carrying the load on offense.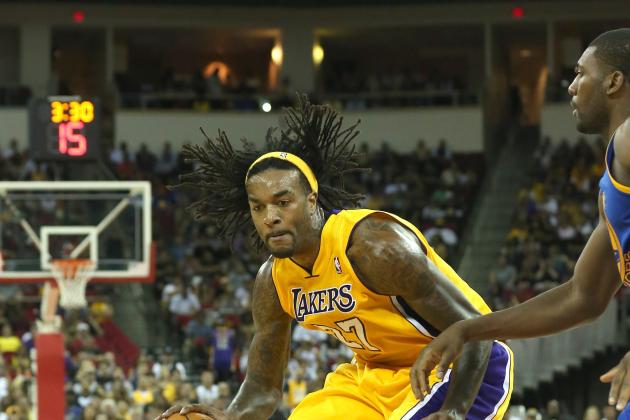 Stephen Dunn/Getty Images

Must Avoid: Courts Outside the Arena
Hill is a talented big that can play both power forward and center, but comes with his share of baggage away from the court.
This offseason Hill avoided prison time by pleading no contest to domestic assault charges by a former girlfriend. Via the Los Angeles Times:
Hill must pay a $500 fine, undergo domestic violence counseling, make a $100 donation to a violence fund and avoid any contact with his former girlfriend, who had accused him of choking her in February at a time when Hill played for the Houston Rockets.
Whether he actually committed the act or not, hopefully Hill will avoid any more situations like this that draw negative attention to himself or the team.
Hill is the Lakers best backup big man, and he must make better choices off the court so that he can remain on it.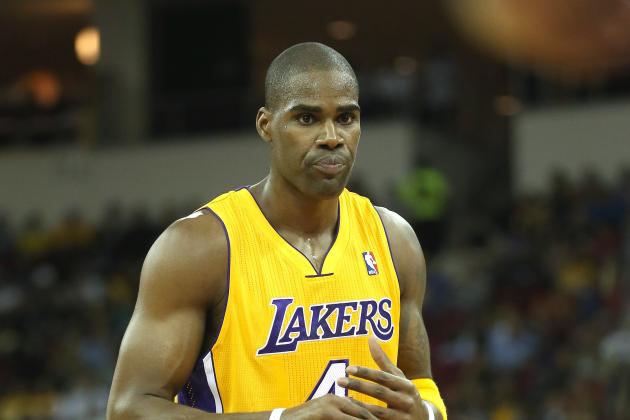 Stephen Dunn/Getty Images

Must Avoid: Thinking He's Still on the Cavs
For Jamison, the 14-year vet will be undergoing a massive change in both role and teammates this season.
As one of the main scoring options on a young Cleveland Cavaliers team last season, Jamison was relied upon to shoot, and shoot, and shoot some more.
In fact, Jamison shot so much that he actually came in 10th in the NBA in total field goals attempted, registering more than Carmelo Anthony, Dirk Nowitzki, Monta Ellis and Deron Williams.
Now a sixth man on the Lakers, Jamison must convert his offense from quantity to quality. He can still shoot, but with so many other offensive options, he will have to pick and choose his spots more carefully.
If Jamison starts chucking, this could very well be the conversation inside the Laker locker room.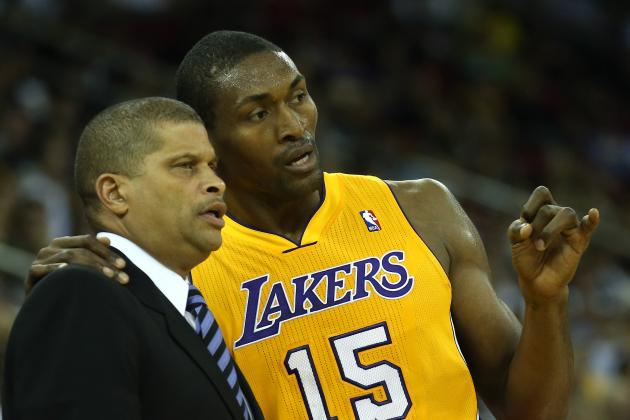 Stephen Dunn/Getty Images

Must Avoid: Ron Artest
If it makes any sense at all, Metta World Peace essentially needs to avoid himself to have a successful season.
No more elbow-throwing, camera tossing, drinking at halftime, attacking fans or leaping into stands.
Other than those little incidents, we're good.
Although he's calmed down a bit in recent years, does anybody really trust World Peace to stay quiet throughout the course of the season?
The Lakers need his defense and his toughness in their starting lineup, without all the other distractions that normally go along with it.
A little bit of chivalry is always cool, though.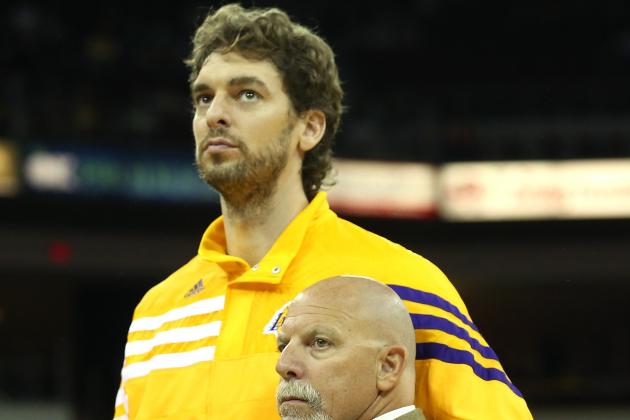 Stephen Dunn/Getty Images

Must Avoid: Complacency
The overlooked star on the Lakers roster now, Gasol has to keep up the high level of play that helped bring the Lakers two titles since his arrival.
Bringing in Nash and Howard have now delegated Gasol to the likely third or even fourth option offensively. The media will now be swarming around the lockers of the other new stars instead of just his and Kobe's.
This may not be as easy as a transition as one may think. Like the trusted old dog in a family that just adopted two new puppies, Gasol can't afford to feel left out and get complacent with his role on the Lakers.
Howard is a force to be reckoned with down low, but it's Gasol that has the more diverse offensive game. The two can help draw defenders from one another, giving the other more open looks.
Gasol's role may be lessened with so many new additions, but the Lakers won't win the title unless they continue to get strong play from the seven-foot Spaniard.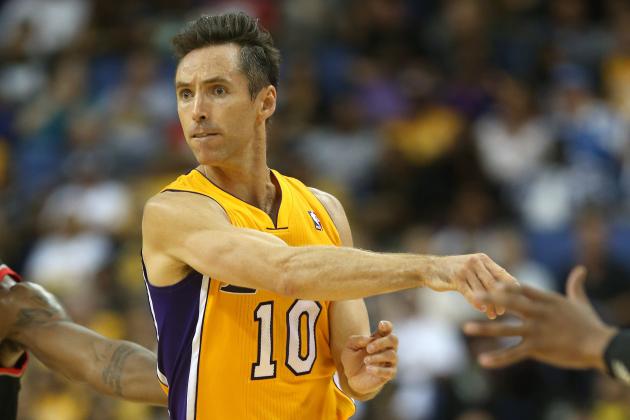 Stephen Dunn/Getty Images

Must Avoid: Giving in to Kobe
The leader of the Phoenix Suns for the past eight seasons, Nash has grown accustomed to having the ball in his hands in clutch situations.
This may not be the case anymore, as playing with Kobe Bryant certainly changes one's style of play.
Nash and Bryant must develop a healthy basketball-sharing relationship in which no one player is constantly demanding the ball.
Bryant will want the ball, there's no doubt about that. Bryant has led the league in usage percentage for the past two seasons, according to Basketball-Reference.com.
There will be times in the season when Kobe wants the ball when Nash will have to tell him no. This may still be Kobe's team, but that doesn't mean he always knows what's best for the Lakers. If any player in the league has a higher basketball IQ than Kobe, it's Nash.
Sometimes the best play for the Lakers won't be to get the ball in Bryant's hands. Nash needs to recognize where the ball needs to be and get it there, regardless if it means going to Kobe or not.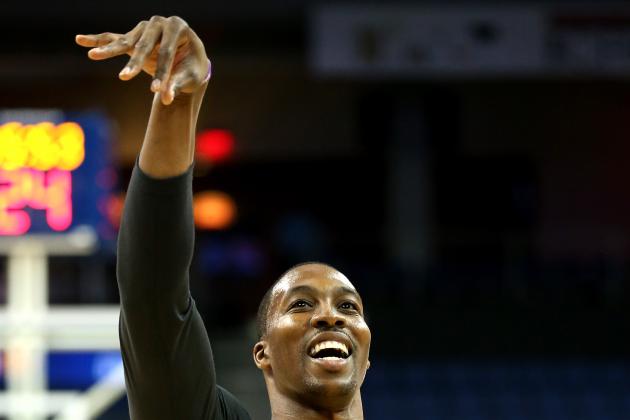 Stephen Dunn/Getty Images

Must Avoid: The Media
If it's possible to take a worse popularity hit that LeBron James did in 2010, Howard may have achieved such a feat in 2012.
With all the should-I-stay-or-should-I-go drama surrounding the league's best center, many grew tired of the constant antics and were actually relieved when Howard was traded to LA.
To be fair, the media had a large part in the fall of Dwight. Constantly being hounded about his plans and opinions on his head coach and management in Orlando, it seemed as if the media served as gasoline for the fire that was the Dwightmare.
Now working to rebuild his image in LA, it may be best for Howard to avoid as much media as he possibly can and let his play do the talking.
As LeBron learned, time, and winning, heal all wounds.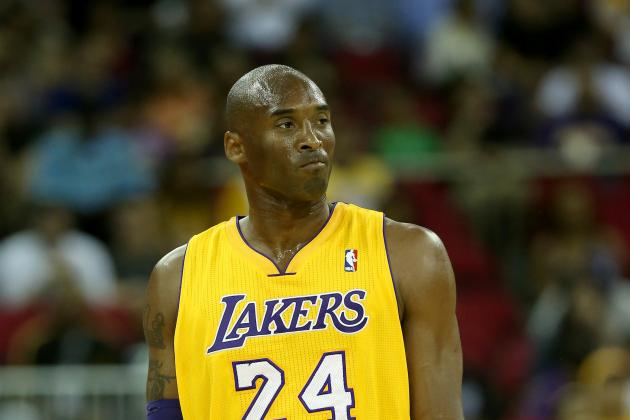 Stephen Dunn/Getty Images

Must Avoid: Losing Killer Instinct
With so many new talented teammates, it would be easy for one to sit back and relax a little.
While Kobe Bryant isn't one to do this, it is important he remain the same player that has five NBA titles to his name.
Bryant needs to keep the killer instinct that earned him the "Black Mamba" moniker. Never meeting a shot he didn't like, Bryant remains an elite offensive force in the NBA today.
That being said, Kobe should utilize his teammates to the best of their abilities. If that means 15 shots some nights instead of 25, so be it. If that means letting Nash run the pick-and-roll and just spotting up for three, so be it.
When the game's on the line, however, and Mike Brown wants the ball in Kobe's hands, he has to keep that killer instinct he's always possessed and deliver.
The Lakers will be an elite team in 2012-2013 for many reasons, but maybe none as valuable as Kobe simply being himself.