Boston Celtics Roster 2012-13: Starting 5 Projections and Depth Chart Breakdown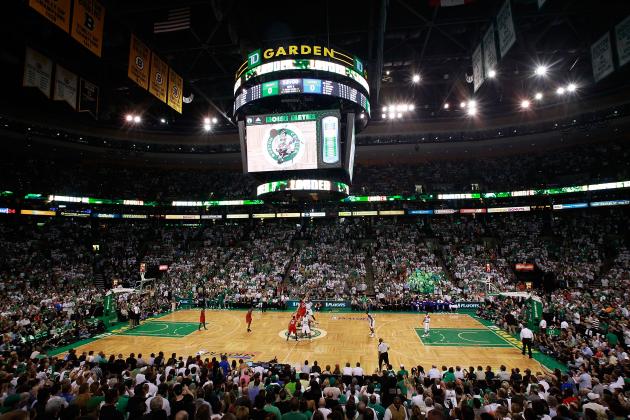 Jared Wickerham/Getty Images

The Boston Celtics, like their fans, have been chomping at the bit for the 2012-13 season to start since June 9, 2012. The night their postseason run came to an abrupt close.
It was a very busy summer for the franchise as they waved goodbye to some key components of last season and brought in some big names to fill the openings. While the leaders of the team remain the same, there are new faces almost everywhere else.
The loss to the Heat stung these Celtics and they are coming back now with a vengeance. They have their sights set on another Eastern Conference finals, but before that, let's review.
2011-12 W-L
39-27
Final Finish in Standings
First in the Atlantic Division
Fourth seed in Eastern Conference (fifth-best record)
Tenth in NBA
New Acquisitions over Summer

Free Agency: Jason Terry, Darko Milicic, Jason Collins
NBA Draft: Jared Sullinger, Fab Melo, Kris Joseph
Trade: Courtney Lee
Re-Signed: Kevin Garnett, Brandon Bass, Chris Wilcox, Jeff Green
Departures
Free Agency: Ray Allen, Greg Stiemsma, Ryan Hollins, Marquis Daniels, Mickael Pietrus
Trade: E'Twaun Moore, Sean Williams, JaJuan Johnson
Retirement: Keyon Dooling
2012-13 Depth Chart and Head Coach
Point Guard: Rajon Rondo, Jason Terry
Shooting Guard: Courtney Lee, (Avery Bradley*)
Small Forward: Paul Pierce, Jeff Green, Kris Joseph
Power Forward: Brandon Bass, Jared Sullinger, Chris Wilcox
Center: Kevin Garnett, Darko Milicic, Jason Collins, Fab Melo
Head Coach: Doc Rivers
Bleacher Report Preview Podcast
Joel Cordes and Ethan Norof preview the 2012-13 Boston Celtics on the "Basketball by Association" Podcast.
They discuss how Boston's new look will affect their chances in the postseason and try to discern just what identity this team will have.
Boston has repeatedly fought off the idea of blowing things up and starting from scratch. Last season's run probably vindicated Danny Ainge somewhat for keeping the Big Three together. However, this is something entirely new and different. The Celtics have rebuilt on the fly and are hoping to totally avoid the down period.
It is hard to put much stock in the preseason thus far. Doc Rivers is using the games to experiment with different units, rendering it difficult to gauge the team as a whole. Will the new pieces they brought in mesh with the 2011-12 leftovers, allowing them to once again thrive?
Begin Slideshow

»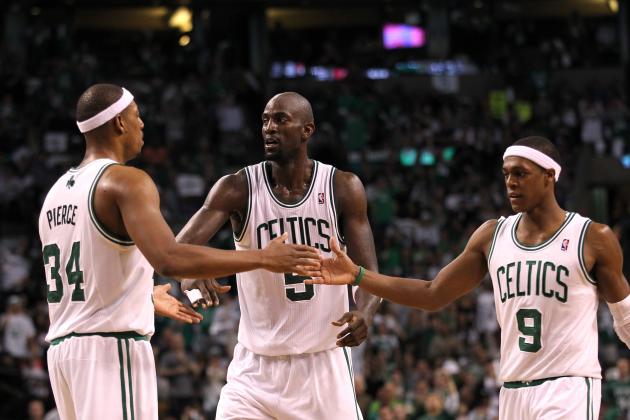 Jim Rogash/Getty Images

The Celtics starting unit could be in flux over the next couple weeks, as Doc Rivers plays with lineups throughout the preseason. Boston's superior depth will allow for numerous players to pop in and out of the starting five. By the time the team plane touches down in South Beach for the season-opener, Rivers should have settled on the right mix in the starting unit.
Point Guard: Rajon Rondo
Simply put, when you have an elite NBA player on your team, you start him. Rajon Rondo's job will not be in doubt this season, and even though the trade rumors are sure to start mid-season, I believe he will be in green for a long while.
Rondo will be used heavily this season, with no legitimate point guard behind him. He is going to be responsible for getting the offense rolling both in the starting five, and with a reserve unit.
Where Rondo has to improve this season is his scoring. He made something of a leap in the 2011-12 postseason, but the question remains if he can maintain that level of play. Seventeen points per game may be asking for a bit much, but somewhere in the 13-15 point range should be attainable. With a more efficient free throw game, and the experience to take some layups he normally passes up, he should get there.
Even if it means his assist totals suffer slightly, the Celtics need Rondo to start making an impression scoring the basketball. Rondo has worked hard to get to this position of notoriety, and more cameras will be on him all season. Luckily, Rondo shines brightest when the lights do the same.
Shooting Guard: Courtney Lee
Despite Greg Payne of ESPNBoston.com's recent story, you have to believe Rivers' comments about starting Jason Terry are merely fodder for columnists. While Terry did get the starting nod in the preseason game against New York, it is Courtney Lee who provides the defensive presence Boston has so enjoyed in their starting lineups.
Both Lee and Terry have been impressive in the preseason and have been able to seamlessly mesh with the flow of the offense. The passing sequences are a joy to watch with Lee and Rondo and will continue to be in the regular season.
Lee's size is also something that should not go unnoticed. With Rondo checking in at 6'1" and Terry just an inch taller, Lee's 6'5" frame helps the Celtics do different things defensively. Lee is going to be able to cover taller 2-guards, which frees up Rondo to jump lanes and wrack up steals.
All of this could possibly be rendered moot as Avery Bradley, the incumbent, is set to return in December, according to Dan Duggan of the Boston Herald. Still, even then, if Lee has performed beyond expectations he may hold onto this spot while Bradley eases back into regular duty.
Small Forward: Paul Pierce
As far as I am concerned, this spot is Paul Pierce's until Paul Pierce decides it is not. Pierce has been the Celtics offensive leader for 14 years, and that won't be changing in 2012-13.
Pierce actually scored at a higher clip last season than he had since 2008-09. His 19.4 points per game led the Celtics once again.
The most important thing for him is to be healthy, especially once the postseason rolls around. Pierce managed 18.9 points per game in the playoffs, but shot just 38.6 percent from the field. His balky knee acted up consistently and Pierce never seemed to be in a rhythm as the games wore on. A healthy Pierce is still an incredibly valuable weapon for a team that, at times, struggles to score.
The benefit of the 2012-13 roster is that Pierce will not have to shoulder so many minutes and responsibilities. The Celtics are set up to give Pierce ample rest, but that starting gig, it is still his.
Power Forward: Brandon Bass
Much like all the talk about Jason Terry entering the starting five, the Jared Sullinger chatter is still premature. While I like the idea of Sullinger joining the starting five, it should probably come after some NBA seasoning. A lot has been said about his maturity and basketball IQ, but Bass is the safer option right now.
Bass was granted the opportunity to start without really earning it last season. Since he became the full-time starter, Bass has worked hard to earn his minutes. He was able to mesh with the starting five and his ability to pick-and-pop with Rondo gave the Celtics another valuable weapon on offense.
Bass has been working hard to improve his defense and will definitely play a major role on this team, whether he maintains the starting job throughout the season or not.
Center: Kevin Garnett
Kevin Garnett may very well still be the best player on this team. His move to the center position changed the way Boston played from top to bottom last season.
In 36 games as the Celtics' starting center, Garnett's averages increased across the board. His scoring jumped from 14.3 to 16.8 points per game and he was able to grab an extra rebound a night as well.
It is still on defense, though, that Garnett makes his mark. Perhaps his greatest accomplishment since joining the Celtics has been working to improve his fellow big men. Garnett has had huge hands in earning players like Kendrick Perkins and Greg Stiemsma their lucrative contracts.
In 2012-13 he will have a fresh crop of players to mentor. If Garnett can really sink his teeth into Jared Sullinger and Fab Melo, they will improve with leaps and bounds in year one.
Garnett is still the backbone of the Celtics defensively. Everything that happens on the perimeter is a virtue of his ability to protect the rim. There have been few players in the history of the league that blend his talent, size and athleticism. While his minutes will be tempered as they were last season, Garnett remains the starting center in Boston.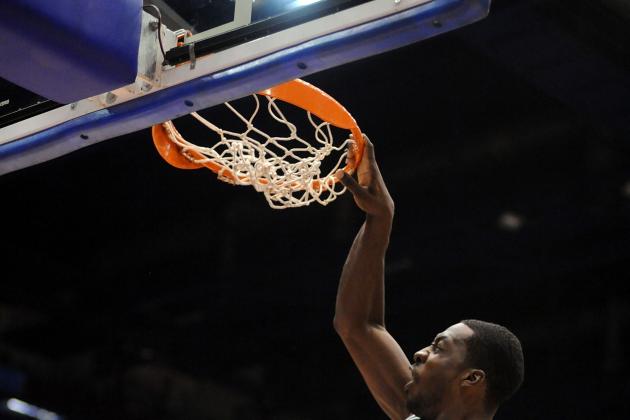 Roberto Serra/Iguana Press/Getty Images

Nobody on the Celtics, or maybe in the NBA, needs to have a solid start to the season as badly as Jeff Green. Thus far, the 26-year-old swingman has impressed in the preseason.
Green's necessity for coming out strong this early is two-fold.
First, his body of work with the Boston Celtics leaves a lot to be desired. After unloading their starting center and a valuable role player in order to bring him north, Green struggled to find a spot in the Celtics' scheme. In 26 games, he saw all of his averages drop as his minutes were drastically cut from his time in Oklahoma City.
Green had and still has a lot to prove to the Celtics and their fans. Even more so, now that he has been signed to a relatively large contract. His four-year, $36 million deal shocked a lot of people at the time it was signed this summer. The contract ties easily into the second reason Green needs to start strong.
Personally, I'm sure there were moments of doubt in Green's own mind leading up to this season. After being forced out of the entire 2011-12 season following his heart surgery, Green must have placed pressure on himself. Wondering if you are still going to be able to physically do something that used to be so second-nature, is a dangerous thing. With the added pressure of performing up to the worth of a $9 million a year player, Green needs to build confidence early.
Green is the Celtics' most versatile player on the wing. This makes him a great sixth-man candidate as he is sure to see plenty of minutes backing up both forward positions. Green greatly helps the Celtics with his ability to play the power forward spot when the team needs to go fast and play small ball.
Green is far more athletic than either Brandon Bass or Jared Sullinger.
Green's main role as sixth man is going to be to shoulder the offensive responsibilities of Paul Pierce when the captain heads to the bench. Green has really performed up to expectations thus far. He has posted scoring nights of 16, 17 and 12 points in the Celtics' three preseason games, all off the bench. He appears to be blending nicely into his role as the team's lead reserve.
With a lot of turnover and shaking up happening with the starting five, the second unit is just as uncertain. This makes Green all the more important, as he is assured that spot behind Pierce and is already working at it.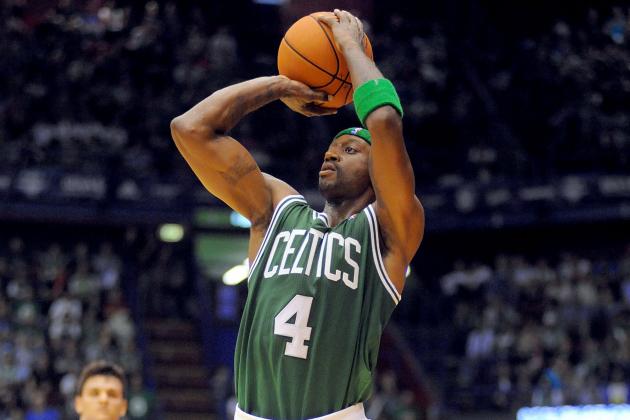 Roberto Serra/Iguana Press/Getty Images

Point Guard: Jason Terry
A major reason for wanting to keep Jason Terry on the sidelines to start the season, is that he is the only feasible backup to Rajon Rondo. It is a mistake to tear open the season by running your stars ragged. All the conditioning and preseason in the world can't prepare you 100 percent for the NBA season. Right now, the Celtics do not have a true backup point guard.
Therefore, the job is Terry's. Despite starting alongside Rondo in the team's first stateside preseason game against New York, Terry registered four assists. Terry is a very versatile player, maybe not in skill, but mentally. He is honestly prepared for anything the Celtics need him to do. At the outset of the 2012-13 season, it appears that is backup point guard, with a sprinkling of shooting guard duties.
Shooting Guard: (Avery Bradley)
Until Avery Bradley returns some time in December, the Celtics are going to be playing a three-guard rotation, most likely with Rondo, Terry and Courtney Lee. The preseason battle between Dionte Christmas and Jamar Smith for a spot on the roster has now come to a close with CSNNE's Gary Tanguay reporting that both players have been cut.
With the retirement of Keyon Dooling, a spot was though to be available for one of these youngsters to win. Christmas entered the preseason as the favorite, after lighting up the Summer League. His play there, coupled with the Celtics signing him to a partially guaranteed contract, gave him a leg up.
Through four preseason games, neither player had made much noise. The Celtics may have made this move to give them a chance to latch on with another team. Boston may be on the lookout for a veteran point guard now, which would allow Terry to fill in at shooting guard.
Small Forward: Kris Joseph
With both Jeff Green and Paul Pierce sure to see big minutes, there isn't a whole lot of room at the small forward position.
Boston used a second round pick over the summer on Syracuse forward Kris Joseph. While not assured of a roster spot, he is being give an opportunity to fight his way into the rotation. He hasn't received much of a look in the preseason, but proved he could do some things in a 12 minute night against the Knicks, going for four points and three boards.
With the cuts made to Dionte Christmas and Jamar Smith, Joseph appears to have earned a spot on the team right now.
Power Forward: Jared Sullinger, Chris Wilcox
A position that is looking like more and more of a strength for the Celtics in 2012-13 is the power forward spot. Jared Sullinger is currently making a great case for himself to be named the starter, but before we get ahead of ourselves, let's see how he plays off the bench.
Sullinger is going to provide the second unit with the rebounding and interior scoring that were nonexistent in 2011-12. Through three preseason games, Sullinger has been nothing short of extraordinary for a rookie. He is averaging 13 points and seven rebounds a night, while playing adequate defense.
Much is being made about how quickly he is learning the Celtics offense and how he is quickly developing a friendly competition with Brandon Bass.
Behind Sullinger will be Chris Wilcox, who unfortunately has been sitting out after experiencing some back spasms. Wilcox has overcome heart surgery that ended his 2011-12 season to return to the Celtics. The surgery came abruptly last season, as Wilcox was really emerging as a valuable asset off the Celtics bench. He is a big man who can run to floor with this fast-paced second unit. He also has the size to play the 5, if the Celtics are so inclined.
Center: Darko Milicic, Jason Collins, Fab Melo
The Celtics have a glut of big men who can play the center position in relief of Kevin Garnett. Of them, Darko Milicic has been seeing the most time in preseason.
Milicic was a late addition to the Celtics during the offseason, signing just before training camp opened. He was very impressive in the opener against Milan, grabbing nine rebounds and swatting four shots in 19 minutes. He tapered off after that, grabbing six boards in game two.
With all the versatility of the Celtics' big men, Milicic, Collins and Melo's duties are going to be fairly simple. The trio of Bass, Sullinger and Garnett should be able to supply an adequate amount of points, but if Darko can come up with rebounds and blocks, then he'll see a fair amount of court time.
Collins is an insurance policy and a bruiser who can cause problems for weaker backup bigs in the league. Melo is a work in progress and hasn't gotten much of a look in the preseason.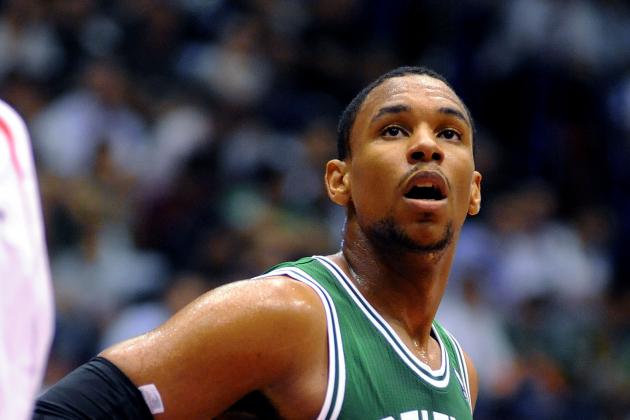 Roberto Serra/Iguana Press/Getty Images

The Celtics have one major advantage over the team that came one win shy of the 2011-12 NBA finals.
This team has depth.
The team that took on the Miami Heat on June 9, 2012, played Mickael Pietrus 22 minutes, Ryan Hollins nine minutes, Keyon Dooling six and Greg Stiemsma two.Also seeing real postseason minutes were Marquis Daniels and Sasha Pavlovic. After Avery Bradley went down with the shoulder injuries, Boston was six deep with quality players.
Those other guys are NBA players, yes. But they should not be on the court in the Eastern Conference finals. Browsing the roster for the 2012-13 season, and with a healthy Bradley one can see the Celtics going nine or ten deep in a postseason game. Of course, in those situations the minutes get concentrated on the starting unit, but when the drop-off is minimized between your starters and your second unit, it benefits the first team.
Deep teams are typically resistant to lulls during the season, but the Celtics' age scares you a little bit. They have a recent history of hitting rough patches during the regular season, and while starting 15-17 seems far-fetched, they will struggle at some point.
If Rajon Rondo is as advertised and can be a top-10 or 15 player in the league, he should be able to guide this team through that inevitable down period.
This team is built to win now, and though they know the importance of seeding, for Boston it is even more imperative to keep healthy towards the end of the season. This will be the greatest benefit of the newfound depth.
Doc Rivers proved he could manage a deep team's minutes back in 2007-08, and the Celtics will need that same creativity in 2012-13. Even more so, with Kevin Garnett and Paul Pierce five years older.
If the Celtics hold tight to a top-four seed in the East and are fully healthy, they will march through the early rounds once again.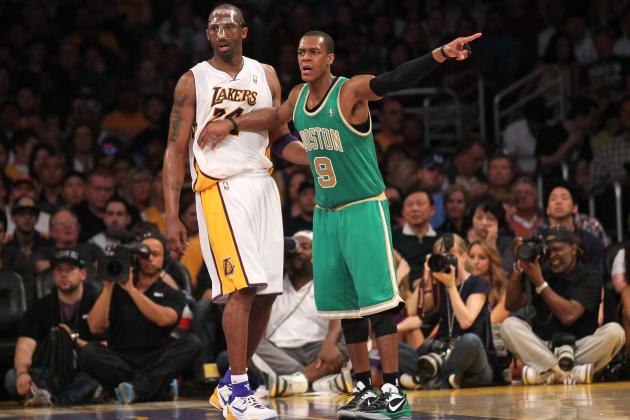 Stephen Dunn/Getty Images

With every season there are a handful of games that become classics. While the full Boston Celtics schedule is available here, on the team's website, here are five big games you won't want to miss.
Tuesday, Oct. 30 at Miami Heat
It goes without saying that fans should tune in to watch the season opener.
However, this game has a boatload of added interest and storylines. For starters, these could very well be the top-two teams in the East once again. Obviously, they battled to a seven-game series in the 2011-12 conference finals. Celtics fans will have to suffer through LeBron James getting his first ring before the game begins, as well.
Perhaps an even bigger storyline for those in Boston is that this will be the first sight of Ray Allen competing against his former team, in a Heat jersey. Allen took a lot of flak in the city after signing with Miami in the offseason, and the relationship between he and the players he left behind is must-see television.
Thursday, Nov. 15 at Brooklyn Nets
It won't take long for the Celtics to visit an entirely new stadium with an entirely new team, as they head to Brooklyn to face the Nets in mid-November. The Nets threw caution to the wind and went big with a trade for Joe Johnson in order to make them into instant contenders this offseason.
With their new stadium, colors and shooting guard, this will be the Nets' first shot at the class of the Atlantic Division. All roads to that top-four seed go through the Celtics and that is what Brooklyn is looking for.
As a bonus, fans get to see two of the top point guards in the league duke it out.
Thursday, Feb. 7 vs. Los Angeles Lakers
The Celtics have to wait until early February to get their first real look at the new Lakers. Los Angeles has a couple new stars wearing the purple and gold this season, and the rivalry will always linger.
It is sure to get a shot in the arm with former Eastern Conference nemesis Dwight Howard and Steve Nash joining Kobe Bryant and Pau Gasol in L.A. The Laker-inflicted wounds from the 2009-10 finals have still not fully healed and these are two more teams with 2012-13 title aspirations.
Wednesday, Feb. 13 vs. Chicago Bulls
The Celtics and Bulls clash four times in the 2012-13 season, however they all fall before the All-Star break. If Derrick Rose is to return sometime during the season, this will be the best chance for the Celtics to face him. Returning for this game might be a stretch, especially with the break right around the corner, but either way this will be a good measuring stick for Boston.
If the Bulls have remained competitive without their star guard, then Boston gets a good test, and if they are falling out of the playoff race, the Celtics have an opportunity to put a nail in the coffin of the defending No. 1 seed late in the season.
Sunday, Mar. 31 at New York Knicks
The Knicks figure to be the other team challenging for Atlantic Division supremacy. New York finished three games behind the Celtics in 2011-12, falling to the seventh seed and a matchup with Miami in the opening round of the playoffs.
The Knicks have had their core together for some time now and this could be the season they put it all together. With the competitiveness of the new Atlantic, all in-division games are important, but a late season one against the Knicks at Madison Square Garden is as good as it gets.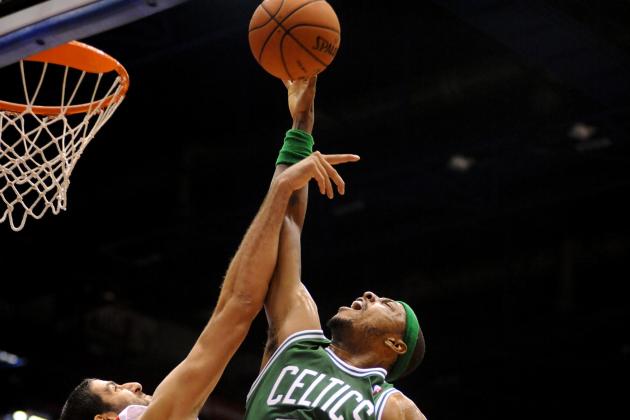 Roberto Serra/Iguana Press/Getty Images

2012-13 Projected Record
52-30
Postseason Position
First in Atlantic Division
Second in Eastern Conference
Sixth in NBA
How the Season Will Finish
November will be reasonably shaky, to the tune of a .500 record. The fun will stop abruptly on opening night and the Celtics will realize the difficulty in meshing so many new parts. However, the return of Avery Bradley and the experience of a month together will help the team go on a tear through New Year's.
The Celtics depth will keep them afloat through some minor injuries to their older stars. For the most part, Doc Rivers' minute management avoids any serious injuries, and the Celtics are able to amass wins over the weaker teams in the NBA.
There will still be an increasing worry that they are not beating any of the better teams in the league, but feasting on weak competition.
The Celtics will once again hold off the rest of the Atlantic Division by focusing on those games and pulling away from New York and Brooklyn as they falter down the stretch. This won't be the type of team that sleeps into the postseason. Instead, this version of the Celtics will be ramping up for the playoffs and win a lot of games in March and April.
The Atlantic will prove to be highly competitive and after Miami no other team posts more than 52 wins.
This sets up an in-division series against the seventh-seeded Toronto Raptors. Their postseason inexperience costs them greatly as the Celtics dispatch them in five games.
Boston then matches up with the winner of the four-five series, Indiana. The Celtics take care of the Pacers in a bruising seven-game series.
This, of course sets up the inevitable rematch of the epic 2011-12 Eastern Conference finals between Boston and Miami. This time the Celtics are able to get the better of the Heat in six games. Boston's versatile depth in the frontcourt proves too much for Miami to handle with LeBron James pulling duty on Rajon Rondo.
Boston competes valiantly in the 2013 NBA finals, but falls to the new-look Lakers in seven games. Dwight Howard is renewed with a legitimate shot at a title and completely dominates the paint for seven games.
The Celtics' only true advantage in the series is once again at point guard, but Rondo is not enough to overcome to offensive depth in Los Angeles.
Bleacher Report's Ethan Norof, Will Leivenberg and Ethan Sherwood Strauss discuss the best and worst case scenarios for the 2012-13 Boston Celtics.
While the Celtics are sure to be one of the deepest teams in the NBA, you can only play five guys at a time. Also, the majority of that depth is on the wing, and behind Kevin Garnett isn't a whole lot of talent.
The three analysts have very differing views on the Celtics season, with predictions ranging from 58 wins to just 44 wins.
Will the Celtics age and lack of frontcourt depth prove troublesome with injuries, or will the title window remain open for another year?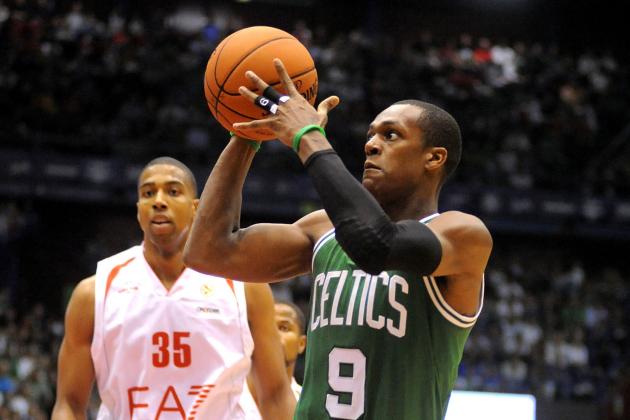 Roberto Serra/Iguana Press/Getty Images

Points Leader:
Paul Pierce: 18.2 points per game
Kevin Garnett: 16.1 points per game
Rajon Rondo: 14.9 points per game
Rebounds Leader:
Jared Sullinger: 8.3 rebounds per game
Kevin Garnett: 8.1 rebounds per game
Darko Milicic: 6.6 rebounds per game
Assists Leader:
Rajon Rondo: 10.9 assists per game
Jason Terry: 4.3 assists per game
Paul Pierce: 4.3 assists per game