Miami Heat: Complete Preview, Predictions and Storylines to Watch in 2012-13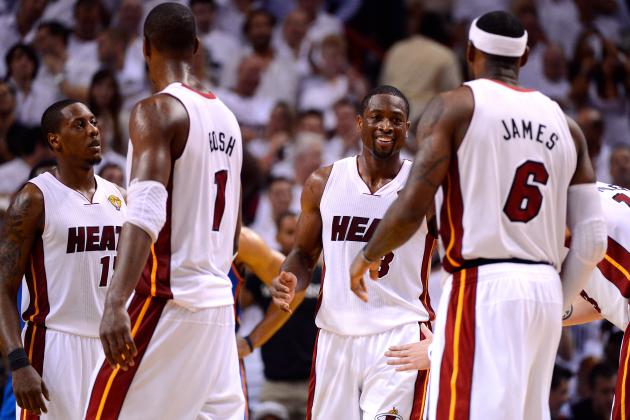 Ronald Martinez/Getty Images

The Miami Heat are the reigning world champions and have a great chance to become the first repeat champions since the Los Angeles Lakers accomplished the feat in 2009 and 2010.
Ever since LeBron James and Chris Bosh joined forces with Dwyane Wade in South Beach, the Heat have had a giant bullseye painted on them each and every night, but they have been able to pull through with two straight NBA Finals appearances and one victory.
It's always an impressive feat when a team makes three straight appearances in the championship series, but anything less for the Heat would have been considered a major disappointment—especially considering the lay of the land in the Eastern Conference.
Will they be able to grind out another regular season without suffering any significant injuries? Will their free-agency additions become key contributors? Can any team dethrone the champs or will the Heat raise another banner in the AmericanAirlines Arena?
We'll answer all of those questions and more in this season preview for the 2012-13 Miami Heat, including information on offseason free-agency moves, the projected starting lineup and depth chart, strengths and weaknesses of the roster, a prediction for the season and much more.
Begin Slideshow

»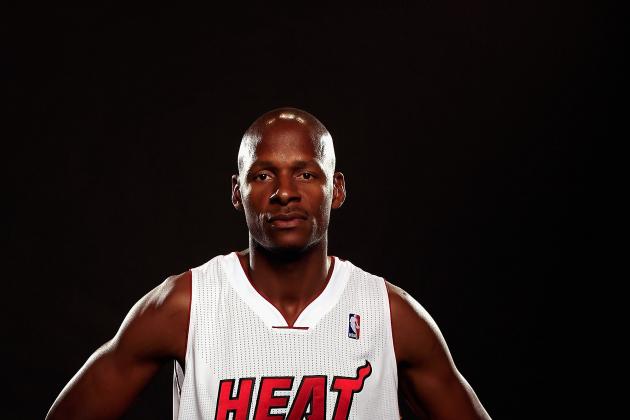 Chris Trotman/Getty Images

Ray Allen (Free Agency)
Rashard Lewis (Free Agency)
Josh Harrellson (Free Agency)
The old saying "the rich get richer" certainly applies in the NBA. While the Heat's offseason acquisitions aren't likely going to make the impact of, say, Los Angeles', Allen and Lewis should certainly be valuable for another title run.
Allen's signing was particularly interesting, as he was poached away from Miami's biggest conference rival, the Boston Celtics. Considering Boston took the Heat to seven games in the Eastern Conference Finals last year, Miami benefited two-fold from this pickup.
Allen is the all-time leading three-point shooter in NBA history and can still stretch the floor at his advanced age of 37, while his absence significantly weakens the Celtics and their chances to make it back to the conference finals again this year.
Lewis is also a great signing. He can now focus on being a solid stretch forward coming off the bench for a legitimate contender. Before being bought out by the New Orleans Hornets this summer, he was one of the highest-paid players in the league and the expectations far outweighed his abilities.
Now, he's just a properly paid long forward that can back up either the 3 or 4 and take defenders out to the three-point line. He adds another dimension to the Heat's already potent small-ball attack.
Miami's most underrated summer move was giving Josh Harrellson a non-guaranteed deal. The second-year big out of Kentucky played great in limited minutes during his rookie year with the New York Knicks.
He's got the size (6'10", 275 pounds), heart and blue-collar mentality to crack this roster and log some decent minutes at the 4 or 5. Considering he can shoot threes, bang for rebounds and play D, the Heat couldn't ask for more out of a deep bench player.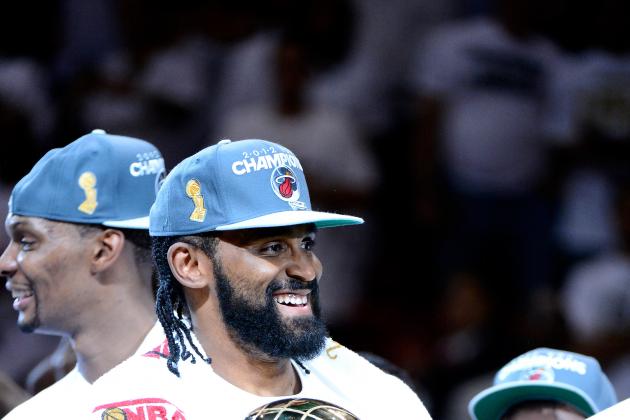 Ronald Martinez/Getty Images

Ronny Turiaf (Free Agency)
Miami's only significant loss this summer was Turiaf, a player who saw action in just 25 games with the franchise, including the postseason. He was picked up after being waived by the Nuggets in March and saw action mainly in the playoff series against Indiana and Boston.
With Turiaf logging just three minutes during the Finals, it's safe to say the Heat will be just fine without the French big man.
As long as the organization has James, Wade and Bosh under contract, it's not going to be hard to retain key role players and other impact veterans who are in South Beach for the experience and the ring, not the money.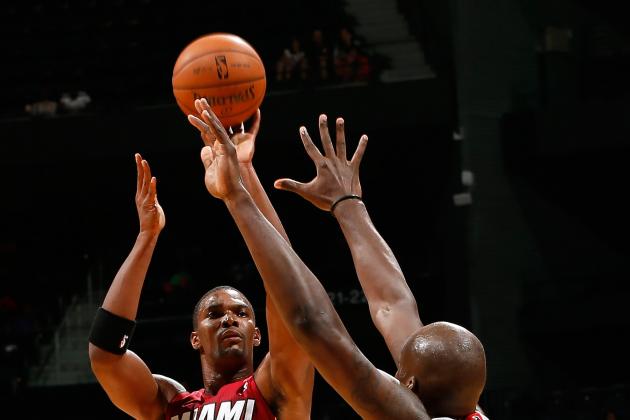 Kevin C. Cox/Getty Images

Coach Erik Spoelstra has a ton of lineup options at his disposal now, but should employ a starting five that looks similar to the below table on opening night.
It's a small-ball lineup that will see Mario Chalmers and Wade play the guard positions, Shane Battier and James banging at the forward spots and Bosh at the pivot.
Of course, LeBron isn't always going to be guarding the opposing 4, and Battier is likely going to be tasked with locking down the opposition's best perimeter defender when he is out on the floor.
The second unit got a significant boost, with Allen and Lewis helping out Cole and Haslem. James Jones and Mike Miller should see some minutes during the season and playoffs as well.
Expect Pittman, Harrellson and some of the other fringe roster players to only be seen in mop-up duty and injury situations.
| | | | |
| --- | --- | --- | --- |
| Position | Starter | Bench | Reserve |
| Point Guard | Mario Chalmers | Norris Cole | |
| Shooting Guard | Dwyane Wade | Ray Allen | Mike Miller |
| Small Forward | Shane Battier | Rashard Lewis | James Jones |
| Power Forward | LeBron James | Udonis Haslem | Josh Harrellson |
| Center | Chris Bosh | Joel Anthony | Dexter Pittman |
Kevin C. Cox/Getty Images

There isn't much to be said that hasn't already been discussed about the strength of this Heat squad. They have two of the arguably top players on Earth in LeBron and Wade to go along with an elite third option in Bosh and some talented, versatile role players.
Coach Spoelstra figured out how to use his roster to perfection last year by going small, a huge boon considering the lack of dominant centers in the modern NBA. The Heat beat teams by running all over them and using their athleticism to get plenty of easy buckets.
In tight games, James has become a force rather than the liability he was during his first season in Miami. Wade is also a great closer and gives them a second option if LeBron is doubled-up and locked down.
One of the concerns about the Heat in 2011-12 was their bench. It has since been bolstered with the additions of Allen and Lewis, while also retaining key players like Miller, Anthony, Jones, Haslem and Cole.
Expect yet another insane regular season and a dominant playoff run from the deep, talented Heat roster that has brought small, athletic basketball to its apex.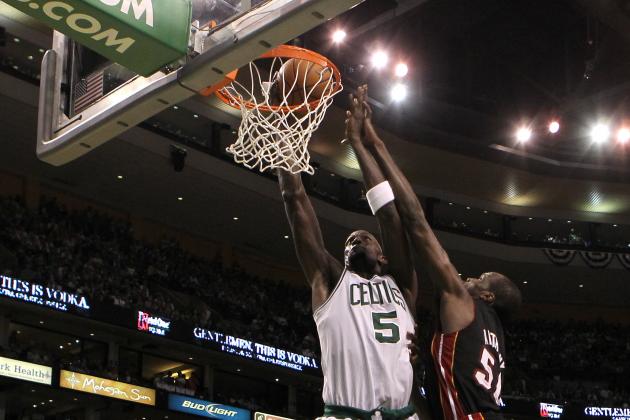 Jim Rogash/Getty Images

The only glaring weakness on the Miami roster is the dearth of size.
Joel Anthony and Udonis Haslem are the only two serious bigs that can be trusted on the floor, and the former wasn't much of a factor once Spoelstra figured out how to use Bosh at the 5.
This is going to lead to some strange games where the Heat will be dominated down on the block, but those will be few and far between. As long as LeBron and Co. are pushing the ball in transition and using their speed to run circles around opposing teams, the Heat's lack of an elite big man will not be an insurmountable problem.
You can't expect the Heat to go 82-0, but they will likely be a favorite in each of their games. They should only lose a handful of times due to big men exerting their will in the paint.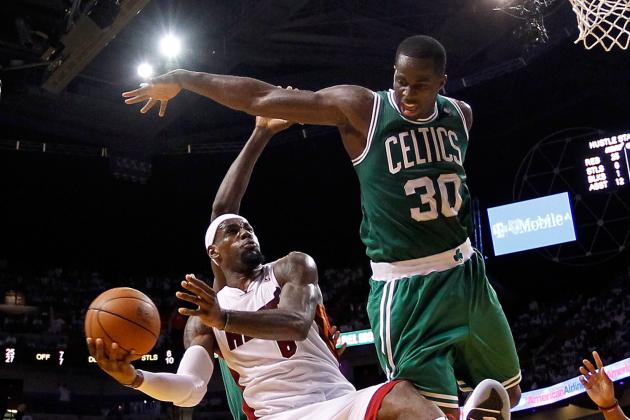 Mike Ehrmann/Getty Images

One exciting storyline to watch with this Heat squad is their fierce rivalry with the Celtics, which will take center stage on opening night, October 30.
Because of the Ray Allen drama and seven-game saga in last year's playoffs, there is a ton of bad blood between these two elite franchises. Rajon Rondo thinks that the Heat are a bunch of complainers and criers, while Kevin Garnett told reporters he "lost" Allen's number and is no longer speaking to his former teammate.
They'll meet four times over the course of the 82-game season. It wouldn't be surprising to see each matchup have a playoff-like atmosphere surrounding it.
It's also going to be interesting to see how the Heat handle their championship hangover. We'll find out a lot about the character of this roster in that regard. Will they put together a lackluster title defense like the Dallas Mavericks, or go for back-to-back banners like the Lakers?
All signs point towards the latter.
The Heat brass re-tooled the roster and brought in some hungry free agents looking to win a ring. That, along with James' guarantee that this team would win seven Finals, should be enough motivation to earn the No. 1 seed in the East.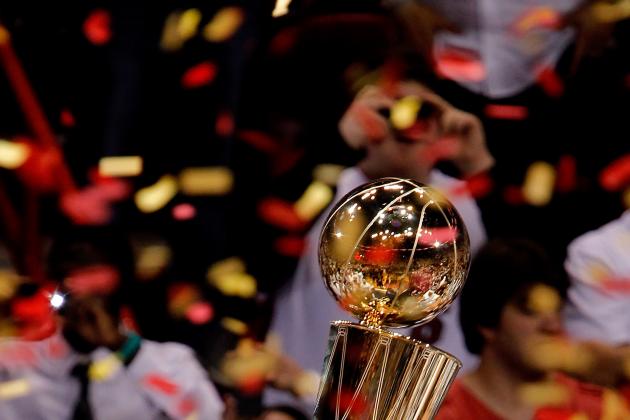 Mike Ehrmann/Getty Images

The best-case scenario for the Miami Heat is a championship at the end of the 2013 playoffs. Nothing else will appease fans or the players on the roster.
It's going to take physical and mental strength to accomplish this goal, as the bulk of the team has been to back-to-back Finals already. The sheer number of minutes is going to start having an effect on their play.
Fortunately, the Heat are stacked with players that love the game and only care about winning, something instilled in them by their leaders—James, Wade, Spoelstra and even team president Pat Riley.
If the Heat are dominant during the regular season, they have a chance to challenge Michael Jordan's 1995-96 Chicago Bulls record of 72 wins. It's not going to be easy, and it's certainly not likely, but there is a chance that this team is special.
Finishing anywhere near 72 wins would, of course, give Miami the top seed in the East and an easy path back to the conference finals.
We'll cover what we think will happen there and beyond on the final page of this preview.
Doug Pensinger/Getty Images

Obviously, the worst thing that could happen to the Heat is for all of those minutes to catch up to James and Wade and cause them to be bit by the injury bug.
Should one or both go down with a season-ending injury, it would have disastrous effects on Miami's psyche and ability to contend.
Losing LeBron for a significant amount of time would severely harm the Heat's chances to be dominant during the regular campaign. Losing him for the postseason would almost assuredly be the end of their title chances.
Wade has been battling injuries on and off for most of his career, but the presence of Bosh and James has taken a major load off of his legs and allowed for him to get more rest, lengthening his expected career. However, he's not invincible and a freak injury could occur at any time.
Hopefully, the Miami roster can stay healthy. It wouldn't be fair for the league to be robbed of one of the greatest teams ever assembled due to injury.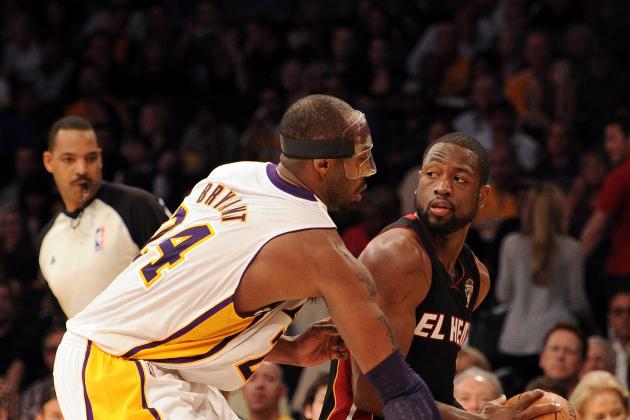 Harry How/Getty Images

70-12, Southeast Division champions, No. 1 seed in Eastern Conference
It's a bold prediction, but I truly believe the Heat are going to put together the second-best regular season in NBA history.
They have the best players, a deep bench and are going against extremely diluted competition, especially in their division and conference. It is actually easier to win games in the league now than it was when Chicago won 72 over 15 years ago, a testament to just how dominant that Bulls team was.
Once Miami blasts through to the playoffs, they will find more early success, running right through to the conference finals without a hitch.
There, they will be expected to meet either the Indiana Pacers or Boston Celtics, two teams that have good big men who would provide a significant challenge to their throne.
However, Miami has the pieces to overcome in a seven-game series and would easily advance into the Finals, where it will either be a rematch with the Oklahoma City Thunder or Los Angeles Lakers.
If it's the former, Miami should have no problem dispatching them again due to its favorable matchups.
The more likely scenario is facing the Lakers who would be a serious thorn in the side of the Heat's title chances.
With Dwight Howard and Steve Nash alongside of Kobe Bryant, the Lakers are one of the most unpredictable and potentially powerful teams in the NBA.
Howard alone presents the biggest mismatch that the Heat would face. They would likely have to use their deep roster spots to bring in bigs that could give six fouls, guard the first-team All-NBA center and help keep the three-time Defensive Player of the Year from destroying James in the paint.
It's going to be a hard pill to swallow for Heat fans, but Miami just won't have what it takes to get past a more desperate and hungrier Lake Show. Howard is the X-factor and helps LA win yet another NBA championship.
After a long offseason, Miami should be right back here in 2014, but it won't get it done against the Lakers in 2013.