Indianapolis Colts: Updated Game-by-Game Outlook
Andy Lyons/Getty Images
Andrew Luck has given the Indianapolis Colts a reason to be optimistic this year.
After their improbable showing against the Green Bay Packers, the Indianapolis Colts must be optimistic about their upcoming game-by-game outlook.
Indy's offense was able to take advantage of the Packers over and over, while the defense made plays when they had to. They weren't the most consistent group, but they did just enough to undo reigning MVP Aaron Rodgers and his squad.
Looking ahead, the Colts do not have an easy road. Their schedule is fraught with talented teams that will no doubt give them fits. By no means does this win mean they are about to make a run to the playoffs.
Here's where they are going.
Begin Slideshow

»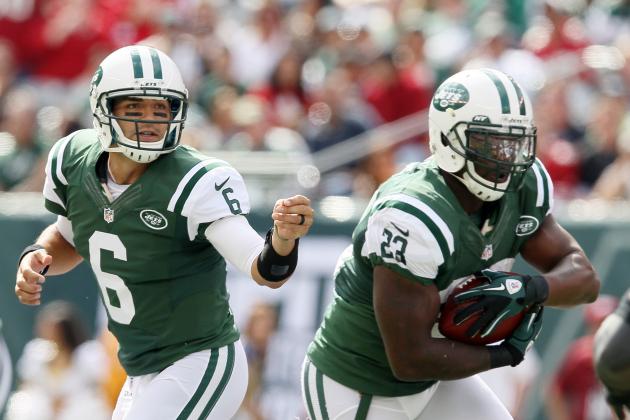 Elsa/Getty Images
The New York Jets have had a rough go of it so far in 2012.
When the Colts travel to MetLife Stadium to face off with the New York Jets, it's anybody's guess who will come out on top.
The Jets have had their struggles but have also come out ahead of both the Buffalo Bills and a hard-to-peg Miami Dolphins team.
Despite losing their star corner, Darrelle Revis, for the season, they still have a talented corner in Antonio Cromartie. Cromartie should help neutralize the Colts' Reggie Wayne.
That will be a huge blow for Luck, who relied on Wayne to the tune of over 200 yards in Week 5.
Meanwhile, the Jets' offense has been stagnant since Week 1, ranking 28th in passing yards per game and 25th in rushing yards per game.
Prediction
Indy should be able to run the ball against New York, as the Jets have allowed a league-worst 172.8 rushing yards per game. They simply can't stop the run.
With their ineffective offense and Indy's rapidly improving defense, it's tough to see Mark Sanchez (or Tim Tebow) moving the ball consistently.
Hard to imagine, but the Colts might actually run away with this one. No Dustin Keller, no Santonio Holmes, no hope to speak of. The Jets' entire season is in jeopardy, and they just might put up their second consecutive goose egg against the Houston Texans.
Final Score—Indianapolis 27, New York 13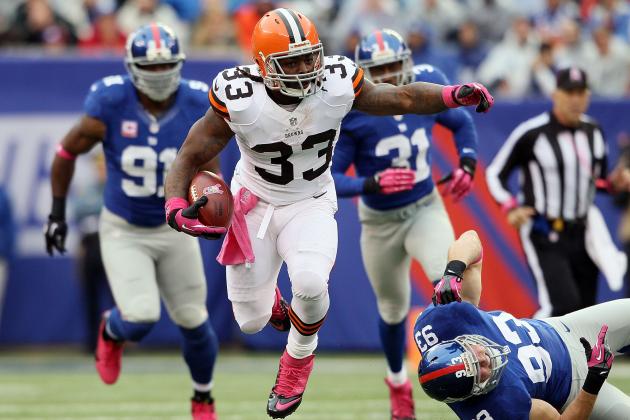 Alex Trautwig/Getty Images
Trent Richardson has lived up to the billing.
The Cleveland Browns are one of the most disappointing teams in the NFL this season.
Proud owners of an 0-5 record, the Browns host the Cincinnati Bengals in Week 6 before visiting Lucas Oil Stadium in Week 7.
Their record is not entirely telling of their play, however. Three losses came by seven or less points, one by 10 points and one by 14. In the 14-point loss to the New York Giants, the Browns led by 14 points in the first quarter.
So it's not all bad. The team has certainly been entertaining and (mostly) competitive. Brandon Weeden has been... improving. Trent Richardson is having a very nice rookie season. They appear to have some successful pieces in place.
Prediction
The Colts are allowing over 130 rushing yards per game, good for 25th-worst in the league. Richardson will likely take advantage of that to the tune of 100-plus yards and a touchdown.
Meanwhile, his success will open up passing lanes against a Colts secondary that has virtually no quality depth. Weeden isn't a great quarterback, but Josh Gordon's possible emergence could be devastating for opposing teams.
On paper, the Colts have a great chance. However, it's tough to see such an inexperienced team winning three straight games. The Browns have picked off seven passes already this season, good for fifth in the league. Luck gets a little too ambitious and sees a couple of his passes going the other way.
Final Score—Cleveland 21, Indianapolis 17
Hannah Foslien/Getty Images
Chris Johnson has fantasy owners everywhere shaking their heads.
Chris Johnson and his Tennessee Titans are sitting at 1-4.
If you drafted Johnson for your fantasy team, you're probably not doing much better.
Titans quarterback Jake Locker might need shoulder surgery, they can't run the ball and they've allowed 36.2 points per game. That places them dead last.
There is little positive to say about the Titans, who have one of the worst outlooks of any team in the league.
Prediction
Indy's offense should have no problem navigating the Titans' defense, which is among the worst in the league.
If Jake Locker hasn't returned to the lineup, Matt Hasselbeck will lead an offense that currently ranks 26th in total yards per game and 27th in points per game. The Colts' D shouldn't have much of an issue competing with that.
However, this is a division rivalry, which means conventional wisdom is often overridden by unpredictable outcomes and big plays.
Johnson and the Titans' offensive line figure it out on this day, proving too much for Luck and the Colts.
Final Score—Indianapolis 30, Tennessee 31
Matt Sullivan/Getty Images
The Miami Dolphins haven't put it all together, yet.
Miami Dolphins fans have to be going crazy.
This is a team that looks to have it all figured out one week, then completely blows it the next. After an impressive win against the Oakland Raiders, the Dolphins lose to the embarrassing Jets, then gift wrap the Arizona Cardinals a win in Week 4. Week 5 saw them beat a pretty solid Bengals team, which has fans wondering.
What the Tannehell?
The Dolphins own the eighth-best rushing attack in the league. That number could rise even higher if Reggie Bush can return to full strength.
On the flip side, Miami also owns the best run defense around, allowing only 61 rushing yards per game.
Prediction
The Colts will not be able to handle the dual threat of Bush and Daniel Thomas. The defense is going to wear down and allow huge chunks of yardage to the versatile backs, a la Maurice Jones-Drew.
Miami's run defense shouldn't bother Indy too much, as they generally shy from running it too much. However, their pass defense is another story.
The Fins allow over 280 pass yards per game. That is 27th in the league but is also slightly misleading. Opposing quarterbacks are achieving only a 75 passer rating, which places Miami at ninth best.
Bush and Thomas keep the Colts on the sidelines in a lopsided affair.
Final Score—Miami 31, Indianapolis 10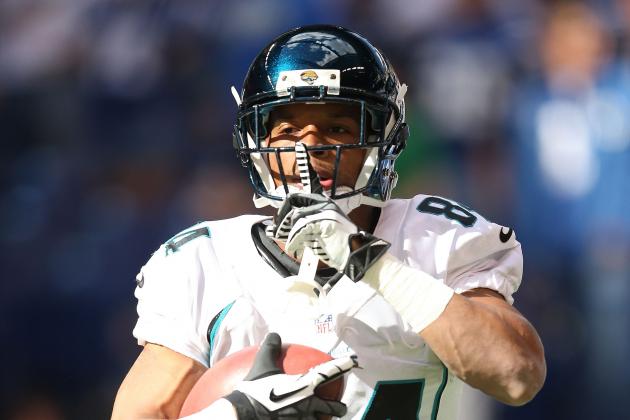 Andy Lyons/Getty Images
The Colts will be out for blood in this rematch.
Cecil Shorts is the sole reason the Colts aren't 3-1 right now. Without his 80-yard heart-stopper, Indy probably clips the Jacksonville Jaguars in Week 3 and is a strong second in the AFC South.
Instead, reality.
No doubt the Colts come back with a vengeance in this one. They deserved to win the first matchup and won't soon forget such a dejecting loss.
While MJD and the Jags will do everything in their power to stop the Colts' high-flying attack, Indy simply won't let this one get away from them.
Prediction
The Colts' D comes to work inspired after surrendering 177 rushing yards to MJD in their first bout. They shut down Pocket Hercules, and Blaine Gabbert does his usual.
On the other side of the ball, Luck goes to work on a secondary allowing opposing quarterbacks an average passer rating of 89. Reggie Wayne puts in yet another excellent performance and the Colts roll.
Final Score—Indianapolis 24, Jacksonville, 7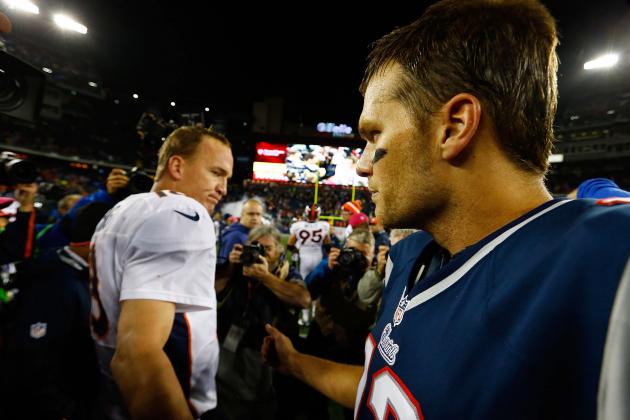 Jared Wickerham/Getty Images
A reminder of the good ol' days.
The New England Patriots are an extremely dangerous amoeba. They look slightly different each week but rarely fail to dismantle their opponent.
Tom Brady and Co. are one of the top passing offenses in the league and have been for years. Newly added to their arsenal is the ability to run the ball down your throat. They currently rank third in rushing yardage and first in rushing touchdowns.
This is what a juggernaut looks like. This is the Colts' Week 11 opponent and long-time rival. Be afraid.
Prediction
Their is little chance that the Colts don't get blown out in this one. I know the same was said about the Packers, but they have struggled to get their footing for a few weeks now. The Patriots haven't really endured a similar struggle.
Brady will be lights out. Indy has absolutely no answer for Wes Welker, Rob Gronkowski or Aaron Hernandez. The rushing exploits of Stevan Ridley and his compatriots will be largely a result of Brady's success, clearing excess defenders from the box.
Switching sides, the Colts should be able to score some points on the Pats, too. They allow nearly 300 yards per game through the air and have already surrendered 12 passing touchdowns through five weeks.
Luck impresses, but the Colts can't get a stop.
Final Score—Indianapolis 27, New England 45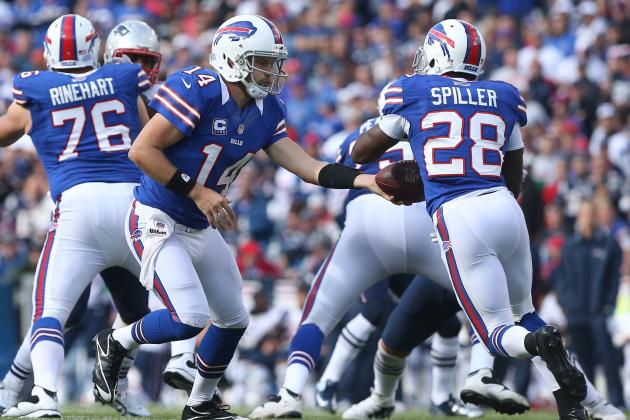 Tom Szczerbowski/Getty Images
C.J. Spiller and Fred Jackson will present challenges for Indy.
Between C.J. Spiller and Fred Jackson, the Colts really face an uphill battle in Week 12.
The two backs provide a thunder and lightning one-two punch unlike any other in the league. Both backs are solid in pass protection, as well as catching the ball out of the backfield. They each have the ability to hit home runs from anywhere on the field, too.
While the passing attack of the Buffalo Bills isn't the gold standard, it's good enough to work through play-action when the run is working well.
Prediction
Like the Dolphins game, this is going to be tough on Indy's defense. They really aren't talented enough to consistently defeat talented runners in the backfield. Expect to see both ball-carriers over 15 carries, with each providing a few catches.
Ryan Fitzpatrick and the Bills' passing attack aren't on par with their running game, but they should provide enough support to help the Bills past the Colts.
Final Score—Buffalo 24, Indianapolis 20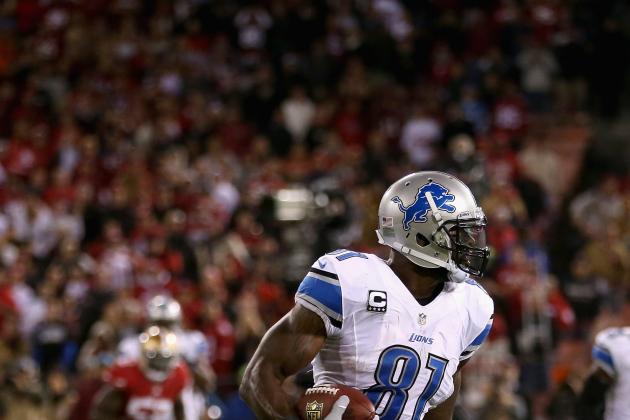 Ezra Shaw/Getty Images
Calvin Johnson is a one-man show.
Even though Matt Stafford is single-handedly losing you every fantasy game so far, he will figure it out.
Whether it is next week or later is not for me to say. However, rest assured it will be before Week 13.
When Stafford welcomes Indy to Detroit, it will be with a heavy dose of Calvin Johnson. Johnson is a god among mere mortals any time he steps on the field.
Coupled with the running stylings of Mikel Leshoure, the Detroit Lions' offense is not one to be taken lightly.
Prediction
The Lions have worked out their kinks by now, properly incorporating Leshoure into the mix without forgetting to get Calvin his looks.
The Colts have the pedal to the floor all day but can't match up with the physically-dominant Lions.
Final Score—Indianapolis 27, Detroit 35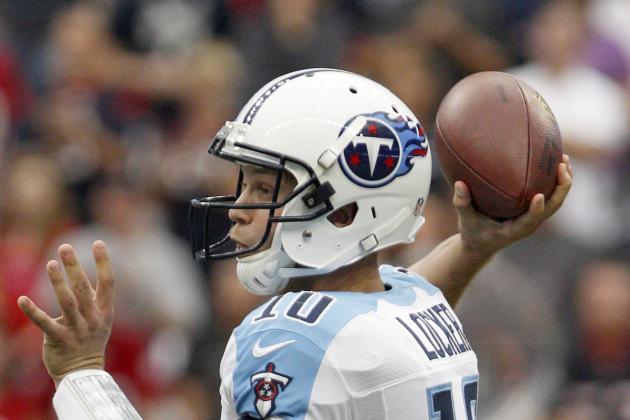 Thomas B. Shea/Getty Images
Perhaps Jake Locker has returned by Week 14.
Without Jake Locker, this team isn't going anywhere.
With Locker, it still might not be going anywhere, but it's less certain.
If Locker requires shoulder surgery, he likely will not participate in this game. If he doesn't, he would almost certainly have recovered by this point.
The offensive line will probably struggle all year, offering Chris Johnson a variety of negative-yardage plays.
Prediction
Indy seeks revenge for the Week 8 loss to the Titans on the road. They find it in the form of Donald Brown, who has 150 total yards and two touchdowns.
The Titans have lost the will to live and are hoping for participation medals at the end of the year.
Final Score—Tennessee 9, Indianapolis 28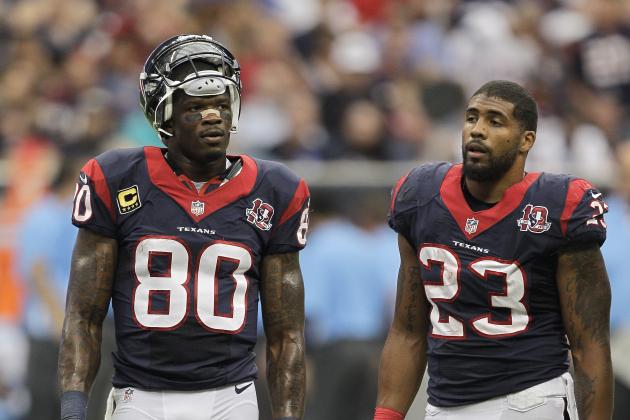 Bob Levey/Getty Images
This is an unfair combination.
The Houston Texans are dominating the NFL. Unless, or until, Matt Schaub or Arian Foster gets hurt, there doesn't seem to be any reason it won't continue.
In only four games so far this season, the Texans have outscored the opposition by 70 points.
One reason they have been so effective is their defense, which has shut down opponents. They allow only 14 points per game.
Their offensive success stems from their balanced approach. Between their zone-blocking run scheme and efficient passing, they've scored 31.5 points per game.
Having the second-best scoring offense and defense is a recipe for success.
Prediction
The Texans are fighting to lock up home-field advantage and are likely to see this one through early.
Foster and Ben Tate bring their A-games, racking up over 200 rushing yards against an overwhelmed Colts D.
Final Score—Indianapolis 10, Houston 35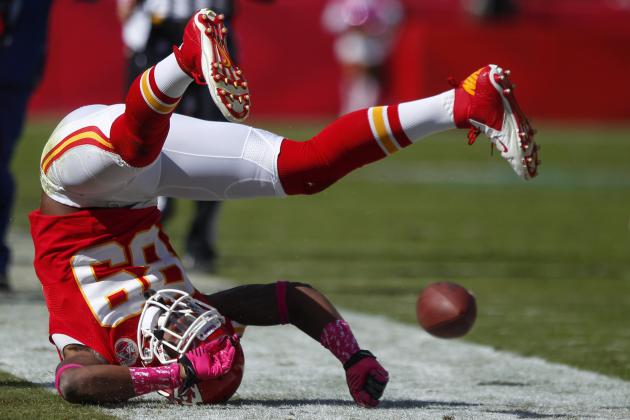 Kyle Rivas/Getty Images
This season is not going to plan for the Kansas City Chiefs.
The Kansas City Chiefs are in a world of hurt right now.
Starting out 1-4 was not their vision.
Sporting one of the worst quarterbacks in the league, they didn't have much of a say in the matter. Matt Cassel turns the ball over about as well as Michael Vick.
Unfortunately, he provides less touchdowns.
Luckily, the Chiefs do have one of the best running backs in the league, Jamaal Charles. Charles currently leads the league in rushing, and the team isn't afraid to hand him the ball in excess of 25 times per game.
This season is probably a lost cause for the team.
Prediction
There's no way Cassel is still starting at this point, so Brady Quinn will lead KC into battle with the Colts.
Jamaal Charles runs hard, as he is in a tight race for the rushing title with LeSean McCoy. With no passing game to scare Indy out of the box, he doesn't find as much room as he is accustomed to.
Indianapolis does what they want offensively, as KC packs it up and starts thinking about next season.
Final Score—Indianapolis 28, Kansas City 14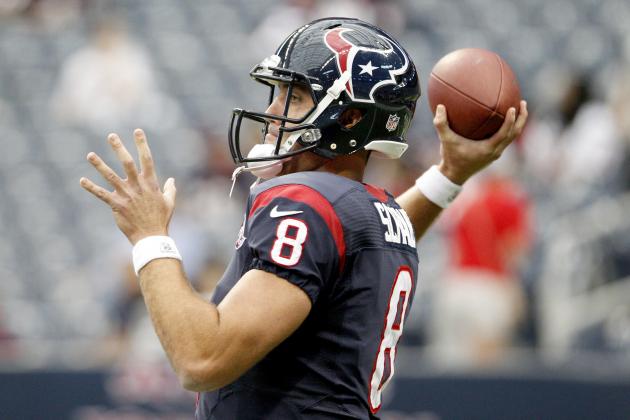 Thomas B. Shea/Getty Images
Matt Schaub will be nowhere near the field.
Having already locked up home-field advantage in the playoffs, the Texans elect to rest their starters for the majority of the game.
Prediction
The Colts are playing for pride while the Texans' star players joke and carry towels around on the sideline. While the Colts still can't run the ball effectively, Luck is able to complete some passes and pick up chunks of yards.
Not unlike the 2011 season, the Texans don't mind losing their last couple games. They have what they wanted.
Final Score—Houston 12, Indianapolis 23