Harrison Twins Decision: How Twins Picking Kentucky Affects College Basketball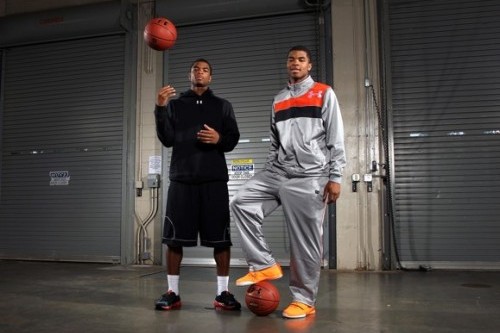 (Kelly Kline/Getty Images)
In a commitment that rocked the college basketball world, the Harrison twins chose Kentucky over Maryland and SMU.
The best package deal in the history of college basketball recruiting couldn't turn down an offer to play for the best recruiter in history and a team that won the national championship last season, and John Calipari has landed the biggest commitment in his incredible recruiting career.
This is the biggest day in college basketball recruiting in years, topping even that of Shabazz Muhammad and Nerlens Noel's decision day earlier this year (a day which led to Noel picking Kentucky).
Andrew and Aaron are the No. 3 and No. 4 players, respectively, in a stacked Class of 2013 and will comprise arguably the best backcourt in college basketball in the 2013-14 season.
This decision makes a monumental impact on the college basketball world that cannot be stressed enough, so let's break it down piece by piece.
Begin Slideshow

»
So far, I've told you that the Harrison twins are really, really good, but I haven't told you why. Before I go into the details about how this changes the landscape of college basketball, I'll first tell you just what these two can do.
Andrew is the point guard and Aaron the shooting guard in this backcourt. These two both have great size for their positions at 6'5" and 210 pounds, and you may notice that they simply look bigger than most other guards in this video. They use their size to their advantage as well, bullying smaller guards and shooting over them at times.
However, size isn't everything. These two have great skills too, including smooth releases and prolific range. The twins are both threats to drain threes and have the ability to stroke it from beyond 25 feet, which extends the defense. But if the defense comes out too far, they slash through the lane.
Apart from great size and shooting, the two are both freakishly athletic, have good mid-range games, play disruptive defense and are game-changers.
But probably their greatest asset is chemistry.
Being twins, you'd expect these two to play well together, but that's a serious understatement. It seems that these two share a brain, as well as looks, always knowing where the other is and what he is going to do.
Having a backcourt with two skilled players that know each other as well as they know themselves is an advantage that most coaches would kill to have, but luckily for Calipari, his recruiting prowess landed him the ultimate prize.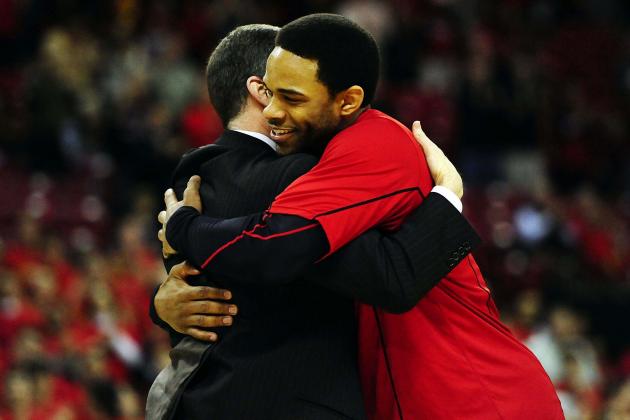 Evan Habeeb-US PRESSWIRE

John Calipari has to be smiling from ear to ear, and not just because his 2013 recruiting class now contains two of the top five players in the country, but also because he knows he isn't done.
Calipari and the Wildcats have a recruiting pitch that no other school has—the fact that they have the best backcourt in the country and one that makes everyone around them better.
Kentucky is instantly a better team with the twins, and other recruits know that. As we saw when Kyle Anderson committed to UCLA last year, recruits love to play with each other, evidenced by the subsequent commitments of Shabazz Muhammad and Tony Parker.
We can assume that Coach Cal isn't done on the recruiting trail just yet, but even if we analyze the class that he already has, it is currently among the nation's best.
With the top two guards in the country and PF Derek Willis in its 2013 arsenal, Kentucky has vaulted from off of my list of the top recruiting classes to No. 1.
Billy Donovan and Florida seemed like a lock for the No. 1 recruiting class for months to come, but this decision helps the Wildcats narrowly edge their SEC rival and a Gators class that has two top-10 recruits in PG Kasey Hill and PF Chris Walker.
Here's how the top five recruiting classes look right now:
1. Kentucky Wildcats
2. Florida Gators
3. Michigan Wolverines
4. North Carolina Tar Heels
5. Duke Blue Devils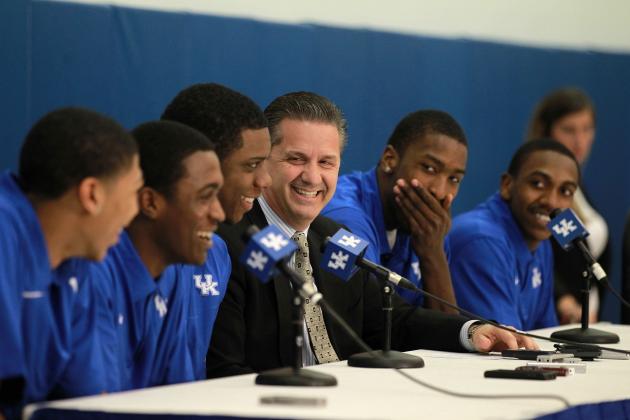 Andy Lyons/Getty Images

Kentucky is always among the nation's top teams demonstrated by the fact that it is a top-five team one year after losing its top six players to the NBA.
Coach Cal always brings in a ton of talent, and if he can surround these twins with a few more elite players, the team will compete for a national title once again.
Calipari has yet to get to the point in the recruiting process where he lands commit after commit, but we can assume that he will bring in another top-100 prospect or two.
Even if he doesn't, the team will retain quite a few elite players from this year's team. PF Kyle Wiltjer will probably head to the NBA, as well as C Nerlens Noel and potentially either SF Alex Poythress or Archie Goodwin, but I expect one, two or even three of those guys to stay. In addition to the star returnees, top-50 recruit C Willie Cauley will return.
The Wildcats already have a great deal of talent, and if Calipari brings in his regular boatload of talent, the team will be the preseason No. 1.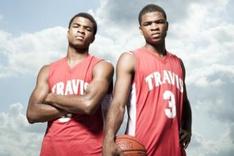 Courtesy SlamOnline.com
The SEC looked like it could turn into a battle between Florida and Kentucky before this commitment.
The Gators had two top-10 prospects in PG Kasey Hill and PF Chris Walker and had the No. 1 recruiting class by far. Billy Donovan was bringing in a lot of talent, and the team could have surpassed the Wildcats if the Harrison twins had picked Maryland.
But they picked Kentucky.
The Wildcats are going to run away with the SEC once again in the 2013-14 season. These two keep the Wildcats in position as one of the nation's premier teams, and they will continue to rule the SEC with an iron fist.
Predicted SEC Standings (2013-14)
1. Kentucky
2. Florida
3. Missouri
4. Alabama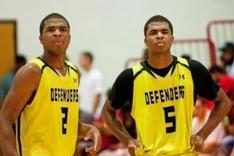 Courtesy kyhoopsbuzz.com
Have you seen a preseason poll that had Kentucky outside of the Top 10 in the last few years? Well, that's not going to happen next season either, as the Wildcats have essentially secured themselves a spot in the Top Five.
We know that the Harrison twins can turn a good team into a national championship contender, so if Calipari brings in his usual recruits, Kentucky will be No. 1 overall in the preseason rankings by far.
It's tough to see how Kentucky could get any better, but Coach Cal has found a way, and you can expect the Wildcats to run away with the preseason poll next year.
Predicted Preseason Poll (2013-14)
1. Kentucky
2. Indiana
3. North Carolina
4. Louisville
5. North Carolina State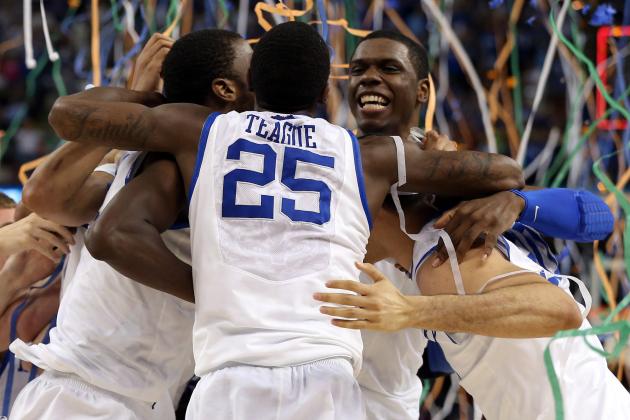 Jeff Gross/Getty Images

The expectations for Kentucky basketball are always incredibly high. Every year, Kentucky fans take it as a personal insult if the Wildcats aren't projected to be at least a Final Four team, and the addition of the Harrison twins won't change much.
If Calipari can bring in two more top-100 players or retain two or three starters from this year's team, the Wildcats will be favorites for another NCAA-tournament title.
While the expectations for a team two seasons from now have to be based in part on the assumption that Calipari will bring in a few more great players, anything less than an NCAA tournament championship seems unacceptable.
Verdict: National championship or bust